High-SchoolVolleyball:

Katie Higginbotham
December, 28, 2011
12/28/11
9:10
AM ET
By Walter Villa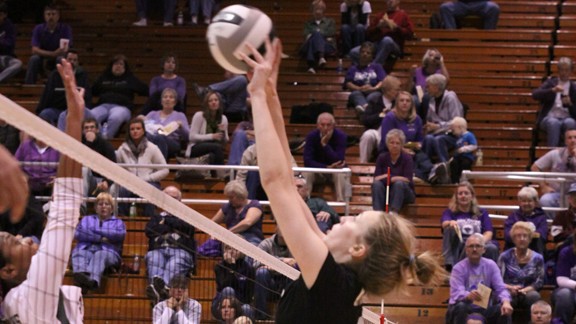 Courtesy of Beth PrinceBeth Prince of Avon (Ind.) already is a dangerous offensive weapon. Now the ESPNHS Freshman Volleyball Player of the Year is focusing on her defense.
POSTSEASON AWARDS:
Coach of the Year
|
ESPNHS All-America Team
|
Gatorade State Players of the Year
When Beth Prince started playing volleyball in sixth grade, she was -- by her own admission -- "awful."
"I would whiff on the ball completely," Prince said. "It was pretty embarrassing. I'm just happy people didn't record my games. If somebody had those tapes, I'd freak out."
Prince can relax. Two years after she took up the sport, she had her first college scholarship offer from Wisconsin.
This past season, the 6-foot-3 outside hitter led Avon (Ind.) to its best season ever, earning her ESPNHS Freshman of the Year honors.
Avon completed the first undefeated regular season in school history at 33-0, but fell one win short of what would have been the Orioles' initial state title. They finished 39-1 and came in 13
th
in the final POWERADE FAB 50 national rankings.
Prince led the Orioles with 453 kills and a .343 hitting percentage, earning first-team All-State -- a rarity for a freshman.
Not that individual statistics or honors mattered much to the 15-year-old. When Avon coach Scott McQueen notified her she had made All-State, she told her parents the news but couldn't recall the details.
"I had to text Scott because I couldn't remember what it was called," Prince said.
"My parents always taught me to be humble, and Scott told me the same thing. I think they're right. When you get a big head, bad things happen."
Katie Higginbotham, a senior outside hitter who will play next season at Indiana-Purdue Fort Wayne, said she and the other Avon veterans never worried about Prince getting an ego.
"She gets all these awards, and she has no idea," Higginbotham said. "She is clueless half the time."
Higginbotham added that Prince is already one of the best players in Avon history.
"I can't imagine how good she is going to be over the next three years," she said. "If you pass it anywhere near her, she is going to get the kill. I don't even worry about it."
Prince's athletic career began in the third grade, when she started playing basketball. It was the sport her mother, Laura, played at Eastern Illinois University as a 6-2 starting center.
Prince now competes in high school basketball but doesn't plan on playing the sport in college. Still, her mother said Prince is plenty dangerous in basketball.
"I used to play her one-on-one until she got those big elbows," Laura Prince said. "I wanted to keep my dental work, so I backed out of those games about a year ago."
If only it were so easy for Prince's volleyball opponents to avoid her crushing spikes. McQueen said Prince is already a "tremendous" offensive player and is developing on defense.
The coach said Prince is a powerful hitter even though she is not anywhere close to how strong she will get as she starts a weightlifting program and matures physically.
"She can hit through people, which is surprising because she still needs to get stronger," McQueen said. "She has grown so much (in height) the past two or three years, and I'm not a big believer in the weight room during the time the body is developing."
One of the keys for Prince is how much she loves volleyball. Even when she wasn't very good, she still loved the sport. That love -- and her competitive nature -- motivated her to spend the summer of her eighth-grade year working virtually non-stop to improve.
The scholarship offers came flying in soon after that, and she now lists Texas atop her wish list.
Prince, though, is smart enough to know that she is still a long way from college -- she doesn't even drive yet -- and is careful to add that she is open to any school, listing Indiana, Purdue, Illinois and Kentucky as other possible destinations.
"I don't want to rule anyone out," Prince said. "It's an honor that they are looking at me, and it's fun to know I'm good enough to go places."
Prince -- her father calls her "Ocho" because she wears No. 8 -- is already the tallest person in her family. Her father, Chuck, is 6-2, and her brother, Zack, a senior who is a drummer on Avon's nationally recognized marching band, is 6-0.
Prince praised McQueen for helping her through the recruiting process.
"Without him, I would be so lost on what to do," she said. "When I started getting these letters, he told me, 'Beth, you can't get a big head about this stuff.'
"The truth is, you get all these letters that say, 'Beth, you're so awesome,' but it's just a piece of paper. I take it as a compliment and then go back to work on my game."
Most of that work is on defense. Prince is aware she's already a dynamic finisher, so she's making the effort to improve her passing, serve-receiving and blocking.
She also wants to lead Avon to its first state title after the Orioles lost the 2011 Class 4A final in four sets to Penn (38-1).
"It was awful," Prince said of the defeat. "I have this red medal (second place) instead of a blue one, and I get mad every time I look at it.
"I'm already looking forward to next season so we can get back to state and change that outcome."
October, 19, 2011
10/19/11
9:17
AM ET
By Walter Villa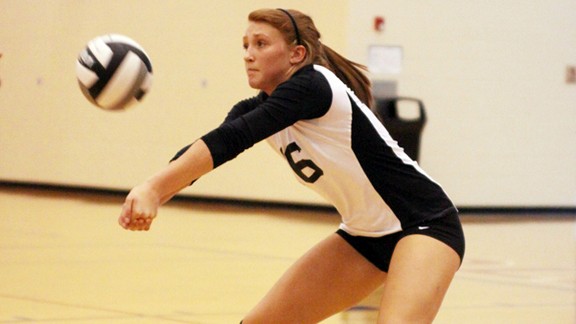 Courtesy of Katie Higginbotham"Without them, we'd be like 'What do we do now?' " Avon senior Katie Higginbotham says of the Jersey Junkies.
Last Thursday, Avon (Avon, Ind.) completed the first undefeated regular season in school history, a testament to their talent, their diligence … and their belief.
The Orioles (33-0), who open the playoffs Wednesday night and are hoping to earn their first-ever state title early next month, have already accomplished much this season, including winning five matches after losing the first set and attaining a No. 8
POWERADE FAB 50 national ranking
.
But they haven't done it alone.
"Knowing that they are going to be there; we want to make them proud of us," said 5-10 senior Katie Higginbotham, a fourth-year starter at outside hitter. "Without them, we'd be like, 'What do we do now?' "
Higginbotham is referring to Avon's cheering section, called the "Jersey Junkies." It's a group of a dozen or so boys from the high school – mostly members of the basketball team -- who have gone to every Avon volleyball match this season, home or away.
"It's amazing to have them everywhere we go," said 5-10 junior Kayla Springer, a starter at right-side hitter. "We've never had fans like that. I don't think we would be undefeated without them."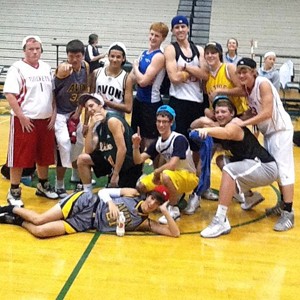 Courtesy of Austin Burgett/ESPNHS"We wanted to pick a sport to cheer for," says basketball star Austin Burgett, the ringleader of the Jersey Junkies. "We chose volleyball."
The ringleader of the Junkies is
Austin "A.J." Burgett
, a 6-foot-9, 215-pound senior who has committed to play basketball for Notre Dame. Burgett said he and his buddies were bored when they got an inspiration.
"We wanted to pick a sport to cheer for," Burgett said. "We chose volleyball."
The boys wear neon green T-shirts that read "Jersey Junkies" on the front. Each Junkie has a number on the back of the shirt that corresponds to one of the Avon players.
Once the match begins, they take off their T-shirts and wear different jerseys. One boy may bring an Indiana Pacers jersey, another could bring a Chicago Bears jersey. It doesn't matter, as long as it's a jersey.
Probably the most popular thing the Junkies have done is create a mantra that they recite before and after matches. The chant has since been adopted for all the school's sports teams.
The chant starts when one kid calls out a word or two and every Avon fan repeats it. Before the match, the chant goes:
"I (I) …
"I believe (I BELIEVE) …
"I believe that we (I BELIEVE THAT WE) …
"I believe that we will win (I BELIEVE THAT WE WILL WIN)."
Following every win, the Junkies storm the court and -- together with the 35-40 girls from the varsity, JV and freshman teams -- they chant the same thing, except they say "I believe that we
have won
."
Avon coach Scott McQueen, who said he gets "chills" when the kids do the chant, said he knew he had a special group of girls when the Orioles lost to Muncie Central (Ind.) in the 2010 playoffs.
The Orioles won the first set but then lost the next three, falling three wins short of a state title.
"Sometimes you look at your kids on the way home (from getting eliminated in the playoffs) and think, 'Wow, they got over that quick,' " said McQueen, who is in his 10
th
season running the Avon program.
"But last year, they had a 1-hour, 45-minute bus ride home, and they were dead quiet the whole way."
Higginbotham, who has committed to Indiana-Purdue Fort Wayne, said she used the quiet time to focus on what she would do to improve in 2011.
"We were devastated," she said. "We are so crazy together that it takes a lot to make us quiet. But that loss was terrible.
"I decided I was going to be a leader for the younger players on our team because they get nervous just like I did when I was a freshman."
One of those freshmen is 6-3 outside hitter
Beth Prince
, who has received much acclaim for her power and talent.
But the Orioles pride themselves on having a balanced roster that also includes Madi Reeves, a 5-9 senior setter who has started since her sophomore year and has committed to Wayne State; Jill Steinmetz, a 6-1 senior middle hitter who has committed to play basketball at Grand Valley State; and Emily Graves, a 6-0 junior middle hitter.
McQueen said Higginbotham is his best all-around player, but 5-7 senior libero Allison Bexell was the team's MVP in 2010, and he also praised defensive specialists Rebekah Strange, a 5-7 sophomore; and Brooke Peters, a 5-8 freshman.
Then there's sophomore setter Rachel Griffin, whose older sister, Katie, still holds 13 Avon records, including the match, single-season and career marks for kills. Katie, a 6-2 outside hitter, is now a sophomore at Purdue, where she ranks fifth on this season's team in kills.
McQueen said depth is his team's biggest strength.
"That's what's so fun about this team," he said. "These kids always put me in a good mood."
The same can be said of the Jersey Junkies, who do a bunch of goofy things such as pretending to sit in a roller coaster, complete with the fastening of imaginary seat belts, the taking of imaginary curves and the scared faces as the "car" picks up steam.
The volleyball team, focused on the match, doesn't notice the shenanigans. Usually.
"It's come up a couple times when (McQueen) has called people out for looking into the stands," Reeves said.
Added Higginbotham: "They're hilarious. How can you not laugh?"