High-SchoolVolleyball:

Kelly Hunter
December, 14, 2011
12/14/11
9:04
AM ET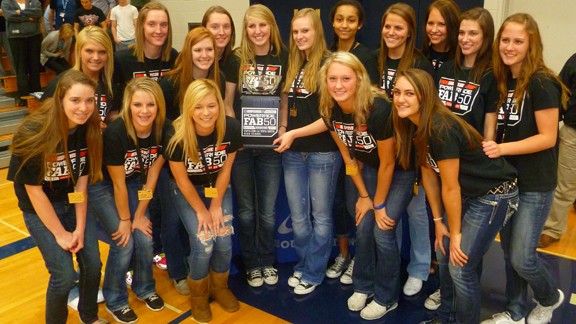 Kirstin Olsen/ESPNHSThe Papillion-La Vista South volleyball team celebrates its second consecutive POWERADE FAB 50 national championship.
By Kirstin Olsen
MORE:
Photo gallery of trophy presentation
PAPILLION, Neb. -- In front of a roaring crowd of 1,500 students and faculty, the Papillion-La Vista South girls' volleyball team was awarded the POWERADE FAB 50 National Championship trophy at an all-sports pep rally in Titan Arena on Tuesday.
The Titans, who have won back-to-back national championships and back-to-back state titles, proudly hung their second banner from ESPNHS and POWERADE along with their state championship banners in the Titan Arena rafters. They finished their season with a perfect 41-0 record and have won 82 consecutive matches. They went wire-to-wire atop the
FAB 50 rankings
.
"Of course it feels great, like winning anything would," junior Amber Rolfzen said. "But it's just nice to look up in the banners at school and see not one, but two, national championships twice in a row."
Former Cornhusker outside hitter Dani Mancuso, who won a national championship with Nebraska in 2006, was present to speak to the student body and help congratulate the team on the prestigious award.
"Eighty-two consecutive wins are a lot," she said. "It is a huge accomplishment what these girls and coaching staff have done this season, and I hope everyone recognizes that."
Papillion-La Vista superintendent Dr. Rick Black was also present to award the team with its second Super Bowl-like POWERADE FAB 50 trophy.
The road to the celebration wasn't always easy for the Titans. They were challenged but prevailed in tough matches against
No. 4 St. James (Lenexa, Kan.),
No. 33 Pius X (Lincoln, Neb.),
No. 47 Marian (Omaha, Neb.)
and then went on to defeat
Burke (Omaha, Neb.)
in the Class A state final.
Coach Gwen Egbert thanked the students for their participation and encouraged them to continue to support the team.
When asked about the amazing 82-0 streak, Egbert attributed hard work.
"I think it came through becoming a great team, playing for each other, playing for our school, and through hard work and fundamentals and getting better every day," she said.
She shouldn't forget the talent.
Kadie Rolfzen finished the season with 402 kills and 382 digs, and twin sister Amber had 312 kills and 289 digs.
Kadie, in particular, seemed to have a knack for stepping up in big matches.
"Egbert is always pushing us in practice, so it's not just me stepping up my game, it's the person next to me as well," she said.
Amber, Kadie and junior setter and Kelly Hunter, all Nebraska commits, were flooded by local reporters with questions, which they handled in stride similar to the way they handled their season.
When asked about the possibility of winning a third consecutive state and national championship, the Rolfzens, Hunter and Egbert were all in agreement.
"The plan is to try and get better and probably try and do it again," Egbert said. "I hope we can. It's pretty fun."
November, 13, 2011
11/13/11
7:40
AM ET
By Walter Villa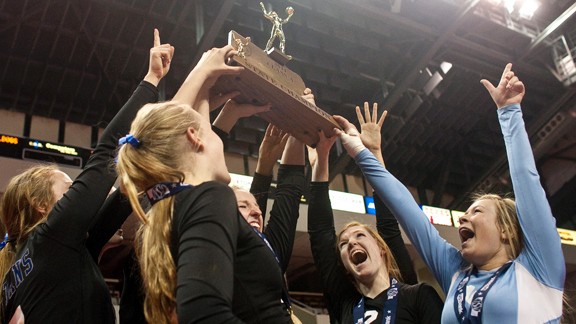 Patrick BreenNo. 1 Papillion-La Vista South won its second consecutive Nebraska state title and completed a perfect season with a straight-set win over Burke on Saturday.
READ MORE:
Titans survive semi
|
Volleyball thrives in Heartland
|
Tale of the tape: 1 vs. 2
GRAND ISLAND, Neb. –- Some champions are hated by their opponents, especially after they've won a big playoff game, dashing their rivals' dreams.
Nebraska's Class A champions, however, seem to be admired.
There was evidence of that all weekend at the Heartland Events Center, where Papillion-La Vista South (Papillion, Neb.) dominated the girls' volleyball state finals.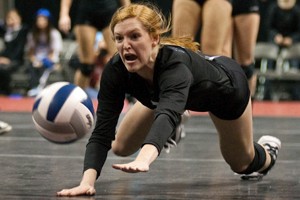 Patrick BreenTitans' senior setter Whitney Kostal dives for a ball Saturday against Burke.
On Saturday, the Titans never trailed and defeated Burke (Omaha, Neb.), 25-15, 25-11, 25-17, to win their second straight state title. The Titans also likely wrapped up their second consecutive year atop the POWERADE FAB 50 national rankings.
The Titans (41-0) have now won 82 consecutive matches and are approaching the state record of 115, set by Scotus (Columbus, Neb.) in 2004.
Outside hitter Amber Rolfzen referenced the record when she was asked about a three-peat in 2012.
"It's a goal," she said of winning a third straight state. "But we also want to break the consecutive win streak."
Rick Hughes, who coaches Burke (32-7), wouldn't be surprised if the Titans kept on winning.
"I think they could beat a lot of junior colleges," Hughes said.
The Titans began their Grand Island victory tour on Thursday with an easy win over Millard West (Omaha, Neb.). The Millard West student section spent the entire match chanting creative cheers in a futile attempt to distract or disrupt the Titans.
Finally, with just a couple of points left in the match, the Millard West fans did something rather remarkable and started chanting:
"We respect you! We respect you!"
On Friday, the Titans defeated Marian (Omaha, Neb.), 28-26, 25-19, 25-18, in their most difficult match of the weekend.
Marian is the only team in the state to have taken a set from the Titans this season. Marian is also ranked 42nd in the FAB 50 poll. And had it not been for the Titans, Marian likely would have won three straight state titles instead of just the one recent championship they earned in 2009.
It would be easy to understand if Marian were frustrated by the Titans' mere existence, blocking their path to glory. But, publicly at least, no Marian player wept, appeared angry or expressed anything other than what a thrill it was to compete against the Titans.
Perhaps that's just good Nebraska sportsmanship at play. But one senses that if the Titans were an arrogant bunch, their vanquished opponents would react differently.
Marian coach Rochelle Rohlfs said as much and added that it would have taken a special team to beat the Titans.
"There is not one spot on the floor you can go after for a whole match," she said. "You have to constantly change your defense because they are athletic enough to make the adjustments."
Rohlfs was asked for perspective on how the Titans would rank among other great champions in Nebraska history.
"Position by position," Rohlfs said, "the only team I can think of that could have matched up with them was Papillion-La Vista (Papillion, Neb.), back when they had Lindsey Hunter."
Rohlfs was referring to the teams that won Class A state titles in 2000 and 2001 and was led by Hunter, who went on to star at the University of Missouri and played for the U.S. national team. That Papillion-La Vista team had five Division I recruits and went 78-5 in a two-year span.
The Titans, meanwhile, have three Division I recruits, a number that could grow. One of those recruits is Lindsey Hunter's younger sister, Kelly, a junior setter who has committed to Nebraska. Kelly and Lindsey's mother, the former Lori Melcher, was a setter at Nebraska from 1977 to 1980.
Kelly Hunter's two junior classmates, twins Kadie and Amber Rolfzen, committed to Nebraska two months before they started their high school careers.
That trio – along with fellow juniors Katelyn Kurtz, Alyssa Gibbs and Olivia Schonewise -- will return next season and should be heavily favored to win a third straight state title.
Titans coach Gwen Egbert will have to replace valuable seniors such as setter Whitney Kostal, libero Lauren Poulicek, outside hitter Megan Stroyek and middle hitter Rachel Nelson.
"Our seniors did a great job," Egbert said. "Now our juniors will have one more year to get better."
The Titans figure to continue their dynasty as long as they can find a libero as good as Poulicek.
The rest of the pieces are in place, including a setter who serves as a vocal on-court leader (Hunter), a veteran coach (Egbert) and role players galore.
But what makes the Titans truly special are the Rolfzen twins, who finish points with regularity and – despite their height -- are athletic enough to combine for more than 600 digs this season.
The twins were the ESPNHS Co-Sophomores of the Year in 2010. This year, Kadie's numbers have been clearly better, evidenced by the fact that she led the team in kills, digs and aces.
Kadie Rolfzen is also fast enough to have finished fourth in the state last year in the 200-meter dash and skilled enough to lead her school's basketball team in assists and blocked shots.
Poulicek, however, said it's impossible for her to say which twin is best.
"They're both great," she said. "It was always good to know we could count on them for anything."
Titans fans can count on their team being outstanding again next year. The Titans' celebration on Saturday was a bit muted, but that's probably because the core of the team – the Rolfzens and Hunter – will return next season.
"Last year, we were all on the floor – a huge dog pile – and there were more tears," Kadie Rolfzen said. "This year, we were excited … but not as excited."
If they get here again in 2012, it will be a different story, Hunter said.
"Definitely," she said. "We want that three-peat."
Pius X wins Class B crown
No. 41 Pius X (Lincoln, Neb.) won the Class B state title Saturday night, defeating Northwest (Grand Island, Neb.), 25-18, 25-14, 25-17.
The Bolts won their seventh state title and their first since 2008. They were led by four Division I recruits: 6-4 middle Lauren Smith (Creighton); 5-7 libero Lea Sack (Bradley); 6-0 outside Scarlett Howerter (Drake); and 6-2 middle Cassie Effken (Drake).
Pius X's three losses this season were to No. 1 Papio South, No. 42 Marian and Northwest. But the Bolts won the season series 2-1 against Marian and 2-1 over Northwest.
The Bolts beat Elkhorn South (Elkhorn, Neb.) in Friday's semifinals. Elkhorn South was led by Nebraska recruit Lauren Sieckmann, who had a game-high 18 kills.
November, 11, 2011
11/11/11
3:55
PM ET
By Walter Villa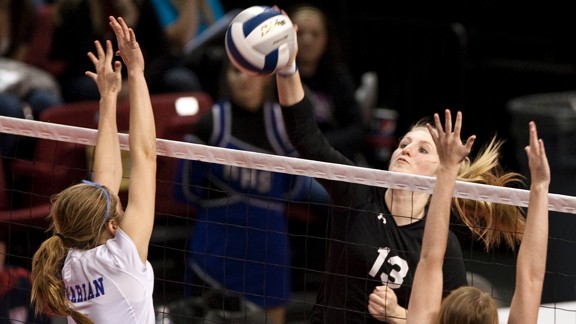 Patrick BreenRachel Nelson and No. 1 Papillion-La Vista South are one win away from completing their second straight perfect season.
GRAND ISLAND, Neb. –- When you've won 81 matches in a row and are No. 1 in the POWERADE FAB 50 national rankings for the second consecutive year, there's not much left to prove.
But that's not the feeling at Papillion-La Vista South (Papillion, Neb.).
Playing with a chip on their shoulders, the Titans beat No. 42 Marian (Omaha, Neb.) 28-26, 25-19, 25-18 and advanced to Saturday's Class A state final against Burke (Omaha, Neb.).
The Titans (40-0) had dropped two sets to Marian earlier this season.
"Beating Marian was very emotional for us," said Titans setter Kelly Hunter, clutching some Dum Dums candy given to her by her uncle. "A lot of our players weren't happy with the way we played Marian last time."
The Titans nearly had some more things to dislike on Friday. They fell behind 3-0 in the first set before going on an 11-2 run. Marian battled back to tie the score at 17-17 before the Titans took a seemingly secure 23-18 lead.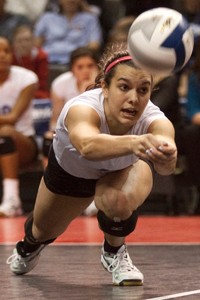 Patrick BreenMolly Pettit and Marian took two sets from No. 1 Papillion-La Vista South earlier this season.
But Marian (33-9) wouldn't go down easy. It had set point at 24-23 and again at 26-25. A block by Kadie Rolfzen saved the Titans on the first set point, and twin sister Amber got the kill to keep the match alive on the second one.
"We were a little tight the first set," Titans coach Gwen Egbert said. "But we worked through it. Our kids were very motivated. We wanted to send a message."
Added Hunter: "The first set is always big because it can swing the momentum for the rest of the match."
Marian continued to battle in the second set. The score was tied 9-9 before the Titans pulled away.
The third set was the easiest for the Titans and was the only one in which they never trailed.
Marian coach Rochelle Rohlfs was upbeat after the loss because of her team's stellar effort, but she couldn't help but think the turning point came early.
"That would've been critical if we could have gotten that first set," she said. "It would have energized us, and I thought that was a big difference.
"But, otherwise, we fought. We had a hard time getting the ball to our middles, and they had a balanced attack."
For the Titans, Kadie Rolfzen had a game-high 17 kills, Amber Rolfzen led the team with 19 digs, and Whitney Kostal (20) and Hunter (18) led in assists.
For Marian, libero and Creighton recruit Katlynn Elman was impressive, digging a game-high 24 balls, many of them in spectacular fashion. Creighton recruit Ashley Jansen had a game-high 25 assists, and Lexi Elman – Katlynn's younger sister – led the team with 10 kills. Maggie Heim, an Ohio State recruit, added seven kills.
"Their libero," Egbert said, "was outstanding."
Elman said her assignment on Friday was huge.
"Oh my goodness, it's so much fun trying to dig (the twins), and I love competing against them," she said. "They usually find where our blockers leave that split. That's when I do my thing."
Elman said the twins' blistering spikes "sting a little bit" but she doesn't really feel the pain because she's caught up in the action.
She said the loss stung more, but she is consoled by her opinion of her team.
"There's no doubt we're the second best team in the state," she said. "No question."
A big reason why many neutral observes share that opinion is this: Marian is the only team in the state to take a set from the Titans.
In Saturday's final, the Titans will face a 32-6 Burke team they have swept in three matches this season. Egbert, though, didn't see a problem coming back strong for the title game.
"It's the state championship," she said. "If you can't get up for the state final, you've got a problem."
November, 11, 2011
11/11/11
10:48
AM ET
By Walter Villa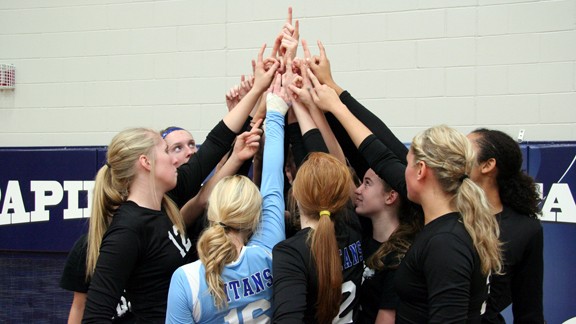 Courtesy of Sharon ParkerPapillion-La Vista South (Papillion, Neb.), the No. 1 team in the nation, is looking to clinch its second consecutive national championship this weekend.
GRAND ISLAND, Neb. -- After helping Papillion-La Vista South (Papillion, Neb.) to its first state title and a No. 1 national ranking in the final POWERADE FAB 50 poll of 2010, there was one word Kelly Hunter did not want to hear:
Fluke.
"We wanted to show that we didn't just get lucky," said Hunter, a 5-11 junior setter. "We're really proud of how consistent we've been the past two years."
That consistency is evident in Papio South's 80-match win streak dating to 2010. The Titans improved to 39-0 this season with a 25-12, 25-7, 25-13 win over Millard West (Omaha, Neb.) Thursday night in a Class A state quarterfinal.
Last year, the Titans went 41-0 and became the first Nebraska team to earn a No. 1 national ranking. They were also the state's first undefeated champ since 1972.
But girls' volleyball in Nebraska is about more than just Papio South. There are other strong high school programs such as No. 42 Marian (Omaha), which was the last team to beat the Titans and will play Papio South in Friday's semifinals. Marian advanced by beating Southwest (Lincoln, Neb.) 25-20, 25-19, 27-25.
The third Nebraska team currently in the FAB 50 is Pius X (Lincoln, Neb.), which beat Beatrice, 25-10, 25-6, 25-6, on Thursday. Pius X will play Elkhorn South (Elkhorn, Neb.) in a Class B semifinal on Friday.
Nebraska is also strong in club volleyball. The Nebraska Juniors team – featuring Hunter and other Papio South players such as Amber and Kadie Rolfzen – won the 16-U Junior Olympics national title in 2010. The club, with different players in starring roles, also won Junior Olympics in 2009 (18-U) and 2007 (17-U).
Papio South coach Gwen Egbert said there is a reason for the state's success on the youth level.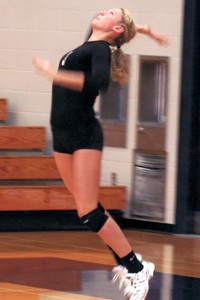 Courtesy of Sharon ParkerSetter Kelly Hunter is one of three Papillion-La Vista South juniors who has committed to Nebraska.
"Sports for girls are encouraged in Nebraska," she said. "We have a lot of girls who play multiple sports because there is not a lot else to do around here."
Egbert said the first great player she coached was Allison Weston, who went on to become the University of Nebraska's first three-time All-American. In 1995, she led the Cornhuskers to their first NCAA title and was the National Co-Player of the Year.
The Huskers, currently second behind UCLA in the AVCA national rankings, have remained a power ever since, winning additional NCAA titles in 2000 and 2006 and making six other Final Fours, most recently in 2008.
But Nebraska isn't the only local college power. In Division II, the state boats a pair of top-10 teams. Nebraska-Kearney, with 13 home-state players on its roster, is ranked sixth; and Wayne State, with 12 home-grown players, is ranked 10
th
.
Anyone doubting the popularity of volleyball in Nebraska merely needs to attend a Huskers home match, where the atmosphere is electric. Nebraska finished 2010 ranked second in the nation in attendance, averaging 4,632 fans and trailing only Hawaii.
Creighton, located in Omaha, finished a respectable 34
th
, averaging 1,101 fans. And Nebraska-Kearney has led NCAA Division II in attendance 14 of the past 15 years.
Briana Ritter, the coach at Elkhorn South (Elkhorn, Neb.), said changes in the sport in recent years have made it more attractive to Nebraska girls.
"When I was in high school, we had side-out scoring, and it was an incredibly slower game," Ritter said. "But with rally scoring and let serving, they've made it a lot more interesting and a faster-paced game. I love the sport's direction."
That direction starts with the University of Nebraska and flows down to the youth levels. Unlike states such as California and Florida where collegiate loyalties are divided among numerous schools, it seems everyone in Nebraska is a Cornhusker fan.
When Nebraska became a volleyball power in the late 1980s, it heightened the desire for thousands of girls in the state to want to become the next star.
The Huskers have capitalized on those desires by signing and developing numerous home-grown players over the years.
Of the 15 players on the Huskers' current roster, eight are from Nebraska, including starters Brooke Delano, Gina Mancuso, Lauren Cook and Hayley Thramer.
Contrast Nebraska's roster with that of Penn State, winners of the past four NCAA championships. Of the Nittany Lions' 17 players, only one, Maggie Harding, is from Pennsylvania, and she rarely plays.
That's not the case with the Huskers' home-state players. Delano is an All-American. While in high school, Mancuso became the first Nebraska player to win the Gatorade's National Player of the Year award. And Cook was the 2009 National Freshman of the Year.
More home-grown stars are headed to Nebraska, including Hunter and the Rolfzen twins, who have committed to Nebraska as part of the class of 2013; and 5-11 setter Lauren Sieckmann of Elkhorn South, who has committed to the Huskers for the 2012 class.
Sieckmann seems to be typical of the Nebraska volleyball star in that she has played multiple sports. She was a gymnast until she outgrew that sport, and she was a diver until she hurt her hip and started playing volleyball.
"Gymnastics gave me a good base because you need balance in every sport," Sieckmann said. "Diving helped me with my overall athleticism and discipline."
Sieckmann said another common trait among youth-level volleyball players in the state is their desire to play for the Huskers. She sees it as a driving force for many kids, even the ones who don't end up at Nebraska.
Lauren Poulicek, a libero for Papio South, agrees.
"Nebraska has great high school players all around the state," said Poulicek, who has yet to pick a college. "It's really cool that we have three players (at Papio South who are going to the University of Nebraska).
"I'm just happy I've gotten the chance to play with them in high school. It's a really great feeling to know that we have achieved a No. 1 ranking. That's something we can carry for the rest of our lives."
November, 9, 2011
11/09/11
10:00
AM ET
By Walter Villa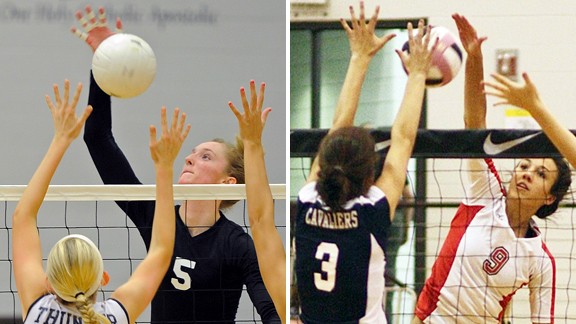 Mike Gunnoe and LoneStarVolleyball.comNo. 1 Papillion-La Vista South (Papillion, Neb.) and No. 2 Lake Travis (Austin, Texas) still have some obstacles in their way, but both teams are closing in on state titles and perfect seasons.
In this corner, there's Papillion-La Vista South (Papillion, Neb.), the No.1 team in the POWERADE FAB 50 national rankings and winners of 73 matches in a row.
In that corner, there's No. 2 Lake Travis (Austin, Texas), which has won 53 consecutive matches and hasn't lost a set all season.
Papio South, as the school is commonly known, and Lake Travis are like two great boxing champions who have never faced each other. All fans can do is wonder what would've happened had they met.
"I wish we could play them," Lake Travis senior setter Katy Beals said. "That would be sweet."
Both are closing in on perfect seasons and their second straight state titles – Nebraska will crown its champions on Saturday, and Texas will save its coronations for Nov. 19.
Both teams emerged as national powers last year. Papio South won the 2010 Class A Nebraska state title and also finished atop the FAB 50 rankings. Lake Travis, the 2010 Class 4A Texas state champion, finished 18th nationally.
The Papio South Titans were then ranked No. 1 in the 2011 preseason and have remained there. The Lake Travis Cavaliers were ranked No. 2 in the preseason and haven't budged, either.
While their high schools teams haven't met, the elite athletes on each team are familiar with each other.
Papio South libero Lauren Poulicek plays on the Nebraska Juniors club team with Titans teammates Kelly Hunter, Megan Stroyek and the Rolfzen twins, Kadie and Amber. Meanwhile, Lake Travis stars Beals, Amy Neal, Mackenzie Mayo and Sierra Patrick compete for Austin Juniors.
"We played them once at nationals this past year," Poulicek said. "We lost. We had some (chemistry) problems.
"I thought (Austin Juniors) had a couple of really good players, and at key times they made big plays. They were all really athletic, good defenders. We couldn't put the ball away."
But Poulicek said she's confident things would be different if Papio South played Lake Travis.
"I think with the way we are playing right now, we could challenge them and probably win the match," she said.
Neal said she recalls playing Nebraska Juniors more than once over the years.
"I've played against them many times from 15s to 16s," she said. "They are amazing players, very hard to stop. We beat them in the 15s and 16s … I don't remember losing to them.
"I think we'd do very well against them if we played them now because we have so many offensive weapons."
But all we can do is guess as to what would happen.
So, taking another page from the fight game, here is the tale of the tape between Papio South and Lake Travis:
Records:
Papio South 35-0; Lake Travis 46-0.
Win streaks:
Papio South 73; Lake Travis 53.
Sets lost:
Papio South 4; Lake Travis 0.
Last team to beat Papio South in a match:
Marian (Omaha, Neb.) defeated Papio South on Nov. 14, 2009 in the Class A state final.
Last team to beat Lake Travis in a match:
Lovejoy (Lucas, Texas) beat Lake Travis in a regular-season match on Oct. 30, 2010.
Biggest remaining obstacle for Papio South:
Marian, possibly in the state semifinal.
Biggest remaining obstacle for Lake Travis:
No. 39 Randall (Amarillo), Friendswood, J.J. Pearce (Richardson) and Aledo are possible tests in the state tournament. Lake Travis has already topped all of those except Pearce already this season.
Coaches:
Gwen Egbert is in her ninth season at Papio South; Jennifer Kazmierski is in her first season at Lake Travis.
Papio South's stars:
5-11 setter Hunter and the 6-3 Rolfzen twins are all juniors who have committed to Nebraska. The twins were ESPN's National Sophomores of the Year last season.
Lake Travis' stars:
6-0 senior setter Beals, who has committed to Washington; and 5-10 senior libero Amy Neal, a Texas recruit.
Papio South's supporting cast:
5-5 senior libero Poulicek; 5-11 senior right side hitter Stroyek, who has committed to Washburn; 5-7 senior setter Whitney Kostal (Rockhurst); 6-0 senior middle blocker Rachel Nelson; and 5-11 junior middle blocker Katie Kurtz.
Lake Travis' supporting cast:
5-5 senior libero Mayo (Baylor); Patrick, a 6-0 right-side hitter (Texas A&M); Piper Toler, a 6-0 outside hitter (Texas Christian); Kaci Eaton, a 6-2 middle blocker (North Texas); 5-7 senior setter Cassie Wang (Washington University in St. Louis); 5-11 junior middle blocker Claire McCown; and 5-9 senior outside hitter Gabby Bienkowski (Great Falls).
The case for Papio South:
They haven't lost a match since 2009. They won this year at St. James (Lenexa, Kan.), which is No. 4 in the nation and is otherwise perfect this season. They also have wins over FAB 50-ranked teams Lincoln Pius X (No. 45) and Marian (No. 48). ... Hunter, Poulicek, Stroyek and the Rolfzen twins played on the Nebraska Juniors club team that won a 16-U national championship in 2010.
The case against Papio South:
They lost two sets against Marian and two to St. James. They did not play in any big out-of-state tournaments.
The case for Lake Travis:
The Cavaliers haven't lost a set all season and have defeated four teams that are ranked among the nation's top 50: No. 39 Randall (Amarillo, Texas); No. 21 Lovejoy (Lucas, Texas.); No. 19 College Park (The Woodlands, Texas); and two wins over No. 24 Cypress Woods (Cypress, Texas). ... Four of the Cavaliers' top stars – Beals, Neal, Mayo and Patrick – won a Junior Olympics national championship last summer while playing for Austin Juniors.
The case against Lake Travis:
They haven't played any team outside of Texas. Class 4A in Texas is not nearly as competitive as Class 5A. And without great size, one wonders if they could handle Papio South's 6-3 Rolfzen twins.