High-SchoolVolleyball:

Kentucky girls volleyball
October, 5, 2011
10/05/11
11:05
PM ET
September, 18, 2011
9/18/11
8:49
AM ET
By Walter Villa

LAS VEGAS, Nev. – If you assumed Assumption is the only strong team in Kentucky, you'd be wrong.

Assumption (Louisville, Ky.) won the Durango Fall Classic on Saturday night, but the Rockets' two state mates at the tournament also had impressive showings.

Sacred Heart (Louisville, Ky.) won the silver championship Saturday, rallying to beat Torrey Pines (San Diego, Calif.), 22-25, 25-14, 25-21. The silver title was good for an overall finish of ninth place.

The third Kentucky team at Durango this weekend was Notre Dame Academy (Park Hills, Ky.), and the Pandas finished a respectable 15th out of 48.

All three Kentucky teams entered the tournament ranked in the POWERADE FAB 50, with Assumption 13th, Sacred Heart 35thand Notre Dame 46th.

The trio combined to go 9-0 on Friday and 17-4 for the weekend, with three of the losses charged to Notre Dame (4-3). Assumption went 7-0, and Sacred Heart rolled to a 6-1 record in Vegas.

"We've been clicking the last couple of weeks or so," Sacred Heart coach Eric Garvey said. "This was a continuation of us playing well."

Sacred Heart's only loss in Vegas was Saturday morning in a round of 16 game against Xavier (Phoenix, Ariz.), 25-18, 25-23. But Garvey's team regrouped and won three straight, beating Pleasant Grove (Pleasant Grove, Utah), Edison (Huntington Beach, Calif.) and Torrey Pines.

Sacred Heart, which lost just three sets in its seven matches, has another big test on Sept. 25 at Assumption.

"They're tough," Garvey said of Assumption. "Their two setters, Katie George and Alexa Filley, are amazing."

California shows its depth
None of them won the top prize, but three California schools finished in the top four. Los Alamitos (Los Alamitos, Calif.) came in second, followed by Marymount (Los Angeles, Calif.) and La Costa Canyon (Carlsbad, Calif.).

Los Alamitos, which entered the tournament ranked seventh in the POWERADE FAB 50 – highest among all the teams at Durango – is now 12-1. It had not lost a set this season until Saturday's semifinals, when it gave up a 24-21 lead to Marymount.

Los Alamitos came back to beat Marymount but could not sustain that momentum against Assumption.

Champs again, sort of
Harvard-Westlake (North Hollywood, Calif.), which won the 2010 Durango Fall Classic, failed to repeat this year, losing in Friday's play-in game to Xavier.

But Harvard-Westlake showed character in rebounding to win the competition division championship, good for an overall finish of 25th.

No Ma'a for Kamehameha
Misty Ma'a, a talented 6-foot-1 outside hitter, missed the last three matches for Kamehameha (Honolulu, Hawaii) after hurting her right arm diving for a ball.

Ma'a, showing a bruise on her right forearm, appeared to be in pain, although no tests had yet been taken to determine the severity of the injury.

"It's frustrating to sit out matches," said Ma'a, who said she did not think the injury was serious.

Even without Ma'a, Kamehameha was impressive, finishing sixth. The Warriors lost a heartbreaker in the quarterfinals, falling 27-25, 25-23 to La Costa Canyon.

Green Valley leads Vegas teams
Green Valley (Henderson, Nev.), which had a big showing on Friday, came in 28th, the highest finish for a Vegas-area team in this year's tournament.

Host Durango came in 45th, just ahead of fellow Vegas-area schools Shadow Ridge (Las Vegas, Nev.), Coronado (Henderson, Nev.) and Foothill (Henderson, Nev.).
September, 17, 2011
9/17/11
7:47
AM ET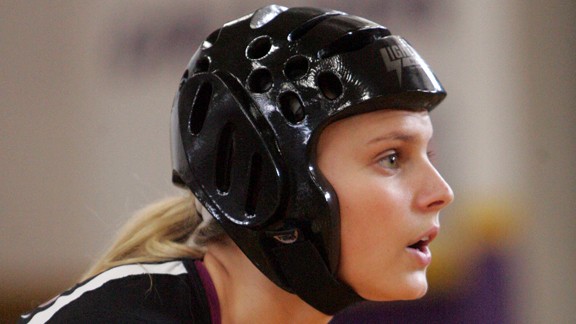 Josh Holmberg/ESPNHSKatie George of Assumption (Louisville, Ky.) is wearing a helmet and pads this season to guard against the blood clots that formed after having her tonsils removed. "I look ridiculous," she says. "But I don't care."
By Walter Villa
LAS VEGAS, Nev. – Wearing a helmet and pads, Katie George may look like a like a football player – but she's not.
She's tougher than that.
George, a 5-foot-10 senior setter for Assumption (Louisville, Ky.), had her tonsils removed in July. But soon after the routine procedure, doctors discovered a blood clot in her left lung.
She was in the hospital -- still suffering from severe pain -- when a doctor told George, a University of Louisville recruit, that her high school volleyball career was over.
George's mother, Ann, started crying. Katie George, battling her own tears and shortness of breath, tried to protest. The monitors strapped to her body sensed her stress level and started blaring like a police siren.
"I don't think people understand how serious volleyball is in the lives (of the kids who play the sport)," said George, who led Assumption, the No. 13 team in the POWERADE FAB 50 national volleyball rankings, to three straight wins on Friday, qualifying the Rockets for Saturday's Sweet 16 round of the prestigious Durango Fall Classic.
"We work so hard and basically give up having a regular teen-age life. For (the doctor) to say, 'You are not going to play your final high school season, but you will live' was not good news. I was devastated."
Devastated … but not deterred.
"It was shocking when they found the blood clot," Ann George said. "You just don't expect that to happen to a 17-year-old girl.
"Katie had been looking forward to her senior season for quite some time. But to her credit, she started researching other players who had competed in her condition."
George took her research to her doctor, who was from India and knew nothing about volleyball. George told him she would wear whatever padding he wanted … as long as she could play.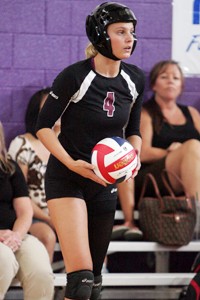 Josh Holmberg/ESPNHSKatie George says she sometimes feels pain when she goes on a serving run.
The doctor then asked if volleyball is a contact sport.
"It is the way I play, running into chairs and bleachers," George said with a laugh. "But I didn't tell him that."
Still, the doctor was not convinced. So George, undaunted, called her uncle, Salem George Jr., who is a vascular surgeon. He recommended another doctor, who said George could play as long as she wears a helmet and pads. This would prevent internal bleeding in case of an on-court collision.
"I said, 'All right! I like this guy!' " George said.
George also has to wear a compression hose from her left foot to her thigh. The fit is so tight, it takes three minutes to put on.
The original hose given to her was white, but George has switched to black, more in keeping with Assumption's uniform.
"With the helmet, the pads and the hose, it looks like I'm pretending to be Allen Iverson … I look ridiculous," George said. "But I don't care."
Coach Ron Kordes, who led Assumption to its 15
th
state title last year, has nothing but praise for George, who has had no collisions since playing with the black foam helmet that is now a big part of her life.
"For her age, she is one of the best leaders I've ever coached," he said. "She never quits."
Indeed, there's no denying George's toughness. The theory is that she gets it from her brothers, Timmy, 22, and Charlie, 21, who grew up using their little sister as a backyard target while practicing their lacrosse skills.
Toughened up by her bruising brothers, George would not let chronic tonsillitis keep her from playing volleyball. She would routinely play despite swollen tonsils and a 103 degree fever.
Doctors told her removing her tonsils was not necessary, but she asked for the procedure. She didn't want anything to get in the way of her impending college career.
When she was hospitalized for the blood clot -- and worried she was losing her volleyball conditioning -- she began taking fast-paced walking laps around the nurses' station. Never mind that she was attached to an IV. She simply took the rolling pole with her.
After six days in the hospital, George was going "stir crazy" and convinced doctors to release her. But this meant she had to give herself blood-thinning injections twice a day for 10 days.
"They made me practice on oranges until I learned how to do it," George said. "After I started giving myself the injections, first in my stomach and then on my right thigh, I looked like a junkie. I had bruises everywhere. It really hurt."
But, remember, George is tough.
Three weeks after she was hospitalized, she was still feeling pain in her left leg. She called her uncle, who scheduled another ultrasound. This time, a second clot was discovered in her left leg.
George, who is still on blood-thinning medication, said she is "perfectly fine" and continues to play.
"When I go on a serving run, I feel pain," she said. "But that's just because I have a jump serve. I also have to watch what I eat. And I can't run into doors like I normally do. I have to be careful."
That is easier said than done for George.
"My husband (Tim) cringes every time she dives on the court," Ann George said. "But with Katie, there is no second gear."