High-SchoolVolleyball:

Kerri Walsh
January, 17, 2012
1/17/12
8:23
AM ET
By Mark Tennis
Here is the list of all-time winners of the ESPNHS Miss Volleyball USA award:
2011:
Jordan Burgess, Berkeley Prep (Tampa, Fla.) Sr.

2010:
Krista Vansant, Redlands East Valley (Redlands, Calif.) Sr.

2009:
Ashley Wittman, Shakopee (Shakopee, Minn.) Sr.

2008:
Kristin Carpenter, Hanover (Mechanicsburg, Va.) Sr.
2007:
Missy Harpenau, Mother of Mercy (Cincinnati) Sr.
2006:
Alix Klineman, Mira Costa (Manhattan Beach, Calif.) Sr.
2005:
Foluke Akinradewo, St. Thomas Aquinas (Fort Lauderdale, Calif.) Sr.
2004:
Cynthia Barboza, Wilson (Long Beach, Calif.) Sr.
2003:
Stesha Selsky, Marymount (Los Angeles) Sr.
2002:
Kristin Richards, Timpanogos (Orem, Utah) Sr.
2001:
Beth Haberli, Divine Savior Holy Angels (Milwaukee) Sr.
2000:
Jennifer Sealeauma, Bonita Vista (Chula Vista, Calif.) Sr.
1999:
April Ross, Newport Harbor (Newport Beach, Calif.) Sr.
1998:
Logan Tom, Highland (Salt Lake City) Sr.
1997:
Sara Sandrik, Pelham (Pelham, Ala.) Sr.
1996:
Denise Boylan, Benet Academy (Chicago) Sr.
1995:
Kerri Walsh, Archbishop Mitty (San Jose, Calif.) Sr.
1994:
Misty May, Newport Harbor (Newport Beach, Calif.) Sr.
1993:
Misty May, Newport Harbor (Newport Beach, Calif.) Jr.
Notes: All-time list derived from combination of previous Student Sports Magazine players of the year (1995-2002), Cal-Hi Sports State Players of the Year (1974-2011), Gatorade National Players of the Year (1995-2011) and additional research.
November, 21, 2011
11/21/11
5:10
PM ET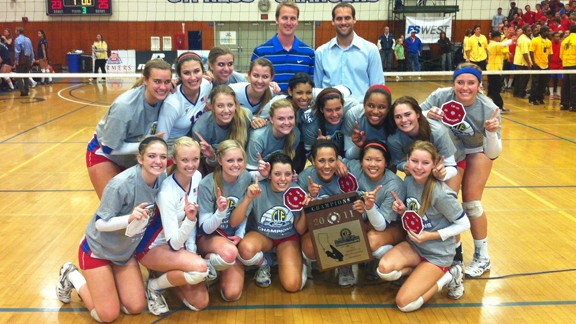 Kirstin Olsen/ESPNHSLos Alamitos celebrates its CIF Southern Section D-IAA championship.
By Kirstin Olsen
No. 20 Marymount
(Los Angeles, Calif.) won its second consecutive CIF Southern Section Division I-A championship this weekend in an exciting match over a very young and talented
No. 24 Corona del Mar
(Newport Beach, Calif.) 27-25, 22-25, 23-25, 25-18, 15-12.
Manon Greskovics-Fuller led Marymount with 23 kills, and freshman Hayley Hodson led the Sea Kings with 20 kills. CdM struggled with its passing in Game 4, which ultimately cost them the match. Marymount's Fuller and freshman Yaasmeen Bedart-Ghani stepped up their games, and libero Tori Shpherd provided some tough serving.
No. 7 Los Alamitos
won the CIF SS D-IIA final this weekend over
No. 25 Newport Harbor
(Newport Beach, Calif.) 25-17, 26-24, 25-23 for its first CIF SS title since 2005.
The Los Al fans were in full force in a sea of red cheering on the Griffins, who dominated the first game. Both teams played amazing defense, but the Griffins overpowered with an array of offensive weapons. Outside hitters Jojo Schnabl (14 kills) and Alijah Gunsaulus (12 kills) led the way, and opposite Jaylen Villanueva (8 kills) and middle Crissy Jones (10 kills) also starred. Cinnamon Sary of Newport Harbor led her team with 13 kills.
Misty May-Treanor was in attendance, rooting for her alma mater, Newport Harbor, and Kerri Walsh was doing commentary for a regional TV broadcast.
No. 48 La Costa Canyon
(Carlsbad, Calif.) won its eighth consecutive championship this past weekend in the CIF San Diego Section D-II final over Bonita Vista (Chula Vista, Calif.) 25-14, 22-25, 25-20, 25-16.
The Mavericks, who won seven consecutive Division I finals, are a newcomer to D-II because of enrollment adjustments. The Mavericks struggled passing, but with six players 6-feet plus they were still able to put balls away. Junior Jordan Robbins led with 11 kills, sophomore Brittany Abercrombie had 10 kills and junior Sydney Francis had 23 digs.
No. 50 Torrey Pines
(San Diego, Calif.) swept Rancho Buena Vista (Vista, Calif.) 25-21, 25-14, 25-10 in the CIF San Diego Section D-I final. Senior setter/hitter Gigi Cresto did a great job in both roles and had 15 assists. Libero Karly Drolson had 15 digs.
For the second year in a row, St. Francis (Mountain View, Calif.) took down Presentation (San Jose, Calif.) in the CIF Central Section D-II finals.
No. 5 Presentation
had beaten unranked St. Francis four times previously this season, but fell 14-25, 25-20, 18-25, 25-20, 15-12 when it mattered most.
St. Francis got 42 assists from Taylor Formico. Presentation was led by outside hitter and Duke commit Emily Sklar, who had 19 kills. The rivals are likely to meet again in the Northern California regional championship game.
No. 14 Palo Alto
took down unranked Menlo-Atherton 25-19, 25-19, 25-14 in the CIF Central Coast Section D-I final. Senior middle blocker Melanie Wade had 21 kills, setter Kimmy Whitson had 32 assists and outside hitter Maddie Kuppe had 16 digs.
The CIF D-I state final could be a great match if seeds hold for Los Al and Palo Alto.
October, 26, 2011
10/26/11
9:34
AM ET
By Walter Villa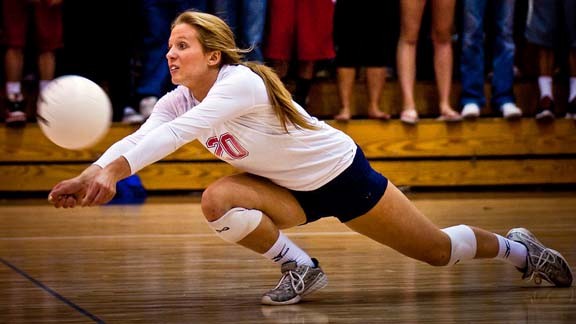 Courtesy of keyserimages.comEmily Podschweit has been described as fiery, passionate and persistent, traits that have helped the 5-foot-7 libero from Iowa get on the radar of the U.S. national beach volleyball team.
It's not often that a beach volleyball prospect emerges from the cornfields of Iowa.
But that's exactly what happened for Emily Podschweit, a 17-year-old ball of energy and a 5-foot-7 libero, who has managed to befriend several of the sport's VIPS, including Misty May-Treanor.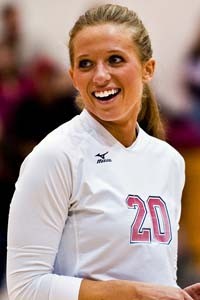 Courtesy of keyserimages.com"When she found out I just had a daughter, she volunteered to become our nanny," Jon Aharoni, coach of the U.S. U19 beach volleyball team, says of Emily Podschweit.
For several months in 2010, Podschweit emailed "millions of questions" to Jon Aharoni, the coach for the United States under-19 beach volleyball national team.
Podschweit wanted to know everything -- even basics such as how to run in the sand.
"It may sound simple," said Podschweit, who now stars for Chaparral (Parker, Colo.). "But as a defensive player, speed is one of the most important parts of my game."
Aharoni laughed off Podschweit's emails -- at first.
"But she was relentless," Aharoni said. "She wanted to know how she could get involved.
"When she found out I just had a daughter, she volunteered to become our nanny."
Podschweit was more than just persistent. She was also extremely confident, telling Aharoni that she was "your next Misty May."
Aharoni said Podschweit "moved mountains" to get on his radar screen. And while that's not literally true, it is a fact that she moved
to the mountains
, in part, to be closer to Team USA's training center in Colorado Springs, Colo.
Raised in what she called the "farmy" town of Bettendorf, Iowa (population 33,217), Podschweit and her older sister, Aubrey, were known as the community's volleyball stars.
Their mother, Mary Kaye, coached volleyball at the high school level for 23 years until leaving the sidelines so she could watch her daughters play.
The girls' father, Matt, was able to get a job with USA Volleyball as a multimedia engineer, making the transition to Colorado easier.
Podschweit, who had impressed Team USA coaches at a volleyball clinic in Chicago, was one of 10 girls invited to spend three weeks training in Russia before the start of her junior year.
But when she struggled with the Russian cuisine, May-Treanor -- who was there as a mentor for all the players -- let her know that she was a guest of the Russians, and it was bad form not to eat and enjoy their food.
"Who gets yelled at by Misty May?" said Podschweit's mother, clearly delighted by the story. "Emily learned a great life lesson."
Once Podschweit returned to the U.S., it was time to make her debut with Chaparral. Wolverines coach T.R. Ellis knew she had a winner in Podschweit, but she moved her from outside hitter to libero because of her size.
Podschweit was crushed but agreed to experiment at the new position for one weekend. When she made all-tournament, Podschweit was convinced she should remain at libero.
She went on to earn all-state honors -- the only libero on the list. She also helped bring a state title back to Chaparral, whose star is Texas recruit Nicole Dalton, a 6-2 hitter and setter.
Aubrey Podschweit, who also played on the state title team, has since graduated and is now competing for Regis University in Denver.
But the Wolverines added another star in 6-3 middle hitter Elizabeth Campbell, a transfer from North Carolina who has committed to Duke.
With all that talent, it's no wonder the Wolverines (18-0) are 13
th
in the POWERADE FAB 50 national rankings as they prepare for district playoffs on Saturday.
Ellis used the word "amazing" to describe Podschweit, who is being recruited by Southern Cal and Georgia State as a sand player.
"She has an uncanny ability to read where the hits are going," Ellis said of Podschweit, who set a school record last year with 35 digs in one match. "Emily seems to come from out of nowhere to make plays."
Jim Miret, her coach at Front Range Volleyball Club, said it's her personality that makes her special.
"She's exciting, fiery and passionate," he said. "She wants to be great, which makes her fun to train."
Podschweit's mother said her daughter first drew inspiration when, at age 11, she met legendary beach player Kerri Walsh at a clinic.
Walsh told Podschweit to "dream big," and the pre-teen took it to heart.
"My other daughter, Aubrey, is a hugger, a team player," Mary Kaye Podschweit said. "Emily's attitude on the court is 'stay out of my way.' She literally stares down the server."
Aharoni once emailed Podschweit a drill she could do to improve her quickness, but he never mentioned how long it should take. Podschweit's manic response was to run it repeatedly until she vomited her way off the court.
"No one will believe I want to be a beach volleyball player if I'm not the best," Podschweit said.
It speaks volumes about Podschweit's desire that the major surgery she required on her left knee as a freshman is now barely worth a mention. But at the time, doctors told her the torn ACL would keep her out 18 months.
Podschweit was training again in six.
"She is ferocious and tenacious," Aharoni said. "She has a great arm and a jump serve you don't usually see on a smaller player.
"But the best thing about her is she listens and absorbs information at a really fast rate. She tends to come up with that really ingenious question."
Aharoni once told Podschweit that to make it at her size, volleyball had to be the last thing she thought about before she went to sleep and the first thing she pondered when she woke up.
"The next thing I know," Aharoni said, "I got a call from her mother that Emily had dumped her boyfriend."
Aharoni said Podschweit follows May-Treanor on Facebook.
"I'm sure they're best friends by now because Emily won't give up," he said. "I don't know if Emily will win a gold medal or become a pro player like Misty, but I won't bet against her."