High-SchoolVolleyball:

Kimmy Whitson
November, 28, 2011
11/28/11
5:49
PM ET
By Kirstin Olsen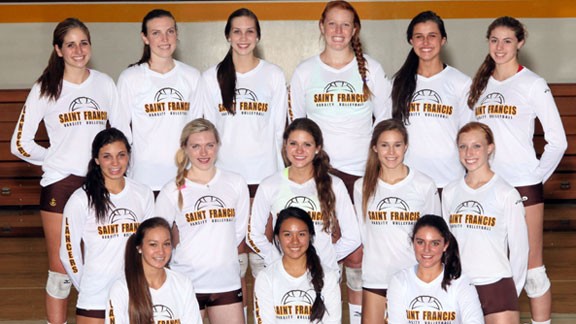 Courtesy of St. Francis AthleticsSt. Francis (Mountain View, Calif.) takes on Presentation (San Jose) for the Division II NorCal title.
No. 12 Palo Alto (Calif.)
won its 19th straight match with a three-set win over San Ramon Valley in the second round of the Division I NorCal CIF state tournament. The Vikings got 19 kills from Washington commit Melanie Wade. Outside hitter and UConn commit Maddie Kuppe had 15 kills, and setter and University of Pacific commit Kimmy Whitson had 32 assists in the 25-20, 25-23, 25-13 win. Next up for Palo Alto is Menlo-Atherton, which knocked off St. Francis (Sacramento) in straight sets.
In the SoCal bracket,
No. 6 Los Alamitos (Los Alamitos)
defeated
No. 26 Corona del Mar (Newport Beach, Calif.)
25-16, 25-20, 21-25, 27-25 in the second round. The Griffins struggled in the third set and lost middle blocker Crissy Jones to an injury. But Los Al picked up its defense and rallied to win a tight fourth set.
No. 15 Marymount (Los Angeles, Calif.)
won in five over a very feisty
No. 28 Newport Harbor (Newport Beach, Calif.)
25-22, 21-25, 13-25, 26-24, 15-8. Junior Middle blocker Kaitlyn Edwards paced the Sailors with 21 kills and 10 blocks, and senior outside hitter Manon Greskovics-Fuller contributed with 12 kills and 25 digs. Newport outside hitter and USC commit Cinnamon Sary led the Sailors with 29 kills and 9 digs. Marymount's Lanti Moye-McLaren and Greskovics-Fuller stepped up their game with some key kills at the end of the match to give the Sailors the edge. Marymount next faces Los Alamitos on Tuesday.
In the Division II CIF tournament, No.
36 St. Francis (Mountain View, Calif.)
took care of
No. 47 El Camino (Sacramento, Calif.)
25-20, 26-24, 22-25, 25-18, and
No. 19 Presentation (San Jose, Calif.)
beat Rocklin 25-13, 23-25, 25-20, 25-23. The much-anticipated rematch of St. Francis and Presentation will take place on Tuesday for the DII NorCal championship. Presentation beat St. Francis three times in the regular season, but when it counted most in the CIF Central Coast Playoffs, St. Francis beat Presentation in five. Presentation boasts outside hitter and Duke commit Emily Sklar, and St. Francis has setter and UCSB commit Taylor Formico and middle blocker and Wake Forest commit Taylor Deaton.
November, 14, 2011
11/14/11
5:18
PM ET
By Kirstin Olsen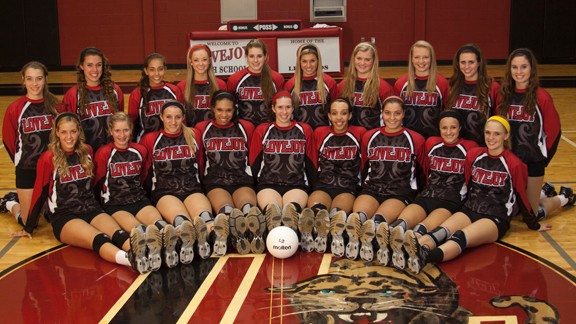 TLC Photos Lovejoy (Lucas, Texas) will be making its fourth straight trip to the Texas state semifinals.


No. 21 Lovejoy
(Lucas, Texas) is cruising through the 3A Conference bracket with wins over North Lamar and Prosper. The Leopards' only losses this season came in August at preseason tournaments. Tulsa commit Nicole Newton and Iowa State commit Andie Malloy signed their letters of intent last week. Junior outside hitter/middle blocker Ebony Nwanebu had verbally committed to USC. The Leopards will face Sinton this week in the state semifinals.
No. 17 Bishop Moore
(Orlando, Fla.) has only one loss this year, to
No. 7 Berkeley Prep
, and may get another shot at the Bucs in the state final. This week the Hornets will take on Bolles in the FHSAA 4A semifinals while Berkeley Prep faces
No. 22 Cardinal Gibbons
. The Hornets boast junior outside hitter Lindsey Owens, senior libero Alex Beecher, sophomore setter Allie Monserez and senior middle blocker Maura Mulligan.
No. 16 Palo Alto
(Palo Alto, Calif.) has had an up-and-down year but is in contention for another state final appearance if they can make it through the CIF Central Coast Section. The Vikings face Salinas this week in the Division I semis. The Vikings' go-to hitters are 6-5 middle blocker Melanie Wade, a Washington commit, and 6-2 outside hitter Maddie Kuppe, a UConn commit. Senior setter and Pacific commit Kimmy Whitson has also starred this year.
No. 27 Marymount
(Los Angeles, Calif.) has had a commendable season with a second-place finish at Durango, sixth at the Cal Challenge and second at Santa Barbara Tournament of Champions. The Sailors boast standout twins Lauren Fuller, a setter and Arizona commit, and Manon Fuller, an outside hitter and Virginia commit. Junior middle blocker Kaitlyn Edwards has stepped up her game as a key contributor this season.