High-SchoolVolleyball:

Kylie Randall
By Kirstin Olsen
Big South Girls' Junior National Qualifier photos:
Gallery 1
|
Gallery 2
There was plenty of star power this past weekend in Atlanta when almost 1,200 teams from all over the nation competed at the
Big South Girls' Junior National Qualifier
at the Georgia World Congress Center trying to earn bids to the
USA Volleyball Girls' Junior National Championships
in Columbus, Ohio at the end of June.
Top clubs such as Triangle of North Carolina, Front Range Volleyball Club of Colorado and Orlando VB Academy of Florida featured high-level talent on all of their squads.
In the 16 Open final, A5 Mizuno 16-1 beat the young team of Front Range 16 Blue 25-14, 25-14.
In the 17 Open final, OVA 17 Asics topped Mizuno Northern lights 17-1 25-22, 16-25, 15-13.
And Tampa Bay Juniors 18 Black beat Orange County VBC 18 NIKE 25-17, 25-18 with the help of Miss Volleyball USA Jordan Burgess.
Here are 10 standouts with graduation year and club team: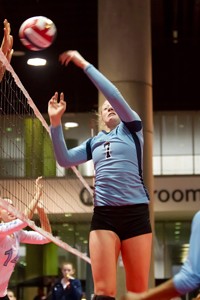 Brian Gibson PhotographyJordyn Poulter of Front Range 16 Blue has a more polished skill set than you normally see in freshmen.
Jordyn Poulter, 2015, Front Range 16 Blue:
This dynamic young lady had college coaches lining almost all of her Front Range 16 Blue team's matches. She has a nice high delivery and can set behind at ease, advanced traits for a freshman. She put up a solid block and has great size. The Eaglecrest (Centennial, Colo.) star will be a treat for any top-10 program.
Jordan Burgess, 2012, Tampa Bay Juniors 18-1:
You can't walk into the gym and not notice Burgess. She is a dynamic weapon in the front row, moving the ball around, crushing angles and lines. She plays defense like a ninja and is equally dangerous with her back-row attack. The Berkeley Prep (Tampa, Fla.) senior will be an asset for Stanford and will definitely get playing time her freshman year. Her accolades for ESPNHS
Miss Volleyball USA
and
Gatorade National Player of the Year
were very deserving.
Sidney Brown, 2014, Tampa Bay Juniors 18-1:
This powerful outside hitter was an impressive balance to Burgess. In her first year of competitive club volleyball, she is definitely getting the attention of college coaches. The Berkeley Prep sophomore hits a very heavy ball and will continue to grow as a player under the coaching of Randy Dagostino.
Rebekah Roe, 2012, HPSTL 18 Navy:
This fiery libero was a treat to watch scramble everywhere. She repeatedly dug ESPNHS Miss Volleyball USA Jordan Burgess on a variety of sharp, hard angles with ease. The Marquette (Chesterfield, Mo.) senior moves around the court quickly and does a good job reading hitters' arms frustrating them when she continues to dig their hardest hits.
Madison Bugg, 2012, Triangle 18 Black:
Bugg, a senior at Cardinal Gibbons (Raleigh, N.C.), is a smart setter who knows how to use her weapons. The
ESPNHS All-American
does a great job running her offense and moving the ball around. Stanford will be lucky to have such a talent next year.
Christina Vucich, 2012, Triangle 18 Black:
The 6-4 lefty opposite is multi-talented on the right with her setting skills. Triangle 18 Black has a lethal attack utilizing Vucich and Madison Bugg on the right. Vucich, a senior at Green Hope (Cary, N.C.) is quick on her feet and will definitely be a great contribution to Duke as she matures as a college player.
Kylie Randall, 2013, Asics Willowbrook 17-1:
The 6-3 outside is solid on the right. The Magnolia (Texas) junior puts up a nice block and can hammer on the angle. She will be an asset for Ohio State in 2013.
Kali Funk, 2013, Top Select 17-1:
The 5-11 fiery setter has great hands and location. The First Academy (Orlando, Fla.) junior had several college coaches surrounding her court watching her and her Top Select 17 team battle on Day 2 of the Big South.
Carolyn Bockrath, 2014, Orange County 17-1:
The 6-2 middle blocker is solid in the middle. She led her team to the final against Tampa Bay Juniors in the 18 open division. The Newport Harbor (Newport Beach, Calif.) sophomore has yet to commit but will be an addition to any Division I team.
Kathryn Hutson, 2014, Alliance 16 Mizuno:
The solid 6-3 outside hitter plays big at the net. She is the sister of University of Texas Longhorn 6-6 middle blocker Madelyn Hutson. The Ravenwood (Brentwood, Tenn.) sophomore has a heavy arm and has good size for an opposite.
October, 4, 2011
10/04/11
9:49
AM ET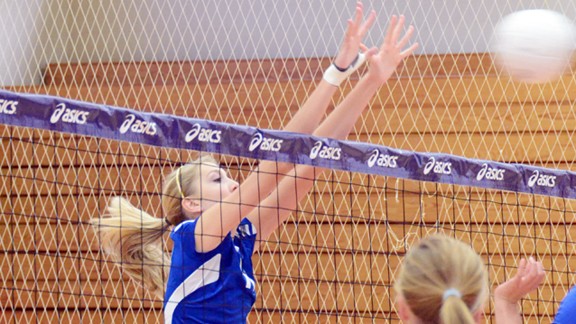 David Villegas/ESPNHSCatholic Memorial (Waukesha, Wis.) took 10th place at the 2011 Asics Challenge and is gearing up for a run at its third straight state title.
By Walter Villa
Over the past 20 years, coach Ted Schulte has built a volleyball powerhouse in Wisconsin.
Catholic Memorial (Waukesha, Wis.) has won five state titles during that span, including the two most recent championships.
His teams have also played in Chicago's prestigious
Asics Challenge
every year since 1993, finishing a program-best sixth last season and a respectable 10
th
this past weekend.
Now that they are back home, it's just about time for the Crusaders (30-5) to make their stretch run. The state playoffs begin Oct. 18.
"I think we are a lot better team now than we were going in to Chicago," Schulte said.
The Crusaders' only losses at Asics were to a pair of teams that are in the
POWERADE FAB 50 national rankings
– No. 37 Sacred Heart (Louisville, Ky.) and No. 41 Huntley (Huntley, Ill.).
But while Schulte was proud of his team's performance in Chicago, he is at times frustrated by his players.
"We're a psychotic team," Schulte joked before the Asics Challenge. "We're good, but we're wildly inconsistent. At times, we just don't seem to have the inner drive. We don't have the intense practices we should be having. Sometimes there are petty jealousies. … But hope springs eternal."
Perhaps Schulte is spoiled by last season's team, which went 46-4 and set a high standard for the current group to follow.
Four starters graduated from last season's team, leaving a bit of a leadership void. Two weeks ago, in the middle of a poor practice, the Crusaders called a players-only meeting to see if they could sort out their inconsistent play.
The new leaders of the team are senior co-captains Sara Connell and Greta Davis. Connell, a 5-7setter, has committed to Seton Hall. Davis, a 5-11middle hitter and an aspiring doctor, has chosen to focus on academics in college and won't play volleyball. She has applied to Harvard.
Other Crusaders standouts include Amanda Hansen, a 6-3 senior middle hitter who has committed to Seton Hall; Kaitlyn Hastings, a 5-7 senior outside hitter who has committed to South Dakota; Lindsey Casper, a 5-4 junior who is a skilled libero; and Aly Dawson, a 5-11 junior outside hitter who has committed to Marquette.
Given that there are at least four future college players on the court for the Crusaders, there is no doubt the team has the talent to win state again.
Hooray for Houston
The Houston area is blessed with loads of volleyball talent. College Park, for example, has four players who have already committed to colleges, and Cypress Woods has three.
The College Park recruits are Katie Mitchell (Ohio State); Alex Thorson (Tulane); Michelle Griffith (Sam Houston); and Taylor Erwin (Emory).
Cypress Woods' recruits include Chloe Collins (Texas); Victoria Arenas (Texas A&M); and Sarah Nielsen (Mississippi State).
Cypress Falls has a pair of college commitments in Chanell Clark-Bibbs (Georgia Tech) and Alexis Austin (Colorado).
Clear Lake can match Cypress Falls' output with Kiara Wright (Southern Cal) and Haley Satterwhite (Texas A&M-Corpus Christi).
Some of the other big commitments include Magnolia's Kylie Randall (Ohio State); Tomball's Roxanne McVey (Mississippi State); Foster's Tiana Dockery (Kansas); and Friendswood's Jill Bergeson (Pepperdine).