High-SchoolVolleyball:

Lanti Moye-McLaren
December, 5, 2011
12/05/11
5:15
PM ET
By Kirstin Olsen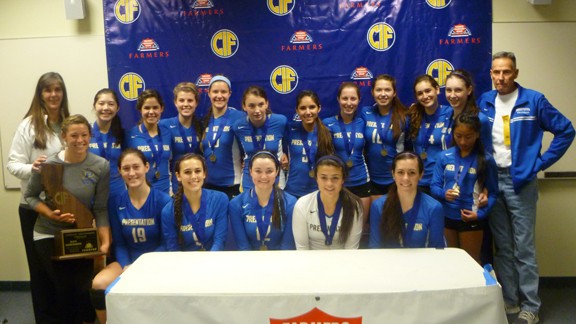 Kirstin Olsen/ESPNHSIt was anything but easy, but Presentation won its first ever volleyball state title.
The final two games of the 2011 season were both decided in dramatic five-set fashion. Before closing the book on the season, these two classics deserve a second look.
What:
Division II California Interscholastic Federation final
Who:
No. 15 Presentation (San Jose) vs. No. 42 La Costa Canyon (Carlsbad)
Score:
Presentation 3, La Costa Canyon 2
Game 1 highlights:
With a plethora of offensive weapons, including six players over 6-feet, La Costa Canyon came out swinging. Cosy Burnett came up with key kills, and although the Mavericks struggled a bit on defense and with their passing, they took the first game 25-20.
Game 2 highlights:
Presentation played great defense and libero Kathleen Bozzo served tough and got LCC in passing trouble, but the Mavericks still prevailed 25-20 to take a 2-0 lead. "We were kind of a deer in the headlights," coach Sue Dvorak said.
Game 3 highlights:
With their backs against the wall, the Panthers fought for every ball and didn't give up, even surviving a match point. Junior outside hitter Alex Sheredy and setter Veronica Blither stepped up their games, and momentum shifted with a 26-24 Presentation win. "As soon as we calmed down and figured out we could play with them, we got a little more confidence," Dvorak said. "Their shoulders relaxed a little it and they started digging balls better and blocking better, and it was a fun match."
Game 4 highlights
: With ninja-like defense and steady all-around play, Presentation dominated the fourth game and won 25-15. Setter/hitter Madison Cooper was a key contributor with her left-handed craftiness and great court sense.
Game 5 highlights:
The Panthers got on a roll and never looked back. Cooper served tough, and Emily Sklar closed out the match with one of her 22 kills as Presentation prevailed 15-9.
They said it:
"For me it just meant that I could end my high school career on a good note and finish with no regrets. We made school history as the first team to ever win state, and MVP is pretty good." -- Sklar
Notes:
The win marked the first CIF state championship for Presentation. ... The Panthers finish with a 39-2 record.
What:
Division I California Interscholastic Federation final
Who:
No. 9 Palo Alto vs. No. 12 Marymount (Los Angeles)
Score:
Palo Alto 3, Marymount 2
Game 1 highlights:
Melanie Wade was a threat in the front and back rows for Palo Alto, and the Vikings cruised to a routine opening-game win, 25-17.
Game 2 highlights:
Marymount put up a good fight, but Palo Alto libero Shelby Knowles came up huge and had key digs forthe Vikings. Marymount's Lauren Greskovics-Fuller struggled a bit to connect with Kaitlyn Edwards on the slide, and the Palo Alto defense and passing proved to be too much. Palo Alto put itself on the brink of a repeat title with a 25-23 win.
Game 3 highlights:
Greskovics-Fuller moved the ball around beautifully and got all her hitters involved. Ashlie Williams was unstoppable in the middle and Lanti Moye-McLaren was a threat in the front and back rows, hitting a variety of angles. It could have gone either way, but the Sailors rallied at key points to win the game 25-22 and keep their season alive.
Game 4 highlights:
Marymount came out on fire, holding the lead almost the whole game. Greskovics-Fuller spread the ball around, and Renee Meyer-Whalley came in and served tough to close out the game 25-20 and force a fifth game.
Game 5 highlights:
Outside hitter Manon Greskovics-Fuller got hot offensively for Marymount, and the Sailors would not let a ball drop. At 13-7, all signs were pointing to a Marymount win. But then the momentum shifted. Maddie Kuppe went back to serve. "When we sided out and I got back to the end line I was like 'Wait ... we can do this," Kuppe said. "It was like a second switch for me." Palo Alto roared back, and at 12-13 the fans started to chant "I believe my team can win." Wade answered with two of her 27 kills. After Marymount hit a ball out, Palo Alto found itself with a 17-15 win. "I am just super proud of our team, the way we came back," Wade said.
They said it:
"I am waiting for the ref to say, 'Oops we made a mistake. You guys actually lost. It's going to take me a couple of days to figure out how the heck we did that. I'm proud that the seniors got this experience, though, because they worked their butts off all year. It would have been a big dud if we had a wipeout in the fifth set after being up 2-0. So I'm really happy that their efforts were rewarded with this." -- coach Dave Winn
Notes:
Palo Alto (36-3) became the first team in school history to win back-to-back state titles. ... Wade, a senior, was named MVP.
December, 4, 2011
12/04/11
8:55
AM ET
By Kirstin Olsen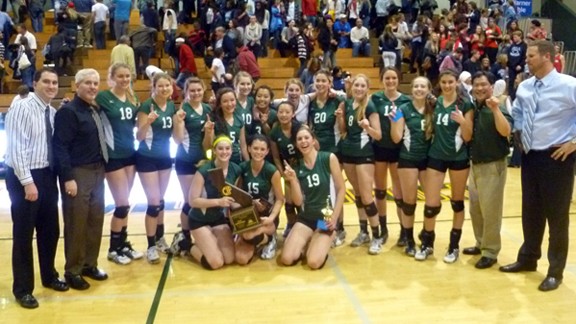 Kirstin Olsen/ESPNHSPalo Alto won back-to-back CIF state championships by staging a dramatic fifth-set rally to top Marymount (Los Angeles).
The final two state champions of the 2011 volleyball season were crowned Saturday night in California, and it very well might have been a case of saving the best games for last.
In the CIF Division II state championship, Presentation (San Jose, Calif.) rallied from two sets down and fought off a match point to win its first CIF state championship in volleyball.
Led by 20 kills from Duke commit Emily Sklar, undersized Presentation took down taller La Costa Canyon (Carlsbad, Calif.) 20-25, 20-25, 26-24, 25-15, 15-9.
In the first two games, La Costa Canyon, ranked 42nd in the
POWERADE FAB 50 national rankings
, was in system and had a bevy of hitters to feed, particularly middle Natalie Bausback and outside hitter Cosy Burnett.
But the No. 15 Panthers rallied in the third set with steady play and smart hitting. Veronica Bither and Madison Cooper started to get all their hitters involved and had a great total team effort, never looking out of system.
The Division I final was packed full of drama as well.
No. 9 Palo Alto rallied from a six-point deficit in the fifth game and claimed back-to-back CIF state championships with a 25-17, 25-23, 22-25, 20-25, 17-15 win over No. 12 Marymount (Los Angeles).
In the first two games, Palo Alto was in a great rhythm, utilizing 6-foot-5 middle blocker Melanie Wade, a Washington commit, and getting great passing and hitting from senior outside hitter Maddie Kuppe.
But the momentum took a sharp turn starting in the third game.
Marymount took over with amazing defense and good all-around play. Lanti Moye-McLaren was a key weapon in the front and back row, hitting a variety of angles, and Marymount setter Lauren Fuller did a great job moving the ball around to her hitters.
In the last game, Marymount was up 13-7, but Palo Alto steadied its play and fought its way back in to win the match 17-15.
Wade finished with 26 kills, and the Vikings became the first Palo Alto team to win two straight titles.
November, 28, 2011
11/28/11
5:49
PM ET
By Kirstin Olsen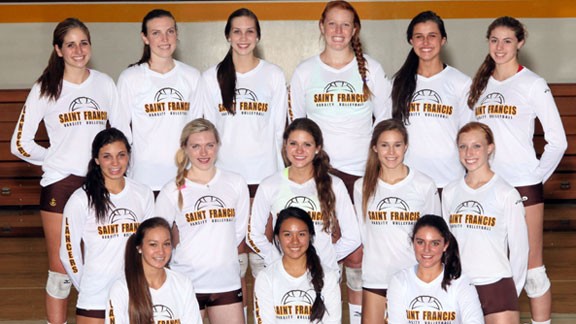 Courtesy of St. Francis AthleticsSt. Francis (Mountain View, Calif.) takes on Presentation (San Jose) for the Division II NorCal title.
No. 12 Palo Alto (Calif.)
won its 19th straight match with a three-set win over San Ramon Valley in the second round of the Division I NorCal CIF state tournament. The Vikings got 19 kills from Washington commit Melanie Wade. Outside hitter and UConn commit Maddie Kuppe had 15 kills, and setter and University of Pacific commit Kimmy Whitson had 32 assists in the 25-20, 25-23, 25-13 win. Next up for Palo Alto is Menlo-Atherton, which knocked off St. Francis (Sacramento) in straight sets.
In the SoCal bracket,
No. 6 Los Alamitos (Los Alamitos)
defeated
No. 26 Corona del Mar (Newport Beach, Calif.)
25-16, 25-20, 21-25, 27-25 in the second round. The Griffins struggled in the third set and lost middle blocker Crissy Jones to an injury. But Los Al picked up its defense and rallied to win a tight fourth set.
No. 15 Marymount (Los Angeles, Calif.)
won in five over a very feisty
No. 28 Newport Harbor (Newport Beach, Calif.)
25-22, 21-25, 13-25, 26-24, 15-8. Junior Middle blocker Kaitlyn Edwards paced the Sailors with 21 kills and 10 blocks, and senior outside hitter Manon Greskovics-Fuller contributed with 12 kills and 25 digs. Newport outside hitter and USC commit Cinnamon Sary led the Sailors with 29 kills and 9 digs. Marymount's Lanti Moye-McLaren and Greskovics-Fuller stepped up their game with some key kills at the end of the match to give the Sailors the edge. Marymount next faces Los Alamitos on Tuesday.
In the Division II CIF tournament, No.
36 St. Francis (Mountain View, Calif.)
took care of
No. 47 El Camino (Sacramento, Calif.)
25-20, 26-24, 22-25, 25-18, and
No. 19 Presentation (San Jose, Calif.)
beat Rocklin 25-13, 23-25, 25-20, 25-23. The much-anticipated rematch of St. Francis and Presentation will take place on Tuesday for the DII NorCal championship. Presentation beat St. Francis three times in the regular season, but when it counted most in the CIF Central Coast Playoffs, St. Francis beat Presentation in five. Presentation boasts outside hitter and Duke commit Emily Sklar, and St. Francis has setter and UCSB commit Taylor Formico and middle blocker and Wake Forest commit Taylor Deaton.