High-SchoolVolleyball:

Logan Barber
March, 8, 2012
3/08/12
10:00
AM ET
By Walter Villa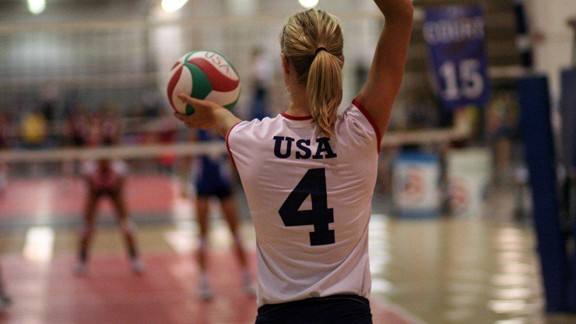 Courtesy of Mary DimkeLydia Dimke, a 6-foot-2 sophomore at Blaine (Minn.), hopes to play setter in college.
Lydia Dimke -- and other players like her -- may be the future of girls' volleyball.
Traditionally, tall girls such as the 6-foot-2 Dimke would be made into middle blockers as early as middle school.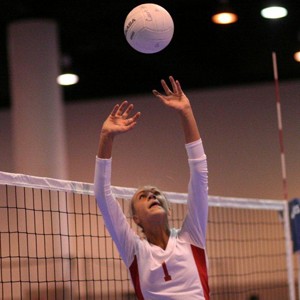 Courtesy of Mary DimkeLydia Dimke spends three front-row rotations as a hitter and three back-row rotations setting for her high school team.
But Dimke, a sophomore at Blaine (Minn.), has a different dream.
"I want to be a setter in college," Dimke said.
And the dream is very realistic because of the evolution of the sport. Tall players with good hands are now being trained as setters from an early age. What they may lack in quickness compared to a smaller player, they make up for in longer strides and the ability to cover more territory.
At the moment, Dimke is a part-time setter. She spends three front-row rotations as a hitter and three back-row rotations setting.
"I enjoy doing both -- it's a great opportunity," Dimke said. "I wouldn't mind doing both in college. But if I had my preference, I'd like to be a setter."
Walt Weaver, who coached Dimke to a national title with the Northern Lights 15s club team last season, said major colleges are lining up to earn her commitment.
Dimke, who wants to study medicine, said it's too early for her to settle on a college. For now, her focus is on repeating as a national champion, this time with the Northern Lights 16s team.
A growing trend
Of the four full-time setters who made first-, second- and third-team All-America last season in NCAA Division I, none is taller than 6-0.
The list includes 5-11 Kendall Bateman of Southern Cal and 6-0 Alison Landwehr of Iowa State on the first team, 5-8 Bre Payton of Northern Iowa (second team) and 5-9 Brianne Barker of Oklahoma (third team). There is also 6-2 Kelly Murphy of Florida, who made the first team as a setter/hitter.
Compare those heights to the setters and setters/hitters who made the
2011 ESPNHS All-America first team
, and you can see that size is trending up. The ESPNHS team featured 6-2 Andie Malloy of Lovejoy (Lucas, Texas), 6-2 Megan Courtney of Archbishop Alter (Kettering, Ohio), 6-1 Katy Beals of Lake Travis (Austin, Texas), 6-1 Madison Bugg of Cardinal Gibbons (Raleigh, N.C.) and 5-10 Katie George of Assumption (Louisville, Ky.).
If you are counting, the top five college setters or setters/hitters are a combined 10 inches shorter than their five prep counterparts.
Logan Barber, who coached Bugg in high school, is convinced his former star will be a setter at Stanford. It's the position where she can reach her full potential, Barber said.
Barber also said he thought the trend of taller setters began a few years ago.
"It started in college and has trickled down to high school and club," he said. "Teams want to have more consistency on offense by using just one setter instead of having to change setters when she rotates to the front row.
"If you have a taller setter, she can stay in and be an effective blocker on the front row."
Barber said 6-0 is the "benchmark" top college programs are looking for in terms of height for a setter.
"But if you are 5-10 or 5-11 and can jump, they won't have a problem," he said. "Colleges have to be wary about taking a tall player and trying to convert her to a setter. That's hard to make happen late in the game.
"The primary thing is that she's a good setter. If she's an accomplished setter and happens to be taller, that gives her a bonus. Her phone will be ringing quickly (from college recruiters) in that case."
The ideal setter
Cookie Stevens, an assistant coach who helped the Southern Cal Trojans make the 2011 Final Four; said the ideal setter is 6-0 or taller and left-handed. She also has to be quick, especially if you don't have a precise passing team and she has to chase passes frequently.
"The advantage of having a tall setter and preferably left-handed is that they can hit the second ball over, and the blockers have to see if she is going to hit or if she is going to set," Stevens said. "The blockers have to decide if they go up with her or with the hitter."
Ryan Mitchell, who coached Malloy at Lovejoy, said coaches are getting smarter in how they are selecting players.
"It used to be that your smaller, athletic kid was your setter," he said. "But now we're taking big kids with athletic ability and training them to set.
"It's just the evolution of the game when outside hitters in college are touching 10-4 or 10-6. If you have a 5-9 setter, you are going to lose that battle. So you have two options: Run a 6-2 with a setter in the back or get bigger setters."
December, 21, 2011
12/21/11
9:08
AM ET
By Walter Villa
Courtesy of Ailene HowardMadison Bugg of Cardinal Gibbons learned to play volleyball from her mom, Robin, who was a star at Tennessee. "She was three weeks old when I started taking her to the gym," Robin says.
READ MORE:
Meet the first- and second-team All-America selections
The photo was snapped during Madison Bugg's sophomore season.
It was moments before the 2009 state final, and the Cardinal Gibbons (Raleigh, N.C.) players had lined up for pre-match introductions.
While everyone else was smiling and waving to the crowd, Bugg's hands had formed fists, her face had morphed into a scowl and her body language screamed defiance.
The year before, Bugg had broken into the starting lineup as a freshman, and Gibbons had lost in the state final -- a result she was determined to avoid.
As it turns out, 2009 was the first of three straight state titles for Gibbons, and Bugg won MVP honors each time, making for a virtually perfect high school career.
But Bugg, who has been named a 2011 ESPNHS All-American, wasn't satisfied.
"It would have been perfect," Bugg said of her prep career, "if we had won (state) my freshman year. But we made too many mistakes, and it was beyond frustrating because we were good enough to win."
Bugg certainly has what it takes to excel. The 6-foot senior was the setter on her club team (Triangle) but unselfishly played outside hitter at Gibbons. With other setting options, Gibbons had a greater need for Bugg to finish points.
"It speaks to the type of person she is," said Mike Schall, a former assistant at Penn State and Bugg's coach last summer with the Triangle program. "There was some sacrifice on her end. But at the root of it, she wants to win."
Bugg describes herself as stubborn and driven, but she is far from one-dimensional. Beyond her athletic excellence, she also carries a 4.65 grade-point average and has a scholarship to Stanford.
Academics were a big part of the reason why she chose Stanford. Other coaches who recruited her, Bugg said, just asked her if her grades were good and then talked volleyball.
Stanford had the only staff that told her she needed a high SAT score to get admitted.
Ironically, Stanford was the first volleyball team Bugg can remember watching as a 7-year-old kid. She told her father, Dick, that Stanford would one day be her college destination.
"Nobody thought that was even possible," Bugg said. "His basic response was: 'Good luck with that.' "
Perhaps no one should have doubted Bugg, considering that her mother was a volleyball star at Tennessee and is in the Volunteers' Hall of Fame. Bugg's mom, who at the time was known by her maiden name of Robin Maine, was a 5-10 middle blocker.
"Her knees are shot now," Bugg said. "But she can still hit."
Robin, who coached high school volleyball and is now part of the Triangle staff, said her daughter was raised on the sport.
"She was three weeks old," Robin said, "when I started taking her to the gym."
The family -- Bugg is the oldest of three siblings -- moved around a few times due to Dick's job with Fidelity Investments. Bugg was born in Plano, Texas, and adjusted to life in Utah and New Hampshire before settling in Raleigh at age 12.
Through all the changes, volleyball was a constant. Bugg can remember playing pepper with her mother and, at times, getting hit in the face.
"She didn't get her hands up fast enough," Robin said.
Perhaps that pounding toughened up Bugg, who has shown a tremendous tolerance for pain.
In 2010, she sprained her ankle in practice right before the state semifinals but still played.
"She won state MVP on one good ankle," Gibbons coach Logan Barber said. "But even if her leg had fallen off, she would have found a way to get on the court."
The injury bug hit Bugg again this year, when she played with a painful back that bothered her for the last two-thirds of the season.
Jim Freeman, who coached her for her first two years at Gibbons, said Bugg is more than just durable. Freeman, who won 10 state titles in his last 12 years at Gibbons, said Bugg ranks with former Penn State star Megan Hodge as the greatest prep player in North Carolina history.
"Madison's hand-eye coordination is off the charts," said Freeman, now the head coach at Division II Barton College in Wilson, N.C.
Freeman, who was there when Bugg stared down her opponents right before the 2009 state final, said his former star's mental makeup is her biggest gift.
"She's extremely competitive," Freeman said. "The bigger the game, the more she likes it and the better she plays. And that's very rare."