High-SchoolVolleyball:

Los Alamitos
December, 29, 2011
12/29/11
8:42
AM ET
By Walter Villa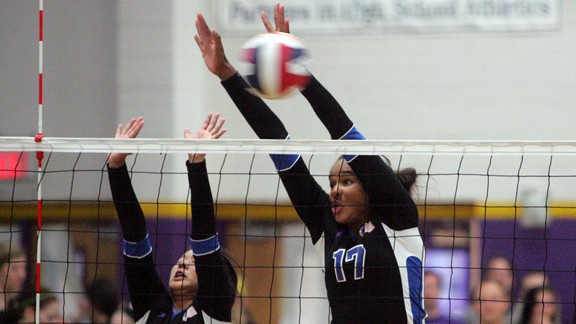 Josh HolmbergCrissy Jones may enjoy the thrill of the block more than anything else in volleyball. "It's great to know you have stopped their best shot and have gotten into their heads," she says.
POSTSEASON AWARDS:
Freshman of the Year
|
Coach of the Year
|
ESPNHS All-America Team
|
Gatorade State Players of the Year
If you've ever seen Crissy Jones play, you've no doubt noticed her exuberance.
After a kill or some other big play, the Los Alamitos (Calif.) star will dive on both her knees, raise both her fists and shout at the top of her lungs.
"Her fire is contagious," said Justine Wong-Orantes, Los Al's junior setter. "If they gave an award for 'most energetic,' she would definitely get it."
Actually, the award Jones has won is the ESPNHS Sophomore of the Year.
Jones, a 6-foot-2 middle blocker, had 259 kills, 93 blocks and a .472 hitting percentage to lead Los Al (37-4) to a CIF Southern Section Division II-A championship over Newport Harbor (Newport Beach, Calif.).
On match point, Jones blocked Newport Harbor star Cinnamon Sary for the winner.
"Crissy was the first one to go down (in celebration)," Wong-Orantes said. "And we all jumped on top of her."
Los Al finished 20th in the final POWERADE FAB 50 national rankings, losing a four-set match to Marymount (Los Angeles, Calif.) in the CIF Southern California Division I regional final.
After graduating 10 seniors from this year's team, Los Al coach Dave Huber will be able to reload with Jones and Wong-Orantes as building blocks.
Jones, in particular, brings a lot of energy, Huber said.
"She plays with a ton of passion and is very physical," said Huber, who just completed his fifth season running the Los Al program. "She can control the game at the net with her blocking, and she puts the ball away with power on offense.
"And when we get a point, she is the first to celebrate. She is very emotional and not shy at all. She will get fired up, and it doesn't matter if it's the first point or the last."
Jones said she gets a "rush of adrenaline" from a block.
"I love it," she said. "It's great to know you have stopped their best shot and have gotten into their heads."
Jones has certainly gotten into the heads of numerous colleges, judging by her shoebox full of scholarship offers. It started with the Washington Huskies when she was in eighth grade and has grown from there.
Jones has yet to pick a college destination, but says she prefers to not venture any farther east than Texas.
It would seem that California schools will have a strong shot at signing her because she loves the water and beach volleyball.
Then again, Jones has other interests as well. Her favorite subject is French and she enjoys snowboarding.
"I'm outgoing," Jones said when asked to describe herself. "I just like having fun and being young."
December, 1, 2011
12/01/11
8:40
AM ET
By ESPNHS
The final POWERADE FAB 50 national rankings are set to be released next week, but it looks as though there's one spot in the top 10 still up for grabs.
On Saturday, Palo Alto and Marymount of Los Angeles will fight for that spot when they meet in the California Division I state final.
In the Week 13 rankings, Palo Alto moved up to No. 9 and Marymount moved up to No. 12. Los Alamitos, which had been the top team in California at No. 6, fell to No. 19 after losing a tough four-setter.
Click here for the complete Week 13 rankings.
November, 28, 2011
11/28/11
5:49
PM ET
By Kirstin Olsen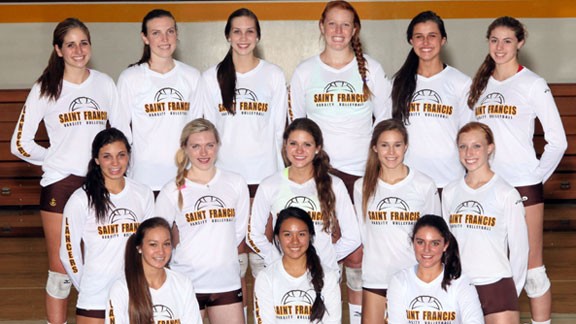 Courtesy of St. Francis AthleticsSt. Francis (Mountain View, Calif.) takes on Presentation (San Jose) for the Division II NorCal title.
No. 12 Palo Alto (Calif.)
won its 19th straight match with a three-set win over San Ramon Valley in the second round of the Division I NorCal CIF state tournament. The Vikings got 19 kills from Washington commit Melanie Wade. Outside hitter and UConn commit Maddie Kuppe had 15 kills, and setter and University of Pacific commit Kimmy Whitson had 32 assists in the 25-20, 25-23, 25-13 win. Next up for Palo Alto is Menlo-Atherton, which knocked off St. Francis (Sacramento) in straight sets.
In the SoCal bracket,
No. 6 Los Alamitos (Los Alamitos)
defeated
No. 26 Corona del Mar (Newport Beach, Calif.)
25-16, 25-20, 21-25, 27-25 in the second round. The Griffins struggled in the third set and lost middle blocker Crissy Jones to an injury. But Los Al picked up its defense and rallied to win a tight fourth set.
No. 15 Marymount (Los Angeles, Calif.)
won in five over a very feisty
No. 28 Newport Harbor (Newport Beach, Calif.)
25-22, 21-25, 13-25, 26-24, 15-8. Junior Middle blocker Kaitlyn Edwards paced the Sailors with 21 kills and 10 blocks, and senior outside hitter Manon Greskovics-Fuller contributed with 12 kills and 25 digs. Newport outside hitter and USC commit Cinnamon Sary led the Sailors with 29 kills and 9 digs. Marymount's Lanti Moye-McLaren and Greskovics-Fuller stepped up their game with some key kills at the end of the match to give the Sailors the edge. Marymount next faces Los Alamitos on Tuesday.
In the Division II CIF tournament, No.
36 St. Francis (Mountain View, Calif.)
took care of
No. 47 El Camino (Sacramento, Calif.)
25-20, 26-24, 22-25, 25-18, and
No. 19 Presentation (San Jose, Calif.)
beat Rocklin 25-13, 23-25, 25-20, 25-23. The much-anticipated rematch of St. Francis and Presentation will take place on Tuesday for the DII NorCal championship. Presentation beat St. Francis three times in the regular season, but when it counted most in the CIF Central Coast Playoffs, St. Francis beat Presentation in five. Presentation boasts outside hitter and Duke commit Emily Sklar, and St. Francis has setter and UCSB commit Taylor Formico and middle blocker and Wake Forest commit Taylor Deaton.
November, 21, 2011
11/21/11
5:10
PM ET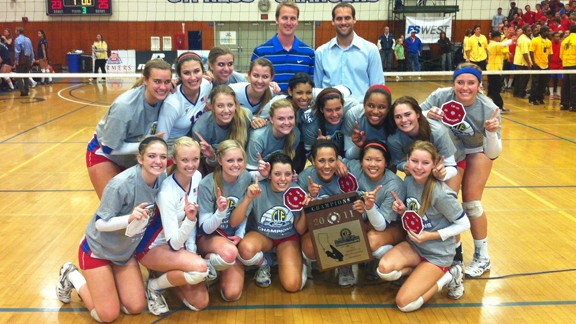 Kirstin Olsen/ESPNHSLos Alamitos celebrates its CIF Southern Section D-IAA championship.
By Kirstin Olsen
No. 20 Marymount
(Los Angeles, Calif.) won its second consecutive CIF Southern Section Division I-A championship this weekend in an exciting match over a very young and talented
No. 24 Corona del Mar
(Newport Beach, Calif.) 27-25, 22-25, 23-25, 25-18, 15-12.
Manon Greskovics-Fuller led Marymount with 23 kills, and freshman Hayley Hodson led the Sea Kings with 20 kills. CdM struggled with its passing in Game 4, which ultimately cost them the match. Marymount's Fuller and freshman Yaasmeen Bedart-Ghani stepped up their games, and libero Tori Shpherd provided some tough serving.
No. 7 Los Alamitos
won the CIF SS D-IIA final this weekend over
No. 25 Newport Harbor
(Newport Beach, Calif.) 25-17, 26-24, 25-23 for its first CIF SS title since 2005.
The Los Al fans were in full force in a sea of red cheering on the Griffins, who dominated the first game. Both teams played amazing defense, but the Griffins overpowered with an array of offensive weapons. Outside hitters Jojo Schnabl (14 kills) and Alijah Gunsaulus (12 kills) led the way, and opposite Jaylen Villanueva (8 kills) and middle Crissy Jones (10 kills) also starred. Cinnamon Sary of Newport Harbor led her team with 13 kills.
Misty May-Treanor was in attendance, rooting for her alma mater, Newport Harbor, and Kerri Walsh was doing commentary for a regional TV broadcast.
No. 48 La Costa Canyon
(Carlsbad, Calif.) won its eighth consecutive championship this past weekend in the CIF San Diego Section D-II final over Bonita Vista (Chula Vista, Calif.) 25-14, 22-25, 25-20, 25-16.
The Mavericks, who won seven consecutive Division I finals, are a newcomer to D-II because of enrollment adjustments. The Mavericks struggled passing, but with six players 6-feet plus they were still able to put balls away. Junior Jordan Robbins led with 11 kills, sophomore Brittany Abercrombie had 10 kills and junior Sydney Francis had 23 digs.
No. 50 Torrey Pines
(San Diego, Calif.) swept Rancho Buena Vista (Vista, Calif.) 25-21, 25-14, 25-10 in the CIF San Diego Section D-I final. Senior setter/hitter Gigi Cresto did a great job in both roles and had 15 assists. Libero Karly Drolson had 15 digs.
For the second year in a row, St. Francis (Mountain View, Calif.) took down Presentation (San Jose, Calif.) in the CIF Central Section D-II finals.
No. 5 Presentation
had beaten unranked St. Francis four times previously this season, but fell 14-25, 25-20, 18-25, 25-20, 15-12 when it mattered most.
St. Francis got 42 assists from Taylor Formico. Presentation was led by outside hitter and Duke commit Emily Sklar, who had 19 kills. The rivals are likely to meet again in the Northern California regional championship game.
No. 14 Palo Alto
took down unranked Menlo-Atherton 25-19, 25-19, 25-14 in the CIF Central Coast Section D-I final. Senior middle blocker Melanie Wade had 21 kills, setter Kimmy Whitson had 32 assists and outside hitter Maddie Kuppe had 16 digs.
The CIF D-I state final could be a great match if seeds hold for Los Al and Palo Alto.
November, 10, 2011
11/10/11
4:34
PM ET
The top 10 has a new look in this week's
POWERADE FAB 50
national rankings.
Previous No. 5 Carroll (Southlake, Texas), previous No. 8 Avon (Ind.) and previous No. 10 Xavier Prep (Phoenix) all fell in their state playoffs, opening the door for other teams to move to the top. Benet Academy (Lisle, Ill.), Los Alamitos (Calif) and Penn (Mishawaka, Ind.) barged on in.
Eighteen states, including Nebraska -- home to No. 1 Papillion-La Vista South (Papillion, Neb.) -- will hold their state championships this weekend.
September, 26, 2011
9/26/11
7:10
PM ET
By Kirstin Olsen
St. James (Lenexa, Kan.) is the No. 4 team in the POWERADE FAB 50 national rankings, and rightfully so with a 22-0 season and a big win at the Blue Springs South Tournament this past weekend for their third tournament title of the season.
St. James beat St. Teresa's (Kansas City, Mo.) in the final 25-14, 25-20.
Senior setter and Appalachian State commit Paige Brown had six aces, 151 assists, 11 kills, 7 block assists, and 43 digs over the weekend. Senior outside Annie Reilly finished with 7 aces, 53 kills, 4 block assists and 51 digs for a great showing over the weekend.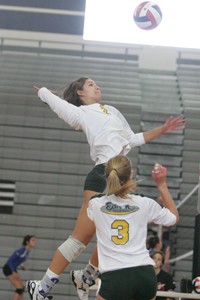 Josh Holmberg/ESPNHSEdison's Lauren Hoenecke elevates for the quick set
Six players return from last year to the Thunder to make up an amazing defensive team. So far they have had a busy schedule, playing games every weekend in September. Next up is the Lawrenceville Tourney before they host their toughest match of the season, against the No. 1 team in the nation, Papillion- La Vista South (Papillion, Neb.) on Oct. 5.
No. 3 Berkeley Prep (Tampa, Fla.) outlasted No. 50 Bishop Moore (Orlando, Fla.) in the Berkeley Premier, winning 20-25, 25-14, 21-25, 25-16, 22-20. Last year's ESPN High School Junior of the Year Jordan Burgess led the Bucs with 33 kills and 14 digs and the MVP award.
This weekend Berkeley Prep will travel to Chicago to face a deep field of 24 teams from eight different states at the Asics Challenge at Mother McAuley.
Tonight in California, No. 7 Los Alamitos (Los Alamitos, Calif.) will take on No. 35 Edison (Huntington Beach, Calif.) in the championship match of the Dave Mohs OC Championships.
Edison defeated No. 37 Newport Harbor (Newport Beach, Calif.), 16-25, 30-28, 15-10, in the semifinals.
Los Alamitos rallied after losing to Rosary (Fullerton, Calif.) in pool play 25-22, 25-20 to come back and beat Santa Margarita (Santa Margarita, Calif.) in the semifinals in three sets.
The Griffins are defending champs and will play Edison for the second time of the season after meeting in the Durango Fall Classic, where Los Al prevailed 25-19, 25-17.
If you have notable results from the weekend email us at Kolsen@studentsports.com
September, 21, 2011
9/21/11
11:20
AM ET
September, 18, 2011
9/18/11
8:49
AM ET
By Walter Villa

LAS VEGAS, Nev. – If you assumed Assumption is the only strong team in Kentucky, you'd be wrong.

Assumption (Louisville, Ky.) won the Durango Fall Classic on Saturday night, but the Rockets' two state mates at the tournament also had impressive showings.

Sacred Heart (Louisville, Ky.) won the silver championship Saturday, rallying to beat Torrey Pines (San Diego, Calif.), 22-25, 25-14, 25-21. The silver title was good for an overall finish of ninth place.

The third Kentucky team at Durango this weekend was Notre Dame Academy (Park Hills, Ky.), and the Pandas finished a respectable 15th out of 48.

All three Kentucky teams entered the tournament ranked in the POWERADE FAB 50, with Assumption 13th, Sacred Heart 35thand Notre Dame 46th.

The trio combined to go 9-0 on Friday and 17-4 for the weekend, with three of the losses charged to Notre Dame (4-3). Assumption went 7-0, and Sacred Heart rolled to a 6-1 record in Vegas.

"We've been clicking the last couple of weeks or so," Sacred Heart coach Eric Garvey said. "This was a continuation of us playing well."

Sacred Heart's only loss in Vegas was Saturday morning in a round of 16 game against Xavier (Phoenix, Ariz.), 25-18, 25-23. But Garvey's team regrouped and won three straight, beating Pleasant Grove (Pleasant Grove, Utah), Edison (Huntington Beach, Calif.) and Torrey Pines.

Sacred Heart, which lost just three sets in its seven matches, has another big test on Sept. 25 at Assumption.

"They're tough," Garvey said of Assumption. "Their two setters, Katie George and Alexa Filley, are amazing."

California shows its depth
None of them won the top prize, but three California schools finished in the top four. Los Alamitos (Los Alamitos, Calif.) came in second, followed by Marymount (Los Angeles, Calif.) and La Costa Canyon (Carlsbad, Calif.).

Los Alamitos, which entered the tournament ranked seventh in the POWERADE FAB 50 – highest among all the teams at Durango – is now 12-1. It had not lost a set this season until Saturday's semifinals, when it gave up a 24-21 lead to Marymount.

Los Alamitos came back to beat Marymount but could not sustain that momentum against Assumption.

Champs again, sort of
Harvard-Westlake (North Hollywood, Calif.), which won the 2010 Durango Fall Classic, failed to repeat this year, losing in Friday's play-in game to Xavier.

But Harvard-Westlake showed character in rebounding to win the competition division championship, good for an overall finish of 25th.

No Ma'a for Kamehameha
Misty Ma'a, a talented 6-foot-1 outside hitter, missed the last three matches for Kamehameha (Honolulu, Hawaii) after hurting her right arm diving for a ball.

Ma'a, showing a bruise on her right forearm, appeared to be in pain, although no tests had yet been taken to determine the severity of the injury.

"It's frustrating to sit out matches," said Ma'a, who said she did not think the injury was serious.

Even without Ma'a, Kamehameha was impressive, finishing sixth. The Warriors lost a heartbreaker in the quarterfinals, falling 27-25, 25-23 to La Costa Canyon.

Green Valley leads Vegas teams
Green Valley (Henderson, Nev.), which had a big showing on Friday, came in 28th, the highest finish for a Vegas-area team in this year's tournament.

Host Durango came in 45th, just ahead of fellow Vegas-area schools Shadow Ridge (Las Vegas, Nev.), Coronado (Henderson, Nev.) and Foothill (Henderson, Nev.).
September, 18, 2011
9/18/11
7:25
AM ET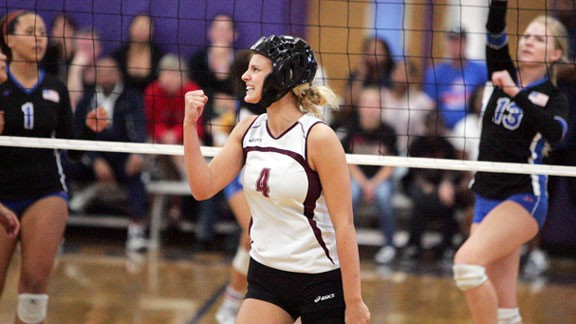 Josh Holmberg/ESPNHSKatie George led Assumption (Louisville, Ky.) to the Durango Classic championship and was named tournament MVP along the way.
By Walter Villa
LAS VEGAS, Nev. – There has been no disruption at Assumption (Louisville, Ky.).
After graduating six players from last year's state championship team – all of whom are now competing in college – the Rockets are still rising.
On Saturday night, Los Alamitos (Los Alamitos, Calif.) felt the full force of the Assumption machine, getting overpowered for much of the Rockets' 25-13, 25-19 victory in the championship match of the Durango Fall Classic.
Senior setter Katie George, who was named the tournament's Most Valuable Player, helped Assumption lead from wire-to-wire in the first set, and the Rockets fell behind only briefly in the early stages of the second.
"This is just icing on the cake," George said of the MVP. "The main thing I'm happy about is our team won."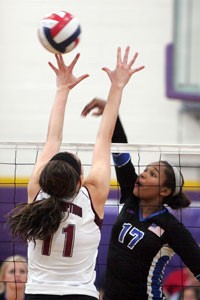 Josh Holmberg/ESPNHSCrissy Jones of Los Alamitos (Los Alamitos, Calif.) takes a swing against Assumption (Louisville, Ky.) in the championship match of the Durango Classic.
The Rockets won by doing just about everything right. They utilized their short tip, they slowed Los Alamitos' 6-foot-2 middle hitter Crissy Jones and they thrived even when offensive plays broke down.
A couple of questionable calls went Assumption's way, but give the Rockets' defense credit. They got their hands on just about everything, and their serve seemed to handcuff Los Alamitos.
Assumption, which also won Durango in 2005, is now the first non-California team to win the prestigious event twice.
The Rockets' success in 2011 has surprised even those in Assumption's inner circle, who figured the team would suffer – at least initially – without talents such as middle blocker Jeni Houser (Notre Dame), libero Jackie Napper (Kentucky) and setter Courtney Robison (West Virginia).
The other graduated stars were outside hitters Claire Gerwig (Western Michigan) and Taylor Allgeier (Eastern Kentucky) and opposite hitter Laura Purcell (Loyola-Chicago).
"I had my doubts," George said when asked if she thought the Rockets would be this good this quickly. "But we're so much further along than where we were last year. We're jelling as a team. This tournament was exactly what we needed."
The Rockets (22-1), ranked 13th in the POWERADE FAB 50 national volleyball rankings, have already beaten powers such as Sacred Heart (Louisville, Ky.), Muncie Burris (Muncie, Ind.) and Muncie Central (Muncie, Ind.).
And that was before Durango. Now you can add wins over tough outs such as Mater Dei (Santa Ana, Calif.), No. 30 Redondo Union (Redondo Beach, Calif.), La Costa Canyon (Carlsbad, Calif.) and No. 7 Los Alamitos.
"We knew we had some good talent waiting," coach Ron Kordes said of his returners. "Still, I've been impressed with the way the girls have come out and played like veterans right away."
The 2011 Rockets have four players who have committed to Division I colleges: George (Louisville); senior libero Chelsea Bowles (Tennessee-Martin) and junior defensive specialists Kaelin Grimes (Western Kentucky) and London Ackerman (Georgia Tech).
Other standouts include 5-8 sophomore setter Alexa Filley; 6-3 junior middle blocker Taylor Paulson; 6-0 senior middle blocker Dallas Zimmerman; and 5-10 senior outside hitter Taylor Long.
Kordes said Paulson was an especially big factor on Saturday, but the middle blocker gave credit to the entire team.
"I think our serve and our serve-receive were big," Paulson said. "We work really hard on serving deep with our floaters. We serve to the outside, and that makes it a lot harder for them to get around the ball, which causes mistakes. That was our tactic, and it worked."
Assumption lost just one set this weekend, and that came on Saturday morning in a 26-24, 15-25, 25-9 win over Mater Dei.
On the season, Assumption's only loss came last week against No. 20 Chattahoochee (Johns Creek, Ga.), 27-25, 21-25, 25-19.
"They had these two outside hitters, and we couldn't stop them," Paulson of the Georgia team. "They were two awesome players, and they went right over our block. What are you supposed to do?"
Actually, what the Rockets are supposed to do now is celebrate. Paulson said she and her teammates were prepared to have fun Saturday night.
"We are going to walk the Strip, have a little Vegas time," Paulson said. "It'll be fun. Dress up, take pictures, stuff like that."
With the title secured, many of the Assumption players and parents turned their post-game attention to the hometown Louisville Cardinals, who had a Saturday night game at in-state rival Kentucky.
Rooting for Louisville is an especially big passion for George, the Cardinals recruit.
"I'm a huge U of L fan," George said. "If they beat Kentucky, that would make it a perfect day."
George's wish was granted later Saturday night as Louisville won 24-17, snapping a four-game skid in the series against Kentucky.
Somewhere on the Strip, you can bet George and the rest of the Assumption girls were whooping it up.