High-SchoolVolleyball:

Louisville volleyball
November, 30, 2011
11/30/11
2:48
PM ET
Walter Villa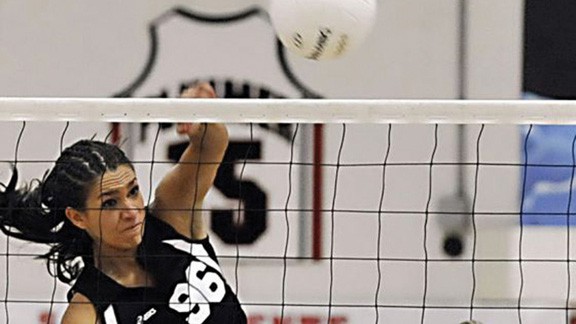 Courtesy of Nebraska AthleticsAlexa Strange of San Clemente (Calif.) is heading to Nebraska next year and plans to study medicine. "Can you imagine?" she says. "Dr. Strange?"
Alexa Strange is multi-talented.
The 6-foot senior setter/hitter at San Clemente (Calif.) has earned a scholarship to play for Nebraska and is interested in studying medicine. But she can make you laugh, too.
Asked if she has a nickname, Strange chuckled.
"With a name like mine, it's not really necessary," said Strange, who has an American-born father and a mother born in India. "They call me 'Stranger Danger.' But I'm going to be a doctor. Can you imagine? Dr. Strange?
"Hopefully, I get married before I start my profession. But I have to be careful because my last name will become my middle name. If I marry a guy with a last name 'Hair,' I'd be Alexa Strange-Hair.
"Most girls are interested in a guy's looks. I look at his name."
For now, though, Alexa is making the Strange name proud. She is part of the U.S. Youth National Team's beach volleyball program, playing mostly with Southern Cal recruit Cinnamon Sary of Newport Harbor (Newport Beach, Calif.).
Strange said she prefers the beach game but is thrilled to get the chance to play indoors at Nebraska, where coach John Cook seems to already have an appreciation for her versatility.
"She is left-handed, and we are counting on her to contribute as a freshman," Cook said on
Huskers.com
. "Alexa is what we're going to call a utility player. She can play outside hitter, left or right side. She is strong in the back row, has a wicked arm and a high volleyball IQ.
"But her greatest strength may be her competitive fire."
And there is nothing strange about that.
Green makes Texas history
Is there any team Julie Green can't take to a championship?
After coaching Lake Travis (Austin, Texas) to a 2010 Class 4A state title, Green led Coppell (Coppell, Texas) to the 5A crown earlier this month.
Green became the first volleyball coach in Texas history to win two straight state titles with two different schools.
In an added twist, neither school had won state before Green arrived.
"Each championship is different, and each group of girls is different," Green said. "But this one is very special."
In order to win a third straight state title, Green – assuming she stays at Coppell – will have to replace four seniors.
The graduating players are state finals MVP and 6-4 middle blocker Kierra Holst, setters Bear Bass and Sarah Arnold and defensive specialist Kristin Dickerson.
But several key members of this year's state title team are set to return, including Megan Kennedy, Cassidy Pickrell, Kylie Pickrell, Chiaka Ogbogu, Erica Bohannon and Kate Dicken.
Like father, like daughter
Katie George, a 5-10 senior setter for Assumption (Louisville, Ky.), signed with Louisville earlier this month and figures to make a seamless transition. That's because her high school coach, Ron Kordes, is the father of her soon-to-be college coach, Anne Kordes.
As a junior, George committed to play for Anne Kordes at Saint Louis. But when the coach got hired at Louisville, George decided to follow her and play for the Cardinals.
George said she looks forward to playing college ball in front of her hometown fans and plans to study communications.
"I want to be a field reporter for ESPN like Erin Andrews," said George, who is a sports columnist for her high school newspaper. "I love college football."
NCAA tournament
Of the 10 seniors who earned 2010 ESPNHS first-team All-America honors, nine of them will be competing in the NCAA tournament, which begins Thursday.
Four of those players are on seeded teams: Haley Eckerman (No. 1 Texas); Aiyana Whitney (No. 8 Penn State); Megan Moenoa (No. 9 UCLA); and Tiffany Baker (No. 14 Tennessee).
Also getting their first taste of the NCAA postseason will be Krista Vansant of Washington; Christina Higgins and Lillian Schonewise of Cal; Kori Moster of Michigan State; and Chloe Mathis of Arizona.
The only All-American who did not get to the NCAA tournament was Jeni Houser of Notre Dame. Houser, though, had a strong season as a freshman starter.
September, 18, 2011
9/18/11
7:25
AM ET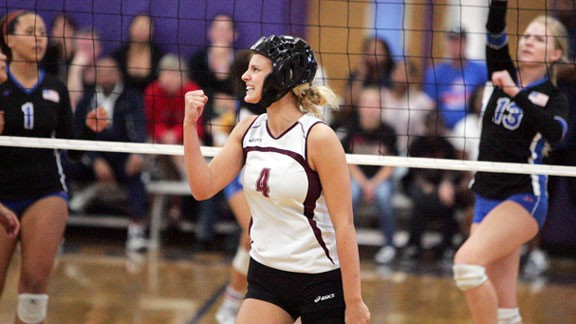 Josh Holmberg/ESPNHSKatie George led Assumption (Louisville, Ky.) to the Durango Classic championship and was named tournament MVP along the way.
By Walter Villa
LAS VEGAS, Nev. – There has been no disruption at Assumption (Louisville, Ky.).
After graduating six players from last year's state championship team – all of whom are now competing in college – the Rockets are still rising.
On Saturday night, Los Alamitos (Los Alamitos, Calif.) felt the full force of the Assumption machine, getting overpowered for much of the Rockets' 25-13, 25-19 victory in the championship match of the Durango Fall Classic.
Senior setter Katie George, who was named the tournament's Most Valuable Player, helped Assumption lead from wire-to-wire in the first set, and the Rockets fell behind only briefly in the early stages of the second.
"This is just icing on the cake," George said of the MVP. "The main thing I'm happy about is our team won."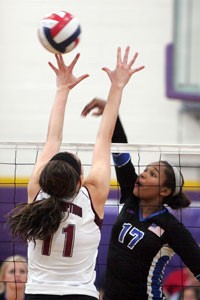 Josh Holmberg/ESPNHSCrissy Jones of Los Alamitos (Los Alamitos, Calif.) takes a swing against Assumption (Louisville, Ky.) in the championship match of the Durango Classic.
The Rockets won by doing just about everything right. They utilized their short tip, they slowed Los Alamitos' 6-foot-2 middle hitter Crissy Jones and they thrived even when offensive plays broke down.
A couple of questionable calls went Assumption's way, but give the Rockets' defense credit. They got their hands on just about everything, and their serve seemed to handcuff Los Alamitos.
Assumption, which also won Durango in 2005, is now the first non-California team to win the prestigious event twice.
The Rockets' success in 2011 has surprised even those in Assumption's inner circle, who figured the team would suffer – at least initially – without talents such as middle blocker Jeni Houser (Notre Dame), libero Jackie Napper (Kentucky) and setter Courtney Robison (West Virginia).
The other graduated stars were outside hitters Claire Gerwig (Western Michigan) and Taylor Allgeier (Eastern Kentucky) and opposite hitter Laura Purcell (Loyola-Chicago).
"I had my doubts," George said when asked if she thought the Rockets would be this good this quickly. "But we're so much further along than where we were last year. We're jelling as a team. This tournament was exactly what we needed."
The Rockets (22-1), ranked 13th in the POWERADE FAB 50 national volleyball rankings, have already beaten powers such as Sacred Heart (Louisville, Ky.), Muncie Burris (Muncie, Ind.) and Muncie Central (Muncie, Ind.).
And that was before Durango. Now you can add wins over tough outs such as Mater Dei (Santa Ana, Calif.), No. 30 Redondo Union (Redondo Beach, Calif.), La Costa Canyon (Carlsbad, Calif.) and No. 7 Los Alamitos.
"We knew we had some good talent waiting," coach Ron Kordes said of his returners. "Still, I've been impressed with the way the girls have come out and played like veterans right away."
The 2011 Rockets have four players who have committed to Division I colleges: George (Louisville); senior libero Chelsea Bowles (Tennessee-Martin) and junior defensive specialists Kaelin Grimes (Western Kentucky) and London Ackerman (Georgia Tech).
Other standouts include 5-8 sophomore setter Alexa Filley; 6-3 junior middle blocker Taylor Paulson; 6-0 senior middle blocker Dallas Zimmerman; and 5-10 senior outside hitter Taylor Long.
Kordes said Paulson was an especially big factor on Saturday, but the middle blocker gave credit to the entire team.
"I think our serve and our serve-receive were big," Paulson said. "We work really hard on serving deep with our floaters. We serve to the outside, and that makes it a lot harder for them to get around the ball, which causes mistakes. That was our tactic, and it worked."
Assumption lost just one set this weekend, and that came on Saturday morning in a 26-24, 15-25, 25-9 win over Mater Dei.
On the season, Assumption's only loss came last week against No. 20 Chattahoochee (Johns Creek, Ga.), 27-25, 21-25, 25-19.
"They had these two outside hitters, and we couldn't stop them," Paulson of the Georgia team. "They were two awesome players, and they went right over our block. What are you supposed to do?"
Actually, what the Rockets are supposed to do now is celebrate. Paulson said she and her teammates were prepared to have fun Saturday night.
"We are going to walk the Strip, have a little Vegas time," Paulson said. "It'll be fun. Dress up, take pictures, stuff like that."
With the title secured, many of the Assumption players and parents turned their post-game attention to the hometown Louisville Cardinals, who had a Saturday night game at in-state rival Kentucky.
Rooting for Louisville is an especially big passion for George, the Cardinals recruit.
"I'm a huge U of L fan," George said. "If they beat Kentucky, that would make it a perfect day."
George's wish was granted later Saturday night as Louisville won 24-17, snapping a four-game skid in the series against Kentucky.
Somewhere on the Strip, you can bet George and the rest of the Assumption girls were whooping it up.
September, 17, 2011
9/17/11
7:47
AM ET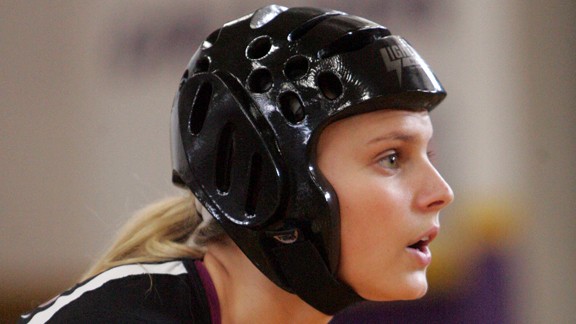 Josh Holmberg/ESPNHSKatie George of Assumption (Louisville, Ky.) is wearing a helmet and pads this season to guard against the blood clots that formed after having her tonsils removed. "I look ridiculous," she says. "But I don't care."
By Walter Villa
LAS VEGAS, Nev. – Wearing a helmet and pads, Katie George may look like a like a football player – but she's not.
She's tougher than that.
George, a 5-foot-10 senior setter for Assumption (Louisville, Ky.), had her tonsils removed in July. But soon after the routine procedure, doctors discovered a blood clot in her left lung.
She was in the hospital -- still suffering from severe pain -- when a doctor told George, a University of Louisville recruit, that her high school volleyball career was over.
George's mother, Ann, started crying. Katie George, battling her own tears and shortness of breath, tried to protest. The monitors strapped to her body sensed her stress level and started blaring like a police siren.
"I don't think people understand how serious volleyball is in the lives (of the kids who play the sport)," said George, who led Assumption, the No. 13 team in the POWERADE FAB 50 national volleyball rankings, to three straight wins on Friday, qualifying the Rockets for Saturday's Sweet 16 round of the prestigious Durango Fall Classic.
"We work so hard and basically give up having a regular teen-age life. For (the doctor) to say, 'You are not going to play your final high school season, but you will live' was not good news. I was devastated."
Devastated … but not deterred.
"It was shocking when they found the blood clot," Ann George said. "You just don't expect that to happen to a 17-year-old girl.
"Katie had been looking forward to her senior season for quite some time. But to her credit, she started researching other players who had competed in her condition."
George took her research to her doctor, who was from India and knew nothing about volleyball. George told him she would wear whatever padding he wanted … as long as she could play.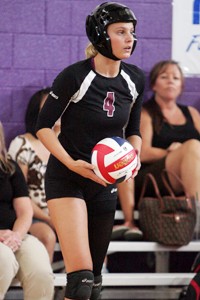 Josh Holmberg/ESPNHSKatie George says she sometimes feels pain when she goes on a serving run.
The doctor then asked if volleyball is a contact sport.
"It is the way I play, running into chairs and bleachers," George said with a laugh. "But I didn't tell him that."
Still, the doctor was not convinced. So George, undaunted, called her uncle, Salem George Jr., who is a vascular surgeon. He recommended another doctor, who said George could play as long as she wears a helmet and pads. This would prevent internal bleeding in case of an on-court collision.
"I said, 'All right! I like this guy!' " George said.
George also has to wear a compression hose from her left foot to her thigh. The fit is so tight, it takes three minutes to put on.
The original hose given to her was white, but George has switched to black, more in keeping with Assumption's uniform.
"With the helmet, the pads and the hose, it looks like I'm pretending to be Allen Iverson … I look ridiculous," George said. "But I don't care."
Coach Ron Kordes, who led Assumption to its 15
th
state title last year, has nothing but praise for George, who has had no collisions since playing with the black foam helmet that is now a big part of her life.
"For her age, she is one of the best leaders I've ever coached," he said. "She never quits."
Indeed, there's no denying George's toughness. The theory is that she gets it from her brothers, Timmy, 22, and Charlie, 21, who grew up using their little sister as a backyard target while practicing their lacrosse skills.
Toughened up by her bruising brothers, George would not let chronic tonsillitis keep her from playing volleyball. She would routinely play despite swollen tonsils and a 103 degree fever.
Doctors told her removing her tonsils was not necessary, but she asked for the procedure. She didn't want anything to get in the way of her impending college career.
When she was hospitalized for the blood clot -- and worried she was losing her volleyball conditioning -- she began taking fast-paced walking laps around the nurses' station. Never mind that she was attached to an IV. She simply took the rolling pole with her.
After six days in the hospital, George was going "stir crazy" and convinced doctors to release her. But this meant she had to give herself blood-thinning injections twice a day for 10 days.
"They made me practice on oranges until I learned how to do it," George said. "After I started giving myself the injections, first in my stomach and then on my right thigh, I looked like a junkie. I had bruises everywhere. It really hurt."
But, remember, George is tough.
Three weeks after she was hospitalized, she was still feeling pain in her left leg. She called her uncle, who scheduled another ultrasound. This time, a second clot was discovered in her left leg.
George, who is still on blood-thinning medication, said she is "perfectly fine" and continues to play.
"When I go on a serving run, I feel pain," she said. "But that's just because I have a jump serve. I also have to watch what I eat. And I can't run into doors like I normally do. I have to be careful."
That is easier said than done for George.
"My husband (Tim) cringes every time she dives on the court," Ann George said. "But with Katie, there is no second gear."