High-SchoolVolleyball:

Martin County
October, 2, 2011
10/02/11
8:16
AM ET
By Walter Villa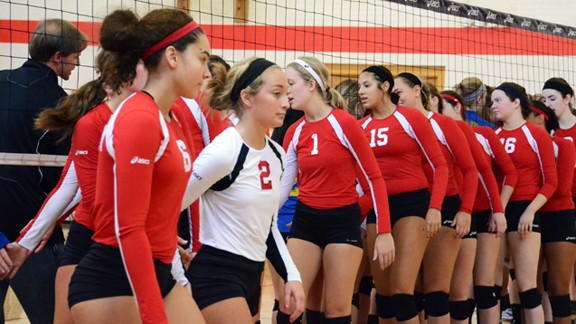 David Villegas/ESPNHSMother McAuley lost libero Bridget Powell (2) to a knee injury in the semifinals of the Asics Challenge.
2011 Asics Challenge Photo Gallery
CHICAGO, Ill. – Asics Challenge host Mother McAuley (Chicago, Ill.) will never know what may have happened this weekend had they stayed healthy.
Standout libero Bridget Powell suffered an injury to her right knee during McAuley's 25-21, 25-16 semifinal loss to Berkeley Prep (Tampa, Fla.).
McAuley, 35th in the
POWERADE FAB 50 national rankings
, had beaten No. 3 Berkeley on Thursday in a pre-tournament surprise.
McAuley had also battled Berkeley to an 18-18 tie in the first set of the rematch when Powell slipped on the court.
"Her leg went one way, and she heard a pop," McAuley coach Jen DeJarld said. "It's not good, but we really don't know yet.
"She's going to get an MRI. We're expecting the worst but hoping for the best."
Jordan Burgess
, Berkeley's star player, paid tribute to Powell.
"She's amazing," Burgess said. "That girl is really good. I think her injury was a really big deal in the match."
Powell said she has never had a knee problem before and has never had an injury more serious than a twisted ankle.
"It hurts, but it's not that bad right now," said Powell, who was on crutches after her match. "I'm a little bit nervous."
Powell, a senior who has committed to play her college ball at Purdue, shouldn't fear for her scholarship, DeJarld said, even if the injury is serious.
"She has a bright future and will not be affected," DeJarld said. "But it will affect us. She has been a starter since her sophomore year. No one else has played that position on our team except her."
After Powell was hurt, McAuley lost the Berkeley match and a three-set battle for third place against Newport Harbor (Newport Beach, Calif.).
To replace Powell at libero, DeJarld used senior Marykate Mixan, a quick player with experience playing in the back row, especially in club ball.
"We can't mourn a loss," DeJarld said. "We have to move on. I have high hopes for this team. I think we have the best team in the state, which is saying something in Illinois.
"Beating Berkeley on Thursday night was one of the highlights of my seven years as a coach. We played a beautiful match, and our semifinal started the same way.
"Who knows how it would have turned out had Bridget not gotten hurt."
Aquinas accepts challenge
Lisa Zielinski, coach of St. Thomas Aquinas (Fort Lauderdale, Fla.), was just looking to play in the 2012 Asics Challenge.
She got her wish a year early.
Aquinas is not the type of school to turn away from a challenge – in any sport. Evidence of that includes the Aquinas football team, which is second in the POWERADE FAB 50 national rankings and regularly beats out-of-state powers.
So when Venice (Venice, Fla.) backed out of this year's Asics just two weeks before the start of the tournament, Zielinski took advantage and brought her team to Chicago.
Zielinski, who got great support from school administrators and players' parents to make the trip on just 10 days' notice, made the decision to come even though the Raiders may not be quite ready to beat top-level competition.
"We're young -- we start all underclassmen," Zielinski said. "But our girls have great potential."
Aquinas' key players are 5-foot-9 junior outside hitter Allison Belanger; 5-5 junior setter Ana Pedraza; 6-0 freshman opposite hitter Nikki Lyons; 5-7 sophomore setter Mackenzie Zielinski; and 6-3 junior middle hitter Brooke Lyons.
Aquinas started the week 6-0 but suffered three straight losses to top-notch competition. Before heading home, they lost to No. 18 Cardinal Gibbons (Fort Lauderdale, Fla.). On Friday at Asics, Aquinas lost to St. Francis (Wheaton, Ill.) and No. 5 Assumption (Louisville, Ky.), both in straight sets.
Still, Zielinski said it was a great experience, especially after winning two out of three matches on Saturday and finishing in 18th place out of 24 teams.
"The girls wanted to do this," she said. "They wanted to face this type of competition. We hadn't really had a challenge until the Gibbons game.
"When we looked at the pools, we knew what we were up against. I'm not saying we didn't fight and give it our best, but we knew. We're just hoping this will help us in the postseason."
Odds and ends
-- Of the top nine finishers at the Asics Challenge, only one was unranked – Sandburg (Orland Park, Ill.), which came in fifth after a three-set win over No. 39 Marist (Chicago, Ill.).
-- The lowest finish by a ranked team was turned in by No. 31 Martin County (Stuart, Fla.), which came in 15th.
-- In its first ever appearance at Asics, No. 41 Huntley (Huntley, Ill.) finished eighth.
October, 1, 2011
10/01/11
7:54
AM ET
By Walter Villa
CHICAGO, Ill. – The 25
th
annual Asics Challenge started Friday night, but the biggest story involving the 24 teams happened before the tournament's first serve floated into play.
Berkeley Prep (Tampa, Fla.), ranked third in the
POWERADE FAB 50
national rankings, lost 25-22, 25-21Thursday night to No. 35 Mother McAuley (Chicago, Ill.), the hosts of the Asics Challenge.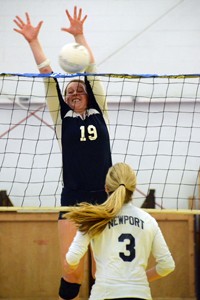 David Villegas/ESPNHSNewport Harbor (Newport Beach, Calif.) knocked defending champion Cary-Grove (Cary, Ill.) out of contention on Day 1 of the Asics Challenge.
What Berkeley (12-1) had hoped would be a tune-up for Asics instead becomes the Bucs' first loss -- and it may have ruined their shot at a national title.
But just as surprising as the loss was the fact that it came in straight sets.
"Thursday was a perfect match on our end," Mother McAuley coach Jen DeJarld said. "I'm proud that we beat them, and we beat them in two (sets).
"My girls were able to follow the game plan from Point 1 to 25. It was a battle – never more than a two- or three-point lead by either team."
With the win, Mother McAuley (18-2) continued what DeJarld said has been a two-week run of success. If anything, she said, her team's two wins Friday at Asics snapped the streak of excellent play.
Mother McAuley dropped the first set against Nazareth (LaGrange Park, Ill.,) before rallying to win 23-25, 25-16, 25-14. After that, Mother McAuley impressed again, defeating No. 31 Martin County (Stuart, Fla.) 25-21, 25-19.
Berkeley Prep, the top seed, continued to struggle early Friday, dropping the first set against Wahlert (Dubuque, Iowa) before rallying to win 24-26, 25-21, 25-16. Berkeley then beat Pius XI (Milwaukee, Wis.) 25-18, 25-15.
Berkeley can still make a big impression if the Bucs win out on Saturday and prevail in a tournament with eight other FAB 50 teams.
And, DeJarld expects Berkeley to play with a chip on its shoulder on Saturday.
"Anger," DeJarld said when asked how Berkeley handled the loss on Thursday. "They didn't know what hit 'em a little bit. We're flying under the radar."
Something to watch for: Berkeley and Mother McAuley could meet in the semifinals Saturday if both teams continue to win.
New champ guaranteed
Cary-Grove (Cary, Ill.), the defending Asics Challenge champs, was knocked out of contention with a 25-8, 22-25, 25-23 loss to No. 37 Newport Harbor (Newport Beach, Calif.).
The day's big biggest upset came Friday night, when No. 37 Sacred Heart (Louisville, Ky.) fell to Sandburg (Orland Park, Ill.) 21-25, 26-24, 25-20.
Also winning their pools on Friday were No. 5 Assumption (Louisville, Ky.); No. 26 Joliet Catholic (Joliet, Ill.); No. 38 Marist (Chicago, Ill.) and Catholic Memorial (Waukesha, Wis.).
September, 28, 2011
9/28/11
10:38
AM ET
By Walter Villa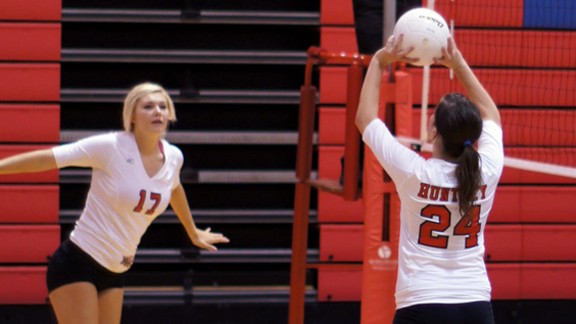 Courtesy of Michelle JakubowskiSetter Eli Manning will try to lead an experienced Huntley (Huntley, Ill.) squad to the Asics Challenge title this weekend in Chicago.
Eli Manning is, in effect, the quarterback of the volleyball team at Huntley (Huntley, Ill.).
Manning's name is pronounced exactly the same as the New York Giants quarterback – but they're not related. And while the Giants' Manning is famous for engineering a huge
Super Bowl upset
over the New England Patriots, his volleyball-playing namesake and her teammates scored a major surprise last week when they beat Cary-Grove (Cary, Ill.), snapping its 61-match regular-season win streak.
Huntley lost the first set and trailed 15-7 in the second before rallying for a 21-25, 25-23, 25-22 victory.
"That's one of the best high school matches I've ever coached," said Michelle Jakubowski, who is in her sixth year running the Huntley program.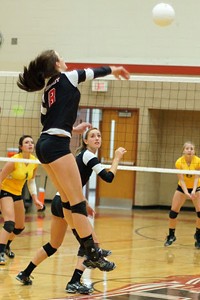 Courtesy of Michelle JakubowskiOutside hitter Sam Boesch of Huntley (Huntley, Ill.) plans to play at Wake Forest next year.
Manning, a 5-foot-8 setter, is one of five key seniors on the team, all of whom are at least second-year starters. The others are 5-8 libero Amy Dion, who committed to Maryland; 5-11 outside hitter Sam Boesch, who is a Wake Forest recruit; 5-9 outside hitter Ashley Smith; and 6-1 middle blocker Jaina Jackson.
The victory over Cary-Grove got national attention and vaulted Huntley to No. 41 in the most recent POWERADE FAB 50 poll.
On Friday, the Huntley Red Raiders (14-0) will make their first-ever appearance at the Asics Challenge at Mother McAuley in Chicago. They will need to slay more giants if they expect to emerge on top of a 24-team field that includes eight other members of the FAB 50.
Here is a quick look at the top teams that will be competing with Huntley in Chicago this weekend:
(Note: Updated on Sept. 29 to reflect Week 4 rankings):
No. 3 Berkeley Prep (Tampa, Fla.):
The Bucs won the 2010 Florida state title in five sets over Bishop Moore (Orlando, Fla.), and they won their own Premier tournament this past weekend, beating – who else? – No. 28 Bishop Moore in five sets in the final. Berkeley Prep is off to an 11-0 start.
No. 5 Assumption (Louisville, Ky.):
The Rockets (27-1) have won 10 of the past 15 Asics Challenges, never failing to earn the title more than one year in a row. And since Cary-Grove won Asics last year, Assumption may be due for another top prize. Already this year they captured the
Durango Fall Classic title
in Las Vegas, Nev.
No. 26 Joliet Catholic Academy (Joliet, Ill.):
The Hilltoppers went 34-8 last season and finished second at state. They had some injuries earlier this season but are still 13-0. They're finally healthy and could be a threat.
No. 31 Martin County (Stuart, Fla.):
The Tigers (11-1) finished second this past weekend in their own tournament, the East Coast Challenge. They lost 25-22, 25-18 in the final to No. 18 Cardinal Gibbons (Fort Lauderdale, Fla.).
No. 35 Mother McAuley (Chicago, Ill.):
The tournament hosts won't just lay out the welcome mat. With an 11-2 record, they go from unranked to No. 35 this week.
No. 37 Sacred Heart (Louisville, Ky.):
The Valkyries (21-6) have lost their two matchups against Assumption so far this season but had a good showing in Las Vegas, Nev., where they finished ninth in the 48-team Durango Fall Classic.
No. 38 Newport Harbor (Newport Beach, Calif.):
The Sailors (15-3) boast top setter Cinnamon Sary. The 5-10 senior committed to Southern Cal, where she will join former Newport teammate Kelly Burnham. In 2009, the duo led Newport to a state title. Last year, the Sailors made it to the state quarterfinals.
No. 39 Marist (Chicago, Ill.):
The Red Hawks (16-2) showed their heart in a win over Mother McAuley (Chicago, Ill.) earlier this month. The Hawks trailed 24-21 in the first set but rallied to win 26-24, 25-18.
National powers set to play
Two volleyball programs that have been outstanding since the moment the schools opened their doors will face off on Oct. 5 in a matchup that will help shape this year's national championship.
No. 1 Papillion-La Vista South (Papillion, Neb.),
which finished 41-0 and No. 1 in last season's FAB 50, will visit
No. 4 St. James (Lenexa, Kansas
).
Both schools are relatively new. Papillion-La Vista South opened in 2003 and finished second at state in 2008 and 2009 before breaking through with its first title last year.
St. James opened in 2005 with all freshmen. They played a junior varsity schedule that first year but showed immediate potential, posting a 35-0 record.
In their first two years playing varsity, St. James went 30-10 and 45-1, reaching the state finals in 2007. The Thunder's first of three straight state titles came in 2008, and their record since '07 is an impressive 190-7.
St. James' top player is 5-7 senior setter Paige Brown, the school's career leader in assists and an Appalachian State recruit. But the Thunder has no players over 6-1.
Papillion has three players committed to the University of Nebraska: setter Kelly Hunter and the 6-3 Rolfzen twins, Amber and Kadie, who were named
ESPNHS Sophomores of the Year
last season.