High-SchoolVolleyball:

Meghan Drambel
October, 11, 2011
10/11/11
10:08
AM ET
By Walter Villa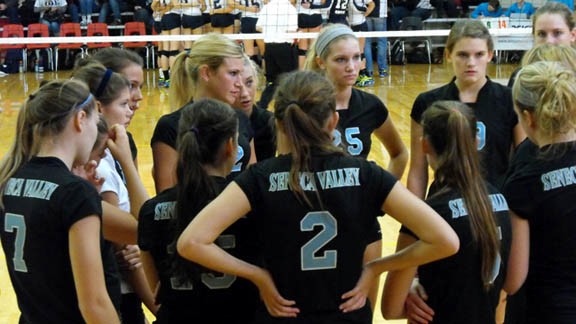 Courtesy of Michael Seman/ESPNHSSeneca Valley (Harmony, Pa.) finished in 15th place at the elite Asics Challenge in Chicago.
Pennsylvania is home to the nation's top women's college volleyball program. Yet when it comes to girls' high school volleyball, the state has no teams in the
POWERADE FAB 50
and none among the 19 listed as "on the bubble" in last week's rankings.
Parkland (Allentown, Pa.), Hempfield (Landisville, Pa.), State College (State College, Pa.) and Seneca Valley (Harmony, Pa.) are the top four teams in
Pennsylvania's Class AAA,
the largest-enrollment grouping.
Karen Martini, who coaches Seneca Valley, said those four schools all have talent, but since few teams venture away from home to play out-of-state tournaments, there is little notoriety on a national basis.
Martini started to remedy that problem late last month, when she took her team to Chicago for the
Asics Challenge
. The Raiders finished 15th out of 24 teams, a respectable showing considering there were nine FAB 50 schools in the field.
"I was surprised we did that well on our first time there," Martini said. "When I started researching all the teams and the national rankings, I was like, 'Whew, did I get myself in over my head?' "
The Raiders did just fine, beating Lone Peak (Highland, Utah) in three sets and also defeating Martin County (Stuart, Fla.), which entered the tournament ranked 31st in the FAB 50.
Martini said she hopes Penn State's four straight national titles will encourage more Pennsylvania girls to play volleyball. But, as it stands, of the 17 players on PSU's roster, only one, redshirt freshman Maggie Harding, is from Pennsylvania. Harding, who is from State College, is a reserve defensive specialist.
Seneca Valley has a player likely headed to Penn State for 2012 – but not for volleyball.
Meghan Drambel
, a 5-foot-11 outside hitter with a 4.0 grade-point average, is interested in PSU for academics only.
Drambel is one of three Raiders players to make All-State last season. The others are Cate Seman, a 6-0 outside hitter who has committed to Rhode Island; and Alex Karika, a 5-11 setter who has interest from Navy, Tennessee and North Carolina.
Seniors Emma Carter (6-1 middle blocker) and Laura Thomas (5-9 right-side hitter/setter) will likely be Division II recruits, Martini said.
The Raiders' other two regulars are both sophomores: 6-0 Abbie Trzeciak and 5-9 Angela Seman, who is Cate's sister.
But the nucleus of the team – Cate Seman, Karika and Drambel – have all played together since seventh grade.
As sophomores, they led Seneca Valley to fifth place at state. Last season, they finished third, which is the best showing in school history.
"This year, we want to make history," said Martini, who is in her fifth year as the program's coach.
"If ever I had a group that had the motivation and drive to win state, it's this one. They aren't overconfident, but they have been working toward this for a long time."
Playing for a good cause
Southwest (Miami, Fla.) dedicated last Tuesday's home match against Lourdes Academy (Miami, Fla.) to Pini Perez, 52, the mother of their starting setter, Casey Perez.
Pini is battling breast cancer. The disease, which causes more than 450,000 deaths per year worldwide, is in remission after surgeons removed her right breast and began chemotherapy treatments.
On the upswing
Pat McDougall, coach of La Costa Canyon (Carlsbad, Calif.), said his Mavericks (11-4) are getting better after a slow start. The Mavs have excellent height with seven players 6-0 or taller, including three at 6-2.
Three Mavs seniors have committed to colleges: 6-1 middle hitter Lisa Kramer to San Diego; 5-9 outside hitter Brooke Shupryt-Knoop to Colgate; and 6-2 middle blocker Natalie Bausback to Virginia.
But McDougall said his most effective hitter so far has been 6-2 sophomore
Brittany Abercrombie
, a lefty with the highest kill percentage on the team.
McDougall also praised Bausback as his best all-around player because of her versatility and said Kramer is her "bookend" in the middle.
October, 1, 2011
10/01/11
8:37
AM ET
By Kirstin Olsen
CHICAGO, Ill. – With some of the best players in the nation representing 24 teams from Florida to California, the Asics Challenge opened Friday night.
Several players rose to the occasion for the elite tournament on Day 1.
Here are 10 players we found flying under the radar:
Claire Till, Wahlert (Dubuque, Iowa):
The 6-foot senior middle blocker was the spark plug her team needed in the middle. In one of the first rallies of the game, she came in and yahtzeed a quick set, firing her team up for a tough three-game match against Pius XI (Milwaukee, Wis.)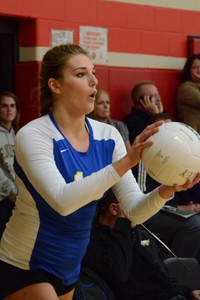 David Villegas/ESPNHSSandburg's Dakota Hampton prepares to serve.
Dakota Hampton, Sandburg (Orland Park, Ill.):
The 6-1 junior outside hitter brings the heat and passes nails as well. The outside hitter is uncommitted, and is the daughter of Pro Football Hall of Famer Dan Hampton who played for the Bears from 1979-90.
Samantha Brown, Nazareth (LaGrange Park, Ill.):
The 6-foot sophomore outside hitter hit the line and did a great job of taking advantage of the short blocker in the front row. She showed the stature and steadiness of a seasoned player.
Ashley Holder, Marist (Chicago, Ill.):
The 5-8 senior setter did a great job utilizing her hitters. When she was in the front row, she ran the slide effectively and found holes in opposing teams' defense with her dump.
Allison Belanger, St. Thomas Aquinas (Fort Lauderdale, Fla.):
The 5-9 junior outside hitter was scrappy on defense and moved the ball around well against the big Assumption block.
Morgan Reardon, Joliet Catholic (Joliet, Ill.):
The 5-11 junior outside hitter was a high-flyer for the Angels. She was crushing the ball on the outside, giving her team the added fire they needed to win their pool.
Meghan Drambel, Seneca Valley (Harmony, Penn.):
The 5-11 outside hitter was a force for her team. In a tough match against Lone Peak (Highland, Utah), her stellar court vision allowed her to see holes in the defense.
Cinnamon Sary, Newport Harbor (Newport Beach, Calif.):
The 5-11 setter who is headed to USC normally wouldn't be considered for an "under the radar" list. But she is passing and hitting for her team right now, and those skills are way underrated. She helped the Sailors knock out defending Asics champs Cary-Grove (Cary, Ill.).
Miranda Elpers, Assumption (Louisville, Ky.):
The 5-8 freshman outside hitter rose to the occasion against St. Francis (Wheaton, Ill.). She was dynamic, not intimidated by the block and didn't play like a freshman when it came down to crunch time.
Kizzy Willey, Lone Peak (Highland, Utah):
The 6-1 junior outside hitter showed her heavy arm, and made a great play covering her own hit off the Joliet Catholic block.