High-SchoolVolleyball:

Misty Ma'a
October, 7, 2011
10/07/11
7:20
PM ET
Read more:
Ma'a a model player
By Walter Villa
Misty Ma'a, the Gatorade Player of the Year in Hawaii in 2010 and one of the nation's top college prospects, has committed to the University of Miami.
"She's thrilled, and our entire family is excited for her," her father, Pono Ma'a, said Friday.
Ma'a, a 6-foot-1 senior outside hitter at Kamehameha (Honolulu, Hawaii), made her decision after visiting the Miami campus last weekend.
She will be joining a program that is on the rise. The Hurricanes made the NCAA Tournament the past two years in a row and are currently ranked 21
st
in the nation.
But four of the Canes' top seven players are seniors, which could create an opportunity for immediate playing time for Ma'a in 2012.
Another plus for Ma'a is Miami's tropical weather, which is similar to what she has enjoyed in Hawaii. In addition, Ma'a is an aspiring model, and she will have a chance to do more in that field on South Beach, which is known for its fashion scene.
"She sees a lot of similarities from home," Pono Ma'a said. "She will start classes in June. It will be tough for us because she will be so far, but she is happy and really likes the team and the coach."
October, 5, 2011
10/05/11
9:16
AM ET
By Walter Villa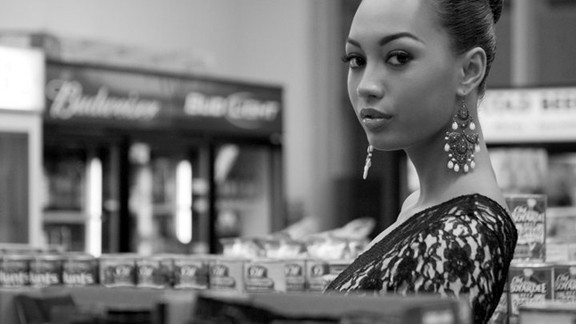 Courtesy of the Ma'a family/ESPNHSMisty Ma'a of Kamehameha (Honolulu, Hawaii) was the Gatorade State Volleyball Player of the Year in 2010. The 6-foot-1 senior is considering a career in modeling.
VIDEO:
Misty Ma'a at Durango Classic
When it comes to volleyball, Misty Ma'a comes from Hawaiian royalty.
The 6-foot-1 senior outside hitter at Kamehameha (Honolulu, Hawaii) is the daughter of former pro volleyball players Pono Ma'a and Lisa Strand. Pono was a two-time All-American at the University of Hawaii. Strand led UH to its first two NCAA national titles.
Pono, who set the school record for kills while at Hawaii, has remained in the game, coaching a highly successful junior volleyball program. Strand has also stayed active, serving as a TV analyst for UH volleyball games.
Not only is the Ma'a moniker special on the island, the name "Misty" has obvious volleyball significance as well. Misty May-Treanor is one-half of perhaps the greatest beach volleyball team ever, along with Kerri Walsh.
Given all that, was there any doubt Misty Ma'a would play volleyball?
"I was raised around the game, and it became a part of me whether I wanted it or not," said Ma'a,
Hawaii's Gatorade State Player of the Year in 2010
and one of the nation's top college prospects. "As time went on, I became more passionate about volleyball."
In a sense, the Ma'a family story is all about passion. Pono, a native Hawaiian, was a standout high school athlete when he took a recruiting visit to UH. On his first day on campus, he spotted the 6-foot blonde who would become his wife.
Strand, from Santa Barbara, Calif., was a freshman on the UH team at the time. Pono, who is 6-4, was so smitten that he turned down a baseball scholarship to Southern Cal and decided that his destiny included volleyball at UH … and Strand.
Pono and Strand have been together for 30 years, but it nearly never happened. On the day they met, a homesick Strand had made plans to transfer out of Hawaii and head back to Santa Barbara, where her family includes her identical twin sister, Kelly.
"But after three weeks at home, I realized I had made a mistake," she said. "I had made a commitment to the team, and I knew I had to return to Hawaii."
Pono and Strand eventually married, and when it came time for the couple to name their first child, they argued about the decision for months. Strand's hospital bed overlooked the mountains, and there was a mist emanating from those peaks on the day of their daughter's birth.
That's where Misty got her name, and the fact that Pono knew May-Treanor's family and played volleyball against her father was just a happy coincidence.
Misty Ma'a's three siblings -- brother Micah and sisters Mehana and Maluhia – have mostly followed the family tradition of volleyball.
Micah, a 5-11 setter, is 14 and has played on four straight national champion youth volleyball teams. Mehana, 11, has also taken to the game. Maluhia, 9, has shown more of an interest in fashion design and hip-hop dancing but is starting to play the sport as well.
"It's natural that when we are all playing in the backyard," Pono said, "that she wants to join in, too."
The intensity of those backyard games is the stuff of legend. The kids often bring friends over to play, and that just ramps up the competition level even further.
Pono and Strand have tried to get their children to tone it down and play without keeping score, but the kids always find a way to determine a winner.
"Whoever loses is really upset," Misty Ma'a said. "It's pretty typical for someone to leave the house and go for a walk to cool off. Sometimes we wouldn't talk too much at dinner."
Fortunately for Ma'a, she doesn't lose often. Kamehameha has won six straight state titles and is a strong contender for seven in a row this fall.
But Ma'a has other interests beyond volleyball. She wants to study communications and has also done modeling for Project Runway -- even if it's a subject she doesn't like talking about too much.
"You just sound so conceited when you say you are modeling," Ma'a said. "It's not like I always wanted to be a model. It just came up."
Still, Ma'a is serious enough about the potential career that she is considering playing volleyball for the University of Miami, in part because she can escape the spotlight of her family name in Hawaii but also for the vibrant modeling scene in that city.
Her parents were initially against her modeling.
"We always told her that beauty comes from within," Strand said. "But she kept asking. She kept getting stopped and asked to do photo shoots. She does stand out – she's 6-1 and a beautiful girl with a unique look.
"She said, 'Mom, I really want to do this.' So we went over some rules, what was acceptable and what was not."
Pono marvels at his daughter's maturity and independence. He said she's handled her college recruitment as if she had been doing it all her life.
"I ask her if she needs help sending her transcripts to a college, and she will say, 'No, Dad, I got it,' " Pono said. "When she's had her modeling gigs, she takes the bus and gets there on her own. It's kind of scary how little she needs us."
Ma'a has been flooded with college offers, and each time a big batch of letters arrives from major universities, her siblings draw inspiration.
"The younger ones want to be recruited like that, too," Pono said. "They say, 'Come on, Dad, let's go to the backyard. I want to hit 100 more serves.' "
September, 18, 2011
9/18/11
8:49
AM ET
By Walter Villa

LAS VEGAS, Nev. – If you assumed Assumption is the only strong team in Kentucky, you'd be wrong.

Assumption (Louisville, Ky.) won the Durango Fall Classic on Saturday night, but the Rockets' two state mates at the tournament also had impressive showings.

Sacred Heart (Louisville, Ky.) won the silver championship Saturday, rallying to beat Torrey Pines (San Diego, Calif.), 22-25, 25-14, 25-21. The silver title was good for an overall finish of ninth place.

The third Kentucky team at Durango this weekend was Notre Dame Academy (Park Hills, Ky.), and the Pandas finished a respectable 15th out of 48.

All three Kentucky teams entered the tournament ranked in the POWERADE FAB 50, with Assumption 13th, Sacred Heart 35thand Notre Dame 46th.

The trio combined to go 9-0 on Friday and 17-4 for the weekend, with three of the losses charged to Notre Dame (4-3). Assumption went 7-0, and Sacred Heart rolled to a 6-1 record in Vegas.

"We've been clicking the last couple of weeks or so," Sacred Heart coach Eric Garvey said. "This was a continuation of us playing well."

Sacred Heart's only loss in Vegas was Saturday morning in a round of 16 game against Xavier (Phoenix, Ariz.), 25-18, 25-23. But Garvey's team regrouped and won three straight, beating Pleasant Grove (Pleasant Grove, Utah), Edison (Huntington Beach, Calif.) and Torrey Pines.

Sacred Heart, which lost just three sets in its seven matches, has another big test on Sept. 25 at Assumption.

"They're tough," Garvey said of Assumption. "Their two setters, Katie George and Alexa Filley, are amazing."

California shows its depth
None of them won the top prize, but three California schools finished in the top four. Los Alamitos (Los Alamitos, Calif.) came in second, followed by Marymount (Los Angeles, Calif.) and La Costa Canyon (Carlsbad, Calif.).

Los Alamitos, which entered the tournament ranked seventh in the POWERADE FAB 50 – highest among all the teams at Durango – is now 12-1. It had not lost a set this season until Saturday's semifinals, when it gave up a 24-21 lead to Marymount.

Los Alamitos came back to beat Marymount but could not sustain that momentum against Assumption.

Champs again, sort of
Harvard-Westlake (North Hollywood, Calif.), which won the 2010 Durango Fall Classic, failed to repeat this year, losing in Friday's play-in game to Xavier.

But Harvard-Westlake showed character in rebounding to win the competition division championship, good for an overall finish of 25th.

No Ma'a for Kamehameha
Misty Ma'a, a talented 6-foot-1 outside hitter, missed the last three matches for Kamehameha (Honolulu, Hawaii) after hurting her right arm diving for a ball.

Ma'a, showing a bruise on her right forearm, appeared to be in pain, although no tests had yet been taken to determine the severity of the injury.

"It's frustrating to sit out matches," said Ma'a, who said she did not think the injury was serious.

Even without Ma'a, Kamehameha was impressive, finishing sixth. The Warriors lost a heartbreaker in the quarterfinals, falling 27-25, 25-23 to La Costa Canyon.

Green Valley leads Vegas teams
Green Valley (Henderson, Nev.), which had a big showing on Friday, came in 28th, the highest finish for a Vegas-area team in this year's tournament.

Host Durango came in 45th, just ahead of fellow Vegas-area schools Shadow Ridge (Las Vegas, Nev.), Coronado (Henderson, Nev.) and Foothill (Henderson, Nev.).
September, 18, 2011
9/18/11
8:18
AM ET
By Kirstin Olsen/ESPN HS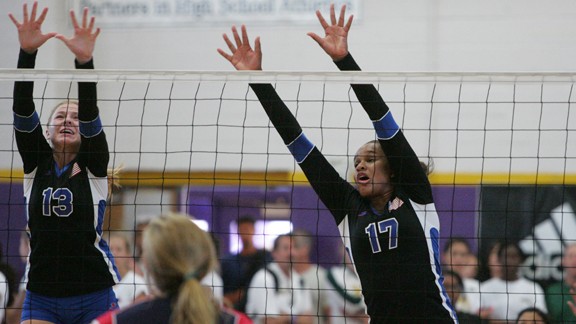 Josh Holmberg/ESPNHSMiddle blocker Crissy Jones of Los Alamitos (Los Alamitos, Calif.) closes the block during action at the 2011 Durango Classic.
LAS VEGAS, Nev. – The talent stepped up on Day 2 of the Durango Fall Classic as teams made their runs deep into the tournament.
We salute the top 10 players.
Rebecca Strehlow, Long Beach Wilson (Long Beach, Calif.):
The 6-foot-1 setter/outside hitter is the complete package. She can pass, set, hit, block and serve. She is strong and takes control of the game. The only problem is that she can't pass, set and hit every ball, and her team needs more of her. Though the Bruins didn't have the best showing, UCLA coach Mike Sealy has a great player coming into his program next year.
Sara Hughes Mater Dei (Santa Ana, Calif.):
The 5-11 setter/opposite is the most well-rounded player on her team. Only a junior, Hughes shows her overall skills as she fights for balls and bangs them on the right down the line. Her skills from the beach shine through with her excellent ball control and court sense. Any program would be lucky to have Sara fight for them.
Kelly Murphy, Walton (Marietta, Ga.):
This 6-1 senior outside hitter was a powerhouse for her team. She sides out like a champ and can move the ball around.
Lauren Fuller, Marymount (Los Angeles, Calif.):
You can tell a good setter when you almost don't notice her but see they ball spread around evenly. This 5-11 senior can back set a pipe, set a quick from her knees and has a sisterly connection with outside hitter/twin sister, Manon. She is athletic and strong and has a nice high quick delivery.
Crissy Jones, Los Alamitos (Los Alamitos, Calif.):
This 6-2 sophomore middle blocker takes control of the net when she's up. With a nice high reach and a quick snap on quick sets, she's a nice addition to Los Al's balanced attack on the outside.
Abby Hornacek, Xavier Prep (Phoenix, Ariz.):
The 6-1 opposite with an unconventional style brings it on the right side. Her hard angle is hard to stop and she puts up a nice block as well. She is well-rounded with her game, and she does a good job making good decisions.
Misty Ma'a, Kamehameha (Honolulu, Hawaii):
The 6-1 outside hitter hits some sharp angles and put up a wall of a block on the net. She was the main offensive weapon for her team this weekend and did a great job moving the ball around with good court vision.
Katie George, Assumption (Louisville, Ky.):
The girl in the helmet was an inspiration for all this weekend as the 5-11 setter did everything she could for her team. She set and passed and hit a few rotations, showing her versatility as a player.
Karlee Fuller, La Costa Canyon (Carlsbad, Calif.):
The 6-foot outside hitter led the attack for the Mavericks. As part of a solid front row, Karlee chiseled away at opposing teams' blocks and helped lead her team to the semifinals.
Skylar Dykstra, Redondo Union (Redondo Beach, Calif.):
The 5-10 outside hitter was a force on the left for the Sea Hawks. She used a variety of shots and displayed excellent ball control to give her team the balance it needed.
September, 17, 2011
9/17/11
9:17
AM ET
By Walter Villa
LAS VEGAS, Nev. -- Green Valley (Henderson, Nev.) exceeded expectations on Friday, showing that Las Vegas-area teams can compete with some of the nation's elite.
Green Valley, seeded 32nd in this weekend's 48-team
Durango Fall Classic
, stunned the tournament's top overall seed, Marymount (Los Angeles, Calif.) with a 25-23 first-set win. Marymount went on to win the next two sets, 25-19, 25-15.
Because Green Valley finished second to Marymount in its pool, the Gators qualified for a play-in game and the chance to qualify for
Saturday's Sweet 16 round
.
Green Valley got another tough draw: La Costa Canyon (Carlsbad, Calif.), which finished in second place at Durango last year.
Green Valley again gave the favorites a jolt, beating La Costa Canyon, 25-21 in the first set before losing 25-11, 25-11.
"It was a great night for Green Valley and a great night for Las Vegas volleyball," Gators coach Erin Hill said, alluding to the fact that Vegas teams have never won Durango and have lately not even been very competitive. "I'm thrilled with how we played. We're young, but we showed up."
Hill, who was there when Green Valley opened in 1991, is the only coach in school history. She welcomed 140 girls to her very first practice and worked some minor miracles early, winning state titles in 1993, '95, '96 and '01.
No other Vegas-area team has won more Class 4A state titles in girls volleyball. But since the Gators' golden start, four new schools have opened that have taken enrollment away from Green Valley.
"We have good players in Las Vegas – girls who have gone on to compete at the Division I level," Hill said. "They just don't all play for the same high school."
Still, the Gators have remained a force. Last year, they finished 29-9 and lost in the state final for the second year in a row. The Gators graduated five players from that team.
This season's team returns four starters: 5-9 junior setter Jenna Swaffer, 5-11 junior outside hitter Carly Schiess, 5-10 sophomore outside hitter Nikki Drost and 5-4 senior libero Alexa Drost.
They also have right-side hitter Sommer King, a 5-9 junior who has emerged this season as an underrated force, and 6-0 junior middle hitter Julie Dramise, who came up big on Friday.
Tournament is on the rise
The Durango Fall Classic started with 16 teams in 1995, quickly grew to 32 schools and now sits at 48.
Bob Kelly, who created the tournament and still runs it, said he is most proud of two things connected with his event: the geographical diversity of the teams and the element of surprise.
The diversity is evident when you see that there are teams from 10 states -- including Alaska and Hawaii -- and Canada.
As for the surprise factor, Kelly said every year seems to produce an unranked team that emerges in Las Vegas. Last year, it was Harvard-Westlake (North Hollywood, Calif.), which shocked many experts by winning the tournament.
Two years ago, it was Newport Harbor (Newport Beach, Calif.), which finished second. They were unranked before the tournament started but finished the year No. 15.
"My gut feeling is that there will be a team from California that surprises again this year," Kelly said. "There are a lot of outstanding teams out there."
A hungry player
Senior outside hitter Misty Ma'a of Kamehameha (Honolulu, Hawaii) is making her fourth straight trip to Vegas, and she has found her favorite place to eat. "The buffet at the Rio Hotel," she said. "It's the highlight of my life -- the best food I have ever seen. We starve ourselves for months so we can eat there."
September, 15, 2011
9/15/11
11:52
AM ET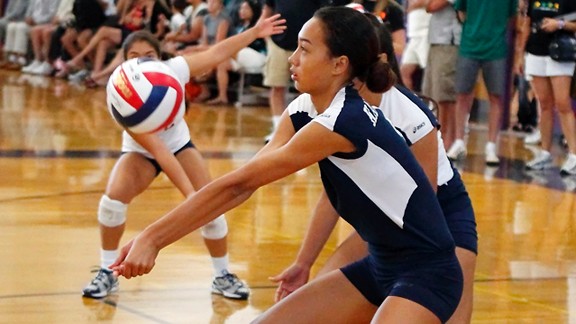 PIXLV PhotographyKamehameha (Honolulu, Hawaii) won the Durango Classic in 1999 and is looking for another strong showing this year. "This will tell us where we're at on a national level," coach Chris Blake says.
By Walter Villa
Hawaii is comprised of eight major islands.
The ninth part of the state, some joke, is Las Vegas.
That may seem especially true this weekend, when thousands of Hawaiians are expected to travel to the Nevada desert for two of their favorite pastimes: sports and sightseeing.
As part of the former, they'll watch the University of Hawaii football team play Nevada-Las Vegas Saturday night.
In addition, Kamehameha (Honolulu, Hawaii), which has won six straight girls' volleyball state titles and 17 overall, will make the 3,000-mile trek to participate in the 17th annual
Durango Fall Classic
.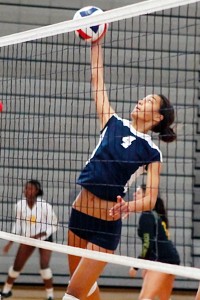 PIXLV PhotographyOutside hitter Misty Ma'a was the 2010 Gatorade state volleyball player of the year in Hawaii. She'll look to lead Kamehameha (Honolulu, Hawaii) to a deep run at the Durango Classic this weekend.
This is the fourth straight year Kamehameha has entered the prestigious Fall Classic, a 48-team tournament that runs Friday and Saturday and includes teams from 10 states and Canada.
This year, though, getting to Vegas was trickier.
"Because of the football game, it was hard to get flights out of Hawaii to Vegas this week," said ninth-year Kamehameha coach Chris Blake.
"Many people from the mainland love to vacation in Hawaii. But Hawaiians love to come to Vegas. And when you add the football game, there will probably be about 10,000 Hawaiians in Vegas this week."
Blake is hoping a large portion of those islanders continue to show their love for volleyball and come support his team this weekend.
"Women's volleyball is a big deal in Hawaii, and the fans are very savvy," Blake said. "All the UH women's volleyball games are on TV, but they still draw over 5,000 fans. Some teams on the mainland are lucky to get that for an entire year."
Only football is a more popular team sport on the island than volleyball. The high school girls' volleyball state finals average about 3,500 fans, and Kamehameha is almost always there when it's winning time.
Kamehameha, currently ranked 41st in the
POWERADE FAB 50 national rankings
, has also had success in Vegas, winning the Durango tournament in 1999 and becoming the first non-California team to hoist the trophy.
The only other team to accomplish the feat was Assumption (Louisville, Ky.), which won it in 2005 and finished second the next three years.
Assumption, ranked 13th in the FAB 50 poll, is among this year's favorites. But there will be a total of 11 teams from the FAB 50 competing in Vegas this weekend.
"We like the challenge," said coach Ron Kordes, who is in his 24th year at Assumption. "This tournament gives us that underdog mentality, which we don't get a lot of in our neighborhood. We'll get to play teams we don't usually see."
Most of those teams are from California and Nevada, but –- in addition to the aforementioned Hawaii and Kentucky -- there are also schools here from Georgia, Arizona, Utah, Arkansas and Louisiana.
Among the other ranked teams entered are:
-- No. 7 Los Alamitos (Los Alamitos, Calif.), which has North Carolina recruit JoJo Schnabl, a 5-foot-9 senior setter, is the highest-ranked team at the tournament.
-- No. 18 Marymount (Los Angeles, Calif.), which won Durango in 2003, has 5-11 setter Lauren Fuller.
-- No. 30 Redondo Union (Redondo Beach, Calif.) stars Michigan recruit Tiffany Morales, a 5-6 senior libero.
-- No. 35 Sacred Heart (Louisville, Ky.) is among the top teams outside of California in this year's field.
-- No. 36 Edison (Huntington Beach, Calif.) stars Washington recruit Cassie Strickland, a 5-7 senior libero.
-- No. 40 Xavier Prep (Phoenix, Ariz.), a 2010 state champ, has Tennessee recruit and 5-8 setter Bianca Arellano.
-- No. 44 Walton (Marietta, Ga.), which won the 2010 Class 5A state title, looks to carry the flag for Georgia.
-- No. 46 Notre Dame Academy (Park Hills, Ky.) is the third team from Kentucky with a shot to make waves in the desert.
-- No. 48 Thousand Oaks (Thousand Oaks, Calif.) is the fifth California team in the FAB 50 entered in the tournament.
Here are some other top contenders:
-- Lakewood (Lakewood, Calif.), which has 5-6 junior libero Heather Eggers, was ranked as high as No. 29 this year.
-- Long Beach Poly (Long Beach, Calif.), which lost in the 2010 Division I state final, has been ranked as high as No. 35 this year.
-- La Costa Canyon (Carlsbad, Calif.), which finished second at Durango in 2010, won it in 2008 and has 6-2 junior Cosy Burnett, was among the FAB 50 teams earlier this season.
-- Mater Dei (Santa Ana, Calif.), which has won Durango three times but not since 2001, also was ranked among the nation's 50 best earlier this season.
-- Saint Mary's (Stockton, Calif.), which won Durango in 2000, is on the verge of breaking into the FAB 50 poll.
-- Harvard-Westlake (North Hollywood, Calif.) is the reigning Durango champion.
-- Mira Costa (Manhattan Beach, Calif.) was in four straight Durango finals between 2004 and 2007, winning three titles. Mira Costa is led by UCLA recruit Maddy Klineman, a 6-1 outside hitter.
-- Wilson Classical (Long Beach, Calif.) has top talent in 5-11 setter and UCLA recruit Rebecca Strehlow.
Kamehameha, meanwhile, has two premier seniors in Chelsey Keoho and Misty Ma'a.
Keoho, a 5-2 libero, is a Colorado recruit. Ma'a, a 6-1 outside hitter, has yet to commit but is planning a visit to the University of Miami.
Other Kamehameha standouts are sophomore setter Alohi Robins-Hardy, senior middle blocker Haley Pa'akaula and senior outside hitter Brit Kalepa.
"This will be a great test for us," said Blake, whose team finished 13th at Vegas last season. "This will tell us where we're at on a national level, and it's a great springboard for the rest of our season."