High-SchoolVolleyball:

Otay Ranch
May, 31, 2012
5/31/12
11:44
AM ET
By Mark Tennis and Kirstin Olsen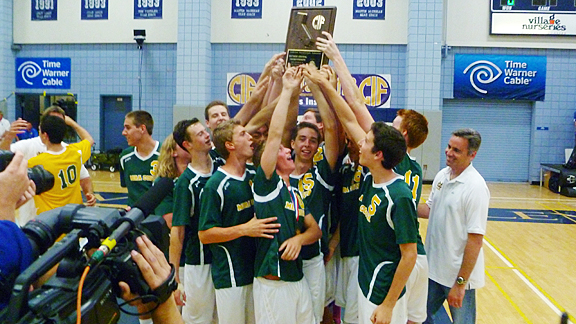 Kirstin OlsenMira Costa survived an epic five-set match against Oak Park and remains No. 2 in the POWERADE FAB 50 national rankings.
The CIF Southern California regional championships are in the books from last weekend, and two teams clinched at least No. 2 and No. 3 final rankings in this year's
FAB 50
.
No. 2 Mira Costa (Manhattan Beach, Calif.) was looking for a rematch after going 1-1 with previous No. 3 Westview (San Diego, Calif.). The Mustangs didn't get an opportunity for that because the Wolverines were upset by late-season powerhouse Oak Park (Agoura Hills, Calif.). But Mira Costa certainly was tested in Saturday's Division II final.
Oak Park and Mira Costa, in fact, traded seven match points in a marathon five-set contest. The Mustangs were down in the fifth set 14-12 but, after fighting off four match points, prevailed 24-26, 25-16, 25-19, 24-26, 20-18.
A valiant effort from Oak Park senior outside hitters Justin Parks (23 kills) and Bradley Sakaida (16 kills) was matched by Costa senior outside hitter Chris Orenic (33 kills). Scott Stephanoff (12 kills) also stepped up his game late in the match.
No. 3 Loyola, meanwhile, wanted to turn around a loss to No. 4 Otay Ranch (Chula Vista, Calif.) from last month's Redondo Power Classic in the Division I SoCal final. The Cubs did just that with a 25-20, 25-19, 25-14 win. They were without senior outside hitter Nick Porterfield with a sprained ankle, but senior outside hitter Alex Slaught came up big with 17 kills.
Click here for the complete Week 11 rankings.
May, 3, 2012
5/03/12
6:55
PM ET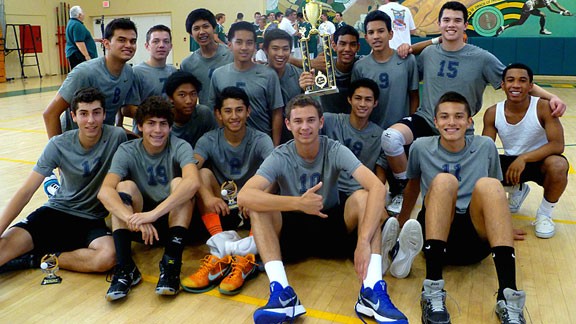 Kirstin Olsen/ESPNHSOtay Ranch knocked off No. 1 Loyola at the Redondo Varsity Classic and moves up to No. 6 in this week's FAB 50.
By Mark Tennis and Kirstin Olsen
The Redondo Varsity Classic offered an opportunity for some major upsets last weekend with nine POWERADE FAB 50 teams participating from San Diego to the San Fernando Valley.
There were upsets, including one of the biggest of the season, when No. 1 Loyola (Los Angeles) was toppled in the semifinals by Otay Ranch (San Diego). The event was won by Mira Costa of Manhattan Beach.
Mira Costa, with USC commit Chris Orenic playing for the first time this season after rehabbing an injury, avenged an earlier loss to Westview (San Diego) in the semifinals and then defeated Otay Ranch 25-21, 25-21 in the final. Senior setter and George Mason commit Jackson Carr had 28 assists in the championship match.
Due to the tourney title, Mira Costa inched up from No. 4 to No. 3 in this week's rankings. While the team did lose to former No. 3 Esperanza (Anaheim) earlier in the season, that was prior to Orenic's return.
The more difficult decision was whether to keep Loyola at No. 1 or move up No. 2 Wheaten Warrenville South. Since Loyola still has a win over Mira Costa and could avenge its only loss later in the Southern California regional playoffs, the Cubs stayed in the top spot.
Loyola also will have to deal not only with Mira Costa and Esperanza in the CIF Southern Section Division I playoffs, but other top-ranked squads as well. Its strength of schedule would still trump Wheaton Warrenville South if both teams win out, but with one more loss for Loyola, an unbeaten Wheaton Warrenville South would get the edge.
Click here for the complete Week 7 rankings.
April, 26, 2012
4/26/12
4:27
PM ET
By Mark Tennis and Kirstin Olsen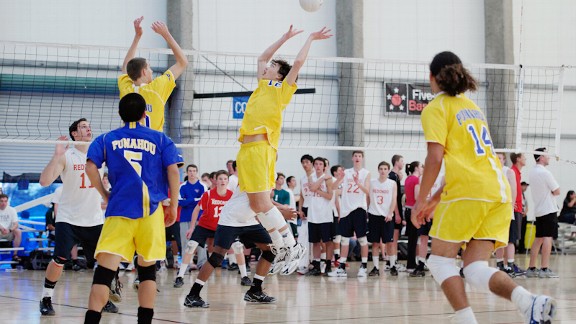 Ed ChanPunahou clinched a division title last week and remains in the top 10 of the POWERADE FAB 50.
League championship tournaments this week in Hawaii will be followed by the start of state playoffs next week, but in other states there are still a handful of major tournaments to be played.
In Southern California, the Redondo Varsity Classic will provide an opportunity for nine FAB 50 teams to square off.
No. 1 Loyola (Los Angeles), No. 4 Mira Costa (Manhattan Beach), No. 7 Westview (San Diego), No. 8 Otay Ranch (Chula Vista), No. 10 Dana Hills (Dana Point), No. 11 San Clemente, No. 12 Oak Park (Agoura Hills), No. 13 Westlake (Westlake Village) and No. 50 host Redondo Union (Redondo Beach) will all get together this weekend at the loaded tournament.
Since many of the teams also will be in the CIF Southern Section Division I playoffs, the Redondo tourney could be more important in the rankings to Westview and Otay Ranch, the two CIF San Diego Section schools.
This week's biggest mover in the rankings is new No. 15 De La Salle (Concord, Calif.). The Spartans went unbeaten at the Bellarmine Prep tourney in San Jose (Calif.), topping Clovis West (Fresno, Calif.) in the championship match 25-18, 25-19. They went from No. 32 to No. 15 in this week's FAB 50.
Click here for the complete Week 6 rankings.