High-SchoolVolleyball:

Palo Alto
December, 23, 2011
12/23/11
12:10
PM ET
By ESPNHS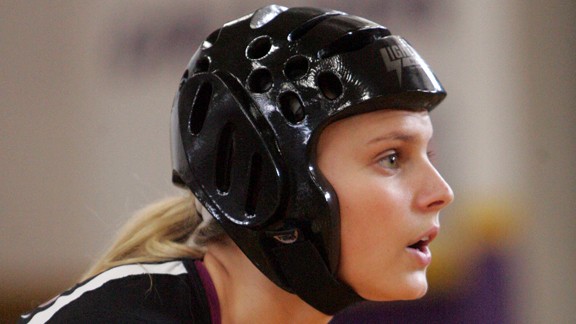 Josh Holmberg/ESPNHSKatie George of Assumption (Louisville, Ky.) wore a helmet and pads at the Durango Classic to guard against the blood clots that formed after having her tonsils removed. "I look ridiculous," she said. "But I don't care."
From personal triumphs to dominant dynasties, high school girls' volleyball had plenty to celebrate in 2011. We look back on some of the year's top stories before ringing in 2012:
Champions back for seconds

Led by juniors Amber Rolfzen, Kadie Rolfzen and Kelly Hunter, all University of Nebraska commits, Papillion-La Vista South (Papillion, Neb.) won back-to-back national championships and stretched its winning streak to 82 games, including a five-set, come-from-behind thriller against No. 4 St. James (Lenexa, Kan.) on the road in early October. And it might not be time quite yet to close the book on the Heartland dynasty. "We want a three-peat," Hunter says of 2012.
Dressed for success

Donning a helmet and pads to help prevent a recurrence of blood clots that formed after she had her tonsils removed, senior Katie George helped Assumption (Louisville, Ky.) win the Durango Fall Classic title in Las Vegas. The Louisville commit went on to lead Assumption to the Asics Challenge championship and, no longer needing her protective gear, the Kentucky state championship. She was named the Gatorade State Player of the Year in Kentucky, while Assumption (43-1) finished third in the final POWERADE FAB 50 national rankings for 2011.
Honoring a fallen teammate

Playing in honor of teammate Caroline Found, Iowa City West repeated as state champions with a dramatic five-set win over cross-city rival Iowa City. Found, a setter who would have been a senior this year, died after a moped accident on Aug. 11."Everybody who didn't have a friend knew her," coach Kathy Bresnahan said. "She embraced everyone."
Big season in Texas

With a perfect 50-0 record, Lake Travis (Austin, Texas) becomes the first undefeated state champion in Texas since 2004. The Cavaliers, who dropped only a single set all season, were led by senior outside hitter Amy Neal, who won state MVP honors and was named the Gatorade State Player of the Year in Texas. Lake Travis finished No. 2 in the final POWERADE FAB 50 national rankings for 2011.
End of an era

Wapahani (Selma, Ind.) stunned superpower Muncie Burris in the opening round of the Indiana sectional playoffs. With the four-set win, the Raiders ended Muncie Burris' 14-year reign as state champions and halted its playoff winning streak at 95 matches. Wapahani didn't stop there, going on to clinch the Class 2A title with a sweep of Eastern Greene.
Taking it to the beach

After the NCAA made sand volleyball an emerging sport in 2011-12, high school players looked to capitalize on an additional scholarship source. Arizona followed suit and will launch a sand volleyball pilot program in 2012, making it the first state to offer the sport at the high school level.
Grand finales in California
The California state championships brought the 2011 girls' volleyball season to a rousing conclusion. In the Division II final, Presentation (San Jose, Calif.) rallied from two sets down to claim the crown. In Division I, Palo Alto was pushed to five sets but became the first Northern California volleyball team to win back-to-back Division I state titles and the first team in school history to notch back-to-back CIF state titles.
Thanks for coming

Mother McAuley (Chicago, Ill.) skipped the pleasantries and upset undefeated Berkeley Prep, at the time the No. 3 team in the nation, on the eve of hosting the prestigious Asics Challenge. Berkeley Prep got some measure of revenge the following day, topping Mother McAuley in straight sets in a rematch in the semifinals before falling to Assumption in the final.
Boys race to the finish

In one of the tightest races ever, Corona del Mar (Newport Beach, Calif.) was crowned the FAB 50 national champions for boys' volleyball, edging fellow California powers Mira Costa, Buchanan, Santa Margarita and Mater Dei. The Sea Kings finished their season with a 32-4 record.
Sky High in Florida

Sky High Black of Crystal Lake, Ill., won the 17U title at the 38th AAU Junior National Volleyball Championships, part of the inaugural ESPNHS Girls Showcase at ESPN Wide World of Sports in Lake Buena Vista, Fla., in June. It was the second consecutive national title for the squad, which was led by seniors Abby Gilleland and Mary Striedl.
December, 5, 2011
12/05/11
5:15
PM ET
By Kirstin Olsen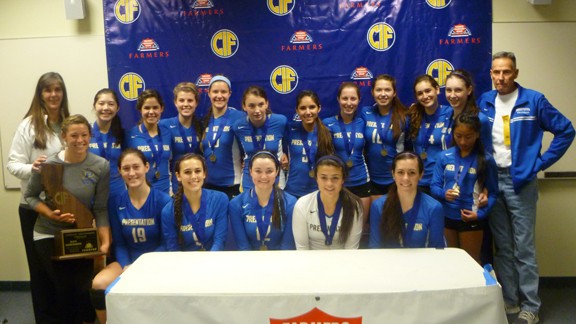 Kirstin Olsen/ESPNHSIt was anything but easy, but Presentation won its first ever volleyball state title.
The final two games of the 2011 season were both decided in dramatic five-set fashion. Before closing the book on the season, these two classics deserve a second look.
What:
Division II California Interscholastic Federation final
Who:
No. 15 Presentation (San Jose) vs. No. 42 La Costa Canyon (Carlsbad)
Score:
Presentation 3, La Costa Canyon 2
Game 1 highlights:
With a plethora of offensive weapons, including six players over 6-feet, La Costa Canyon came out swinging. Cosy Burnett came up with key kills, and although the Mavericks struggled a bit on defense and with their passing, they took the first game 25-20.
Game 2 highlights:
Presentation played great defense and libero Kathleen Bozzo served tough and got LCC in passing trouble, but the Mavericks still prevailed 25-20 to take a 2-0 lead. "We were kind of a deer in the headlights," coach Sue Dvorak said.
Game 3 highlights:
With their backs against the wall, the Panthers fought for every ball and didn't give up, even surviving a match point. Junior outside hitter Alex Sheredy and setter Veronica Blither stepped up their games, and momentum shifted with a 26-24 Presentation win. "As soon as we calmed down and figured out we could play with them, we got a little more confidence," Dvorak said. "Their shoulders relaxed a little it and they started digging balls better and blocking better, and it was a fun match."
Game 4 highlights
: With ninja-like defense and steady all-around play, Presentation dominated the fourth game and won 25-15. Setter/hitter Madison Cooper was a key contributor with her left-handed craftiness and great court sense.
Game 5 highlights:
The Panthers got on a roll and never looked back. Cooper served tough, and Emily Sklar closed out the match with one of her 22 kills as Presentation prevailed 15-9.
They said it:
"For me it just meant that I could end my high school career on a good note and finish with no regrets. We made school history as the first team to ever win state, and MVP is pretty good." -- Sklar
Notes:
The win marked the first CIF state championship for Presentation. ... The Panthers finish with a 39-2 record.
What:
Division I California Interscholastic Federation final
Who:
No. 9 Palo Alto vs. No. 12 Marymount (Los Angeles)
Score:
Palo Alto 3, Marymount 2
Game 1 highlights:
Melanie Wade was a threat in the front and back rows for Palo Alto, and the Vikings cruised to a routine opening-game win, 25-17.
Game 2 highlights:
Marymount put up a good fight, but Palo Alto libero Shelby Knowles came up huge and had key digs forthe Vikings. Marymount's Lauren Greskovics-Fuller struggled a bit to connect with Kaitlyn Edwards on the slide, and the Palo Alto defense and passing proved to be too much. Palo Alto put itself on the brink of a repeat title with a 25-23 win.
Game 3 highlights:
Greskovics-Fuller moved the ball around beautifully and got all her hitters involved. Ashlie Williams was unstoppable in the middle and Lanti Moye-McLaren was a threat in the front and back rows, hitting a variety of angles. It could have gone either way, but the Sailors rallied at key points to win the game 25-22 and keep their season alive.
Game 4 highlights:
Marymount came out on fire, holding the lead almost the whole game. Greskovics-Fuller spread the ball around, and Renee Meyer-Whalley came in and served tough to close out the game 25-20 and force a fifth game.
Game 5 highlights:
Outside hitter Manon Greskovics-Fuller got hot offensively for Marymount, and the Sailors would not let a ball drop. At 13-7, all signs were pointing to a Marymount win. But then the momentum shifted. Maddie Kuppe went back to serve. "When we sided out and I got back to the end line I was like 'Wait ... we can do this," Kuppe said. "It was like a second switch for me." Palo Alto roared back, and at 12-13 the fans started to chant "I believe my team can win." Wade answered with two of her 27 kills. After Marymount hit a ball out, Palo Alto found itself with a 17-15 win. "I am just super proud of our team, the way we came back," Wade said.
They said it:
"I am waiting for the ref to say, 'Oops we made a mistake. You guys actually lost. It's going to take me a couple of days to figure out how the heck we did that. I'm proud that the seniors got this experience, though, because they worked their butts off all year. It would have been a big dud if we had a wipeout in the fifth set after being up 2-0. So I'm really happy that their efforts were rewarded with this." -- coach Dave Winn
Notes:
Palo Alto (36-3) became the first team in school history to win back-to-back state titles. ... Wade, a senior, was named MVP.
December, 4, 2011
12/04/11
8:55
AM ET
By Kirstin Olsen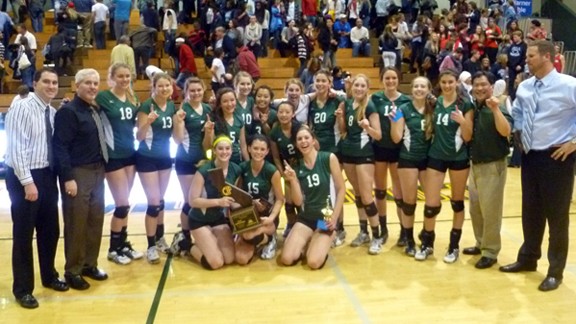 Kirstin Olsen/ESPNHSPalo Alto won back-to-back CIF state championships by staging a dramatic fifth-set rally to top Marymount (Los Angeles).
The final two state champions of the 2011 volleyball season were crowned Saturday night in California, and it very well might have been a case of saving the best games for last.
In the CIF Division II state championship, Presentation (San Jose, Calif.) rallied from two sets down and fought off a match point to win its first CIF state championship in volleyball.
Led by 20 kills from Duke commit Emily Sklar, undersized Presentation took down taller La Costa Canyon (Carlsbad, Calif.) 20-25, 20-25, 26-24, 25-15, 15-9.
In the first two games, La Costa Canyon, ranked 42nd in the
POWERADE FAB 50 national rankings
, was in system and had a bevy of hitters to feed, particularly middle Natalie Bausback and outside hitter Cosy Burnett.
But the No. 15 Panthers rallied in the third set with steady play and smart hitting. Veronica Bither and Madison Cooper started to get all their hitters involved and had a great total team effort, never looking out of system.
The Division I final was packed full of drama as well.
No. 9 Palo Alto rallied from a six-point deficit in the fifth game and claimed back-to-back CIF state championships with a 25-17, 25-23, 22-25, 20-25, 17-15 win over No. 12 Marymount (Los Angeles).
In the first two games, Palo Alto was in a great rhythm, utilizing 6-foot-5 middle blocker Melanie Wade, a Washington commit, and getting great passing and hitting from senior outside hitter Maddie Kuppe.
But the momentum took a sharp turn starting in the third game.
Marymount took over with amazing defense and good all-around play. Lanti Moye-McLaren was a key weapon in the front and back row, hitting a variety of angles, and Marymount setter Lauren Fuller did a great job moving the ball around to her hitters.
In the last game, Marymount was up 13-7, but Palo Alto steadied its play and fought its way back in to win the match 17-15.
Wade finished with 26 kills, and the Vikings became the first Palo Alto team to win two straight titles.
December, 1, 2011
12/01/11
8:40
AM ET
By ESPNHS
The final POWERADE FAB 50 national rankings are set to be released next week, but it looks as though there's one spot in the top 10 still up for grabs.
On Saturday, Palo Alto and Marymount of Los Angeles will fight for that spot when they meet in the California Division I state final.
In the Week 13 rankings, Palo Alto moved up to No. 9 and Marymount moved up to No. 12. Los Alamitos, which had been the top team in California at No. 6, fell to No. 19 after losing a tough four-setter.
Click here for the complete Week 13 rankings.
November, 28, 2011
11/28/11
5:49
PM ET
By Kirstin Olsen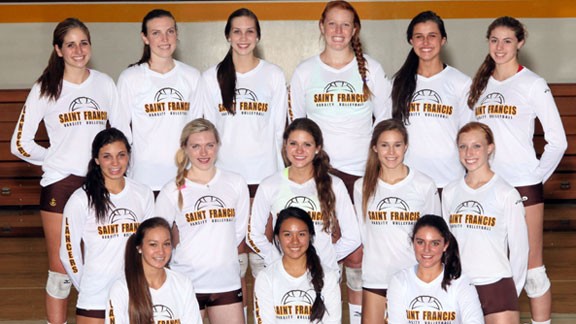 Courtesy of St. Francis AthleticsSt. Francis (Mountain View, Calif.) takes on Presentation (San Jose) for the Division II NorCal title.
No. 12 Palo Alto (Calif.)
won its 19th straight match with a three-set win over San Ramon Valley in the second round of the Division I NorCal CIF state tournament. The Vikings got 19 kills from Washington commit Melanie Wade. Outside hitter and UConn commit Maddie Kuppe had 15 kills, and setter and University of Pacific commit Kimmy Whitson had 32 assists in the 25-20, 25-23, 25-13 win. Next up for Palo Alto is Menlo-Atherton, which knocked off St. Francis (Sacramento) in straight sets.
In the SoCal bracket,
No. 6 Los Alamitos (Los Alamitos)
defeated
No. 26 Corona del Mar (Newport Beach, Calif.)
25-16, 25-20, 21-25, 27-25 in the second round. The Griffins struggled in the third set and lost middle blocker Crissy Jones to an injury. But Los Al picked up its defense and rallied to win a tight fourth set.
No. 15 Marymount (Los Angeles, Calif.)
won in five over a very feisty
No. 28 Newport Harbor (Newport Beach, Calif.)
25-22, 21-25, 13-25, 26-24, 15-8. Junior Middle blocker Kaitlyn Edwards paced the Sailors with 21 kills and 10 blocks, and senior outside hitter Manon Greskovics-Fuller contributed with 12 kills and 25 digs. Newport outside hitter and USC commit Cinnamon Sary led the Sailors with 29 kills and 9 digs. Marymount's Lanti Moye-McLaren and Greskovics-Fuller stepped up their game with some key kills at the end of the match to give the Sailors the edge. Marymount next faces Los Alamitos on Tuesday.
In the Division II CIF tournament, No.
36 St. Francis (Mountain View, Calif.)
took care of
No. 47 El Camino (Sacramento, Calif.)
25-20, 26-24, 22-25, 25-18, and
No. 19 Presentation (San Jose, Calif.)
beat Rocklin 25-13, 23-25, 25-20, 25-23. The much-anticipated rematch of St. Francis and Presentation will take place on Tuesday for the DII NorCal championship. Presentation beat St. Francis three times in the regular season, but when it counted most in the CIF Central Coast Playoffs, St. Francis beat Presentation in five. Presentation boasts outside hitter and Duke commit Emily Sklar, and St. Francis has setter and UCSB commit Taylor Formico and middle blocker and Wake Forest commit Taylor Deaton.
November, 14, 2011
11/14/11
5:18
PM ET
By Kirstin Olsen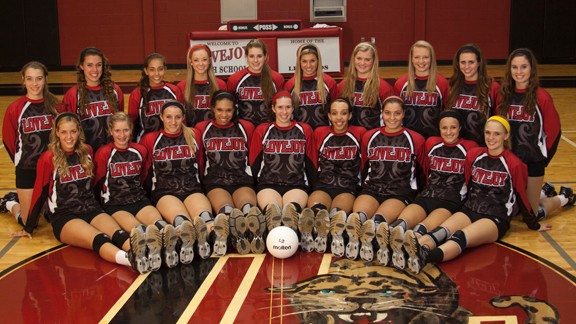 TLC Photos Lovejoy (Lucas, Texas) will be making its fourth straight trip to the Texas state semifinals.


No. 21 Lovejoy
(Lucas, Texas) is cruising through the 3A Conference bracket with wins over North Lamar and Prosper. The Leopards' only losses this season came in August at preseason tournaments. Tulsa commit Nicole Newton and Iowa State commit Andie Malloy signed their letters of intent last week. Junior outside hitter/middle blocker Ebony Nwanebu had verbally committed to USC. The Leopards will face Sinton this week in the state semifinals.
No. 17 Bishop Moore
(Orlando, Fla.) has only one loss this year, to
No. 7 Berkeley Prep
, and may get another shot at the Bucs in the state final. This week the Hornets will take on Bolles in the FHSAA 4A semifinals while Berkeley Prep faces
No. 22 Cardinal Gibbons
. The Hornets boast junior outside hitter Lindsey Owens, senior libero Alex Beecher, sophomore setter Allie Monserez and senior middle blocker Maura Mulligan.
No. 16 Palo Alto
(Palo Alto, Calif.) has had an up-and-down year but is in contention for another state final appearance if they can make it through the CIF Central Coast Section. The Vikings face Salinas this week in the Division I semis. The Vikings' go-to hitters are 6-5 middle blocker Melanie Wade, a Washington commit, and 6-2 outside hitter Maddie Kuppe, a UConn commit. Senior setter and Pacific commit Kimmy Whitson has also starred this year.
No. 27 Marymount
(Los Angeles, Calif.) has had a commendable season with a second-place finish at Durango, sixth at the Cal Challenge and second at Santa Barbara Tournament of Champions. The Sailors boast standout twins Lauren Fuller, a setter and Arizona commit, and Manon Fuller, an outside hitter and Virginia commit. Junior middle blocker Kaitlyn Edwards has stepped up her game as a key contributor this season.
October, 31, 2011
10/31/11
8:46
AM ET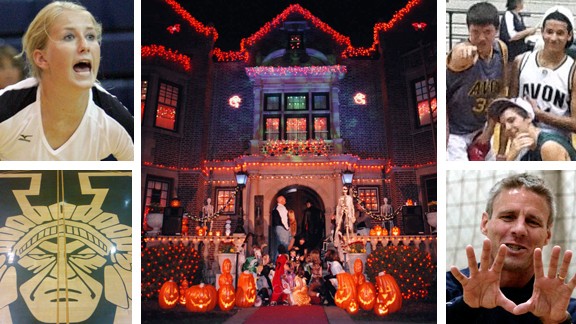 ESPNHSWith good players, loud fans and rich traditions, some gyms turn into haunted houses for visiting teams. From top left, Mira Costa (Manhattan Beach, Calif.), Venice (Fla.), Avon (Ind.) and Santa Barbara (Calif.) make our list of 13 scary places to visit.
By Walter Villa
A small, cozy gym. Loud, raucous fans. A big, bad volleyball team. Combine all three elements, and you get the kind of place most teams don't want to visit after dark.
Today, in honor of Halloween, we present some of the nation's scariest places to play girls' volleyball – gyms that have become Houses of Horrors for opponents.
We've picked 13 sites that are usually unlucky for visiting teams, and since different schools made our list for different reasons, let's break it down based on categories:
'CRAZY' FANS
Avon (Ind.)
All aboard! Ha ha ha ha ha ha haaa!
Ay Ay Ay Ay Ay Ay Ay …
Crazy, but that how it goes at Avon volleyball matches.
Surely Ozzy Osbourne would love Avon's student cheering section, called the Jersey Junkies. They have more than 70 "cheers," some of which are designed to distract the opposition.
Case in point: When a rival player prepares to serve, the Junkies mimic her every movement, calling out, for example, "Bounce, bounce, bounce, spin!" Then they all scream when she finally tosses the ball up for her serve.
Bishop Verot (Fort Myers, Fla.)
Between the fans and the pulsating music, it gets so loud at Bishop Verot that opposing coaches have been known to take their teams outside the gym during timeouts just so their instructions can be heard.
Ironwood Ridge (Oro Valley, Ariz.)
The students all wear No. 7 jerseys to symbolize the seventh man on the court. With room for only 450 fans, the gym is usually full. And together with a modern sound system, they bring the noise. The best thing about this place is that an auxiliary gym was converted into a volleyball-only facility, a rarity at the high school level.
Joliet Catholic Academy (Joliet, Ill.)
On Pac-Man night, all the students come dressed in black … except four who show up as the "ghosts" and one who is "Pac-Man," And from there, the fun ensues.
TRADITION RICH
Burris Laboratory (Muncie, Ind.)
Ball Gym is a special place, and Burris Lab is a special program. Until losing on the road at Wapahani (Selma, Ind.) earlier this month, Burris Lab had won 14 straight state titles. They had also won 95 consecutive playoff matches, many of them at home at Ball Gym.
"It's an intimidating place for an opponent," Wapahani coach Mike Lingenfelter said. "You can't move in that gym without brushing up against one of their national title banners or (22) state title banners. It's a real confined space, and the fans are right on top of you."
Palo Alto (Calif.)
Welcome to volleyball, old-school style. The high school, founded in 1898, is one of the oldest in the region. The gym dates back to the 1930s, and fans sit up above in a balcony-style setting. It can get rowdy, especially when Palo Alto is rolling – and, lately, that's most of the time. The Vikings went unbeaten last year and defeated Long Beach Poly to win the CIF Division I state title.
Fowler (Colo.)
The Grizzlies' rich tradition includes 13 state titles, and they are tough to beat at home. In fact, they haven't lost there in four years. It's a small school (Class 2A) with a small gym. "Our low ceiling teaches us to have great ball control," Fowler coach Sandy Moss said. "We consider that our seventh man."
Mira Costa (Manhattan Beach, Calif.)
Fisher Gym has seen tons of great volleyball over the years. Mira Costa has won seven state titles, including its most recent crown in 2007. Only two California schools have won more titles, and that mystique is evident when you walk into the gym that has produced scores of pro volleyball players.
Kamehameha (Honolulu, Hawaii)
Coach Chris Blake said fans at his school's games routinely paint their faces. That can be an intimidating sight for opponents, who also have to deal with a Kamehameha program that has won 18 state titles since 1969.
Santa Barbara (Calif.)
Established in 1875, this is one of the oldest high schools in California. But its real claim to fame is that it is the alma mater of volleyball legend Karch Kiraly.
IT'S FAN-TASTIC
Venice (Venice, Fla.)
Indians coach Brian Wheatley has patterned his program after the University of Nebraska and makes every home game fan friendly. The cheering section is called "The Wheatley Wackos," and "Fans of the Week" get to sit on leather couches on the sideline.
"We have a smoke machine," Wheatley said, "and fans come out dressed as Indians."
The fun atmosphere is helped by the fact that the Indians have lost only three matches in the past 10 years inside the 1,500-seat TeePee the nickname for their gym. From 2001 to 2009, they didn't lose there at all.
Since Venice is located on an island, even the bus trip to play Venice is scary as teams have to negotiate three bridges to get there. The team has also been virtually adopted by the city's large retirement community.
"We get tons of community support," Wheatley said. "Our girls have been known to sign autographs at the grocery store. That's how crazy it is."
Chaparral (Parker, Colo.)
The team's student section, usually about 200 strong, stands and cheers the entire game. The Wolverines rarely lose at home – they are 33-1 at home the past three years.
Aside from their winning ways, the Wolverines make it fun for their fans by staging contests galore. For example, during timeouts, six pizza boxes are put on different spots on the court. A couple-dozen fans then line up to try to hit one of the boxes – on the fly -- with a serve. If they do, free pizza for the fan!
Snow Canyon (St. George, Utah)
Snow Canyon's fans are called "Warrior Nation," and they are passionate. The students love theme nights such as "Super Hero Night" and "Retro Night." Snow Canyon administrators reward students with gift certificates to local restaurants for the best and most original costumes.