High-SchoolVolleyball:

Sam Hunt
April, 24, 2012
4/24/12
1:57
PM ET
By Walter Villa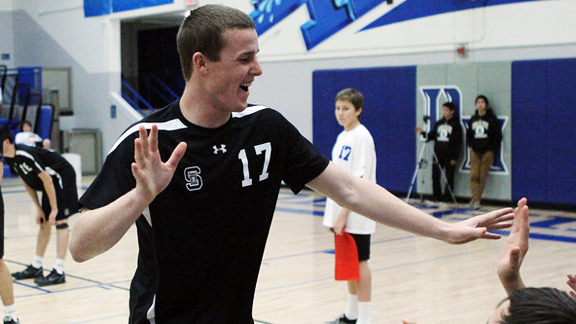 Courtesy of Dave RossSam Hunt, a star volleyball player at Servite (Anaheim, Calif.), will play football at Air Force next fall. "I've gotten more calls from colleges about Sam than any other player," Servite volleyball coach Matt Marrujo says.
This season is Sam Hunt's volleyball finale, and it is looking like it could be a great one.
The 6-foot-6, 205-pound senior middle blocker plays for Servite (Anaheim, Calif.), the No. 5 team in the
POWERADE FAB 50
national rankings.
But after the season ends, Hunt will focus on a different sport. After competing in volleyball, basketball and football for much of the past three years, Hunt will concentrate on football for Air Force, where he will also study engineering.
Hunt, 18, and Servite volleyball coach Matt Marrujo both used the words "mature decision" to describe Hunt's choice to attend Air Force.
"Right out of college, you get a guaranteed job in your field," Hunt said. "Rather than going to another college and wondering if I will have a job after I graduate, here I get a guarantee."
Added Marrujo: "It's a great opportunity. I would love to see him play college volleyball. But he has always been up-front with us. There are more scholarships in football."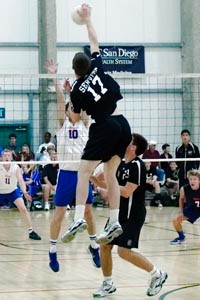 Ed Chan/ESPNHSThanks to his great leaping ability, Sam Hunt was used on special teams last fall to try to block field goals.
Marrujo said Hunt's leaping ability has improved due to volleyball, which has helped him in football, where he plays wide receiver. In fact, Hunt was also used last year to get up and try to block field goals.
Servite football coach Troy Thomas said part of Hunt's appeal for Air Force is that he can create mismatches because of his size and body control.
"He has huge growth potential," Thomas said. "Being in a Division I weight room, you will see him put on 25 pounds and becoming a tough cover and a tough guy to bring down."
Hunt played baseball as a freshman and didn't play competitive volleyball until a year later.
He earned all-league honors as a junior, and Marrujo said it's difficult to predict just how good he could have become had he played volleyball full-time.
"He jumped in with us right away," Marrujo said. "I've gotten more calls from colleges about Sam than any other player."
Hunt said he enjoys volleyball and dreams of winning a regional title (there is no state title in California), even though teams such as No. 1 Loyola (Los Angeles, Calif.) and No. 4 Mira Costa (Manhattan Beach, Calif.) could stand in the Friars' way.
It was his brother, Ben Hunt, who convinced him to try volleyball. Ben, a 6-4 sophomore, is an outside hitter for Grand Canyon University in Phoenix.
Ben said his brother could have been recruited by the likes of Stanford and USC had he devoted himself to volleyball.
"It (stinks) for volleyball to lose a great athlete like Sam," Ben said. "But seeing him play football, he is great at that, too. Sam can pick up any sport and in a week look like a natural."
Sam Hunt, who has a 4.0 GPA, said he doesn't really have a favorite sport. He just loves to compete and enjoys whatever sport he's playing at the time.
But it is fair to say that volleyball has helped him become a better wide receiver.
"In volleyball, you have to be quick with your footwork, moving side to side," he said. "As a receiver, I need to be able to move laterally or vertically and go get the ball, really attack."
Hunt ran a 4.85 in the 40-yard dash before last season, but he feels he got a lot faster as the season progressed.
And that's what makes him such an intriguing prospect.
By his own admission, Hunt felt "rookie-ish" at the start of every season, always transitioning over from a different sport.
He felt he made a lot of "dumb mistakes" early in the 2011 football season before he started running better routes and making difficult catches look easy.
Air Force coaches have told Hunt that if he gains a bit more weight, he will be moved to tight end. Hunt would prefer to stay at receiver, where he can jump over cornerbacks and grab touchdown passes.
Hunt knows there aren't a lot of catches to go around in Air Force's run-dominated option attack but says he is "fine with that."
He's also fine with the rigors of basic training. His grandfather was in the Navy and worked on submarines, disabling bombs. Two of his cousins were also in the Navy and traveled all over the world.
Those family members -- as well as other people he's met -- have said that basic training is much harder mentally than it is physically.
"My recruiter didn't sugarcoat it. He said it was going to (stink) my first two years," Hunt said. "But I'm willing to go through the discipline and toughness.
"It seems hard. The (drill sergeant) will yell at you. But people get through it every year."
Hunt will owe the Air Force a five-year commitment after graduation. At that time, he will give the Air Force three options of where he would like to be stationed.
After that, Hunt is free to either re-enlist or leave the military.
But all those tough decisions are years away. For now, Hunt wants to enjoy his senior season of volleyball and would love to go out on top.
"Sam has the perfect build for volleyball and is very quick to the pin," Marrujo said. "He reads the game very well for a guy who hasn't played a lot. Because of football, he is a very strong and physical player at the net and hits the ball hard.
"I think there is no question he could have been a Division I volleyball player."
March, 12, 2012
3/12/12
2:38
PM ET
By Jed Stotsenberg
The boys' high school volleyball season got into full swing this weekend at the 6th Annual Best of the West boys' high school volleyball tournament in San Diego, Calif. The tournament was a true showcase of what to expect from the top teams for the 2012 season.
Click here to browse our gallery of 215 photos.
Here are 10 players who stood out this weekend:
Andrew Benz | Esperanza (Anaheim, Calif.)
The 6-foot-6 senior middle was dominating, up early and crushing the angles all tournament while also taking over with his block. Benz is committed to UC Irvine.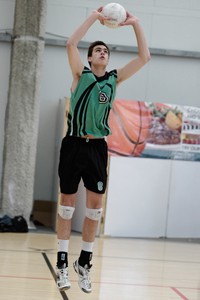 Ed Chan/ESPNHSThousand Oaks setter Jonah Seif ran a solid offense and scored points with his jump serve at the Best of the West.
Michael Mullahey | Loyola (Los Angeles, Calif.)
The 6-5 senior setter was a man among boys, delivering the offense and helping Loyola win the Best of the West title. Mullahey picked apart his opponents' block, isolating hitters all tournament while doing his fair share point scoring with a solid block and deceptive dumps. Mullahey will be a Trojan next year contributing to a strong USC volleyball program.
Kyle Palmer | Servite (Anaheim, Calif.)
The 6-7 senior middle was a huge part of his team pulling off numerous upsets. Servite started as the 12 seed and advanced through to the finals. All tournament he was a horse, getting up big and bombing the angles while completely neutralizing the opponents' offense with his block. Palmer is committed to UCLA.
Edgar Palos | Huntington Beach (Calif.)
This 6-foot senior outside hitter gets it done, bringing solid serve receive, smooth controlled defense, high and hard swings while scoring big with his jump serve. He is fun to watch. Palos is committed to Long Beach State.

Nick Porterfield | Loyola (Los Angeles, Calif.)
The 6-3 senior outside hitter set himself apart from the pack, earning the Best of the West MVP and helping his team win the tournament. All weekend he passed well and abused his opponents' right-side block with true hitting range and thunder. Porterfield will be attending UCLA next year.
Kevin Rakestraw | Newport Harbor (Newport Beach, Calif.)
This 6-11 junior middle is not just big but athletic. He can run a plethora of attacks all along the net, including a back slide that was almost impossible to stop. As a blocker, he is efficient closing laterally, which is rare for players his size at this age. Rakestraw is uncommitted and will have his choice of top college programs to choose from when he's ready.
Jonah Seif | Thousand Oaks (Calif.)
This 6-8 senior setter is a point scoring machine, shutting down the left-side attack with his block and picking off passers at will with his jump serve. He also was quick to the ball and ran a solid offense, feeding his middles as much as possible and isolating his pins. Seif is committed to UCSB next year.
Larry Tuileta | Punahou (Honolulu, Hawaii)
The 6-2 sophomore outside hitter was on fire, helping his team to a third-place finish with solid passing and phenomenal defense. One of the top plays of the weekend was a full-speed hit he took off his chest in the semifinal against Loyola that carried over the net and landed left back over the whole team without anybody touching it to tie the game. Offensively he has an extremely high volleyball IQ, bringing out not only the heat but the tips, chops and swipes, which embarrassed opponents' defensive systems all tournament. Tuileta is uncommitted but will have many opportunities to play at the next level.

Brooks Varni | Mira Costa (Manhattan Beach, Calif.)
The 6-2 senior libero was spectacular and a true leader. He passed well all weekend, set in transition off the setter dig, took 75 percent of the court on free balls, dug balls and provided fire with confidence for his team when needed. Varni is committed to USC next year.
Lucas Yoder | San Clemente (Calif.)

This 6-4 junior outside hitter put in some serious work helping his team to a third-place finish. He passed with precision, brought the heat on the left and out of the back row while competing hard the whole time. He has yet to choose college
.
Other notables
Bennett Bird, Westview (San Diego, Calif.), 12, 6-6, OH, BYU
Gabriel Vega, Iolani (Honolulu, Hawaii), 12, 6-7, OH, Stanford
Justin Parks, Oak Park (Calif), 12, 6-4, OH, Pepperdine
Kyle Suppes, Bellarmine (San Jose, Calif.), 12, 6-8, MB, Pepperdine
Parker Boehle, Loyola (Los Angeles, Calif.), 12, 5-8, LIB, UCSB
Alex Slaught, Loyola (Los Angeles, Calif.), 12, 6-4, OH, USC
Driss Guessous, Loyola (Los Angeles, Calif.), 12, 6-7, MB, Ohio State
Sam Hunt, Servite (Anaheim, Calif.), 12, 6-6, MB , Air Force Football
Sean Gruebner, Punahou (Honolulu, Hawaii), 12, 6-2, OH, Uncommitted
Jack Yoder, San Clemente (Calif.), 11, 6-3 ,S Unsigned
Aidan Crockett, Bellarmine (San Jose, Calif.),, 12, 6-3, OH, Ohio State
Parker Brown, Corona del Mar (Newport Beach, Calif.), 12, 6-3, OH Ohio State
Jacob Delson, Westlake (Westlake Village, Calif.), 12, 6-5, OH, UCSB
Zack Gates, Huntington Beach (Calif.), 11, 6-6, Opp, Unsigned
Cole Fiers, Palos Verdes (Calif.), 11, 6-3, S, Uncommitted
Jack Hughson, Poway, 12, 6-6, S/RS, UCLA
Darren Sorrell, Esperanza (Anaheim, Calif.), 12, 6-9, MB, Hawaii
Madison Hayden, Servite (Anaheim, Calif.), 12, 6-3, OH, Stanford
Tim Favreau, Servite (Anaheim, Calif.), 12, 6-1, S, Princeton