High-SchoolVolleyball:

San Clemente
April, 26, 2012
4/26/12
4:27
PM ET
By Mark Tennis and Kirstin Olsen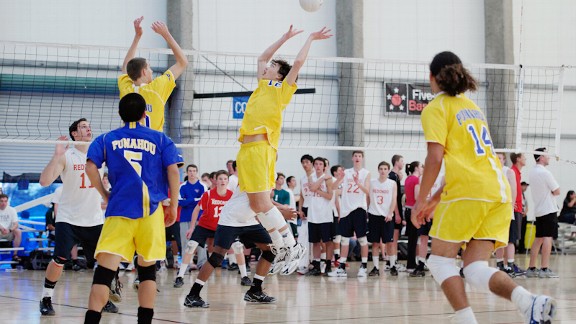 Ed ChanPunahou clinched a division title last week and remains in the top 10 of the POWERADE FAB 50.
League championship tournaments this week in Hawaii will be followed by the start of state playoffs next week, but in other states there are still a handful of major tournaments to be played.
In Southern California, the Redondo Varsity Classic will provide an opportunity for nine FAB 50 teams to square off.
No. 1 Loyola (Los Angeles), No. 4 Mira Costa (Manhattan Beach), No. 7 Westview (San Diego), No. 8 Otay Ranch (Chula Vista), No. 10 Dana Hills (Dana Point), No. 11 San Clemente, No. 12 Oak Park (Agoura Hills), No. 13 Westlake (Westlake Village) and No. 50 host Redondo Union (Redondo Beach) will all get together this weekend at the loaded tournament.
Since many of the teams also will be in the CIF Southern Section Division I playoffs, the Redondo tourney could be more important in the rankings to Westview and Otay Ranch, the two CIF San Diego Section schools.
This week's biggest mover in the rankings is new No. 15 De La Salle (Concord, Calif.). The Spartans went unbeaten at the Bellarmine Prep tourney in San Jose (Calif.), topping Clovis West (Fresno, Calif.) in the championship match 25-18, 25-19. They went from No. 32 to No. 15 in this week's FAB 50.
Click here for the complete Week 6 rankings.
March, 12, 2012
3/12/12
2:38
PM ET
By Jed Stotsenberg
The boys' high school volleyball season got into full swing this weekend at the 6th Annual Best of the West boys' high school volleyball tournament in San Diego, Calif. The tournament was a true showcase of what to expect from the top teams for the 2012 season.
Click here to browse our gallery of 215 photos.
Here are 10 players who stood out this weekend:
Andrew Benz | Esperanza (Anaheim, Calif.)
The 6-foot-6 senior middle was dominating, up early and crushing the angles all tournament while also taking over with his block. Benz is committed to UC Irvine.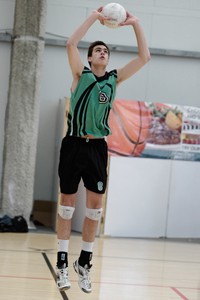 Ed Chan/ESPNHSThousand Oaks setter Jonah Seif ran a solid offense and scored points with his jump serve at the Best of the West.
Michael Mullahey | Loyola (Los Angeles, Calif.)
The 6-5 senior setter was a man among boys, delivering the offense and helping Loyola win the Best of the West title. Mullahey picked apart his opponents' block, isolating hitters all tournament while doing his fair share point scoring with a solid block and deceptive dumps. Mullahey will be a Trojan next year contributing to a strong USC volleyball program.
Kyle Palmer | Servite (Anaheim, Calif.)
The 6-7 senior middle was a huge part of his team pulling off numerous upsets. Servite started as the 12 seed and advanced through to the finals. All tournament he was a horse, getting up big and bombing the angles while completely neutralizing the opponents' offense with his block. Palmer is committed to UCLA.
Edgar Palos | Huntington Beach (Calif.)
This 6-foot senior outside hitter gets it done, bringing solid serve receive, smooth controlled defense, high and hard swings while scoring big with his jump serve. He is fun to watch. Palos is committed to Long Beach State.

Nick Porterfield | Loyola (Los Angeles, Calif.)
The 6-3 senior outside hitter set himself apart from the pack, earning the Best of the West MVP and helping his team win the tournament. All weekend he passed well and abused his opponents' right-side block with true hitting range and thunder. Porterfield will be attending UCLA next year.
Kevin Rakestraw | Newport Harbor (Newport Beach, Calif.)
This 6-11 junior middle is not just big but athletic. He can run a plethora of attacks all along the net, including a back slide that was almost impossible to stop. As a blocker, he is efficient closing laterally, which is rare for players his size at this age. Rakestraw is uncommitted and will have his choice of top college programs to choose from when he's ready.
Jonah Seif | Thousand Oaks (Calif.)
This 6-8 senior setter is a point scoring machine, shutting down the left-side attack with his block and picking off passers at will with his jump serve. He also was quick to the ball and ran a solid offense, feeding his middles as much as possible and isolating his pins. Seif is committed to UCSB next year.
Larry Tuileta | Punahou (Honolulu, Hawaii)
The 6-2 sophomore outside hitter was on fire, helping his team to a third-place finish with solid passing and phenomenal defense. One of the top plays of the weekend was a full-speed hit he took off his chest in the semifinal against Loyola that carried over the net and landed left back over the whole team without anybody touching it to tie the game. Offensively he has an extremely high volleyball IQ, bringing out not only the heat but the tips, chops and swipes, which embarrassed opponents' defensive systems all tournament. Tuileta is uncommitted but will have many opportunities to play at the next level.

Brooks Varni | Mira Costa (Manhattan Beach, Calif.)
The 6-2 senior libero was spectacular and a true leader. He passed well all weekend, set in transition off the setter dig, took 75 percent of the court on free balls, dug balls and provided fire with confidence for his team when needed. Varni is committed to USC next year.
Lucas Yoder | San Clemente (Calif.)

This 6-4 junior outside hitter put in some serious work helping his team to a third-place finish. He passed with precision, brought the heat on the left and out of the back row while competing hard the whole time. He has yet to choose college
.
Other notables
Bennett Bird, Westview (San Diego, Calif.), 12, 6-6, OH, BYU
Gabriel Vega, Iolani (Honolulu, Hawaii), 12, 6-7, OH, Stanford
Justin Parks, Oak Park (Calif), 12, 6-4, OH, Pepperdine
Kyle Suppes, Bellarmine (San Jose, Calif.), 12, 6-8, MB, Pepperdine
Parker Boehle, Loyola (Los Angeles, Calif.), 12, 5-8, LIB, UCSB
Alex Slaught, Loyola (Los Angeles, Calif.), 12, 6-4, OH, USC
Driss Guessous, Loyola (Los Angeles, Calif.), 12, 6-7, MB, Ohio State
Sam Hunt, Servite (Anaheim, Calif.), 12, 6-6, MB , Air Force Football
Sean Gruebner, Punahou (Honolulu, Hawaii), 12, 6-2, OH, Uncommitted
Jack Yoder, San Clemente (Calif.), 11, 6-3 ,S Unsigned
Aidan Crockett, Bellarmine (San Jose, Calif.),, 12, 6-3, OH, Ohio State
Parker Brown, Corona del Mar (Newport Beach, Calif.), 12, 6-3, OH Ohio State
Jacob Delson, Westlake (Westlake Village, Calif.), 12, 6-5, OH, UCSB
Zack Gates, Huntington Beach (Calif.), 11, 6-6, Opp, Unsigned
Cole Fiers, Palos Verdes (Calif.), 11, 6-3, S, Uncommitted
Jack Hughson, Poway, 12, 6-6, S/RS, UCLA
Darren Sorrell, Esperanza (Anaheim, Calif.), 12, 6-9, MB, Hawaii
Madison Hayden, Servite (Anaheim, Calif.), 12, 6-3, OH, Stanford
Tim Favreau, Servite (Anaheim, Calif.), 12, 6-1, S, Princeton
November, 30, 2011
11/30/11
2:48
PM ET
Walter Villa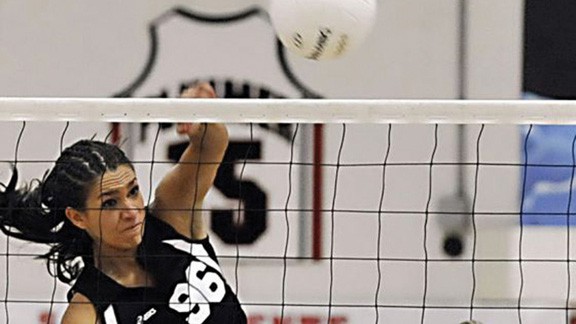 Courtesy of Nebraska AthleticsAlexa Strange of San Clemente (Calif.) is heading to Nebraska next year and plans to study medicine. "Can you imagine?" she says. "Dr. Strange?"
Alexa Strange is multi-talented.
The 6-foot senior setter/hitter at San Clemente (Calif.) has earned a scholarship to play for Nebraska and is interested in studying medicine. But she can make you laugh, too.
Asked if she has a nickname, Strange chuckled.
"With a name like mine, it's not really necessary," said Strange, who has an American-born father and a mother born in India. "They call me 'Stranger Danger.' But I'm going to be a doctor. Can you imagine? Dr. Strange?
"Hopefully, I get married before I start my profession. But I have to be careful because my last name will become my middle name. If I marry a guy with a last name 'Hair,' I'd be Alexa Strange-Hair.
"Most girls are interested in a guy's looks. I look at his name."
For now, though, Alexa is making the Strange name proud. She is part of the U.S. Youth National Team's beach volleyball program, playing mostly with Southern Cal recruit Cinnamon Sary of Newport Harbor (Newport Beach, Calif.).
Strange said she prefers the beach game but is thrilled to get the chance to play indoors at Nebraska, where coach John Cook seems to already have an appreciation for her versatility.
"She is left-handed, and we are counting on her to contribute as a freshman," Cook said on
Huskers.com
. "Alexa is what we're going to call a utility player. She can play outside hitter, left or right side. She is strong in the back row, has a wicked arm and a high volleyball IQ.
"But her greatest strength may be her competitive fire."
And there is nothing strange about that.
Green makes Texas history
Is there any team Julie Green can't take to a championship?
After coaching Lake Travis (Austin, Texas) to a 2010 Class 4A state title, Green led Coppell (Coppell, Texas) to the 5A crown earlier this month.
Green became the first volleyball coach in Texas history to win two straight state titles with two different schools.
In an added twist, neither school had won state before Green arrived.
"Each championship is different, and each group of girls is different," Green said. "But this one is very special."
In order to win a third straight state title, Green – assuming she stays at Coppell – will have to replace four seniors.
The graduating players are state finals MVP and 6-4 middle blocker Kierra Holst, setters Bear Bass and Sarah Arnold and defensive specialist Kristin Dickerson.
But several key members of this year's state title team are set to return, including Megan Kennedy, Cassidy Pickrell, Kylie Pickrell, Chiaka Ogbogu, Erica Bohannon and Kate Dicken.
Like father, like daughter
Katie George, a 5-10 senior setter for Assumption (Louisville, Ky.), signed with Louisville earlier this month and figures to make a seamless transition. That's because her high school coach, Ron Kordes, is the father of her soon-to-be college coach, Anne Kordes.
As a junior, George committed to play for Anne Kordes at Saint Louis. But when the coach got hired at Louisville, George decided to follow her and play for the Cardinals.
George said she looks forward to playing college ball in front of her hometown fans and plans to study communications.
"I want to be a field reporter for ESPN like Erin Andrews," said George, who is a sports columnist for her high school newspaper. "I love college football."
NCAA tournament
Of the 10 seniors who earned 2010 ESPNHS first-team All-America honors, nine of them will be competing in the NCAA tournament, which begins Thursday.
Four of those players are on seeded teams: Haley Eckerman (No. 1 Texas); Aiyana Whitney (No. 8 Penn State); Megan Moenoa (No. 9 UCLA); and Tiffany Baker (No. 14 Tennessee).
Also getting their first taste of the NCAA postseason will be Krista Vansant of Washington; Christina Higgins and Lillian Schonewise of Cal; Kori Moster of Michigan State; and Chloe Mathis of Arizona.
The only All-American who did not get to the NCAA tournament was Jeni Houser of Notre Dame. Houser, though, had a strong season as a freshman starter.