High-SchoolVolleyball:

Sand volleyball
August, 8, 2012
8/08/12
12:17
PM ET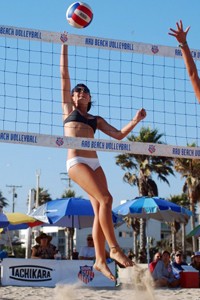 Courtesy of Ciena LennonSusannah Muno goes for the kill at the AAU Beach Volleyball National Championships in Hermosa Beach last month.
In just four weeks, Susannah Muno collected three trophies and made history on the beach.
Muno, who will be a sophomore at Notre Dame (Sherman Oaks, Calif.), became the first athlete to claim the "triple crown" of junior beach volleyball when she won the three major tournaments on the AAU National Tour in the same year.
The 16-year-old from Hermosa Beach, Calif., played with a different partner at each stop.
Muno teamed with Sydney Bast of Upland, Calif., to win the AAU Beach Volleyball National Championships in Hermosa Beach July 14-15. Then, playing alongside Raeanne Greisen of San Diego, Muno won the AAU West Coast Junior Olympic Games in Hermosa Beach July 28-29. This past weekend, Muno and Gianna Guinasso of Huntington Beach, Calif, won the AAU Best of the Beach in Santa Monica, Calif.
Click
here
for more on AAU beach volleyball.
April, 19, 2012
4/19/12
1:15
PM ET
By Walter Villa
For some, the state championship won Tuesday by Xavier Prep (Phoenix, Ariz.) wasn't just historic, it was profound and far-reaching.
Xavier defeated Fountain Hills (Ariz.) 5-0 at Victory Lanes Sports Park in Glendale, Ariz., capping the
first high school season of sand volleyball in U.S. history
.
"It was so cool to be a part of this whole season," said Xavier's Natalie Braun, who teamed with Mallory Miller to win their title match. "It was life-changing."
When asked why she would consider her life altered by this first season of sand volleyball, Braun said she had previously wanted to play the indoor version of the sport in college.
Now she wants to play sand volleyball.
"There is such a great atmosphere playing outdoors," said Braun, a 5-foot-7 freshman. "It's just way different. With just two players, you have to build an all-around skill set. In indoor, you mostly focus on one. I want to be one of those all-around players."
Braun said several -- but not all -- of her teammates told her that they, too, have switched their focus to sand volleyball. That includes elite prospect
Abby Hornacek,
who had originally committed to play indoor at Kansas before switching to a sand volleyball scholarship at Southern Cal.
Hornacek teamed with Mia Teilborg as Xavier Prep went 8-0 this season, sweeping every team except Scottsdale Prep (Ariz.), which they defeated 4-1.
Xavier's other duos on Tuesday were Kelly Andrew and Sarah Mackey, Alex Parron and Molly Scheel, and Dani Westfall and Chaney Hart.
Those five duos were more than good enough to beat Fountain Hills, which finished its season at 6-2.
"It was 90 degrees and just a great day to play," Xavier coach Matt Rogers said of the title match. "Fountain Hills wanted redemption because we had beaten them earlier in the season. But we really wanted this first state title, and we went after it."
Wednesday morning, Hornacek wore her volleyball jersey and spoke to the entire school after her team's accomplishment.
"I felt comfortable doing it," said Hornacek, a senior. "I just explained that we represented our school and a new sport. After I spoke, about 50 people came up to me to say congratulations."
Hornacek said she's proud of her team.
"Winning the title gave us a great feeling," she said. "I hope it can be an inspiration to other girls to try the sport. … I think a lot of girls will make the switch once they see how much fun it is to play.
"All I know is that when I'm older, I'm going to look back at the picture of us winning state and be really happy."
By Walter Villa
READ MORE:
Arizona players having a blast in the sand
Arizona made history late last month when it became the first state to sanction high school sand volleyball.
But Arizona has company in the sand volleyball movement.
In the Los Angeles area, an eight-team Girls' Interscholastic Beach Volleyball League is set to start this spring. There will be three doubles teams competing per match, and the season will conclude in May.
Jon Aharoni, the coordinator of USA Beach Volleyball youth development, said he has been working closely with the California schools.
"I couldn't be prouder to be involved," he said. "It's a big, fat step in the right direction."
Meanwhile, on the college front, there are about 20 schools competing in the NCAA's inaugural season of sand volleyball.
Consider:
-- Florida State earned the first victory in NCAA sand volleyball history, sweeping host Alabama-Birmingham 5-0 on March -- The Seminoles have a 15-player roster and may be among the favorites to compete in the national championships April 27-29 in Gulf Shores, Ala.
-- The Southern Cal Trojans, who reached the Final Four indoors, made their sand debut on March 10. The Trojans are using indoor All-Americans Kendall Bateman and Natalie Hagglund on the sand as part of their 13-player roster.
-- Long Beach State, the alma mater of Olympic star Misty May-Treanor, will be led by Tara Roenicke, who represented Team USA at the World Beach Junior Championships in December. She finished fifth with partner Rebecca Strehlow.
-- Pepperdine has a 16-player roster, including one of the emerging stars of the sport, Summer Ross.
March, 13, 2012
3/13/12
10:37
AM ET
By Walter Villa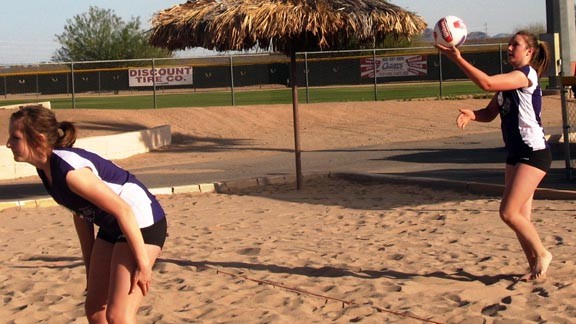 Courtesy of Eric HodgsonArizona made history on Feb. 28 by becoming the first state to offer sand volleyball. "The girls were giddy," Valley Vista coach Tonya Lee said. "Everyone knew we were part of history."
READ MORE:
Sand game gains momentum
Officials from the Arizona Interscholastic Association gathered the young athletes and made a brief speech.
"They told us we were making history," Scottsdale Prep sophomore Leslie Smith said. "They told us to have fun and to always remember we were the first players in the country to play sand volleyball."
The historic event -- the first official high school sand volleyball games -- happened Feb. 28 at Victory Lanes Sports Park in Glendale, Ariz. Originally,15 schools had shown interest in competing in Arizona this season, but budget and travel issues reduced the field to five.
"It's a little sad for the other schools," Smith said, "because they are missing out on something fun."
Eric Hodgson, the outreach director for the Arizona Region of USA Volleyball, said he is not disappointed with the smaller-than-expected turnout of teams.
"We're grateful," he said. "We're happy to have five schools that have shown a vision for what the sport can lead to in terms of scholarships and opportunities for female athletes."
Hodgson's organization donated beach volleyballs and helped train referees who did not have experience with the sand version of the sport. The Arizona Region also sponsored a clinic -- open to players and coaches -- with pro beach volleyball standout Jenn Snyder.
Also helping the cause was Victory Lanes owner Mike Krueger, who donated court time at his facility in north Phoenix.
As for the particulars: Each match has AIA officials acting as scorekeepers, and each school is permitted 12 players, which includes two alternates. Five doubles teams compete against each other, and the season will culminate with an April 14 state championship.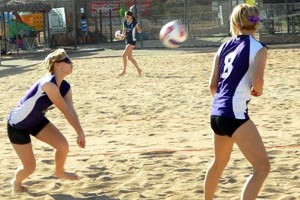 Courtesy of Eric HodgsonFive teams are playing in Arizona's first sand volleyball season, and more are expected to join next year.
Scottsdale Prep (Scottsdale, Ariz.) coach Nathan McClallen said this year's schedule was revised several times because clubs kept dropping out.
"But everyone I've talked to is focused on adding the sport for next year," he said. "It seems like it will be much bigger next year. I'm glad we got in on the ground floor. We are going to be in a position where we can beat bigger schools next year because we know how."
This year's historic first matches were 5-0 victories for Scottsdale Prep over Westwind (Phoenix) and Fountain Hills (Ariz.) over Valley Vista (Surprise, Ariz.). Xavier (Phoenix), the fifth team competing this season, had a bye on opening day.
McClallen said his team gets credit for the first victory in Arizona history.
"The two matches were going on at the same, and ours finished first," he said. "I'm really glad our girls got this opportunity."
McClallen said Westwind only had three duos and had to forfeit the other two matches.
Valley Vista coach Tonya Lee said she has just nine players, which means she has to forfeit one match each time out. She had 42 players in her JV and varsity indoor programs, but many of those girls are now playing softball or running track.
But the girls who did come out were thrilled, Lee said.
"The girls were giddy," she said. "Everyone knew we were part of history.
"We're more of a lower-income school. Many of my girls can't afford to play club volleyball. Sand volleyball gives them another opportunity to earn a college scholarship."
Lee said she thinks the sport will grow to 18 to 24 teams in Arizona next year.
McClallen, who has a full team at Scottsdale, said adding sand volleyball came at the expense of fielding a softball program this season.
"We chose volleyball, partly because our athletic director (Brent Demmitt) is a former beach volleyball player," McClallen said. "But the girls seem to love it, too."
Scottsdale's top duo consists of sophomores Sydney Bell and Smith. But it was the No. 2 team of senior Ellen Munsil and freshman Morgan Nelson that scored Scottsdale's only win in a 4-1 Week 2 loss to Xavier. The duo overcame match point to win 12-21, 23-21, 16-14.
"That was a massive upset," McClallen said. "Xavier is using players from its indoor team, which ranked 35
th
in the nation (in the final POWERADE FAB 50 poll). But that just proves that you can have an incredible indoor team, and it's completely different on sand.
"To me, sand volleyball is about being athletic and improvising. It's not quite as technical as indoor. It will give a small school like us a chance."
No matter who wins, Scottsdale players such as Bell and Stephanie Prince said sand volleyball is just a lot of fun.
Like all the Scottsdale players, neither had any experience playing on sand, but they still enjoyed the game.
"It doesn't hurt as much to dive for a ball -- that's a plus," Bell said. "It's a little harder to get up, and it's harder to run on the sand. You need strong legs and quickness.
"It's an intense sport. You have more responsibility because there are only two players and a lot of court to cover."
Bell added that her bond with Smith, her usual partner, has grown because of the sport. She also enjoys the self-reliance the sport forces on players -- coaches are only allowed to talk to their players during the one-per-match timeouts.
Prince, whose younger sister has played softball, said sand volleyball is the much better choice for a spring sport.
"One of the things my sister doesn't like about softball is that she feels she is always in the dugout," Prince said. "In sand volleyball, you are much more involved and get to touch the ball on every play.
"I know some girls at other schools are jealous that we have a (sand volleyball) team and they don't. But now that we've made history, I think a lot more teams will play next year."
January, 26, 2012
1/26/12
12:14
PM ET
By Walter Villa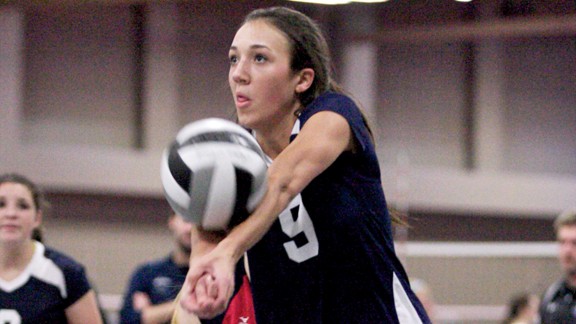 Courtesy of J. Scott ClouseAfter winning the under-17 national title a year ago, Amy Neal and Austin Juniors are rebuilding and hoping to make a run at the 18 title this year.
Amy Neal
isn't making any guarantees on behalf of Austin Juniors.
Although Neal and her teammates won the under-17 national title last season and are gearing up for a repeat run, Neal knows it's anything but a sure thing that the Texas-based team will win the 18s championship this summer in Columbus, Ohio.
"It gets harder every year," said Neal, a senior at Lake Travis who was named the Gatorade State Player of the Year after leading her team to a perfect record and the No. 2 spot in the final
POWERADE FAB 50 national volleyball rankings
. "The 18s are a completely different game. It's faster and more intense, and everyone is really good."
Three players from last year's powerhouse team graduated early and are now in college. Mackenzie Mayo and Amy Rosenbaum are at Baylor, and Cassidy Vaughn is at Boston College.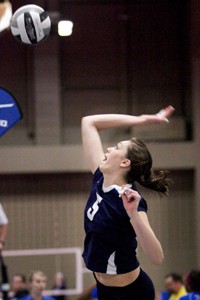 Courtesy of J. Scott ClouseTexas recruit Molly McCage has joined Austin Juniors for this year's title push.
Don't feel bad for Austin Juniors, though. They added four new players, including one of the nation's best middle blockers in 6-foot-3
Molly McCage
, who is a University of Texas recruit just like Neal.
"Molly is the best middle we've had in a long time," said Austin Juniors coach Glen Lietzke, who worked with middle blockers as a Texas assistant coach from 1984 to 2001. "She can be as good as she wants to be."
The other three newcomers are Dana Faught and Kaci Thompson – both Central Florida recruits – and Torre Blake (East Carolina).
Besides Neal, the other returners are Washington signee Katy Beals, Texas A&M recruits Sierra Patrick, Jazzmin Babers and Angela Lowak; Dartmouth recruit Paige Caridi and Southern Utah commit Taylor Heine.
Neal said this year's team has just as much talent as 2011.
"We have a good enough team to repeat," she said. "And the new girls who haven't won a national title before want to win really badly."
Neal said that's why McCage came over from the Wave club team, which is based in Houston.
"Molly wanted to compete for a national title," Neal said. "[We] played together in the Under Armour (national all-star game) in San Antonio and will be playing together at Texas. She also wanted to play for (Lietzke)."
Lietzke, who founded Austin Juniors with just eight players in 1984, has seen his club grow to its current roster of about 250.
Austin Juniors has won three national titles, including open championships in 2008 (17s) and 2011 (17s).
He feels this year's team could go a long way if it gets healthy. Babers, who is out with a biceps injury, could return next month, but that is far from certain. Patrick, who has a lower-leg injury, has been limited to the back row so far.
"Repeating is hard enough with the same players," Lietzke said. "But we've added new kids, we've had injuries, and we lost three players with unique skills. That's a lot of moving parts.
"The chemistry seems OK, but we'll have to wait and see."
Ross chooses sand
In yet another sign that sand volleyball is gaining momentum, 6-2 freshman Summer Ross has transferred from the University of Washington -- which does not offer the sport -- to Pepperdine, which will begin play in March.
In 2010, Ross was named USA Volleyball's Female Beach Player of the Year, becoming the first junior player to win the award.
Ross had a strong freshman season indoors for the Huskies, becoming one of just two Huskies to start every match last season. Washington made it to the NCAA Tournament's second round, but when the Huskies decided not to add sand volleyball at this time, Ross moved on to Pepperdine's Malibu, Calif., campus.
Her decision splits up perhaps the best 1-2 freshmen duo in Huskies history -- Ross and
Krista Vansant
, the ESPNHS 2010 Player of the Year.
January, 13, 2012
1/13/12
8:03
AM ET
By Walter Villa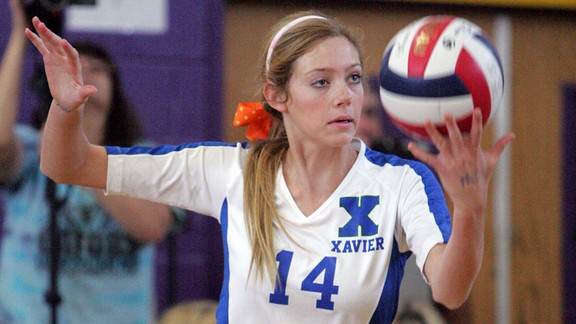 Josh HolmbergAbby Hornacek of Xavier College Prep (Phoenix) will help make history next month when Arizona becomes the first state to offer sand volleyball as a high school sport.
Abby Hornacek is the daughter of a former NBA star who is making her own name in volleyball, and next month she will help stamp Arizona as a pioneer in her sport.
On Feb. 6, Arizona schools will begin practicing for sand volleyball. The 10-match season starts Feb. 27, making Arizona the first state to offer sand volleyball as a high school sport.
"I'm very excited," said Hornacek, whose father, Jeff, was a 6-foot-4 guard who had his number retired by Iowa State University and the NBA's Utah Jazz. "This will be a good opportunity for a lot of girls to play sand volleyball and see what the sport is all about."
While many girls will no doubt get their first real taste of the sand, Hornacek needs no introduction. The 5-11 senior for Xavier College Prep (Phoenix) recently came back from Chula Vista, Calif., where she trained with the USA Beach program.
Hornacek had committed to Kansas before finding out that the NCAA would be giving out sand scholarships. She then switched her allegiance and will be attending Southern Cal this fall.
Hornacek said she is proud of Arizona's leadership position in sand volleyball.
"Some day," she said, "we can look back and see we were part of something new and helped kick off something that will be successful for future generations."
Despite her optimism, success for sand volleyball in Arizona is far from guaranteed. So far, only 10 teams have agreed to compete this spring, the first of a two-year pilot program instituted by the Arizona Interscholastic Association.
The schools joining Xavier are: Fountain Hills, Goldwater (Phoenix), North Pointe Prep (Phoenix), O'Connor (Phoenix), Scottsdale Christian Academy (Phoenix), Westwind Prep (Phoenix), Scottsdale Prep (Scottsdale), Valley Vista (Surprise) and Tuba City.
Here are some of the other details regarding sand volleyball in Arizona:
-- There will be 12 girls per team. That includes five two-girl duos and two substitutes who can be used in case of injury to a starter. If a sub enters, she must stay in for the remainder of the match.
-- Games will be best-of-three sets. Sets will up to 25 points. If a third set is needed, that will be played to 15 points, with all wins having to come by at least two points.
-- Matches are scored by the number of games won by the duos. Final scores will be 3-2, 4-1 or 5-0.
-- The court size will be Olympic-standard 52 feet by 26 feet.
-- The net is 7 feet, 4 1/8, inches, just like at the Olympics.
-- The sand will be 12-18 inches deep.
-- There will be a tournament at midseason and another at the end of the schedule.
Jon Aharoni, coordinator of USA Beach Volleyball youth development, believes Arizona's modest start is a huge first step for the sport.
"The avalanche is starting," Aharoni said. "We're just gaining momentum. Scholarships are being handed out, and we're being taken seriously. It's a wonderful time for our sport."
Still, there are some concerns. At smaller schools, where girls routinely play multiple sports, sand volleyball might take away some athletes from softball and track.
"High school coaches can get a little territorial when it comes to athletes," said Josh Olshan, who coaches volleyball, tennis and soccer at Arcadia (Phoenix). "But I don't think that will be a huge deal."
Of a bigger concern, Olshan said, are issue such as facilities and cost.
"If you have to go off campus to practice and play, there are liability issues and transportation costs," Olshan said.
In tough financial times, schools willing to participate have to find the resources to pay the coach's stipend as well as the referees, transportation and facility costs.
Tim McHale, who coaches Xavier's indoor program, will have his assistant, Matt Rogers, lead the sand program and is eager to see how everything works.
"We're excited and nervous because it's never been done before," McHale said. "We think it's a wonderful opportunity for our girls."
Xavier, which has won indoor state titles four of the past five years, is the biggest school among the 10 committed to play this spring.
McHale said all the matches for all teams will be held at Victory Lane Sports Complex in Central Phoenix. Xavier will hold its practices at Brophy East, a swim club that has two sand volleyball courts.
"Most of my varsity and half my JV have expressed an interest in trying out for the team," McHale said.
Rogers is confident his team will find a way to work around the club volleyball schedule.
"I'm a club coach, too, so we will juggle," Rogers said. "We will practice right after school, and club teams tend to practice at night. It will be a bit of a time demand, but sand volleyball is going to benefit the girls' indoor games tremendously."
Rogers said he expects to see 20 to 30 Arizona teams participate in sand volleyball next year.
"I ran a club tournament recently, and you wouldn't believe the amount of questions there were about sand volleyball," he said. "The interest is there for 50 teams."
Rogers said that this year's Summer Olympics will again put a major spotlight on sand volleyball, and he's glad Arizona is involved from the start.
"People in Arizona are happy to be a part of this movement," he said. "We want to show the best of Arizona."
January, 6, 2012
1/06/12
11:29
AM ET
Kirstin Olsen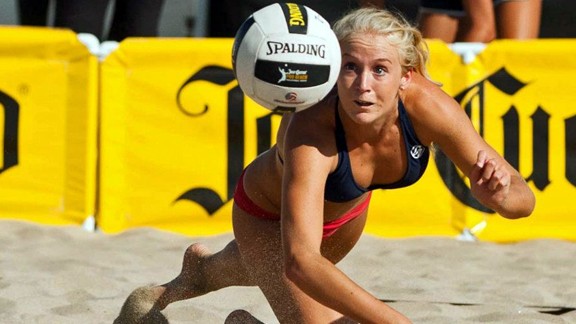 John Geldermann/Volleyshots.comSara Hughes, a junior at Mater Dei, says making a choice between sand volleyball and indoor volleyball was one of the hardest things she's ever had to do.
Sara Hughes, a junior setter at Mater Dei (Santa Ana, Calif.), has decided to follow her heart and play
sand volleyball
at USC.
The decision wasn't easy.
Hughes is a star both indoors and outdoors, and had offers from multiple schools. Hughes sets and hits for Mater Dei, and she does it all on the beach, winning tournaments since she was 12. She also won an indoor gold medal at the Junior Olympics with her club team, Long Beach Mizuno Rockstar.
We caught up with Hughes about her recent decision and future in volleyball.
ESPNHS:
What made you choose sand at USC?
Sara Hughes:
The opportunity to compete in collegiate sand volleyball has always been a dream of mine. During the recruiting process I always told the coaches that I wanted to play sand, or indoor and sand. I chose USC because ever since I went on my unofficial, everything flowed perfectly and I knew it was the place for me. Both the school and Anna (Collier), the sand coach, matched up to my goals entirely.
ESPNHS:
Was it hard to choose between sand and indoor?
Hughes:
Choosing between sand and indoor was one of the hardest things I have had to do. I would think about it consistently, but at the end of the each day I knew sand was my real passion. I still have the option of playing indoors after two years.
ESPNHS:
What advice did your parents and coaches give you?
Hughes:
My parents knew it was going to be a very tough decision for me, so we talked about it every day and they helped me come to my decision. Ultimately they told me it was my decision to make, but they helped me through it. My coaches always gave me positive feedback about playing sand in college, but they also wanted to see me play indoor. In the end, when I chose sand, they were all very happy for me.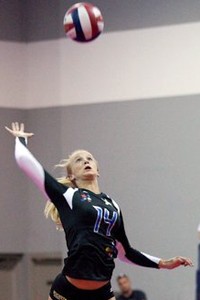 Kat Monk StudioSara Hughes, a junior at Mater Dei (Santa Ana, Calif.), has decided to play sand volleyball at USC. Women's sand volleyball is set to debut as an emerging Division I sport this spring.
ESPNHS:
Are you going to continue to play indoor?
Hughes:
Yes, for both my club and high school team. I love playing indoor and I will miss it, but for now I am going to enjoy playing it will my teammates at Long Beach Mizuno Rockstar 17.
ESPNHS:
How was the recruiting process for you?
Hughes:
The recruiting process was both exciting and stressful. It started in eighth grade with my first unofficial visit. Many colleges from around the country were recruiting me for indoor. I was humbled by the amount of interest from top programs. Ultimately I talked with both my parents and coaches to see which school was both academically and athletically suited for my goals. Staying on the West Coast was also a priority.
ESPNHS:
What other schools were you considering?
Hughes:
Some other schools that were considering me were Stanford, Pepperdine, UCLA, Hawaii, Arizona, Long Beach State, Cal, Texas, Florida, UNC, Washington, San Diego, LMU and UCI, among others. I would like to thank everyone for their interest in me.
ESPNHS:
What was the big deciding factor?
Hughes:
The big deciding factor for every school was they had to have sand volleyball.
ESPNHS:
How do you plan to train for beach?
Hughes:
I train for the beach every Sunday with USA coaches Jon Aharoni and Jose Loiola getting prepared with the other national-team members for the world championships in the summer. Also in the summer I compete in many tournaments, both amateur and professional. I also go to Huntington with friends or for pick-up games on the men's courts.
ESPNHS:
How do you feel about playing for Anna Collier?
Hughes:
I am beyond excited to play for Anna Collier, she is such an amazing coach and I can't wait to learn so much from her and become a better player. She and I have already set some short- and long-term goals during our discussions.
ESPNHS:
Who is going to be your partner in college?
Hughes:
I am not quite sure, that is for Anna to decide for me.
ESPNHS:
What kind of partner are you hoping for?
Hughes:
I am hoping for a partner who is just as committed to beach as I am. I want to win a national championship at USC and I want my partner and all of my teammates to think the same way.
ESPNHS:
How does it feel to be one of the first women to have the opportunity to play a new college sport?
Hughes:
It is such a great honor. USC has presented me with the opportunity to focus on my passion and become the best student-athlete I can be.
ESPNHS:
What advice do you have for other volleyers out there trying to decide between sand and indoor?
Hughes:
Follow your heart on your decision because ultimately you know deep inside what you really want. Do not be afraid to put in the extra time for sand volleyball. The cross-training has helped me in both sports
ESPNHS:
What are your goals for volleyball?
Hughes:
To win many national championships at USC and to have a future career as a beach volleyball player in the FIVB world tours, and then, of course, the main goal is to make it to the Olympics to represent USA.
December, 23, 2011
12/23/11
12:10
PM ET
By ESPNHS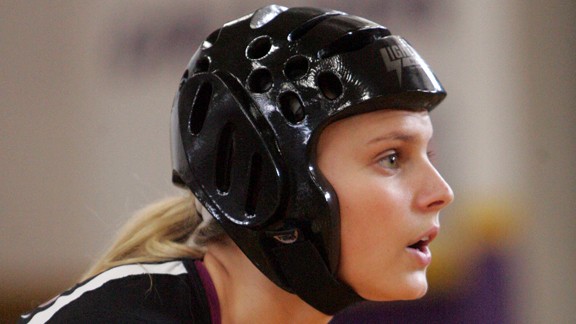 Josh Holmberg/ESPNHSKatie George of Assumption (Louisville, Ky.) wore a helmet and pads at the Durango Classic to guard against the blood clots that formed after having her tonsils removed. "I look ridiculous," she said. "But I don't care."
From personal triumphs to dominant dynasties, high school girls' volleyball had plenty to celebrate in 2011. We look back on some of the year's top stories before ringing in 2012:
Champions back for seconds

Led by juniors Amber Rolfzen, Kadie Rolfzen and Kelly Hunter, all University of Nebraska commits, Papillion-La Vista South (Papillion, Neb.) won back-to-back national championships and stretched its winning streak to 82 games, including a five-set, come-from-behind thriller against No. 4 St. James (Lenexa, Kan.) on the road in early October. And it might not be time quite yet to close the book on the Heartland dynasty. "We want a three-peat," Hunter says of 2012.
Dressed for success

Donning a helmet and pads to help prevent a recurrence of blood clots that formed after she had her tonsils removed, senior Katie George helped Assumption (Louisville, Ky.) win the Durango Fall Classic title in Las Vegas. The Louisville commit went on to lead Assumption to the Asics Challenge championship and, no longer needing her protective gear, the Kentucky state championship. She was named the Gatorade State Player of the Year in Kentucky, while Assumption (43-1) finished third in the final POWERADE FAB 50 national rankings for 2011.
Honoring a fallen teammate

Playing in honor of teammate Caroline Found, Iowa City West repeated as state champions with a dramatic five-set win over cross-city rival Iowa City. Found, a setter who would have been a senior this year, died after a moped accident on Aug. 11."Everybody who didn't have a friend knew her," coach Kathy Bresnahan said. "She embraced everyone."
Big season in Texas

With a perfect 50-0 record, Lake Travis (Austin, Texas) becomes the first undefeated state champion in Texas since 2004. The Cavaliers, who dropped only a single set all season, were led by senior outside hitter Amy Neal, who won state MVP honors and was named the Gatorade State Player of the Year in Texas. Lake Travis finished No. 2 in the final POWERADE FAB 50 national rankings for 2011.
End of an era

Wapahani (Selma, Ind.) stunned superpower Muncie Burris in the opening round of the Indiana sectional playoffs. With the four-set win, the Raiders ended Muncie Burris' 14-year reign as state champions and halted its playoff winning streak at 95 matches. Wapahani didn't stop there, going on to clinch the Class 2A title with a sweep of Eastern Greene.
Taking it to the beach

After the NCAA made sand volleyball an emerging sport in 2011-12, high school players looked to capitalize on an additional scholarship source. Arizona followed suit and will launch a sand volleyball pilot program in 2012, making it the first state to offer the sport at the high school level.
Grand finales in California
The California state championships brought the 2011 girls' volleyball season to a rousing conclusion. In the Division II final, Presentation (San Jose, Calif.) rallied from two sets down to claim the crown. In Division I, Palo Alto was pushed to five sets but became the first Northern California volleyball team to win back-to-back Division I state titles and the first team in school history to notch back-to-back CIF state titles.
Thanks for coming

Mother McAuley (Chicago, Ill.) skipped the pleasantries and upset undefeated Berkeley Prep, at the time the No. 3 team in the nation, on the eve of hosting the prestigious Asics Challenge. Berkeley Prep got some measure of revenge the following day, topping Mother McAuley in straight sets in a rematch in the semifinals before falling to Assumption in the final.
Boys race to the finish

In one of the tightest races ever, Corona del Mar (Newport Beach, Calif.) was crowned the FAB 50 national champions for boys' volleyball, edging fellow California powers Mira Costa, Buchanan, Santa Margarita and Mater Dei. The Sea Kings finished their season with a 32-4 record.
Sky High in Florida

Sky High Black of Crystal Lake, Ill., won the 17U title at the 38th AAU Junior National Volleyball Championships, part of the inaugural ESPNHS Girls Showcase at ESPN Wide World of Sports in Lake Buena Vista, Fla., in June. It was the second consecutive national title for the squad, which was led by seniors Abby Gilleland and Mary Striedl.
November, 25, 2011
11/25/11
7:57
AM ET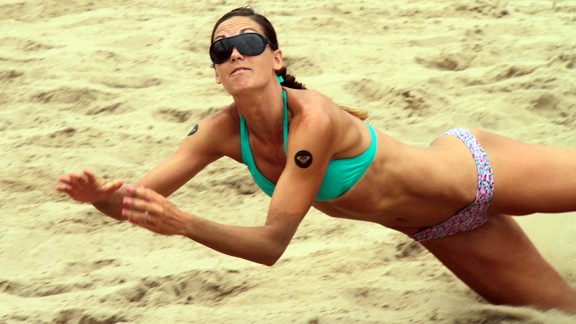 Courtesy of Jim HeathPro beach volleyball player Christal Engle urges young players to try other sports. "I strongly believe that athletes are starting to focus in on one sport way too early these days," she says.
Arizona is set to become the first state to offer high school sand volleyball this spring, the NCAA has designated it as an "emerging" sport that will begin competition in March, and stars such as Kerri Walsh and Misty May-Treanor have achieved international fame on the sand at the Olympics.
So how well will your indoor game translate to the great outdoors?
Several pro beach volleyball players who got their start on the court share their advice so you can make your transition to the sand box a reality.
Challenge No. 1? Mother Nature, in all her windy, rainy and sunny glory.
"The hardest transition from indoor to beach is getting used to the wind," says Angie Akers, who is in her 10th year as a pro. "The wind makes the ball do funky things, and this is where ball-control comes even more into play. In windy conditions, the team with the better ball control will have the odds in their favor."
Akers, who was a basketball and volleyball star at Bishop Luers (Fort Wayne, Ind.) before playing volleyball at Notre Dame, urges newcomers to play on the sand as often as possible. And reminds them to pack a bag of patience.
"The more you play, the more you learn and the better you get," she says. "It is an easy sport to get frustrated by, but you must realize that the learning process may be ongoing, but it is all so worth it."
Lisa Rutledge, who made her beach debut in 2005 and is competing for a spot in the 2012 Olympics in London, agrees.
"The hardest thing for me was not to get too frustrated with myself," she says. "Sand is an entirely different game than indoor volleyball. Even if you are an amazing indoor player, your skills are going to take time to transition to the sand."
Rutledge recommends working with a sand volleyball coach on the key tactics of serving, serve receive and learning to use the wind to your advantage.
"It takes an all-around great volleyball player to be a great sand player because you must be able to perform every skill," she says.
Nicole Branagh, who tied for fifth with former partner Elaine Youngs at the 2008 Olympics in Beijing, advises newcomers to focus on developing their "sand" legs.
"All of the skills used from playing indoor will transfer over to the beach, so you have a great start," the Miramonte (Orinda, Calif.) graduate says. "You can get your sand legs by going for a run in the sand.
"I used to try and go three times a week for 20 minutes on top of my training. It can be a job just to get your legs ready."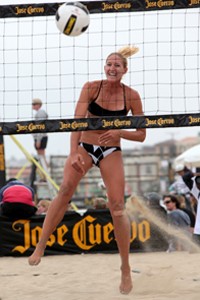 Courtesy of Jim HeathKelly Schumacher played basketball at UConn and in the WNBA before hitting the beach.
Other sand stars encourage volleyball players to stick with other sports.
Kelly Schumacher, who played basketball, volleyball, tennis, badminton and soccer in high school and then went on to play basketball at Connecticut and the WNBA, recently has focused on beach volleyball full-time. The Pontiac (Shawville, Quebec) graduate believes playing different sports in high school helped make her a better all-around athlete.
"I'm thankful for my coaches and teammates being supportive in my decision to play multiple sports," she says. "It seems these days when I talk to high school athletes, there isn't time for them to play more than one sport, and that makes me sad."
"Basketball and volleyball are very different, with one being a contact sport and the other being played in the sand, but some of the jumping and lateral movement needed for basketball definitely transfers over."
Christal Engle, who turned pro in 2009, takes that sentiment a step further.
"I would like to challenge young athletes to make sure they have a balance in their lives," says the Puyallup (Wash.) graduate, who lettered in both volleyball and track. "Play other sports, don't wear yourselves thin, and also have other hobbies away from sports so that you don't get burnt out.
"Playing different sports will improve your volleyball game in ways you might not think. I strongly believe that athletes are starting to focus in on one sport way too early these days."
And the key to sand volleyball, and almost every other sport, is to remember that it's fun. In this case, really fun.
"Honestly, beach volleyball is one of the most unique sports in the world," says Olympic hopeful April Ross, a Newport Harbor (Newport Beach, Calif.) graduate. "I firmly believe beach volleyball is the most fun sport to play on the planet. I can't praise it enough. If you have the chance to play the sport seriously, I'd say definitely go for it.
"It's very tough, but equally as rewarding."
October, 18, 2011
10/18/11
4:47
PM ET
By ESPNHS
They're taking it to the sand in Arizona.
According to the Arizona Republic, the Arizona Interscholastic Association's executive board approved a pilot sand volleyball program on Monday, allowing Arizona to become the first state to offer sand volleyball as a high school sport.
The season is scheduled to start in early February and conclude with an eight-team state tournament in April. It could open the door to sand volleyball being sanctioned as an AIA sport.
Sand volleyball was approved as an
emerging sport by the NCAA
and will open its season in March.
Click here to read the story on azcentral.com.