High-SchoolVolleyball:

Sara Hughes
February, 19, 2012
2/19/12
9:55
AM ET
By Kirstin Olsen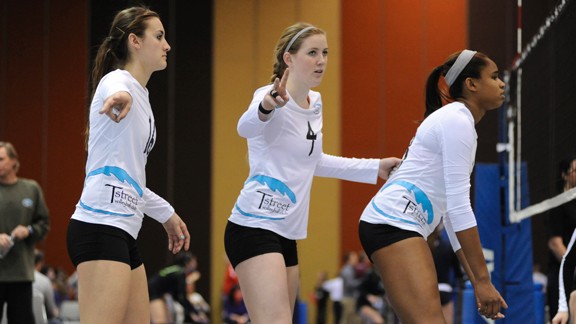 Saeed Rahbaran for ESPNHSTstreet Troy (Irvine, Calif.) went undefeated in pool play at the Las Vegas Classic behind the strong play of Tia Scambray, Bailey Tanner and ESPNHS Sophomore of the Year Crissy Jones.
The 26th Annual Las Vegas Classic, one of the top volleyball recruiting tournaments of the season, kicked off on Saturday in Las Vegas. The three-day event features a record 556 teams (316 in the 18s division and 240 in the 17s) drawn from all over North America. Teams are divided into 18-Open, 18-Club, 17-Open and 17-Club divisions.
Following pool play on Saturday, ESPNHS weighed in on which teams from each Open division brought their A-games.
17 Open Division
Mizuno Long Beach 17 Rockstar
Southern California-based Mizuno Long Beach (Calif.) Rockstar took care of business in pool play on Saturday, dropping only a set to a Main Beach Gold 17-1. Junior setter Sara Hughes recently verbally commited to USC to play sand volley but plans to keep playing indoor volleyball in high school for Mater Dei (Santa Ana, Calif.) and with Rockstar to keep her options open. Sophomore Frankie Shebby was also a force on the outside.
Tstreet 17 Troy
Tstreet Troy (Irvine, Calif.) went undefeated in pool play behind the strong play of
ESPNHS Sophomore of the Year Crissy Jones
, sophomore Tia Scambray and standout freshman Hayley Hodson. It will face Southland rival Mizuno Long Beach 17 Rockstar on Sunday.
Mizuno M1
M1 171 (Bloomington, Minn.) won all three of its matches in pool on Saturday, going three full sets with only with LAVA 17 Beau. Minnesota commit Taylr McNeil was a contributor on the outside, while Akron commits Brenna and Callie Mack ran the defense. M1 will face Sports Shack 17-1 (Beverly Hills, Calif.) on Sunday.
OVA 17 Asics
OVA 17 Asics (Orlando, Fla.) went 3-0 on Saturday thanks to some strong play by setter Hailey Luke, a Florida State commit, as well as middle blockers Christina Markowski and Alexandra Monserez. 17 Asics will next face a talented WVBA Mizuno 17 (Seattle, Wash.).
TAV 17 Black
With her impressive 10-foot-5 reach, middle blocker Chiaka Gbogu keyed TAV 17 Black (Ft. Worth, Texas)'s undefeated run through pool play. The Cal commit and 17 Black will face Central Cal Gold 17-1 (Fresno, Calif.) on Sunday.
18 Open Division
Coast Volleyball Club 18 Ozhan
Pinpoint accuracy from setter Alexis Strange allowed Coast 18-1 Ozhan (San Diego, Calif.) to breeze through the first round. Strange, who has verbally committed to Nebraska, bested
Missouri Gatorade Player of the Year Alyssa Jensen
and Mizuno HPSTL 18 Gold (St. Louis, Mo.).
City Beach Blk 18-1
City Beach (Palo Alto, Calif.) won its pool with but was pushed by Legacy 18 Elite (Santa Clarita, Calif.). City beach boasts the majority of
2011 POWERADE Fab 50
No. 9 Palo Alto's CIF Division 1 State Championship team. Washington commit and
ESPNHS All-American
Melanie Wade was a force on the outside.
T Street Joaquin
T Street 18 Joaquin (Irvine, Calif.) looked strong in pool play, despite losing a match to Synergy 18 Orange 25-18, 25-19. Washington commit Cassie Strickland and North Carolina commit JoJo Schnabl were key contributors.
Austin Juniors Mizuno
Austin Juniors 18 Mizuno (Austin, Texas) has an entire roster of signed seniors.
Texas Gatorade Player of the Year Amy Neal
's jumping ability coupled with her powerful swings made her a force to be reckoned with on the outside. Austin went undefeated in pool play, beating top contender Imi Ike.
Imi Ike 18s
This Imi Ike team (Waipahu, Hawaii) has some bigtime hitters. Junior Hannah Rooks put up a massive wall on the right side, Hawaii commit Nikki Taylor came up with some big kills and New Mexico commit Ashley Kelsey served tough to help Imi Ike secure the No. 2 seed in its pool.
Taylor Williams also contributed to this report. Kirstin Olsen is live-tweeting the Vegas Classic. Follow her at @KirstinESPNHS.
February, 2, 2012
2/02/12
3:22
PM ET
By Walter Villa
If Mizuno Long Beach's 2011 season were a TV show, it might have been canceled after just a few weeks.
The team's only libero left the team because of financial issues. The star middle blocker had a conflict with a beach volleyball tournament and parted ways with the club. Two valuable reserves missed the season due to injuries.
The Southern California-based team was down to six players it used for virtually every play. But, as it turns out, those half-dozen kids weren't half-bad; Mizuno Long Beach went on to win the 16-U Junior Olympics national championship.
"It was tough getting there," said Justine Wong-Orantes, one of Long Beach's super six. "We had a lot of obstacles that we had to fight through."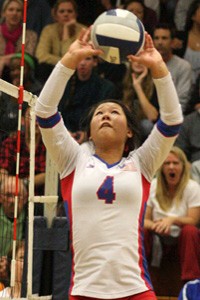 Chris Kelly/ESPNHSAll-American setter Justine Wong-Orantes of Mizuno Long Beach.
Added teammate Bria Green: "What we went through made us stronger. It made us trust each other more."
The good news for Long Beach is that its core six return this season to try to win the 17s national title. Wong-Orantes, a 5-foot-6 junior setter who is considering a scholarship offer from Hawaii, was a first-team All-American.
The MVP at nationals was junior setter Sara Hughes, who has a sand scholarship to Southern Cal. Hughes and Wong-Orantes are frequent beach volleyball partners.
"Sara is one of the hardest-working players I've ever coached," Long Beach coach J.P. Calderon said. "She has a high volleyball IQ and is super dedicated. She can't get enough of volleyball."
Calderon said Green, a 6-foot junior and first-team All-American who has committed to Alabama, is one of the fastest-moving middle blockers around. Wong-Orantes calls her a "phenomenal" talent.
"She can play outside, middle, defense -- you name it, she can play it," her teammate said. "What fascinates me about her is that she always does the right thing."
The only sophomore on the team is 6-2 outside Frankie Shebby, who Calderon considers one of the nation's top recruits in her class.
The two other core returners are 5-7 junior outside Sade Mendez and 6-0 junior outside Audrey Castro.
But the big difference from the team that ended last season is that the club now has depth. Among the newcomers are Kristie Hewko, a 6-1 outside who has committed to Loyola Marymount; and Jillian Nobles, a 6-0 middle with power and raw skills.
In addition, Lauren Howard-Chavez, a 6-foot middle who played on the 17s last season, "decided to stay down to play with these guys," Calderon said.
Calderon said his team lacks great size but makes up for it with speed, defense and great ball control.
"There are five teams out there that I know are better than us right now," Calderon said. "We're never good in the beginning. But there is no doubt in my mind we can win it again."
January, 12, 2012
1/12/12
10:42
AM ET
By Walter Villa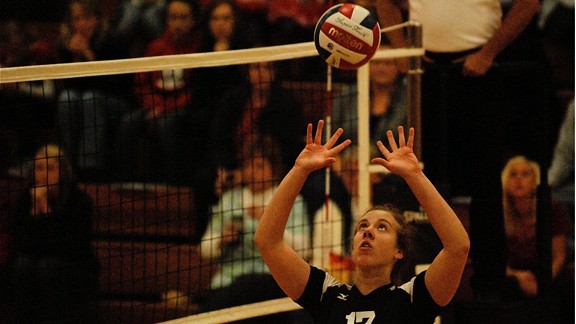 Courtesy of Molly ShebeneckAfter an outstanding junior season for Burlington (Wis.), Texas A&M recruit Kaysie Shebeneck is shifting her attention to the Milwaukee Sting.
Kaysie Shebeneck's junior volleyball season ended with a state title,
Gatorade State Player of the Year honors
and the admiration of her coaches and teammates.
It started with a terrifying car crash.
Last September, the 6-foot-1 setter/right-side hitter for Burlington (Wis.) was in the passenger seat of her mom's car, which was stopped at a red light. Two other cars collided, and they came hurtling at the Shebenecks at a high rate of speed.
"I saw the whole thing -- it was as if it were happening in slow motion," said Shebeneck, who added that she and her mom were wearing their seatbelts. "It was scary."
Shebeneck missed four matches due to her injuries – "a slight concussion and whiplash." Her mother, Jane, suffered shoulder and back injuries. Their car was totaled.
"Like any good mother, she reached over to try to protect me," Shebeneck said.
Shebeneck said it wasn't until the state finals that she felt fully recovered.
If that's true, then Shebeneck at full strength must be frightening. She finished the season with 754 assists, 154 kills, 104 digs, 49 blocks and 23 service aces while posting a kill percentage of .474.
She was also named the 2011 Division I State Tournament MVP after connecting on 23 assists with 16 kills and 12 digs in a three-set title-clinching win over Fond du Lac (Wis.).
It was Burlington's first state title of any kind since the softball team won in 1984.
"It was amazing," said Shebeneck, who has a 4.01 GPA on a 4.33 scale. "We had a lot of obstacles to get through. We showed how strong we are and how well we get along."
Shebeneck is now playing club ball for Milwaukee Sting 17 Gold.
In June of her sophomore year, she committed to Texas A&M, where she wants to study education. She's interested in becoming a middle-school teacher and, potentially, a coach.
Next up on Shebeneck's to-do list is a big season in club ball. She is one of three players on the Sting's 17 Gold roster who has already picked a college, joining junior middle blocker Katie Stadick (Illinois) and junior outside hitter Olivia Akin (Loyola Chicago).
The Sting have two major road trips on their 2012 schedule: the JVA World Challenge in Houston March 30-April 1 and the AAU Championships In Orlando June 24-27.
"Kaysie's a special player," said Ted Schulte, one of the Sting's coaches. "She's complete -- a wickedly good blocker and an adroit hitter and setter."
High on Hughes

Jon Aharoni, the coordinator of Beach Coaching and Development for USA Beach Volleyball, is convinced
Sara Hughes
is his next big star.
Hughes, a 5-11 junior at Mater Dei (Santa Ana, Calif.), has a 4.2 grade-point average and recently committed to Southern Cal on a sand volleyball scholarship.
"She is this skinny little blonde girl who is the most ferocious beast I've ever seen in the sand," Aharoni said. "She hasn't lost a tournament in four or five years.
"She goes full speed every point with a smile on her face. She's just one of those kids who instantly makes your program better because everyone around her is inspired to work harder."
January, 6, 2012
1/06/12
11:29
AM ET
Kirstin Olsen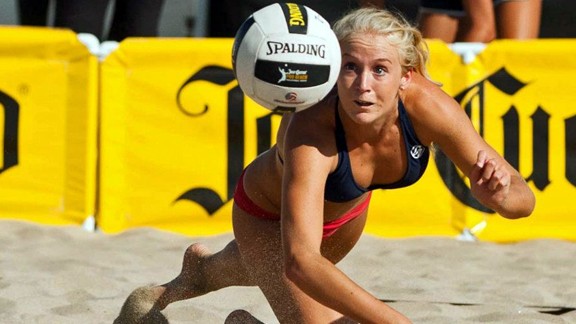 John Geldermann/Volleyshots.comSara Hughes, a junior at Mater Dei, says making a choice between sand volleyball and indoor volleyball was one of the hardest things she's ever had to do.
Sara Hughes, a junior setter at Mater Dei (Santa Ana, Calif.), has decided to follow her heart and play
sand volleyball
at USC.
The decision wasn't easy.
Hughes is a star both indoors and outdoors, and had offers from multiple schools. Hughes sets and hits for Mater Dei, and she does it all on the beach, winning tournaments since she was 12. She also won an indoor gold medal at the Junior Olympics with her club team, Long Beach Mizuno Rockstar.
We caught up with Hughes about her recent decision and future in volleyball.
ESPNHS:
What made you choose sand at USC?
Sara Hughes:
The opportunity to compete in collegiate sand volleyball has always been a dream of mine. During the recruiting process I always told the coaches that I wanted to play sand, or indoor and sand. I chose USC because ever since I went on my unofficial, everything flowed perfectly and I knew it was the place for me. Both the school and Anna (Collier), the sand coach, matched up to my goals entirely.
ESPNHS:
Was it hard to choose between sand and indoor?
Hughes:
Choosing between sand and indoor was one of the hardest things I have had to do. I would think about it consistently, but at the end of the each day I knew sand was my real passion. I still have the option of playing indoors after two years.
ESPNHS:
What advice did your parents and coaches give you?
Hughes:
My parents knew it was going to be a very tough decision for me, so we talked about it every day and they helped me come to my decision. Ultimately they told me it was my decision to make, but they helped me through it. My coaches always gave me positive feedback about playing sand in college, but they also wanted to see me play indoor. In the end, when I chose sand, they were all very happy for me.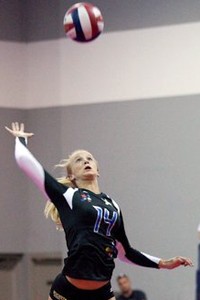 Kat Monk StudioSara Hughes, a junior at Mater Dei (Santa Ana, Calif.), has decided to play sand volleyball at USC. Women's sand volleyball is set to debut as an emerging Division I sport this spring.
ESPNHS:
Are you going to continue to play indoor?
Hughes:
Yes, for both my club and high school team. I love playing indoor and I will miss it, but for now I am going to enjoy playing it will my teammates at Long Beach Mizuno Rockstar 17.
ESPNHS:
How was the recruiting process for you?
Hughes:
The recruiting process was both exciting and stressful. It started in eighth grade with my first unofficial visit. Many colleges from around the country were recruiting me for indoor. I was humbled by the amount of interest from top programs. Ultimately I talked with both my parents and coaches to see which school was both academically and athletically suited for my goals. Staying on the West Coast was also a priority.
ESPNHS:
What other schools were you considering?
Hughes:
Some other schools that were considering me were Stanford, Pepperdine, UCLA, Hawaii, Arizona, Long Beach State, Cal, Texas, Florida, UNC, Washington, San Diego, LMU and UCI, among others. I would like to thank everyone for their interest in me.
ESPNHS:
What was the big deciding factor?
Hughes:
The big deciding factor for every school was they had to have sand volleyball.
ESPNHS:
How do you plan to train for beach?
Hughes:
I train for the beach every Sunday with USA coaches Jon Aharoni and Jose Loiola getting prepared with the other national-team members for the world championships in the summer. Also in the summer I compete in many tournaments, both amateur and professional. I also go to Huntington with friends or for pick-up games on the men's courts.
ESPNHS:
How do you feel about playing for Anna Collier?
Hughes:
I am beyond excited to play for Anna Collier, she is such an amazing coach and I can't wait to learn so much from her and become a better player. She and I have already set some short- and long-term goals during our discussions.
ESPNHS:
Who is going to be your partner in college?
Hughes:
I am not quite sure, that is for Anna to decide for me.
ESPNHS:
What kind of partner are you hoping for?
Hughes:
I am hoping for a partner who is just as committed to beach as I am. I want to win a national championship at USC and I want my partner and all of my teammates to think the same way.
ESPNHS:
How does it feel to be one of the first women to have the opportunity to play a new college sport?
Hughes:
It is such a great honor. USC has presented me with the opportunity to focus on my passion and become the best student-athlete I can be.
ESPNHS:
What advice do you have for other volleyers out there trying to decide between sand and indoor?
Hughes:
Follow your heart on your decision because ultimately you know deep inside what you really want. Do not be afraid to put in the extra time for sand volleyball. The cross-training has helped me in both sports
ESPNHS:
What are your goals for volleyball?
Hughes:
To win many national championships at USC and to have a future career as a beach volleyball player in the FIVB world tours, and then, of course, the main goal is to make it to the Olympics to represent USA.
September, 18, 2011
9/18/11
8:18
AM ET
By Kirstin Olsen/ESPN HS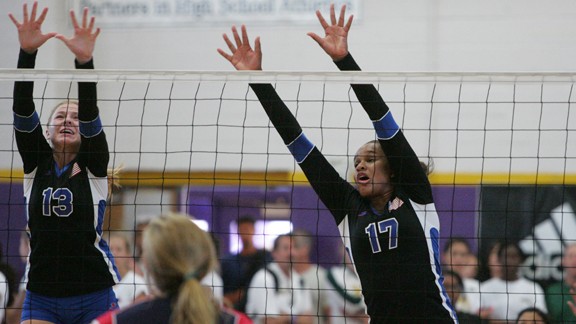 Josh Holmberg/ESPNHSMiddle blocker Crissy Jones of Los Alamitos (Los Alamitos, Calif.) closes the block during action at the 2011 Durango Classic.
LAS VEGAS, Nev. – The talent stepped up on Day 2 of the Durango Fall Classic as teams made their runs deep into the tournament.
We salute the top 10 players.
Rebecca Strehlow, Long Beach Wilson (Long Beach, Calif.):
The 6-foot-1 setter/outside hitter is the complete package. She can pass, set, hit, block and serve. She is strong and takes control of the game. The only problem is that she can't pass, set and hit every ball, and her team needs more of her. Though the Bruins didn't have the best showing, UCLA coach Mike Sealy has a great player coming into his program next year.
Sara Hughes Mater Dei (Santa Ana, Calif.):
The 5-11 setter/opposite is the most well-rounded player on her team. Only a junior, Hughes shows her overall skills as she fights for balls and bangs them on the right down the line. Her skills from the beach shine through with her excellent ball control and court sense. Any program would be lucky to have Sara fight for them.
Kelly Murphy, Walton (Marietta, Ga.):
This 6-1 senior outside hitter was a powerhouse for her team. She sides out like a champ and can move the ball around.
Lauren Fuller, Marymount (Los Angeles, Calif.):
You can tell a good setter when you almost don't notice her but see they ball spread around evenly. This 5-11 senior can back set a pipe, set a quick from her knees and has a sisterly connection with outside hitter/twin sister, Manon. She is athletic and strong and has a nice high quick delivery.
Crissy Jones, Los Alamitos (Los Alamitos, Calif.):
This 6-2 sophomore middle blocker takes control of the net when she's up. With a nice high reach and a quick snap on quick sets, she's a nice addition to Los Al's balanced attack on the outside.
Abby Hornacek, Xavier Prep (Phoenix, Ariz.):
The 6-1 opposite with an unconventional style brings it on the right side. Her hard angle is hard to stop and she puts up a nice block as well. She is well-rounded with her game, and she does a good job making good decisions.
Misty Ma'a, Kamehameha (Honolulu, Hawaii):
The 6-1 outside hitter hits some sharp angles and put up a wall of a block on the net. She was the main offensive weapon for her team this weekend and did a great job moving the ball around with good court vision.
Katie George, Assumption (Louisville, Ky.):
The girl in the helmet was an inspiration for all this weekend as the 5-11 setter did everything she could for her team. She set and passed and hit a few rotations, showing her versatility as a player.
Karlee Fuller, La Costa Canyon (Carlsbad, Calif.):
The 6-foot outside hitter led the attack for the Mavericks. As part of a solid front row, Karlee chiseled away at opposing teams' blocks and helped lead her team to the semifinals.
Skylar Dykstra, Redondo Union (Redondo Beach, Calif.):
The 5-10 outside hitter was a force on the left for the Sea Hawks. She used a variety of shots and displayed excellent ball control to give her team the balance it needed.