High-SchoolVolleyball:

Sierra Patrick
January, 26, 2012
1/26/12
12:14
PM ET
By Walter Villa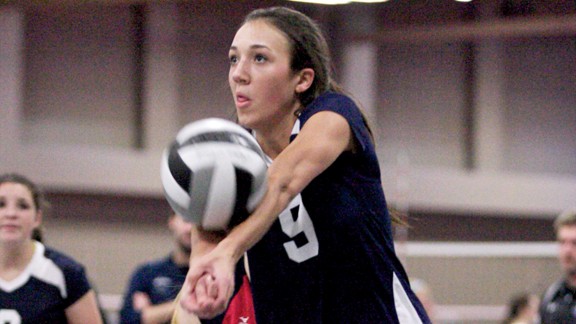 Courtesy of J. Scott ClouseAfter winning the under-17 national title a year ago, Amy Neal and Austin Juniors are rebuilding and hoping to make a run at the 18 title this year.
Amy Neal
isn't making any guarantees on behalf of Austin Juniors.
Although Neal and her teammates won the under-17 national title last season and are gearing up for a repeat run, Neal knows it's anything but a sure thing that the Texas-based team will win the 18s championship this summer in Columbus, Ohio.
"It gets harder every year," said Neal, a senior at Lake Travis who was named the Gatorade State Player of the Year after leading her team to a perfect record and the No. 2 spot in the final
POWERADE FAB 50 national volleyball rankings
. "The 18s are a completely different game. It's faster and more intense, and everyone is really good."
Three players from last year's powerhouse team graduated early and are now in college. Mackenzie Mayo and Amy Rosenbaum are at Baylor, and Cassidy Vaughn is at Boston College.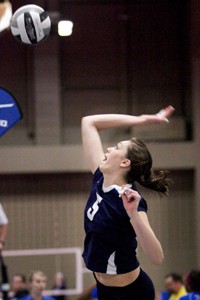 Courtesy of J. Scott ClouseTexas recruit Molly McCage has joined Austin Juniors for this year's title push.
Don't feel bad for Austin Juniors, though. They added four new players, including one of the nation's best middle blockers in 6-foot-3
Molly McCage
, who is a University of Texas recruit just like Neal.
"Molly is the best middle we've had in a long time," said Austin Juniors coach Glen Lietzke, who worked with middle blockers as a Texas assistant coach from 1984 to 2001. "She can be as good as she wants to be."
The other three newcomers are Dana Faught and Kaci Thompson – both Central Florida recruits – and Torre Blake (East Carolina).
Besides Neal, the other returners are Washington signee Katy Beals, Texas A&M recruits Sierra Patrick, Jazzmin Babers and Angela Lowak; Dartmouth recruit Paige Caridi and Southern Utah commit Taylor Heine.
Neal said this year's team has just as much talent as 2011.
"We have a good enough team to repeat," she said. "And the new girls who haven't won a national title before want to win really badly."
Neal said that's why McCage came over from the Wave club team, which is based in Houston.
"Molly wanted to compete for a national title," Neal said. "[We] played together in the Under Armour (national all-star game) in San Antonio and will be playing together at Texas. She also wanted to play for (Lietzke)."
Lietzke, who founded Austin Juniors with just eight players in 1984, has seen his club grow to its current roster of about 250.
Austin Juniors has won three national titles, including open championships in 2008 (17s) and 2011 (17s).
He feels this year's team could go a long way if it gets healthy. Babers, who is out with a biceps injury, could return next month, but that is far from certain. Patrick, who has a lower-leg injury, has been limited to the back row so far.
"Repeating is hard enough with the same players," Lietzke said. "But we've added new kids, we've had injuries, and we lost three players with unique skills. That's a lot of moving parts.
"The chemistry seems OK, but we'll have to wait and see."
Ross chooses sand
In yet another sign that sand volleyball is gaining momentum, 6-2 freshman Summer Ross has transferred from the University of Washington -- which does not offer the sport -- to Pepperdine, which will begin play in March.
In 2010, Ross was named USA Volleyball's Female Beach Player of the Year, becoming the first junior player to win the award.
Ross had a strong freshman season indoors for the Huskies, becoming one of just two Huskies to start every match last season. Washington made it to the NCAA Tournament's second round, but when the Huskies decided not to add sand volleyball at this time, Ross moved on to Pepperdine's Malibu, Calif., campus.
Her decision splits up perhaps the best 1-2 freshmen duo in Huskies history -- Ross and
Krista Vansant
, the ESPNHS 2010 Player of the Year.
November, 20, 2011
11/20/11
7:43
AM ET
READ MORE:
Lovejoy captures 3A crown
By Walter Villa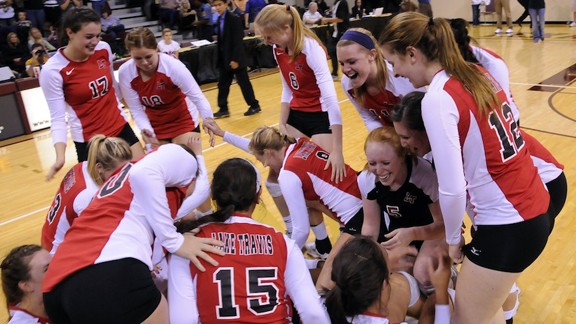 1stPhotoTexas.com by Ryan JacksonNo. 2 Lake Travis (Austin) celebrates after winning its 50th game of the season to claim the 4A Texas state championship.
SAN MARCOS, Texas – After winning its second straight state title and posting a 50-0 record, Lake Travis (Austin) answered all the questions this season -- except for a long one in Saturday night's final post-match press conference.
The indecipherable query was asked of Lake Travis outside hitter Sierra Patrick, who said a couple things before stopping.
"Can you repeat the question?" Patrick said as her teammates and the assembled media roared with laughter. "I was going to try to say something, but …"
Patrick and her teammates need not say anything more.
Their play spoke volumes.
After losing their first set of the season
Thursday night against Foster (Richmond), the Cavaliers got back to being routinely dominant on Saturday with their 49th sweep of the season, a 25-13, 25-16, 25-14 dismantling of Pearce (Richardson) in the Class 4A state final.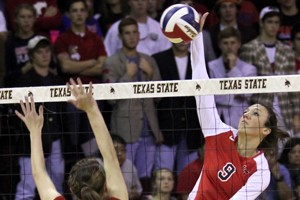 1stPhotoTexas.com by Ryan Jackson Amy Neal had nine kills in the championship match and was named MVP for the second year in a row.
Lake Travis, No. 2 in the POWERADE FAB 50 national poll, was led by Amy Neal, who earned state finals MVP honors for the second straight season.
Neal had nine kills, 12 digs and a .333 kill percentage to power a balanced attack. Patrick and Piper Toler also had nine kills, Katy Beals had a match-high 21 assists and libero Mackenzie Mayo added 10 digs.
As a team, Lake Travis had a .316 kill percentage compared to .057 for Pearce (36-14).
Pearce star Shelby Sullivan, a Texas A&M recruit, led her team with 10 kills and a .292 kill percentage. But it was far short of her stellar semifinal performance, when she took apart No. 29 Randall (Amarillo) with 20 kills and a .541 kill percentage.
Give credit to Lake Travis' leaping ability up front and agility in the back row for making life difficult for Sullivan.
Pearce coach Jason Nicholson, whose team lost to Lake Travis last year in an epic five-set state semifinal, wasn't surprised.
"We knew what we were walking into," he said. "Lake Travis brought back everybody from last year."
Everybody except coach Julie Green, that is. Green left for Coppell (Coppell), which won a state title in Class 5A later Saturday night.
Lake Travis replaced Green with Jennifer Kazmierski, who had been an assistant at Magnolia (Texas).
Kazmierski said she realized quickly that she had inherited great talent.
Asked if Lake Travis is the best high school team she has ever seen, Kazmierski was quick to respond.
"Absolutely," she said. "I can't even explain it. … You just don't find high school teams with eight seniors who will play college volleyball next year like we have."
Kazmierski's bunch is the first team in Texas history to win 50 matches in a season. Lake Travis is also the first undefeated Texas state champ since Windthorst in 2004 and the 12th overall.
Pearce, meanwhile, came in on a 23-match win streak, dropping just four sets in that span.
But the Mustangs never got going against Lake Travis' superior skill, speed and savvy.
"Our kids fought," Nicholson said. "But by the third set, I think some fatigue set in because they had to extend themselves so much on every rally."
Kazmierski said her team played better Saturday than it did in the semifinal. She said she could feel the difference in her team during Friday's practice.
The pressure of trying to go the whole season without dropping a set had disappeared. Now there was just a singular goal – the state title – and a worthy opponent in Pearce.
Neal said last year's state semifinal, when Pearce led Lake Travis two sets to none, came into her thought process on Saturday.
"We knew after what happened last season that they were going to fight hard," Neal said. "We had to push our hardest to beat them."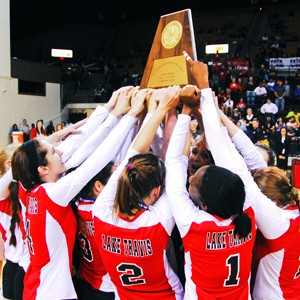 1stPhotoTexas.com by Ashley LandisLake Travis dropped just a single set all season long on its way to the Texas 4A state title.
The Lake Travis seniors said the only thing that makes Saturday's win bittersweet is the realization that their high school careers are over.
Soon, they will split up for college.
Before every practice, they reminded each other of that fact and promised to do everything they could to make their final run a success.
"The girls," Neal said when asked what she will miss most about playing for Lake Travis. "We know everything about each other. We are weird with each other. It's going to be weird not playing with them anymore."
Four of Lake Travis' seniors are considered big-time recruits: Neal (Texas), Patrick (Texas A&M), Beals (Washington) and Mayo (Baylor). Toler, meanwhile, plans to walk on at Texas Christian. The other Lake Travis players headed for college volleyball are Cassie Wang (Washington University of St. Louis), Gabby Bienkowski (Great Falls in Montana) and Kaci Easton (North Texas).
All of them, though, will fondly recall their phenomenal season of 2011.
"It's pretty cool that we got 50-0," Mayo said. "That's solid – a nice, round number."