High-SchoolVolleyball:

Taylor Paulson
October, 2, 2011
10/02/11
7:31
AM ET
By Walter Villa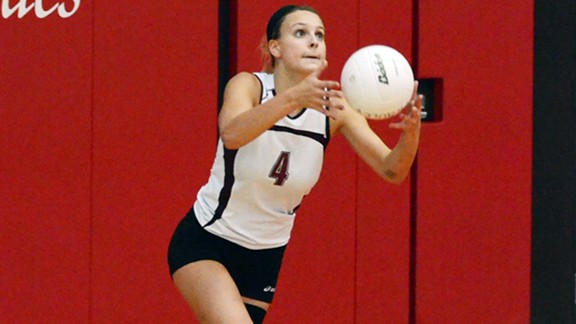 David Villegas/ESPNHSKatie George and Assumption (Louisville, Ky.) relied on strong defense to get past Berkeley Prep (Tampa, Fla.) in the final of the Asics Challenge.
2011 Asics Challenge Photo Gallery
CHICAGO, Ill. – Liberated from the pressure of an undefeated season, Assumption (Louisville, Ky.) has been delivering punishment to every opponent it has faced the past month.
On Saturday, it was the No. 3 team in the nation that got in their way.
No. 5 Assumption smashed Berkeley Prep (Tampa, Fla.) 25-17, 25-21 to win the 24-team Asics Challenge, which featured nine teams ranked in the
POWERADE FAB 50
.
It is the 11
th
time in the past 16 years that the Rockets have won the Asics Challenge.
It is also the second straight elite tournament the No. 5 Rockets (32-1) have swept this season; the first was the 48-team
Durango Fall Classic
Sept. 16-17 in Las Vegas, Nev.
All of this has happened after the Rockets lost to No. 46
Chattahoochee
(Johns Creek, Ga.), in three sets on Sept. 10.
"We've been playing great since then," said Assumption senior Taylor Long, a 5-10 outside hitter. "We've been playing free."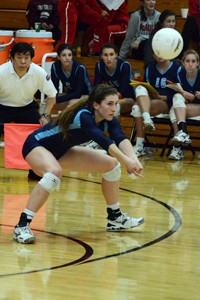 David Villegas/ESPNHSJordan Burgess was held to nine kills by the Assumption defense in the final of the Asics Challenge.
It wasn't quite free for No. 3 Berkeley (16-2) this week. The Bucs' two losses – they also fell to No. 35 Mother McAuley (Chicago, Ill.) on Thursday – will likely cost them in the rankings.
Berkeley coach Randy Dagostino said his team's 14 service errors – about a dozen more than usual – were the biggest factor in the loss to McAuley.
"I'm going to take the blame for that," Dagostino said. "I had been telling our girls to serve aggressively.
"But look, finishing undefeated has never been a goal of mine. I've never gone undefeated in 28 years of coaching. If undefeated was my goal, I'd never leave Florida."
Since the loss to McAuley, Berkeley made sure to get its serves in, allowing setter Mackenzie Dagostino, a Maryland recruit, to distribute to Stanford commit Jordan Burgess and rising 5-11 sophomore star Sidney Brown.
That strategy worked well until they faced Assumption, which played stellar defense to win back the title it lost in 2010.
"We're not very large on the outside, but I was very impressed with our defense," Assumption coach Ron Kordes said. "We touched a lot of balls on (Burgess). We slowed her balls down. If you don't, you are only going to dig her so much."
Kordes said 6-3 junior Taylor Paulson was an active blocker, and the coach also praised his team's depth. He used 11 players on Saturday, which is about his norm with this team.
Not lost in all the glory was the back-row specialists, 5-4 senior Chelsea Bowles and 5-8 juniors London Ackerman and Kaelin Grimes.
No MVP was picked for the tournament, but more than a couple people came away mighty impressed with Bowles.
"Chelsea was on it," Long said. "She was here, she was there, she was everywhere.
"We don't come across big hitters like (Burgess) very often. But when we do, Chelsea, London and Kaelin always step up."
Senior setter
Katie George
, the only Assumption standout who made the six-player all-tournament team, said the Rockets' back row frustrated Burgess, who had no kills in the first set before nailing nine in the second.
"As a hitter, you become impatient when you don't get kills right off the bat," said George, who has recovered from the blood clots she suffered this past summer and played for the first time this weekend without her protective helmet. "Our defense was outstanding."
Paulson also spoke in glowing terms of the Rockets' defense and seemed to be somewhat amazed by how her team thwarted some high-caliber players.
"We shut down their outside hitters, and they are not used to that," Paulson said. "I mean, look at them – Stanford (Burgess) … come on!"
Coming on is exactly what the Rockets have been doing since losing to Chattahoochee. No coach ever wants to lose a match, but Kordes said he is happy his girls no longer have that stress.
"It's real difficult to stay undefeated," he said. "We've done it a couple times, but the pressure on the girls is terrible, monumental. Now we can just play."
September, 22, 2011
9/22/11
2:29
PM ET
By Walter Villa
Berkeley Prep (Tampa, Fla.) was undefeated and ranked No. 1 in the
POWERADE FAB 50
last year when it ran into Mercy (Louisville, Ky.).
The matchup, which came in the final of Berkeley's Premier Volleyball Tournament, was won by Mercy in five sets. Mercy won the final set 19-17 to knock the Bucs off the top spot.
This year, Berkeley is ranked third in the FAB 50 and is off to another strong start at 6-0, including a five-set win over 2010 state champ East Lake (Tarpon Springs, Fla.).
But the Bucs will be challenged to an even greater degree this Friday and Saturday when they host the 19th annual Premier tournament. The field will again include Mercy, which is unranked this week but has won the tournament six times in the past eight years.
To his credit, Berkeley coach
Randy Dagostino
, whose team won the tournament the other two years, keeps inviting Mercy back.
"I'm always looking for teams that will push us and make the tournament better," Dagostino said.
Dagostino may have "discovered" another such team in No. 18 Chattahoochee (Johns Creek, Ga.). The Cougars went 50-5 last season but really opened eyes this year. They are the only team to beat No. 5 Assumption (Louisville, Ky.) so far this season.
Chattahoochee (25-4) is 5-0 this season against Kentucky teams, including wins over No. 34 Sacred Heart (Louisville, Ky.) and Mercy.
The other teams entered at the Premier are No. 50 Bishop Moore (Orlando, Fla.); Lake Mary (Lake Mary, Fla.); Leon (Tallahassee, Fla.); Francis Howell (St. Charles, Mo.); and Springstead (Spring Hill, Fla.).
Berkeley is the top seed in the tournament, but Dagostino doesn't think his team has "clicked" just yet. He's had to replace three of his seven starters from last season, and Dagostino says star outside hitter
Jordan Burgess
has yet to hit her peak since returning from Turkey, where she was playing for the U.S. Youth National team.
"She's had a lot of nagging – I don't even want to call them injuries," Dagostino said. "She's just played a lot of volleyball, and she missed a couple of weeks of jelling with her teammates while she was in Turkey.
"But we're working hard. We'll get there."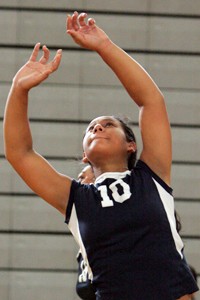 Josh Holmberg/ESPNHSFaith Ma'afala of Kamehameha was the lone freshman to make the all-tournament team at the 2011 Durango Fall Classic.
Young guns in Vegas
Six underclassmen made the 17-player All-Tournament team last weekend at the Durango Fall Classic in Las Vegas, Nev., including 5-foot-7 freshman opposite hitter
Faith Ma'afala
of Kamehameha (Honolulu, Hawaii).
Three sophomores made the team: 6-2 outside hitter
Brittany Abercrombie
of La Costa Canyon (Carlsbad, Calif.); 6-2 middle blocker
Crissy Jones
of Los Alamitos (Los Alamitos, Calif.); and 5-9 setter/outside hitter
Alex Filley
of Assumption (Louisville, Ky.).
The two juniors on the prestigious team are 6-3 middle blocker
Taylor Paulson
of Assumption and 5-7 outside hitter
Amanda Benson
of Xavier (Phoenix, Ariz.).
Glass half full, or half empty?

Los Alamitos coach
Dave Huber
was pleased with his team's performance at Durango, especially the way they battled after blowing a 24-21 second-set lead to Marymount (Los Angeles, Calif.) in the semifinal.
"To kind of have one taken from us like that, I didn't know how we would respond," Huber said. "But we regained our composure and got to the final. I'm proud of the way we fought back. Our girls were in it physically and mentally."
Coach
Pat McDougall
of La Costa Canyon was also feeling good, even after his team lost in the semifinals to Assumption.
"We had only played two matches coming into Las Vegas," said McDougall, who also praised his new setter,
Jordan Robbins
, a 5-10 junior. "We didn't know what to expect, but I'm very happy with the results."
Meanwhile, Marymount coach
Cari Klein
was upset her team continued a recent trend of falling behind early only to rally late.
"Our kids gave a great effort," Klein said after the loss to Los Alamitos. "But we need to get better. We need to block smarter. We seem to think we can give up points and battle back, but we can't do that against really good teams."
Senior setter
Lauren Fuller
was named to the all-tournament team, and Klein praised Fuller's twin,
Manon Fuller
, a 6-0 senior outside hitter and said that 6-2 junior middle blocker
Kaitlyn Edwards
has "come alive."
September, 18, 2011
9/18/11
7:25
AM ET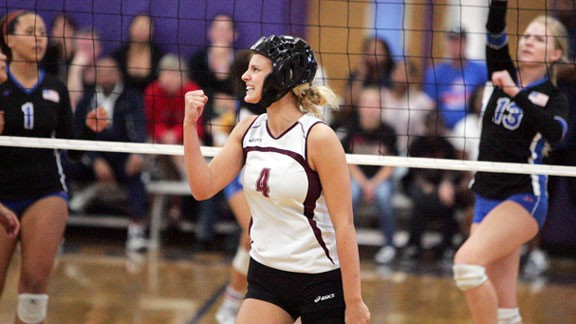 Josh Holmberg/ESPNHSKatie George led Assumption (Louisville, Ky.) to the Durango Classic championship and was named tournament MVP along the way.
By Walter Villa
LAS VEGAS, Nev. – There has been no disruption at Assumption (Louisville, Ky.).
After graduating six players from last year's state championship team – all of whom are now competing in college – the Rockets are still rising.
On Saturday night, Los Alamitos (Los Alamitos, Calif.) felt the full force of the Assumption machine, getting overpowered for much of the Rockets' 25-13, 25-19 victory in the championship match of the Durango Fall Classic.
Senior setter Katie George, who was named the tournament's Most Valuable Player, helped Assumption lead from wire-to-wire in the first set, and the Rockets fell behind only briefly in the early stages of the second.
"This is just icing on the cake," George said of the MVP. "The main thing I'm happy about is our team won."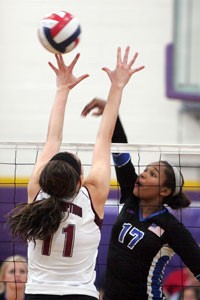 Josh Holmberg/ESPNHSCrissy Jones of Los Alamitos (Los Alamitos, Calif.) takes a swing against Assumption (Louisville, Ky.) in the championship match of the Durango Classic.
The Rockets won by doing just about everything right. They utilized their short tip, they slowed Los Alamitos' 6-foot-2 middle hitter Crissy Jones and they thrived even when offensive plays broke down.
A couple of questionable calls went Assumption's way, but give the Rockets' defense credit. They got their hands on just about everything, and their serve seemed to handcuff Los Alamitos.
Assumption, which also won Durango in 2005, is now the first non-California team to win the prestigious event twice.
The Rockets' success in 2011 has surprised even those in Assumption's inner circle, who figured the team would suffer – at least initially – without talents such as middle blocker Jeni Houser (Notre Dame), libero Jackie Napper (Kentucky) and setter Courtney Robison (West Virginia).
The other graduated stars were outside hitters Claire Gerwig (Western Michigan) and Taylor Allgeier (Eastern Kentucky) and opposite hitter Laura Purcell (Loyola-Chicago).
"I had my doubts," George said when asked if she thought the Rockets would be this good this quickly. "But we're so much further along than where we were last year. We're jelling as a team. This tournament was exactly what we needed."
The Rockets (22-1), ranked 13th in the POWERADE FAB 50 national volleyball rankings, have already beaten powers such as Sacred Heart (Louisville, Ky.), Muncie Burris (Muncie, Ind.) and Muncie Central (Muncie, Ind.).
And that was before Durango. Now you can add wins over tough outs such as Mater Dei (Santa Ana, Calif.), No. 30 Redondo Union (Redondo Beach, Calif.), La Costa Canyon (Carlsbad, Calif.) and No. 7 Los Alamitos.
"We knew we had some good talent waiting," coach Ron Kordes said of his returners. "Still, I've been impressed with the way the girls have come out and played like veterans right away."
The 2011 Rockets have four players who have committed to Division I colleges: George (Louisville); senior libero Chelsea Bowles (Tennessee-Martin) and junior defensive specialists Kaelin Grimes (Western Kentucky) and London Ackerman (Georgia Tech).
Other standouts include 5-8 sophomore setter Alexa Filley; 6-3 junior middle blocker Taylor Paulson; 6-0 senior middle blocker Dallas Zimmerman; and 5-10 senior outside hitter Taylor Long.
Kordes said Paulson was an especially big factor on Saturday, but the middle blocker gave credit to the entire team.
"I think our serve and our serve-receive were big," Paulson said. "We work really hard on serving deep with our floaters. We serve to the outside, and that makes it a lot harder for them to get around the ball, which causes mistakes. That was our tactic, and it worked."
Assumption lost just one set this weekend, and that came on Saturday morning in a 26-24, 15-25, 25-9 win over Mater Dei.
On the season, Assumption's only loss came last week against No. 20 Chattahoochee (Johns Creek, Ga.), 27-25, 21-25, 25-19.
"They had these two outside hitters, and we couldn't stop them," Paulson of the Georgia team. "They were two awesome players, and they went right over our block. What are you supposed to do?"
Actually, what the Rockets are supposed to do now is celebrate. Paulson said she and her teammates were prepared to have fun Saturday night.
"We are going to walk the Strip, have a little Vegas time," Paulson said. "It'll be fun. Dress up, take pictures, stuff like that."
With the title secured, many of the Assumption players and parents turned their post-game attention to the hometown Louisville Cardinals, who had a Saturday night game at in-state rival Kentucky.
Rooting for Louisville is an especially big passion for George, the Cardinals recruit.
"I'm a huge U of L fan," George said. "If they beat Kentucky, that would make it a perfect day."
George's wish was granted later Saturday night as Louisville won 24-17, snapping a four-game skid in the series against Kentucky.
Somewhere on the Strip, you can bet George and the rest of the Assumption girls were whooping it up.