High-SchoolVolleyball:

Texas volleyball
December, 6, 2011
12/06/11
8:36
AM ET
By Walter Villa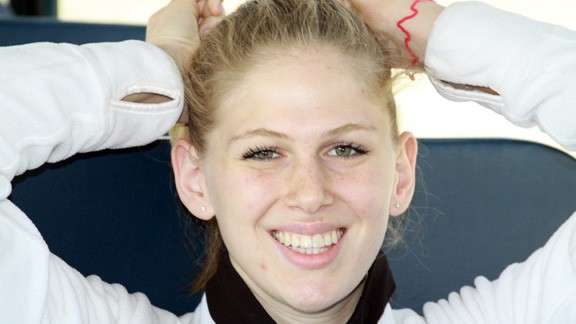 Courtesy of Vicky McCartyAfter deciding to play volleyball rather than basketball in college and then choosing to go to Texas, life has been less stressful for Sara Hattis. "Before she decided, she was really stressed," coach Vicky McCarty said. "You could see it in her face."
When it comes to college, most elite athletes have one tough decision to make.
Sara Hattis had two.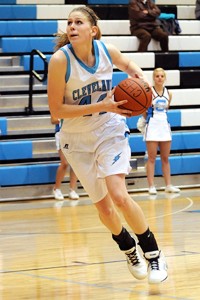 Courtesy of the Hattis familyBasketball was Sara Hattis' first love. The 6-foot-4 senior post started playing when she was 5.
Not only did the 6-foot-4 volleyball middle blocker and basketball post from Cleveland (Rio Rancho, N.M.) have to choose among the numerous schools that were offering her scholarships, but she also had to decide between volleyball and basketball.
Basketball was her first love – she started competing when she was 5 – and it was the sport her 6-8 father, Bill, played in college at the University of Arizona. Her star quickly rose, and she is the No. 78 player in the
ESPNU HoopGurlz Top 100
for the 2012 class.
In contrast, Hattis got a late start in volleyball, playing competitively for the first time when she was 12. But because she has come so far so fast in volleyball, her upside in the sport is considered to be enormous.
"I love both sports," Hattis said. "I have a passion for both."
Hattis, though, said she wanted to focus on only one sport in college so she can reach her full potential.
In the end, she chose the thrill of the kill in volleyball over the dream of the dunk in basketball.
Once she settled on her sport, Hattis' life-altering choices were only half-done.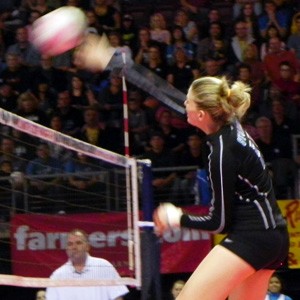 Courtesy of Kim VeselySara Hattis had 289 kills and a .485 hitting percentage as a senior at Cleveland (Rio Rancho, N.M.).
She then needed to make a decision within a decision. Should see stay close to home and play for head coach Jeff Nelson and assistant Ben Wallis at New Mexico? Or should she venture out of state and choose from among 15 or so other choices?
Nelson had coached Hattis in club ball, and Wallis is her former high school coach at Cleveland. Both men had sold her on the notion of becoming a "hometown hero" at UNM, an idea Hattis admits "sparked an interest" in her.
"Coach Wallis taught me pretty much everything I know about volleyball," Hattis said. "Coach Nelson tweaked my game. I still need a lot of tweaking."
That tweaking, however, will come at Texas, the school Hattis ultimately selected. Bill Hattis said the Longhorns, who were the No. 1 seed in the 2011 NCAA Tournament, have promised Hattis will ultimately touch 10-7 through strength and conditioning. Right now she can touch 10-1, and can dunk a tennis ball but not a basketball.
Hattis has left open the possibility of playing basketball her senior year, after her volleyball eligibility has been exhausted.
"It depends on how I feel at that time," Hattis said. "But for now, it would have been too heavy a load."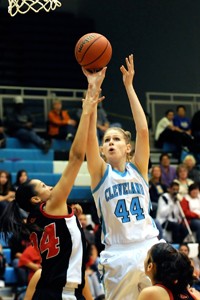 Courtesy of the Hattis familySara Hattis and Cleveland will be among the favorites to win the Gray Division title at the Nike Tournament of Champions.
Long before that decision has to be made, though, comes a big task for Hattis next week. Cleveland will travel to Chandler, Ariz., to compete in the prestigious Nike Tournament of Champions. With its star in the middle, Cleveland is one of the favorites to win the Gray Division title. Hattis and the Storm open play on Monday against Livermore (Calif.).
Hattis, perhaps the most heavily recruited female athlete in New Mexico history, said her recruiting process was difficult, which helps explain why she didn't choose Texas until Nov. 11, two days after the early signing period had begun.
In fact, Hattis was still wide open the summer before her senior year. She, her father and her younger brother, Henry, took a weeklong car trip last summer, stopping at numerous colleges, including Texas, Louisville, Purdue, DePaul, Northwestern and Vanderbilt.
To track all her scholarship offers – including her first, from SMU, before her freshman year -- her father gave her the idea of putting school logos on a map.
But information-gathering was as far as Bill Hattis would go. He wanted whatever choice his daughter made to be hers alone.
"I tried to stay as neutral as I could," he said. "It was extremely hard. There were times when I had to bite my lip. There were times when she would tell me, 'Dad, just tell me what I should do.' "
Ironically, Bill Hattis had also been a two-sport star. A right-handed relief pitcher who could throw sidearm to intimidate righty hitters, he was selected by the Los Angeles Dodgers in the 18
th
round of the 1971 draft.
Had he signed, he would have played rookie ball in Utah under Tommy Lasorda. But he chose college instead and tried playing baseball and basketball at Arizona, with little success. After a couple years, he transferred to the University of Miami and made it to the championship game of the 1974 College World Series.
But he was never drafted again and did not make a post-college tryout with the Baltimore Orioles.
Perhaps Bill Hattis' attempt at juggling basketball and baseball influenced Sara to pick one sport.
Vicky McCarty, who coached Hattis in volleyball this past season, said her star player appears content.
"Before she decided, she was really stressed," McCarty said. "You could see it in her face."
There's no stress now for Hattis, who is playing a care-free final season of basketball. The only thing missing from her resume is a state title. She made it the Class 5A volleyball state final two years in a row, losing to Gadsden (Anthony, N.M.) both times.
The 2011 state final was particularly painful. Cleveland was up 9-3 in the fifth set but lost 16-14.
For the season, Hattis had 289 kills and an impressive .485 hitting percentage.
"It's tough to say which sport she has more potential in, basketball or volleyball," Bill Hattis said. "I think she could have become a terrific basketball player, and it's a sport I know well.
"I don't know a lot about volleyball. But (experts in the game) say she has just scratched the surface of her potential, and that's pretty exciting."
November, 20, 2011
11/20/11
8:42
AM ET
READ MORE:
Lake Travis (50-0) wins 4A title
By Walter Villa
SAN MARCOS, Texas – Pushed to five sets for the first time all season and playing without one of its stars, Lovejoy (Lucas) persevered and won its fourth straight state title Saturday.
The Leopards (48-4) beat Wylie (Abilene) 25-20, 18-25, 25-14, 23-25, 15-8 at Strahan Coliseum on the campus of Texas State University.
Lovejoy's string of Class 3A titles appears likely to come to an end next season – but only because the school's increased enrollment indicates a move up to 4A is coming.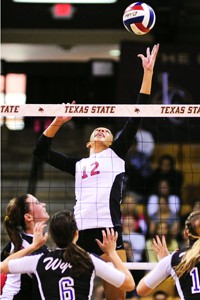 1stPhotoTexas.com by Ashley LandisSenior Nicole Newton finished with 12 kills as Lovejoy won its fourth straight state title.
Lovejoy, No. 18 in the POWERADE FAB 50 national rankings, will also have to replace three key seniors for next season: Andie Malloy, Nicole Newton and Morgan Hofacker.
Malloy, a 6-2 setter and hitter who will play for Iowa State, is an especially big loss. She earned 3A MVP honors Saturday after posting a triple-double: 24 kills, 21 assists and 15 digs.
Malloy also won MVP honors in 2009.
"Winning MVP this year means so much to me," said Malloy, her voice hoarse from yelling encouragement to her teammates. "Every year, our team has changed. It was great to be able to lead the team, no matter who else is out there."
Malloy's comment was a reference to 6-4 star middle hitter Ebony Nwanebu, who sat out her second straight game due to undisclosed reasons. It was termed a "coach's decision" by Ryan Mitchell, who praised Malloy after the final.
"This kid's been a stud since her freshman year," Mitchell said. "But this year, she's showed a lot of leadership."
Lovejoy's other seniors also showed the way for the team's two freshmen, six sophomores and eight juniors. Newton had 12 kills and a match-high .556 kill percentage. Hofacker had 17 digs, which helped subdue Wylie (40-7).
When Malloy put down the match's final point, Nwanebu was among the first Lovejoy players to storm the court in celebration. And Mitchell said he fully expects Nwanebu to be back on the team and in good standing next season.
Lovejoy is now tied for third for the best run in Texas history. The record is six straight titles, set by Class 1A Windthorst (Windthorst) from 1997 to 2002.
Mitchell said his deep roster made it possible Saturday.
"We have kids on our bench who could start for other programs," Mitchell said. "We also have kids with character. When a hard decision is made, they have their coach's back."
In Saturday's other Texas final involving at least one nationally ranked team, No. 34 Coppell beat No. 21 Boyd (McKinney) 25-22, 25-19, 20-25, 25-19.
With the victory, Coppell coach Julie Green completed an amazing feat, winning consecutive state titles with two different teams, including Lake Travis (Austin) in 2010.
Senior Kierra Holst, a 6-4 middle blocker, was named the 5A state finals MVP for Coppell (42-8). She had 19 kills and a .341 kill percentage in the win over Boyd (45-7).
Coppell also survived perhaps the most competitive class in the nation. At least six Class 5A teams that were nationally ranked at some point this season were beaten before the state final, including Carroll (Southlake); College Park (The Woodlands), Cypress Woods (Cypress), Westlake (Austin), Georgetown (Georgetown) and Johnson (San Antonio).
November, 20, 2011
11/20/11
7:43
AM ET
READ MORE:
Lovejoy captures 3A crown
By Walter Villa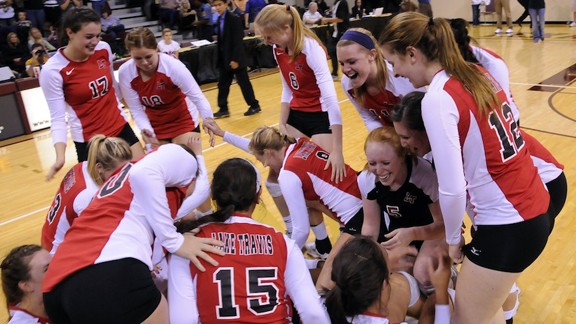 1stPhotoTexas.com by Ryan JacksonNo. 2 Lake Travis (Austin) celebrates after winning its 50th game of the season to claim the 4A Texas state championship.
SAN MARCOS, Texas – After winning its second straight state title and posting a 50-0 record, Lake Travis (Austin) answered all the questions this season -- except for a long one in Saturday night's final post-match press conference.
The indecipherable query was asked of Lake Travis outside hitter Sierra Patrick, who said a couple things before stopping.
"Can you repeat the question?" Patrick said as her teammates and the assembled media roared with laughter. "I was going to try to say something, but …"
Patrick and her teammates need not say anything more.
Their play spoke volumes.
After losing their first set of the season
Thursday night against Foster (Richmond), the Cavaliers got back to being routinely dominant on Saturday with their 49th sweep of the season, a 25-13, 25-16, 25-14 dismantling of Pearce (Richardson) in the Class 4A state final.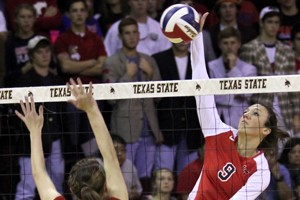 1stPhotoTexas.com by Ryan Jackson Amy Neal had nine kills in the championship match and was named MVP for the second year in a row.
Lake Travis, No. 2 in the POWERADE FAB 50 national poll, was led by Amy Neal, who earned state finals MVP honors for the second straight season.
Neal had nine kills, 12 digs and a .333 kill percentage to power a balanced attack. Patrick and Piper Toler also had nine kills, Katy Beals had a match-high 21 assists and libero Mackenzie Mayo added 10 digs.
As a team, Lake Travis had a .316 kill percentage compared to .057 for Pearce (36-14).
Pearce star Shelby Sullivan, a Texas A&M recruit, led her team with 10 kills and a .292 kill percentage. But it was far short of her stellar semifinal performance, when she took apart No. 29 Randall (Amarillo) with 20 kills and a .541 kill percentage.
Give credit to Lake Travis' leaping ability up front and agility in the back row for making life difficult for Sullivan.
Pearce coach Jason Nicholson, whose team lost to Lake Travis last year in an epic five-set state semifinal, wasn't surprised.
"We knew what we were walking into," he said. "Lake Travis brought back everybody from last year."
Everybody except coach Julie Green, that is. Green left for Coppell (Coppell), which won a state title in Class 5A later Saturday night.
Lake Travis replaced Green with Jennifer Kazmierski, who had been an assistant at Magnolia (Texas).
Kazmierski said she realized quickly that she had inherited great talent.
Asked if Lake Travis is the best high school team she has ever seen, Kazmierski was quick to respond.
"Absolutely," she said. "I can't even explain it. … You just don't find high school teams with eight seniors who will play college volleyball next year like we have."
Kazmierski's bunch is the first team in Texas history to win 50 matches in a season. Lake Travis is also the first undefeated Texas state champ since Windthorst in 2004 and the 12th overall.
Pearce, meanwhile, came in on a 23-match win streak, dropping just four sets in that span.
But the Mustangs never got going against Lake Travis' superior skill, speed and savvy.
"Our kids fought," Nicholson said. "But by the third set, I think some fatigue set in because they had to extend themselves so much on every rally."
Kazmierski said her team played better Saturday than it did in the semifinal. She said she could feel the difference in her team during Friday's practice.
The pressure of trying to go the whole season without dropping a set had disappeared. Now there was just a singular goal – the state title – and a worthy opponent in Pearce.
Neal said last year's state semifinal, when Pearce led Lake Travis two sets to none, came into her thought process on Saturday.
"We knew after what happened last season that they were going to fight hard," Neal said. "We had to push our hardest to beat them."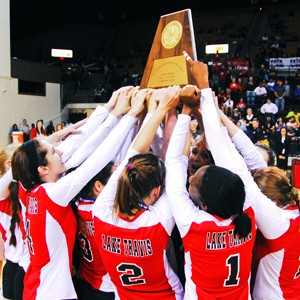 1stPhotoTexas.com by Ashley LandisLake Travis dropped just a single set all season long on its way to the Texas 4A state title.
The Lake Travis seniors said the only thing that makes Saturday's win bittersweet is the realization that their high school careers are over.
Soon, they will split up for college.
Before every practice, they reminded each other of that fact and promised to do everything they could to make their final run a success.
"The girls," Neal said when asked what she will miss most about playing for Lake Travis. "We know everything about each other. We are weird with each other. It's going to be weird not playing with them anymore."
Four of Lake Travis' seniors are considered big-time recruits: Neal (Texas), Patrick (Texas A&M), Beals (Washington) and Mayo (Baylor). Toler, meanwhile, plans to walk on at Texas Christian. The other Lake Travis players headed for college volleyball are Cassie Wang (Washington University of St. Louis), Gabby Bienkowski (Great Falls in Montana) and Kaci Easton (North Texas).
All of them, though, will fondly recall their phenomenal season of 2011.
"It's pretty cool that we got 50-0," Mayo said. "That's solid – a nice, round number."
November, 18, 2011
11/18/11
7:18
PM ET
By Walter Villa

SAN MARCOS, Texas – If Lovejoy (Lucas) is to become just the fourth Texas team to win at least four straight state titles, it will have to do so without one of the nation's best players.

Ebony Nwanebu, a 6-foot-4 junior and a Southern Cal recruit, did not play Friday, when Lovejoy defeated Sinton 25-23, 25-9, 25-15 in a Class 3A state semifinal. Nwanebu was on the bench, supporting her team and wearing her warm-ups.

Lovejoy coach Ryan Mitchell said Nwanebu was not hurt and was not out due to disciplinary reasons. He told the team Nwanebu would not be playing on Wednesday, giving them only one day to prepare.

"Ebony is a coach's decision this weekend," Mitchell said after his team improved to 47-4. "She is eligible to play. She will not be playing."

Nwanebu was the MVP of the 2010 Class 3A state finals. But even without her, Lovejoy still has 6-2 senior Andie Malloy, a setter and right side hitter. Malloy, an Iowa State recruit and a part of the USA's Youth National team, came through Friday with a match-high 12 kills. She also added 10 assists and a .303 kill percentage.

Sinton (30-11), which did not know about Nwanebu's status until the match started, led the first set 17-11 before unraveling. For the match, Sinton had 11 return errors compared to only two for Lovejoy.

Lovejoy will play Wylie (Abilene) in Saturday's state championship game.
November, 9, 2011
11/09/11
10:00
AM ET
By Walter Villa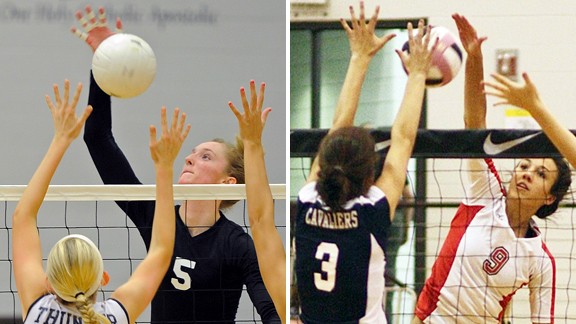 Mike Gunnoe and LoneStarVolleyball.comNo. 1 Papillion-La Vista South (Papillion, Neb.) and No. 2 Lake Travis (Austin, Texas) still have some obstacles in their way, but both teams are closing in on state titles and perfect seasons.
In this corner, there's Papillion-La Vista South (Papillion, Neb.), the No.1 team in the POWERADE FAB 50 national rankings and winners of 73 matches in a row.
In that corner, there's No. 2 Lake Travis (Austin, Texas), which has won 53 consecutive matches and hasn't lost a set all season.
Papio South, as the school is commonly known, and Lake Travis are like two great boxing champions who have never faced each other. All fans can do is wonder what would've happened had they met.
"I wish we could play them," Lake Travis senior setter Katy Beals said. "That would be sweet."
Both are closing in on perfect seasons and their second straight state titles – Nebraska will crown its champions on Saturday, and Texas will save its coronations for Nov. 19.
Both teams emerged as national powers last year. Papio South won the 2010 Class A Nebraska state title and also finished atop the FAB 50 rankings. Lake Travis, the 2010 Class 4A Texas state champion, finished 18th nationally.
The Papio South Titans were then ranked No. 1 in the 2011 preseason and have remained there. The Lake Travis Cavaliers were ranked No. 2 in the preseason and haven't budged, either.
While their high schools teams haven't met, the elite athletes on each team are familiar with each other.
Papio South libero Lauren Poulicek plays on the Nebraska Juniors club team with Titans teammates Kelly Hunter, Megan Stroyek and the Rolfzen twins, Kadie and Amber. Meanwhile, Lake Travis stars Beals, Amy Neal, Mackenzie Mayo and Sierra Patrick compete for Austin Juniors.
"We played them once at nationals this past year," Poulicek said. "We lost. We had some (chemistry) problems.
"I thought (Austin Juniors) had a couple of really good players, and at key times they made big plays. They were all really athletic, good defenders. We couldn't put the ball away."
But Poulicek said she's confident things would be different if Papio South played Lake Travis.
"I think with the way we are playing right now, we could challenge them and probably win the match," she said.
Neal said she recalls playing Nebraska Juniors more than once over the years.
"I've played against them many times from 15s to 16s," she said. "They are amazing players, very hard to stop. We beat them in the 15s and 16s … I don't remember losing to them.
"I think we'd do very well against them if we played them now because we have so many offensive weapons."
But all we can do is guess as to what would happen.
So, taking another page from the fight game, here is the tale of the tape between Papio South and Lake Travis:
Records:
Papio South 35-0; Lake Travis 46-0.
Win streaks:
Papio South 73; Lake Travis 53.
Sets lost:
Papio South 4; Lake Travis 0.
Last team to beat Papio South in a match:
Marian (Omaha, Neb.) defeated Papio South on Nov. 14, 2009 in the Class A state final.
Last team to beat Lake Travis in a match:
Lovejoy (Lucas, Texas) beat Lake Travis in a regular-season match on Oct. 30, 2010.
Biggest remaining obstacle for Papio South:
Marian, possibly in the state semifinal.
Biggest remaining obstacle for Lake Travis:
No. 39 Randall (Amarillo), Friendswood, J.J. Pearce (Richardson) and Aledo are possible tests in the state tournament. Lake Travis has already topped all of those except Pearce already this season.
Coaches:
Gwen Egbert is in her ninth season at Papio South; Jennifer Kazmierski is in her first season at Lake Travis.
Papio South's stars:
5-11 setter Hunter and the 6-3 Rolfzen twins are all juniors who have committed to Nebraska. The twins were ESPN's National Sophomores of the Year last season.
Lake Travis' stars:
6-0 senior setter Beals, who has committed to Washington; and 5-10 senior libero Amy Neal, a Texas recruit.
Papio South's supporting cast:
5-5 senior libero Poulicek; 5-11 senior right side hitter Stroyek, who has committed to Washburn; 5-7 senior setter Whitney Kostal (Rockhurst); 6-0 senior middle blocker Rachel Nelson; and 5-11 junior middle blocker Katie Kurtz.
Lake Travis' supporting cast:
5-5 senior libero Mayo (Baylor); Patrick, a 6-0 right-side hitter (Texas A&M); Piper Toler, a 6-0 outside hitter (Texas Christian); Kaci Eaton, a 6-2 middle blocker (North Texas); 5-7 senior setter Cassie Wang (Washington University in St. Louis); 5-11 junior middle blocker Claire McCown; and 5-9 senior outside hitter Gabby Bienkowski (Great Falls).
The case for Papio South:
They haven't lost a match since 2009. They won this year at St. James (Lenexa, Kan.), which is No. 4 in the nation and is otherwise perfect this season. They also have wins over FAB 50-ranked teams Lincoln Pius X (No. 45) and Marian (No. 48). ... Hunter, Poulicek, Stroyek and the Rolfzen twins played on the Nebraska Juniors club team that won a 16-U national championship in 2010.
The case against Papio South:
They lost two sets against Marian and two to St. James. They did not play in any big out-of-state tournaments.
The case for Lake Travis:
The Cavaliers haven't lost a set all season and have defeated four teams that are ranked among the nation's top 50: No. 39 Randall (Amarillo, Texas); No. 21 Lovejoy (Lucas, Texas.); No. 19 College Park (The Woodlands, Texas); and two wins over No. 24 Cypress Woods (Cypress, Texas). ... Four of the Cavaliers' top stars – Beals, Neal, Mayo and Patrick – won a Junior Olympics national championship last summer while playing for Austin Juniors.
The case against Lake Travis:
They haven't played any team outside of Texas. Class 4A in Texas is not nearly as competitive as Class 5A. And without great size, one wonders if they could handle Papio South's 6-3 Rolfzen twins.
November, 4, 2011
11/04/11
2:37
PM ET
By Walter Villa
Texas has eight teams in the
POWERADE FAB 50 national rankings
, and more evidence of how competitive volleyball is in the state was provided Thursday night.
Carroll (Southlake, Texas), ranked fifth in the FAB 50 and No. 1 in Texas' Class 5A, was upset by Grapevine (Grapevine, Texas) in five thrilling sets, 25-23, 23-25, 25-23, 24-26, 15-11.
Grapevine (32-11) advances to the regional quarterfinals. Carroll (44-2), which battled injuries all year, is done.
Carroll set a school record for wins, but again fell short in its bid for the program's first state title. The Dragons will now graduate four standouts who have been starters since their freshman years.
October, 4, 2011
10/04/11
9:49
AM ET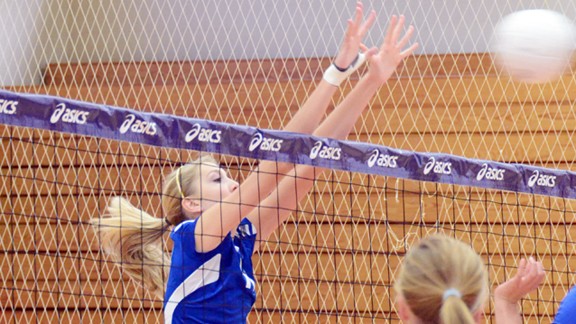 David Villegas/ESPNHSCatholic Memorial (Waukesha, Wis.) took 10th place at the 2011 Asics Challenge and is gearing up for a run at its third straight state title.
By Walter Villa
Over the past 20 years, coach Ted Schulte has built a volleyball powerhouse in Wisconsin.
Catholic Memorial (Waukesha, Wis.) has won five state titles during that span, including the two most recent championships.
His teams have also played in Chicago's prestigious
Asics Challenge
every year since 1993, finishing a program-best sixth last season and a respectable 10
th
this past weekend.
Now that they are back home, it's just about time for the Crusaders (30-5) to make their stretch run. The state playoffs begin Oct. 18.
"I think we are a lot better team now than we were going in to Chicago," Schulte said.
The Crusaders' only losses at Asics were to a pair of teams that are in the
POWERADE FAB 50 national rankings
– No. 37 Sacred Heart (Louisville, Ky.) and No. 41 Huntley (Huntley, Ill.).
But while Schulte was proud of his team's performance in Chicago, he is at times frustrated by his players.
"We're a psychotic team," Schulte joked before the Asics Challenge. "We're good, but we're wildly inconsistent. At times, we just don't seem to have the inner drive. We don't have the intense practices we should be having. Sometimes there are petty jealousies. … But hope springs eternal."
Perhaps Schulte is spoiled by last season's team, which went 46-4 and set a high standard for the current group to follow.
Four starters graduated from last season's team, leaving a bit of a leadership void. Two weeks ago, in the middle of a poor practice, the Crusaders called a players-only meeting to see if they could sort out their inconsistent play.
The new leaders of the team are senior co-captains Sara Connell and Greta Davis. Connell, a 5-7setter, has committed to Seton Hall. Davis, a 5-11middle hitter and an aspiring doctor, has chosen to focus on academics in college and won't play volleyball. She has applied to Harvard.
Other Crusaders standouts include Amanda Hansen, a 6-3 senior middle hitter who has committed to Seton Hall; Kaitlyn Hastings, a 5-7 senior outside hitter who has committed to South Dakota; Lindsey Casper, a 5-4 junior who is a skilled libero; and Aly Dawson, a 5-11 junior outside hitter who has committed to Marquette.
Given that there are at least four future college players on the court for the Crusaders, there is no doubt the team has the talent to win state again.
Hooray for Houston
The Houston area is blessed with loads of volleyball talent. College Park, for example, has four players who have already committed to colleges, and Cypress Woods has three.
The College Park recruits are Katie Mitchell (Ohio State); Alex Thorson (Tulane); Michelle Griffith (Sam Houston); and Taylor Erwin (Emory).
Cypress Woods' recruits include Chloe Collins (Texas); Victoria Arenas (Texas A&M); and Sarah Nielsen (Mississippi State).
Cypress Falls has a pair of college commitments in Chanell Clark-Bibbs (Georgia Tech) and Alexis Austin (Colorado).
Clear Lake can match Cypress Falls' output with Kiara Wright (Southern Cal) and Haley Satterwhite (Texas A&M-Corpus Christi).
Some of the other big commitments include Magnolia's Kylie Randall (Ohio State); Tomball's Roxanne McVey (Mississippi State); Foster's Tiana Dockery (Kansas); and Friendswood's Jill Bergeson (Pepperdine).