High-SchoolVolleyball:

USA Volleyball
July, 5, 2012
7/05/12
11:06
AM ET
By Walter Villa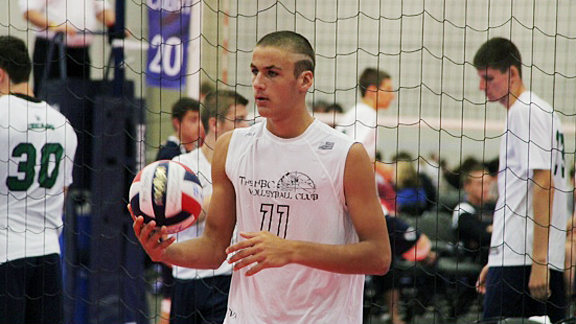 Courtesy of Paul DeVries"There's no question that T.J. is the best volleyball player in the nation for his age group," says Tyler Hildebrand, a former U.S. national team setter. "I don't think anyone would debate that."
He's only 15, but T.J. DeFalco already is being hailed as a potential volleyball Olympian and drawing a comparison to one of the world's greatest athletes.
And DeFalco, a home-schooled sophomore-to-be in Huntington Beach, Calif., recently got a chance to train with volleyball royalty -- Misty May-Treanor and Kerri Walsh.
"It was really cool to see how Olympic athletes train," DeFalco said. "I wasn't in awe or nervous. I was just amazed I got the opportunity to practice with them."
Tyler Hildebrand, a former U.S. national team setter who has worked with DeFalco the past two years, boldly puts his pupil and NBA superstar LeBron James in the same sentence.
"I saw LeBron play in high school," Hildebrand said. "Obviously, LeBron is LeBron, and maybe it's not as big a difference, but the way T.J. is so much better than other kids his age reminds me of (James).
"There's no question that T.J. is the best volleyball player in the nation for his age group. I don't think anyone would debate that."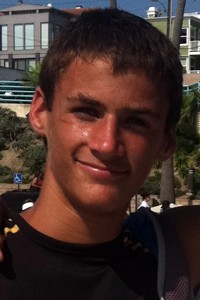 Courtesy of the DeFalco familyT.J. DeFalco
What is up for debate is whether DeFalco, who is a 6-foot-3 left-side hitter, will ultimately pursue beach volleyball or the indoor game.
Hildebrand, the club director for The HBC -- which stands for Huntington Beach Club -- said DeFalco will have more opportunities indoors.
"I have seen him play indoors and on the beach, and he's good at both," Hildebrand said. "But the beach game is in a tough spot right now. The AVP Tour went bankrupt, and other than the top six to eight guys, the money on the beach is very limited.
"Indoors is different. First of all, you have to play indoors to compete in college because there is no (NCAA) sand volleyball for men. Secondly, the money is better overseas."
At his size, DeFalco already has the physical requirements to play defense on the beach, but he may have to grow a bit more to be an elite hitter indoors.
Jon Aharoni, the coordinator of USA Beach Volleyball Development, said DeFalco is a natural on the sand.
"He's got huge feet and hands -- he's not done growing," Aharoni said. "I'm a big fan of TJ's. He's coachable and has really improved in the past year. He's not there yet, but he is good.
"He's a kid I could very easily see representing the USA in beach volleyball someday."
As for whether DeFalco continues to grow, there are mixed clues coming from his family. His father, Torey, is just 5-10. But Torey has a brother who is 6-11. His mother, Gina, is 5-8.
Torey, a marketing consultant, and Gina both remain active in leagues. Their seven children, who range in ages from 8 to 29, all have played volleyball, although none at T.J.'s level. All seven kids are or were home-schooled, and all seven have names starting with the letter "T."
Torey, who said he has always been "a bit of a rebel," decided along with his wife to home-school the kids because the job he had at the time forced the family to relocate often.
"Rather than subject them to the stresses of moving from school to school, we chose another option," Torey said. "We also wanted to help them develop a love for learning."
According to T.J. DeFalco, the flexible schedule of home-schooling has given him an edge in volleyball.
"I like all the time it gives me to be on the beach training," he said. "The part I like least (about home-schooling) is the social aspect. I don't get to hang out with friends as much as if I were at a school."
Even so, DeFalco already has had an interesting life. He grew up in Missouri, where his family raised exotic animals.
"It was kind of like the movie 'We Bought a Zoo,' " DeFalco said.
His older brother Tony was once kicked in the leg by an emu, a large bird that is a member of the ostrich family. The injury required 80 stitches, DeFalco said.
From Missouri, the family moved to San Diego, and in January, they relocated again, this time to Huntington Beach.
DeFalco is not sure if he will play high school volleyball. But with or without high school volleyball, the sport is ever present in DeFalco's life. He trains nearly every day, whether it's on the beach or indoors.
Jose Loiola, a former pro beach player in Brazil who now helps Aharoni coach the U.S. Under-19 program, raves about DeFalco.
"T.J. is very mature for his age," Loiola said. "He is very athletic and explosive and shows great skills. There are some players who are good at one thing but not another, but T.J. has the whole package."
May, 8, 2012
5/08/12
11:08
AM ET
By Walter Villa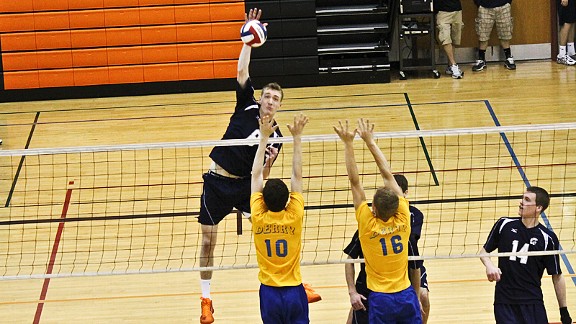 Courtesy of Lisa Stahl"As soon as I picked up a volleyball, I knew it was something I was going to love," the 6-foot-8 Mitch Stahl says.
In the fall of 2008, Ray Frazer, his twin brother, Tate, and their cousin Kyle Diller kept noticing this kid at their gym in Chambersburg, Pa.
It was easy for the three volleyball players to spot Mitch Stahl. He was a 6-foot-6 eighth-grader who would soon grow to his current height of 6-8.
But for a full year, Stahl, who played basketball, resisted their efforts to get him to try volleyball.
Finally, the twins and Diller made a breakthrough.
"My cousin just gave Mitch a volleyball and said, 'Here, hit this,' " Ray Frazer said. "We noticed right away that he had a natural swing for volleyball. It was like he was born for this."
Stahl has exceeded everyone's expectations, and then some. He recently became one of 19 players invited to compete for 12 spots on the U.S. Men's Volleyball Junior National Team.
Stahl, a middle blocker, and the 18 other players will travel to Colorado Springs, Colo., for a two-week training camp in August.
Stahl said he was at a study hall at Chambersburg High (Chambersburg, Pa.) when he found out the news. Since he was still at school, he was unable to call his mother and texted her instead.
"I was pretty excited," he said. "I saw my number (on the USA Volleyball website), and I got a big smile on my face.
"Now I can work on representing my country, which would be one of the biggest things I could ever accomplish."
He's unique
What's most stunning about the invitation extended to Stahl is that he only started playing competitive volleyball a little over two years ago -- February of 2010 to be exact.
Not only that, but of the 19 players invited to the national team training, 14 are already in college and four are high school seniors. Stahl is the only junior.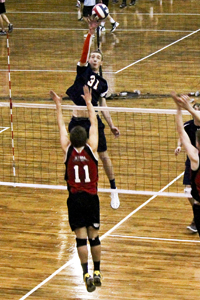 Courtesy of Lisa StahlMitch Stahl is the only junior who made the U.S. men's volleyball junior national training team.
He's also unique geographically. He's the only Pennsylvania player on a team dominated by 10 California guys.
"My gut tells me Mitch has a really good shot at making the final roster," said Terry Ranck, who is Stahl's coach at Yorktowne Volleyball Club in York, Pa. "I looked at the roster and saw a total of five middles who will be competing for three, or possibly four, spots."
If Stahl, 17, makes the final roster, he will be part of the U.S. team that will compete in the NORCECA Men's Under-21 Continental Championships Aug. 27-Sept. 1 in Colorado Springs. The top two teams there will qualify for the 2013 FIVB Men's Junior World Championship.
Frazer, a senior who will play for St. Francis (Pa.) next season, said he will be following Stahl's development.
"I'm really proud of him," Frazer said. "It's pretty awesome to (have taught) someone volleyball and see him make the junior national (training) team."
Frazer was referring to those early days of Stahl's volleyball development. Before he went out for the team, Stahl practiced at a pair of church gyms with the Frazers and another family.
In February of 2010, when the high school season began, Stahl became a varsity starter as a freshman for Chambersburg coach Kirk Crouse.
By June of 2010, Stahl was a starter on the Yorktowne club team that finished in 11
th
place at the Junior Olympics.
"He was extremely athletic for someone so young, especially at his size," Crouse said. "He is also very intense and hustles.
"A lot of big kids are content to just hit the ball and relax. But Mitch strives to play 100 percent. He's interested in all facets of the game, from setting to hitting to back row."
Recruiting gem
Stahl, who can touch 11 feet, 9 inches, is considering college offers from Penn State, Ohio State, UCLA, Pepperdine, George Mason and Loyola-Chicago.
The college he chooses, he said, will be the one that can offer him a great education, has a standout volleyball program and a coach he feels will be supportive of him throughout his career.
Stahl comes from a tall and athletic family. His mother, Lisa, who is 6-feet, played basketball at New Mexico State and said she would have played volleyball if they had let her compete in a second sport.
Stahl's father and Lisa's husband, Tony, is 6-5. He turned down a chance to play basketball at Penn State, Stahl said, because he wanted to start an automotive body-shop business.
Stahl, who expects to pick a school by July, has a 4.01 GPA and is interested in studying architecture, engineering or computer science.
His immediate plan, though, is to lead Chambersburg (11-1) to a deep playoff run. He still plays basketball -- he averaged 10 points and five rebounds as a junior -- but he has made it clear that his priority is volleyball.
"As soon as I picked up a volleyball, I knew it was something I was going to love," Stahl said. "I'm a passionate guy, and I love the fact that volleyball is intense from the first serve all the way through. I love it."