High-SchoolVolleyball:

USC volleyball
By Cosy Burnett
Cosy Burnett is a top 2013 volleyball recruit from Rancho Santa Fe, Calif. She plays outside hitter and opposite for La Costa Canyon (Carlsbad, Calif.) and Coast Volleyball Club in San Diego. She has competed in the California State Finals and at Nationals for the past five years. She recently committed to play for BYU. In the latest installment of her blog, she runs down the benefits of attending college camps.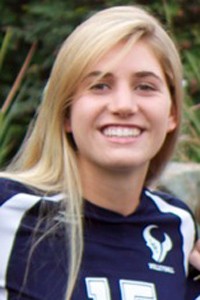 Cosy Burnett
Going to college volleyball camps is an amazing experience. It's a great way to get noticed by coaches, get a feel for the school and meet some great new volleyball-loving friends. You will play about eight hours of volleyball per day, so come prepared to work hard and be sore. There are players of all different levels, so try not to compare yourself to others. Just focus on your own game.
Meet the head coaches

Make sure you introduce yourself to the head coach at the beginning of camp if you want them watching you. You can get a really good feel for the coach at camp. I like to watch how coaches treat their players, their recruits and the little kids. Watching the coach at camp may help you decide whether the program is a good fit for you.
Wear a bright headband or something else to stand out in the crowd. It's also a good idea to show your volleyball experience with your apparel, so wear you club shirt or your Junior Nationals or AAU shirt to show the coaches what kind of volleyball you play.
They are looking for your talent and athleticism, so don't be afraid to show them. If you can put balls away, then let it rip! If you have some sweet setting hands, then lay out the sugar! If you are a digging phenomenon, then be loud and aggressive and pas it up! Also, coaches like to see what hitters can do with bad sets. They want to see how you handle yourself and your different shot ranges. Hitters, be prepared for this because often college camps will have a separate week for setters and, like I was one year, you may be stuck with a middle blocker setting the balls.
I talked to a couple top volleyball college coaches who run big camps every summer. Here is their advice on how to stand out from the hundreds of other girls at camp:
John Cook, head coach, University of Nebraska:
Work hard, look coaches in the eye, be coachable and make adjustments.Talk and be a great teammate.
Tim Nollan, associate head coach, USC:
There are three things to help you stand out to college coaches at camps. First, have a positive attitude. It may sound simple, but a positive attitude toward yourself and others is a trait coaches look for. Second, effort. Try the techniques the coaches are asking you to perform, even if they take you out of your comfort zone. Coaches are always looking for players who are trying to learn more about the game. Finally, enthusiasm. You have to provide a spark for your court. Encourage others and drive your court to be better. It's a trait every coach loves.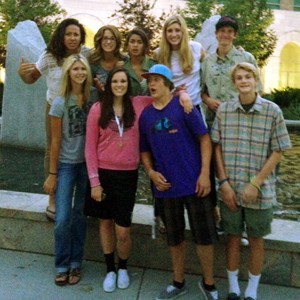 Courtesy of the Burnett familyCosy Burnett poses with friends at the BYU sports camp dance.
Check out the school

You get to stay in the dorms, eat the dorm food and explore the campus. You'll be there during summer, when it's quiet, but you can still get a good feel for what the school is about.
Make lifelong friends

You will be surrounded by tons of other girls who love the same sport you do. Take advantage of that and make some great friends. Room with someone random. Pepper with people you don't know and introduce yourself to everyone. Sit next to new people during lunch. I love going to national tournaments and seeing or playing against girls I met at camps.
Read the previous installment of Cosy's blog – on her thoughts on nationals – here.
May, 3, 2012
5/03/12
6:55
PM ET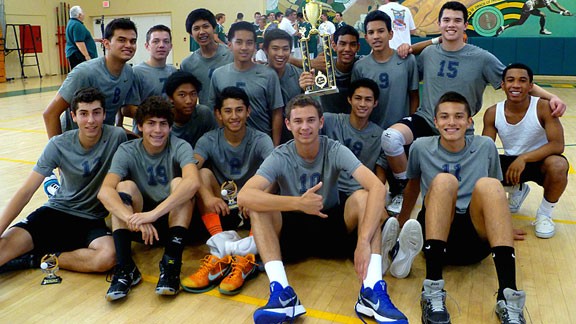 Kirstin Olsen/ESPNHSOtay Ranch knocked off No. 1 Loyola at the Redondo Varsity Classic and moves up to No. 6 in this week's FAB 50.
By Mark Tennis and Kirstin Olsen
The Redondo Varsity Classic offered an opportunity for some major upsets last weekend with nine POWERADE FAB 50 teams participating from San Diego to the San Fernando Valley.
There were upsets, including one of the biggest of the season, when No. 1 Loyola (Los Angeles) was toppled in the semifinals by Otay Ranch (San Diego). The event was won by Mira Costa of Manhattan Beach.
Mira Costa, with USC commit Chris Orenic playing for the first time this season after rehabbing an injury, avenged an earlier loss to Westview (San Diego) in the semifinals and then defeated Otay Ranch 25-21, 25-21 in the final. Senior setter and George Mason commit Jackson Carr had 28 assists in the championship match.
Due to the tourney title, Mira Costa inched up from No. 4 to No. 3 in this week's rankings. While the team did lose to former No. 3 Esperanza (Anaheim) earlier in the season, that was prior to Orenic's return.
The more difficult decision was whether to keep Loyola at No. 1 or move up No. 2 Wheaten Warrenville South. Since Loyola still has a win over Mira Costa and could avenge its only loss later in the Southern California regional playoffs, the Cubs stayed in the top spot.
Loyola also will have to deal not only with Mira Costa and Esperanza in the CIF Southern Section Division I playoffs, but other top-ranked squads as well. Its strength of schedule would still trump Wheaton Warrenville South if both teams win out, but with one more loss for Loyola, an unbeaten Wheaton Warrenville South would get the edge.
Click here for the complete Week 7 rankings.
October, 4, 2011
10/04/11
9:49
AM ET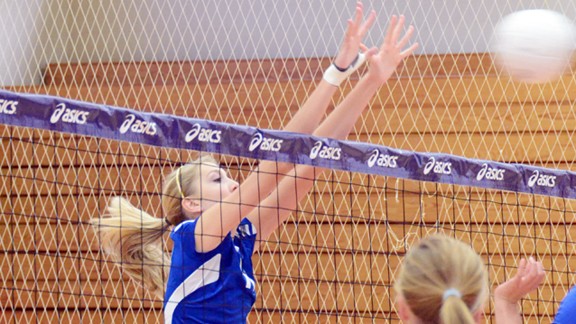 David Villegas/ESPNHSCatholic Memorial (Waukesha, Wis.) took 10th place at the 2011 Asics Challenge and is gearing up for a run at its third straight state title.
By Walter Villa
Over the past 20 years, coach Ted Schulte has built a volleyball powerhouse in Wisconsin.
Catholic Memorial (Waukesha, Wis.) has won five state titles during that span, including the two most recent championships.
His teams have also played in Chicago's prestigious
Asics Challenge
every year since 1993, finishing a program-best sixth last season and a respectable 10
th
this past weekend.
Now that they are back home, it's just about time for the Crusaders (30-5) to make their stretch run. The state playoffs begin Oct. 18.
"I think we are a lot better team now than we were going in to Chicago," Schulte said.
The Crusaders' only losses at Asics were to a pair of teams that are in the
POWERADE FAB 50 national rankings
– No. 37 Sacred Heart (Louisville, Ky.) and No. 41 Huntley (Huntley, Ill.).
But while Schulte was proud of his team's performance in Chicago, he is at times frustrated by his players.
"We're a psychotic team," Schulte joked before the Asics Challenge. "We're good, but we're wildly inconsistent. At times, we just don't seem to have the inner drive. We don't have the intense practices we should be having. Sometimes there are petty jealousies. … But hope springs eternal."
Perhaps Schulte is spoiled by last season's team, which went 46-4 and set a high standard for the current group to follow.
Four starters graduated from last season's team, leaving a bit of a leadership void. Two weeks ago, in the middle of a poor practice, the Crusaders called a players-only meeting to see if they could sort out their inconsistent play.
The new leaders of the team are senior co-captains Sara Connell and Greta Davis. Connell, a 5-7setter, has committed to Seton Hall. Davis, a 5-11middle hitter and an aspiring doctor, has chosen to focus on academics in college and won't play volleyball. She has applied to Harvard.
Other Crusaders standouts include Amanda Hansen, a 6-3 senior middle hitter who has committed to Seton Hall; Kaitlyn Hastings, a 5-7 senior outside hitter who has committed to South Dakota; Lindsey Casper, a 5-4 junior who is a skilled libero; and Aly Dawson, a 5-11 junior outside hitter who has committed to Marquette.
Given that there are at least four future college players on the court for the Crusaders, there is no doubt the team has the talent to win state again.
Hooray for Houston
The Houston area is blessed with loads of volleyball talent. College Park, for example, has four players who have already committed to colleges, and Cypress Woods has three.
The College Park recruits are Katie Mitchell (Ohio State); Alex Thorson (Tulane); Michelle Griffith (Sam Houston); and Taylor Erwin (Emory).
Cypress Woods' recruits include Chloe Collins (Texas); Victoria Arenas (Texas A&M); and Sarah Nielsen (Mississippi State).
Cypress Falls has a pair of college commitments in Chanell Clark-Bibbs (Georgia Tech) and Alexis Austin (Colorado).
Clear Lake can match Cypress Falls' output with Kiara Wright (Southern Cal) and Haley Satterwhite (Texas A&M-Corpus Christi).
Some of the other big commitments include Magnolia's Kylie Randall (Ohio State); Tomball's Roxanne McVey (Mississippi State); Foster's Tiana Dockery (Kansas); and Friendswood's Jill Bergeson (Pepperdine).