High-SchoolVolleyball:

Whitney Kostal
November, 13, 2011
11/13/11
7:40
AM ET
By Walter Villa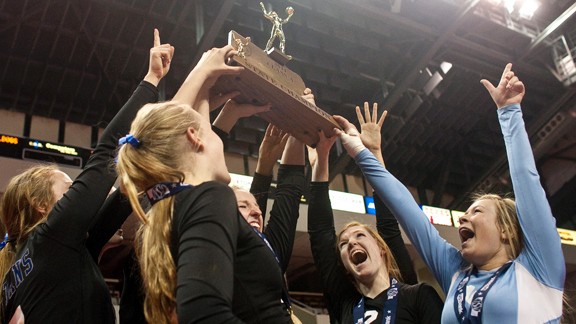 Patrick BreenNo. 1 Papillion-La Vista South won its second consecutive Nebraska state title and completed a perfect season with a straight-set win over Burke on Saturday.
READ MORE:
Titans survive semi
|
Volleyball thrives in Heartland
|
Tale of the tape: 1 vs. 2
GRAND ISLAND, Neb. –- Some champions are hated by their opponents, especially after they've won a big playoff game, dashing their rivals' dreams.
Nebraska's Class A champions, however, seem to be admired.
There was evidence of that all weekend at the Heartland Events Center, where Papillion-La Vista South (Papillion, Neb.) dominated the girls' volleyball state finals.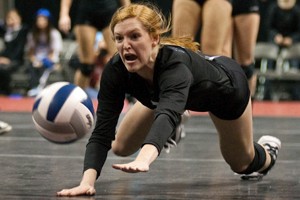 Patrick BreenTitans' senior setter Whitney Kostal dives for a ball Saturday against Burke.
On Saturday, the Titans never trailed and defeated Burke (Omaha, Neb.), 25-15, 25-11, 25-17, to win their second straight state title. The Titans also likely wrapped up their second consecutive year atop the POWERADE FAB 50 national rankings.
The Titans (41-0) have now won 82 consecutive matches and are approaching the state record of 115, set by Scotus (Columbus, Neb.) in 2004.
Outside hitter Amber Rolfzen referenced the record when she was asked about a three-peat in 2012.
"It's a goal," she said of winning a third straight state. "But we also want to break the consecutive win streak."
Rick Hughes, who coaches Burke (32-7), wouldn't be surprised if the Titans kept on winning.
"I think they could beat a lot of junior colleges," Hughes said.
The Titans began their Grand Island victory tour on Thursday with an easy win over Millard West (Omaha, Neb.). The Millard West student section spent the entire match chanting creative cheers in a futile attempt to distract or disrupt the Titans.
Finally, with just a couple of points left in the match, the Millard West fans did something rather remarkable and started chanting:
"We respect you! We respect you!"
On Friday, the Titans defeated Marian (Omaha, Neb.), 28-26, 25-19, 25-18, in their most difficult match of the weekend.
Marian is the only team in the state to have taken a set from the Titans this season. Marian is also ranked 42nd in the FAB 50 poll. And had it not been for the Titans, Marian likely would have won three straight state titles instead of just the one recent championship they earned in 2009.
It would be easy to understand if Marian were frustrated by the Titans' mere existence, blocking their path to glory. But, publicly at least, no Marian player wept, appeared angry or expressed anything other than what a thrill it was to compete against the Titans.
Perhaps that's just good Nebraska sportsmanship at play. But one senses that if the Titans were an arrogant bunch, their vanquished opponents would react differently.
Marian coach Rochelle Rohlfs said as much and added that it would have taken a special team to beat the Titans.
"There is not one spot on the floor you can go after for a whole match," she said. "You have to constantly change your defense because they are athletic enough to make the adjustments."
Rohlfs was asked for perspective on how the Titans would rank among other great champions in Nebraska history.
"Position by position," Rohlfs said, "the only team I can think of that could have matched up with them was Papillion-La Vista (Papillion, Neb.), back when they had Lindsey Hunter."
Rohlfs was referring to the teams that won Class A state titles in 2000 and 2001 and was led by Hunter, who went on to star at the University of Missouri and played for the U.S. national team. That Papillion-La Vista team had five Division I recruits and went 78-5 in a two-year span.
The Titans, meanwhile, have three Division I recruits, a number that could grow. One of those recruits is Lindsey Hunter's younger sister, Kelly, a junior setter who has committed to Nebraska. Kelly and Lindsey's mother, the former Lori Melcher, was a setter at Nebraska from 1977 to 1980.
Kelly Hunter's two junior classmates, twins Kadie and Amber Rolfzen, committed to Nebraska two months before they started their high school careers.
That trio – along with fellow juniors Katelyn Kurtz, Alyssa Gibbs and Olivia Schonewise -- will return next season and should be heavily favored to win a third straight state title.
Titans coach Gwen Egbert will have to replace valuable seniors such as setter Whitney Kostal, libero Lauren Poulicek, outside hitter Megan Stroyek and middle hitter Rachel Nelson.
"Our seniors did a great job," Egbert said. "Now our juniors will have one more year to get better."
The Titans figure to continue their dynasty as long as they can find a libero as good as Poulicek.
The rest of the pieces are in place, including a setter who serves as a vocal on-court leader (Hunter), a veteran coach (Egbert) and role players galore.
But what makes the Titans truly special are the Rolfzen twins, who finish points with regularity and – despite their height -- are athletic enough to combine for more than 600 digs this season.
The twins were the ESPNHS Co-Sophomores of the Year in 2010. This year, Kadie's numbers have been clearly better, evidenced by the fact that she led the team in kills, digs and aces.
Kadie Rolfzen is also fast enough to have finished fourth in the state last year in the 200-meter dash and skilled enough to lead her school's basketball team in assists and blocked shots.
Poulicek, however, said it's impossible for her to say which twin is best.
"They're both great," she said. "It was always good to know we could count on them for anything."
Titans fans can count on their team being outstanding again next year. The Titans' celebration on Saturday was a bit muted, but that's probably because the core of the team – the Rolfzens and Hunter – will return next season.
"Last year, we were all on the floor – a huge dog pile – and there were more tears," Kadie Rolfzen said. "This year, we were excited … but not as excited."
If they get here again in 2012, it will be a different story, Hunter said.
"Definitely," she said. "We want that three-peat."
Pius X wins Class B crown
No. 41 Pius X (Lincoln, Neb.) won the Class B state title Saturday night, defeating Northwest (Grand Island, Neb.), 25-18, 25-14, 25-17.
The Bolts won their seventh state title and their first since 2008. They were led by four Division I recruits: 6-4 middle Lauren Smith (Creighton); 5-7 libero Lea Sack (Bradley); 6-0 outside Scarlett Howerter (Drake); and 6-2 middle Cassie Effken (Drake).
Pius X's three losses this season were to No. 1 Papio South, No. 42 Marian and Northwest. But the Bolts won the season series 2-1 against Marian and 2-1 over Northwest.
The Bolts beat Elkhorn South (Elkhorn, Neb.) in Friday's semifinals. Elkhorn South was led by Nebraska recruit Lauren Sieckmann, who had a game-high 18 kills.
November, 11, 2011
11/11/11
3:55
PM ET
By Walter Villa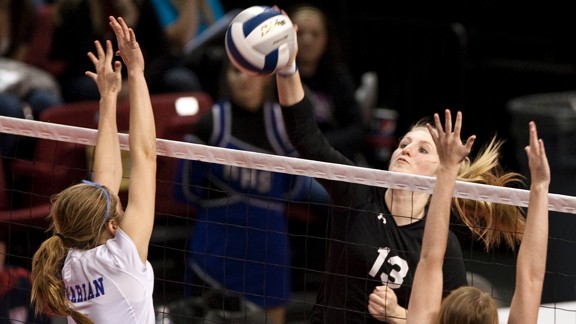 Patrick BreenRachel Nelson and No. 1 Papillion-La Vista South are one win away from completing their second straight perfect season.
GRAND ISLAND, Neb. –- When you've won 81 matches in a row and are No. 1 in the POWERADE FAB 50 national rankings for the second consecutive year, there's not much left to prove.
But that's not the feeling at Papillion-La Vista South (Papillion, Neb.).
Playing with a chip on their shoulders, the Titans beat No. 42 Marian (Omaha, Neb.) 28-26, 25-19, 25-18 and advanced to Saturday's Class A state final against Burke (Omaha, Neb.).
The Titans (40-0) had dropped two sets to Marian earlier this season.
"Beating Marian was very emotional for us," said Titans setter Kelly Hunter, clutching some Dum Dums candy given to her by her uncle. "A lot of our players weren't happy with the way we played Marian last time."
The Titans nearly had some more things to dislike on Friday. They fell behind 3-0 in the first set before going on an 11-2 run. Marian battled back to tie the score at 17-17 before the Titans took a seemingly secure 23-18 lead.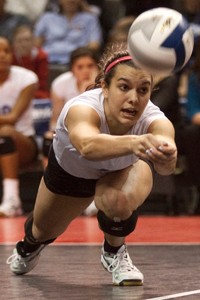 Patrick BreenMolly Pettit and Marian took two sets from No. 1 Papillion-La Vista South earlier this season.
But Marian (33-9) wouldn't go down easy. It had set point at 24-23 and again at 26-25. A block by Kadie Rolfzen saved the Titans on the first set point, and twin sister Amber got the kill to keep the match alive on the second one.
"We were a little tight the first set," Titans coach Gwen Egbert said. "But we worked through it. Our kids were very motivated. We wanted to send a message."
Added Hunter: "The first set is always big because it can swing the momentum for the rest of the match."
Marian continued to battle in the second set. The score was tied 9-9 before the Titans pulled away.
The third set was the easiest for the Titans and was the only one in which they never trailed.
Marian coach Rochelle Rohlfs was upbeat after the loss because of her team's stellar effort, but she couldn't help but think the turning point came early.
"That would've been critical if we could have gotten that first set," she said. "It would have energized us, and I thought that was a big difference.
"But, otherwise, we fought. We had a hard time getting the ball to our middles, and they had a balanced attack."
For the Titans, Kadie Rolfzen had a game-high 17 kills, Amber Rolfzen led the team with 19 digs, and Whitney Kostal (20) and Hunter (18) led in assists.
For Marian, libero and Creighton recruit Katlynn Elman was impressive, digging a game-high 24 balls, many of them in spectacular fashion. Creighton recruit Ashley Jansen had a game-high 25 assists, and Lexi Elman – Katlynn's younger sister – led the team with 10 kills. Maggie Heim, an Ohio State recruit, added seven kills.
"Their libero," Egbert said, "was outstanding."
Elman said her assignment on Friday was huge.
"Oh my goodness, it's so much fun trying to dig (the twins), and I love competing against them," she said. "They usually find where our blockers leave that split. That's when I do my thing."
Elman said the twins' blistering spikes "sting a little bit" but she doesn't really feel the pain because she's caught up in the action.
She said the loss stung more, but she is consoled by her opinion of her team.
"There's no doubt we're the second best team in the state," she said. "No question."
A big reason why many neutral observes share that opinion is this: Marian is the only team in the state to take a set from the Titans.
In Saturday's final, the Titans will face a 32-6 Burke team they have swept in three matches this season. Egbert, though, didn't see a problem coming back strong for the title game.
"It's the state championship," she said. "If you can't get up for the state final, you've got a problem."