High-SchoolWashington-DC:

Friendship Collegiate
December, 1, 2011
12/01/11
11:57
AM ET
Friendship Collegiate running back Albert Reid was named Gatorade D.C. Football Player of the Year this morning.
Reid, a senior, tallied more than 1,700 rushing yards and reached pay dirt 17 times to help the Knights to a 9-1 mark this fall. The 5-foot-11, 195-pounder has pledged to play at West Virginia next season.
For a breakdown on Reid's award,
click here
.
October, 28, 2011
10/28/11
11:16
AM ET
Here's are three matchups to keep an eye on this weekend:

No. 8 Friendship Collegiate (7-1) at H.D. Woodson (5-3)
Three-time defending DCIAA champ H.D. Woodson looks to make a statement when it hosts one-loss Collegiate. Watch out for the defensive backs in this one. Woodson's Kenny Crawley is a game-changer at corner and has committed to Tennessee, while junior Jalen Tabor is a ballhawk in Collegiate's secondary and is coming off a three-TD effort last week.
Pick: Friendship Collegiate

No. 4 Westfield (8-0) at No. 2 Centreville (8-0)
You better arrive early if you want a seat for this marquee matchup between undefeated top five teams. Westfield has dominated the series in recent years, including a 35-14 drubbing at home last season. Centreville's calling card this fall has been its impenetrable defense, which has allowed a paltry 82 yards and has the star power to wreak havoc on the area's most-prolific attacks.
Pick: As much as I want to roll with Centreville, I'm going to heed the advice of ESPNHS Multimedia Editor and Virginia native Phil Murphy and picking Westfield in an upset.

Damascus (7-1) at Seneca Valley (7-1)
The Zach Bradshaw show rolls into Seneca Valley for a late-season tilt with the rival Screaming Eagles. The junior receiver has ignited a Hornets' attack that has scored 97 points in three contests since being held to three in a loss to Sherwood. RB James Jones-Williams (985 yards, nine TDs) and Seneca Valley would love to exact some revenge after last season's six-point loss at Damascus.
Pick: Damascus
October, 20, 2011
10/20/11
3:51
PM ET
We take a look at four of the weekend's top contests in this week's edition of Games of the Week.
Battlefield (6-2) at No. 9 Broad Run (6-1)
Battlefield rebounded from its loss to Osbourn by routing Freedom-South Riding, 35-0, last week. They will look to maintain momentum as they travel to Broad Run this week. The two-headed attack of Michael Tolliver and Andrew Smith has fueled Battlefield's rushing attack, while Ryan Swingle has made opposing DBs pay with nine TDs through the air. Broad Run has been in the top 10 discussion all season long and has won back-to-back games after losing to Stone Bridge. Senior QB Connor Jessop has three multiple TD games and passed for 246 yards and a pair of scores last week.
Pick
: Brad Run — The Spartans' vaunted passing attack could be the difference in this one.
No. 2 Centreville (7-0) at Chantilly (5-2)
These two Concorde District rivals will settle things on the field this weekend after splitting a pair of games last season. Centreville outlasted Chantilly in a double OT thriller last fall then fell to their rivals later in the playoffs. This year, Centreville has ridden its defense and high-octane offense to a No. 2 showing in the POWERADE Greater D.C., while Chantilly is reeling after consecutive losses to Westfield and Oakton.
Pick
: Centreville — This defense is equipped to slow down Chantilly's run-heavy attack.
North Point (6-1) at No. 7 Friendship Collegiate (6-1)
The Knights take a break from their out-of-state schedule to host a tough North Point team that has held opponents to 52 points this fall. Collegiate RB Albert Reid (WV recruit) is one of the area's toughest backs to bring down and has already topped the 1,200 yard mark this season.
Pick
: Collegiate — With Reid and Eddie Goldman, the Knights have too many weapons for North Point.
Seneca Valley (6-1) at Gaithersburg (4-3) — Saturday
Three straight losses has cast some concerns around Gaithersburg, while Seneca Valley is hot, outscoring its last two opponents, 80-0.
Pick
: Seneca Valley — They have been a consistent team this season and their offense is among the area's most prolific attacks.
October, 10, 2011
10/10/11
1:20
PM ET
Losses by
Friendship Collegiate
,
DeMatha
and
Chantilly
shook up the top 10 in this week's installment of the POWERADE Greater D.C Football Rankings. Good Counsel's 35-21 victory over the Stags knocked DeMatha out of the top 10. With the win, the Falcons soared to No. 6 in the POWERADE FAB 50. Collegiate fell for the first time to New Jersey Power Bergen Catholic and tumbled to No. 7, while
Westfield
's win over Chantilly propelled the Bulldogs to No. 4. New to the rankings is No. 10
Broad Run
, which will face a tough test against Osbourn Friday night.
Here's how the top three teams fared last week:
1. Good Counsel — defeated DeMatha., 35-21 (last week No. 1)
2. Centreville — defeated Robinson, 41-14 (last week No. 2)
3. Quince Orchard — defeated Whitman, 31-10 (last week No. 3)
Click here for the rest of the POWERADE Greater D.C. Football Rankings.
David Auguste is an associate editor for ESPNHS and ESPNHIGHSCHOOL.com. Follow him on Twitter @ESPNHSAuguste or email him at David.Auguste@espn.com.
September, 26, 2011
9/26/11
4:13
PM ET
The heavily anticipated
Broad Run
-
Stone Bridge
contest lived up to the hype as the Bulldogs came back from 21-points down to claim a thrilling 31-30 victory. The loss drops Broad Run from the top ten as we welcome a hot
Hylton
team to the mix at No. 6. The
E.J. Levenberry
-led squad is off to a 4-0 start and will have a tough assignment in 4-1
Gar-Field
this week.
Good Counsel
(No. 9 in the
POWERADE FAB 50
) and
Centreville
remain entrenched in the top two spots after decisive wins over the weekend.
Here's how the top three teams fared last week:
1. Good Counel — defeated Gonzaga, 49-7 (last week No. 1)
2. Centerville — defeated Herndon, 41-14 (last week No. 2)
3. Quince Orchard — defeated Northwest, 42-20 (last week No. 3)
Click here for the rest of the
POWERADE Greater D.C. Football Rankings
.
September, 19, 2011
9/19/11
5:21
PM ET
There was a bit of a shakeup in the bottom five and one significant move in the top five in the Week 3 installment of the POWERADE Greater D.C. Football Rankings.
Good Counsel and Centreville both won easily and retain the top two spots. And while Stone Bridge also won handily, Quince Orchard and Friendship Collegiate have strung together a more impressive total body of work, thereby bumping the Bulldogs down to No. 5.
New to the mix is Maryland power Eleanor Roosevelt (No. 6) and Virginia's Chantilly (No. 8) as each team has registered big wins against previously ranked teams in the past two weeks. Look out for bubble teams Arundel, River Hill and Urbana as candidates to infiltrate the top 10 over the next few weeks.
Here is how the top three teams fared last week:
Good Counsel — defeated Valley Forge, 35-3 (last week No. 1)
Centreville — defeated Mount Vernon, 56-13 (last week No. 2)
Quince Orchard — defeated Paint Branch, 24-8 (last week No. 5)
Click here for the rest of the
POWERADE Greater D.C. Football Rankings
.
September, 13, 2011
9/13/11
5:12
PM ET
Two of the area's top teams took a stumble as Stone Bridge and DeMatha suffered Week 2 defeats. The losses allowed ESPNHS All-State pick Ken Ekanem and Centreville to leapfrog into the No. 2 spot. Buoyed by a defense which has yielded 18 points in its two wins over Lake Braddock and West Potomac, Centreville appears to have some staying power in the top 10.
In the biggest game of the region, Good Counsel staved off a talented Gilman squad to secure its spot as Maryland's top team.
Here's how the top three teams fared last week:
1. Good Counsel — defeated Gilman, 26-21 (last week No. 1)
2. Centreville — defeated West Potomac, 49-10 (last week No. 5)
3. Stone Bridge — loss to Chantilly, 22-14 (last week No. 2)
Click here for the rest of the
POWERADE Greater D.C. Football Rankings
.
August, 23, 2011
8/23/11
10:09
AM ET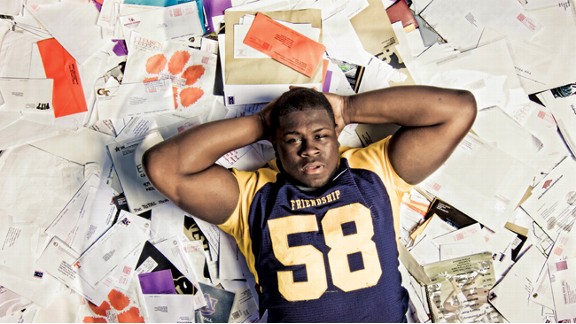 Ryan Gibson/ESPNHSEddie Goldman is sitting pretty with a slew of offers from top collegiate programs.
Eddie Goldman is in high demand.
Don't believe us; take a look at the photo above. That's not school work behind the Friendship Collegiate star, those are recruitment letters from college football's royalty. And who wouldn't want a player the caliber of Goldman. Rated the nation's No. 2 player in the
ESPNU 150
, the 6-foot-3, 315-pound senior defensive lineman is impossible to block and has more than 50 BCS offers.
But you don't have to be a recruiter to get to know Eddie.
Goldman gave ESPNHS senior writer Jon Mahoney some one-on-one time for our September cover feature, and we're happy to report Jon came back in one piece and with this
great feature
on Greater D.C.'s top recruit.