High-SchoolWashington-DC:

Gonzaga
December, 14, 2011
12/14/11
5:59
PM ET

Monday

|

Tuesday

|

Wednesday

| Thursday | Friday

After games ending Wednesday, Dec. 13

It's early but the top three teams have held on to their spots with a combined record of 14-0. Losses by Episcopal and Magruder dropped them down a couple spots, while Landon and Sidwell Friends completely fell out of the rankings. We welcome Bishop O'Connell and Calvin Coolidge to the rankings this week. Candidates to move into next week's top 10 include Bullis, National Christian and Springbrook.

1. Montrose Christian (5-0)

2. DeMatha (4-0)

3. Gonzaga (5-0)

Click here for the rest of the POWERADE Washington D.C. Weekly Rankings.
December, 8, 2011
12/08/11
4:11
PM ET
The first regular-season POWERADE FAB 50 hoops rankings dropped today, and Greater D.C. is well represented with three squads ranked in the top 20.
Montrose Christian claimed a pair of victories to remain the area's top team at No. 4 overall. The Mustangs have a challenging slate of games coming up, with a matchup against No. 11 Marcus (Flower Mound, Texas) looming on Dec. 15. DeMatha (2-0) moves up three spots from its preseason ranking to No. 10, while Gonzaga (2-0) creeps up a spot to No. 18.
Click here for the entire
FAB 50 Rankings
.
Click here for the
East Region rankings
.
November, 22, 2011
11/22/11
10:45
AM ET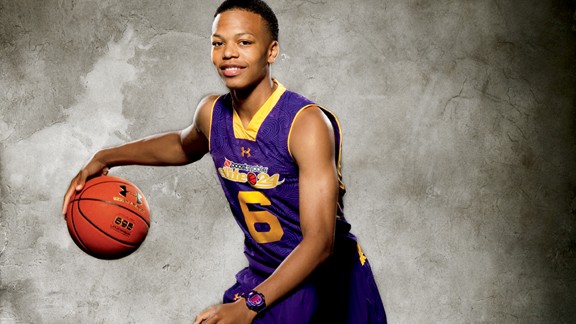 Kelly Kline/ESPNHSJunior point guard Nate Britt II collected 13.5 points and 5.2 assists a game last season for Gonzaga.
This story originally appeared in the Holiday issue of ESPNHS magazine's Greater D.C. edition.
WCAC basketball isn't for the faint of heart.
A breeding ground for some of the nation's top talent, it can chew you up and spit you out faster than it takes John Wall to run the break.
So any player who decides to lace 'em up in the conference better be ready. If they're not, it ain't going to be pretty.
"It's the best conference in high school basketball," says Gonzaga coach Steve Turner. "Every game has a championship atmosphere. You've got to bring your 'A' game or somebody is going to give it to you."
Nate Britt II loves everything about the WCAC — the competition, the skill and the intensity. And as a kid growing up in Upper Marlboro, he got to see it all firsthand while going to games with his dad.
He looked up to conference standouts like Ian Hummer, Max Kenyi, Tyler Thornton and Cedrick Lindsay at Gonzaga, Austin Freeman and Nigel Munson at DeMatha, Jason Clark and Kendall Marshall at Bishop O'Connell and Chris Wright at St. John's. He and his father also went to the girls' games, where Britt became a big fan of St. John's superstar Marissa Coleman.
October, 19, 2011
10/19/11
10:52
AM ET
Montrose Christian
already fielded a loaded roster with the return of seniors
Justin Anderson
and
Kevin Larsen
. The addition of former Missouri standout
Ishmail Wainright
catapults last year's NHSI winners into the national championship discussion. Stu Vetter's troops open the season at No. 4 in the
POWERADE FAB 50
and tops in Greater D.C. play.
Joining them in the national rankings are WCAC heavyweights
DeMatha
(No. 13) and
Gonzaga
(No. 19). Each team boasts a playmaking point guard with DeMatha featuring Pitt commit
James Robinson
and Gonzaga returning reigning Gatorade D.C. Player of the Year
Nate Britt II
.
Paul VI
is the top team in Virginia, while 4A champ
North Point
leads the way for Maryland Public Schools.
The top three teams at the start of the season look like this:
1. Montrose Christian
2. DeMatha
3. Gonzaga
Here's a closer look at the area's
top hoop teams
.
September, 27, 2011
9/27/11
4:06
PM ET
For the October issue of the ESPNHS Greater D.C. edition, we teamed up with our resident soccer expert Sheldon Shealer to identify the top 22 soccer players in the area. The mags hit schools this week but if you haven't received your copy yet, here's a look at the Starting 11 and an additional 11 elite players starring on the pitch this fall and for the upcoming spring season. To get your fill of high school soccer info, check out the
ESPNHS soccer homepage.
The Starting 11
[F] Charles Chapin, Magruder, Senior, Potomac

Key scorer for two-time Class 4A champs
[F] Ntokozo Tshuma, Episcopal, Senior, Bethesda SC

Reigning VISAA Player of the Year
[MF] Damilola Adeola, Bowie, Senior, D.C. United

Gazette All-Star tallied 18 points in 2010
September, 16, 2011
9/16/11
5:05
PM ET
Game of the Week: Gaithersburg (2-0) at Sherwood (1-1)
We asked Urbana senior DL Colton Kmetz to pick this week's big matchup, and he settled on Gaithersburg and Sherwood. Here's what he had to say about this Montgomery County battle:

"They are two powerful Class 4A teams. We played Gaithersburg last year. They're a spread team that likes to throw the ball around. They have a new QB, but he's just as good as the guy last year. If Gaithersburg gets that passing game going, they will be tough to stop. Sherwood is always a powerful, hard-hitting team. They always have something to bring to the table. They're not just going to hand a win to Gaithersburg."

Colton's pick: Sherwood, 21-14. The fans behind Sherwood back will be the determining factor.
David's Pick (1-1): Both offenses have struggled to get on track, so I predict a low-scoring affair. Give me Sherwood improving to 2-1 with a 14-7 win.
Note: Colton will be a regular on this blog, providing some analysis of local teams and picking the game of the week against me (yeah, good luck).

H.D. Woodson (1-1) at Massillon Washington (2-1)
The Warriors hope to eliminate the self-inflicted miscues that have plagued the squad early on this fall. The Warriors have been flagged for 227 yards worth of penalties in two games. The defense has playmakers in by seniors Kenneth Crawley and De'Jon Wilson, and the offense is formidable behind RB Ivell Washington. The Tigers hail from Ohio and have been a strong passing team so far this season. They will test Woodson through the air using the trio of Montel Harrison, Ernie Baez and Justin Blake on the receiving end of passes from Kyle Kempt. These teams have met three times with Massillon winning each of the previous contests.

Stone Bridge (1-1) and South Lakes (0-2)
The winless Seahawks look to send Stone Bridge to its second consecutive defeat. Stone Bridge offense has been stuck in neutral as the Bulldogs have managed only two touchdowns through their first two games. Junior QB Ryan Burns and main target Stan Johnson (151 yards last weekend) will be counted on to get this offense on track against a defense that has allowed 85 points in two games.

Georgetown Prep (1-1) at Gonzaga (2-1)
These two WCAC squads will face off Saturday in the Jesuit Gridiron Classic. Look for Prep to try and punish the Eagles by running Tene Samuto (four TDs) and Dominic Bryan behind a line anchored by Michael Boland. Gonzaga suffered its first loss last week but hope to rebound behind the passing of Connor Ennis (328 yards, three scores).
September, 14, 2011
9/14/11
1:08
PM ET
A fast start on the pitch has elevated the
DeMatha
soccer team to No. 3 in the POWERADE FAB 50 ESPNHS Team Rankings. The Stags, who began the year at No. 4, have started the year with four consecutive wins, including topping Maret and Gonzaga. DeMatha has outscored its foes 12-2 and extended its win streak to 28 games.
Junior Chris Odoi netted the decisive goal with less than five minutes to play to propel the Stags to victory against WCAC rival Gonzaga.
"It's between Gonzaga and us for the No. 1 spot in the area so we had to come out here and win," Odoi told the
Washington Post
after the contest.
With Odoi, junior Romilio Hernandez and ESPNHS Starting 11 selection Jacori Hayes, the Stags appear to have the firepower to remain near the top of the rankings. An Oct. 1 tilt with No. 1
Sacramento Jesuit
could determine whether DeMatha is national-champion material.
For the rest of the teams ranked in the POWERADE FAB 50,
click here
.
September, 13, 2011
9/13/11
5:12
PM ET
Two of the area's top teams took a stumble as Stone Bridge and DeMatha suffered Week 2 defeats. The losses allowed ESPNHS All-State pick Ken Ekanem and Centreville to leapfrog into the No. 2 spot. Buoyed by a defense which has yielded 18 points in its two wins over Lake Braddock and West Potomac, Centreville appears to have some staying power in the top 10.
In the biggest game of the region, Good Counsel staved off a talented Gilman squad to secure its spot as Maryland's top team.
Here's how the top three teams fared last week:
1. Good Counsel — defeated Gilman, 26-21 (last week No. 1)
2. Centreville — defeated West Potomac, 49-10 (last week No. 5)
3. Stone Bridge — loss to Chantilly, 22-14 (last week No. 2)
Click here for the rest of the
POWERADE Greater D.C. Football Rankings
.
August, 25, 2011
8/25/11
9:43
AM ET
HARBOR CITY, Calif. -- Greater D.C. hoop stars
Justin Anderson
and
Nate Britt
showed why they are among the nation's elite during the Boost Mobile Elite 24 midnight run last night. The duo was among the contingent of high school players that matched up against NBA stars Kemba Walker, Tyreke Evans,
Derrick Williams
, Brandon Jennings, Kenneth Faried and Jordan Hamilton. While the NBA stars dominated most of the contests, Britt and Anderson each had their moments in the spotlight.
Britt was locked up one-on-one with Jennings on several occasions, but did not relent in defending the Milwaukee point guard closely. Britt, a junior at Gonzaga and the reigning Gatorade Player of the Year in D.C., helped force a turnover on a Jennings' drive down the stretch then converted a game-winning pull-up jumper moments later. The victory was disputed by the NBA team, which argued the contest had ended earlier after an and-one, but many of the observers agreed the prep team took the W.
Earlier in the day, Anderson proclaimed to be one of the nation's premier dunkers. He validated that statement with his own impromptu dunk show in his last game of the day. The bouncy Montrose Christian senior threw down several flushes, including a vicious one-handed slam that earned praise from the NBA players. Anderson was also a bulldog on defense, frustrating Jennings at times and effectively playing the passing lanes.
"Defense is what I do," says Anderson, who was champing at the bit for an invitation for Friday's dunk contest. "It doesn't matter who you are, I'm going to pull my handcuffs out and lock you up. That's the most important thing in the game. If you can defend you can go pretty far."