High-SchoolWashington:

ESPNHS Magazine
April, 6, 2012
4/06/12
1:33
PM ET
This story originally appeared in the April 2012 issue of ESPNHS Washington.
Beamer entered the spring poised to finally capitalize on its abundance of talent on the pitch. Despite graduating three D-I prospects, the Titans envisioned another stacked lineup headlined by junior MF Ike Crook.
But just weeks before the start of play, head coach Brett Lucas found out he would be without the services of several of his top stars due to restrictions from their Academy teams. Beamer, which opened the year ranked No. 8 in the POWERADE FAB 50, is without studs Austin Sweeney, Marcus Tinsley, Keplar House and Crook.
"Every team lost their star players," says Lucas. "It will be tough, but our starting guys are pretty solid. I still think we could make a run."
It will be virtually impossible to replace the talents of the missing players, who accounted for 21 goals in 2011, but Lucas is hoping to cultivate a more blue-collar mentality, putting an emphasis on hustling throughout games in an effort to maximize the talent on the roster.
Colorado-bound senior
Keaton
House
is skilled in the middle and could be even better after improving his speed and adding to his skill set in the offseason. At the back, the senior tandem of
Aaron Nordman
and keeper
Deshar House
can suffocate the state's premier offensive threats, while sophomore impact transfers
Jong Paek
and
Aung Ta
will be counted on to ignite the attack.
Freshman midfielder
Hassani Dotson
has Academy-level skills, and his rapid progression will be crucial to the team's postseason prospects.
While the Titans' current cast might not garner the same recognition as last year's crew, the lesser-known players could also make it difficult for opponents to game plan for Beamer.
"People aren't thinking we're going to do much because we lost the Academy players," says Lucas. "I think it will be their downfall to overlook us."
David Auguste covers high school sports for ESPNHS. Be sure to follow him on Twitter @ESPNHS_Auguste or email him at David.Auguste@espn.com.
March, 2, 2012
3/02/12
11:00
AM ET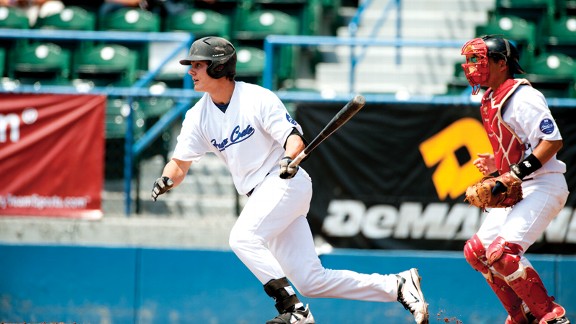 Dustin Snipes/ESPNHSUnion senior Clint Coulter is among the elite baseball prospects in the Northwest.
This story originally appeared in the March issue of ESPNHS Washington.

Clint Coulter
is not planning on making an appearance at this year's
Union
senior prom.
It's not that he's struggling to find a date or worried about what dance move to bust out if the DJ starts bumping Rihanna's "We Found Love." The Arizona State-bound catcher has a plan in place that often precludes him from attending such social events.
"Baseball is what defines me," says Coulter. "I didn't go to my junior prom, either. I'll probably be hitting balls in my garage during the prom."
That supreme focus has made Coulter a likely early-round pick in June's MLB draft. It was also the driving force behind Coulter putting a once-promising wrestling career on the back burner.
Three years ago, Coulter became Washington's first freshman to place in the 189-pound weight class at state. He followed up that effort by copping a title at the 2010 Class 4A meet. Unfortunately, his gold-medal run coincided with his rise in baseball status. Recruitment letters from college baseball powerhouses stuffed the family's mailbox and talk about a pro baseball career began to really heat up, putting Coulter in a tough spot.
"It was definitely a tough decision," he says. "I never wanted to pursue wrestling, though, because there isn't really pro wrestling unless you go the WWE path."
With his singlet tucked away in the back of his closet, Coulter moved full steam ahead with his budding baseball career. He produced at an elite level last spring, hitting a blistering .500 with five homers to land a spot on the Under Armour All-America team. His success reaffirms his decision to abandon other pursuits.
"I guess my life is not that interesting," jokes Coulter. "People say I'm missing out, but it's all good. That stuff doesn't really [compare] to being a professional athlete, and that's what I'm going to be."
November, 30, 2011
11/30/11
1:22
PM ET
This story originally appeared in the Holiday issue of ESPNHS magazine's Washington edition.
Sure, it's 2011. But at Seattle Prep, it's starting to feel like '06 again.
That year, the Panthers rode the talents of low-post stud Spencer Hawes and a bevy of perimeter scorers to claim the Class 4A trophy.
While no one will confuse current power forward
Mitch Brewe
with Hawes, defenders haven't been able to contain the senior on the block, and the talent of his teammates may rival that of the '06 squad. That combination has made the Panthers (
No. 46 in the POWERADE FAB 50
) a favorite to capture this year's state crown.
"I feel like that team has shown us how much hard work it takes to win a state championship," says Brewe, a UC Santa Barbara commit. "They never took a day off, and that's a good example for the squad we have this year."
Brewe averaged 22 points and 10 rebounds per game last winter to propel Prep to the Class 3A state tournament, where the Panthers were knocked out by league rival O'Dea.
This year, teams will double Brewe at their own peril.
Junior
D.J. Fenner
returns after a year in Washington, D.C., while seniors
Michael Phillips
and
Jackson Clough
and sophomore
Josh Martin
add scoring punch from the perimeter. Fenner provides the Panthers with a multi-faceted scorer who is among the league's toughest defenders. Clough tallied 13 points a game last winter and has one of the prettiest strokes in the state. Phillips is a hard-nosed defender and his leadership is unmatched, while Martin is a voracious rebounder.
"We have the talent to make people decide who they're going to defend," says coach Michael Kelley. "If we're willing to defend and share the ball, good things will happen."
David Auguste is an associate editor for ESPNHS and ESPNHIGHSCHOOL.com. Follow him on Twitter @ESPNHSAuguste or email him at David.Auguste@espn.com.