High-SchoolWashington:

Recruiting
November, 23, 2011
11/23/11
10:20
AM ET
By
David Auguste
| ESPN.com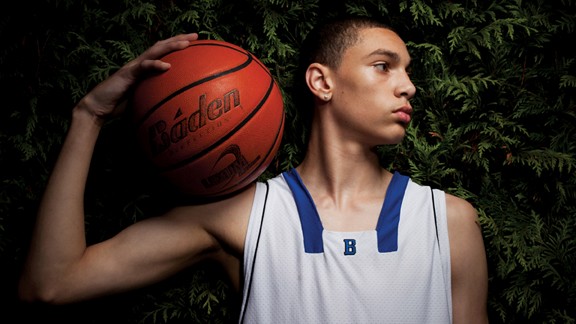 Rick Dahms/ESPNHSBothell junior guard Zach LaVine can score with the state's best and is receiving interest from UCLA, USC, Cal and Washington.
This story originally appeared in the Holiday issue of ESPNHS magazine's Washington edition.
When you watch Zach LaVine play basketball, you'll quickly see why Division I schools are knocking down the doors at Bothell in hopes of landing the junior phenom.
Peep his NBA range from the perimeter, the insane balance he displays when crossing over defenders and the mean swag he exudes whenever he steps on the court.
What you won't see from the 6-foot-2 combo guard on the hardwood is the excruciating pain he feels with each Bothell loss — the Cougars went 4-16 last year. No, that's reserved for the locker room, where you might find LaVine holed up in the corner with a towel over his head imagining each setback is just a bad dream he'll soon wake up from.
"It's definitely frustrating," says LaVine. "You have to handle adversity well. There are roadblocks you will have to fight through."
LaVine's on-court talents and his ability to maneuver through adversity are why he's being viewed as a beacon of hope for a Bothell hoops program that has long lived in the shadow of the school's decorated football team. Considered one of the nation's top recruits in the Class of 2013, LaVine averaged a gaudy 25.9 points per game in his first varsity season last year.
October, 6, 2011
10/06/11
2:30
PM ET
By
David Auguste
| ESPN.com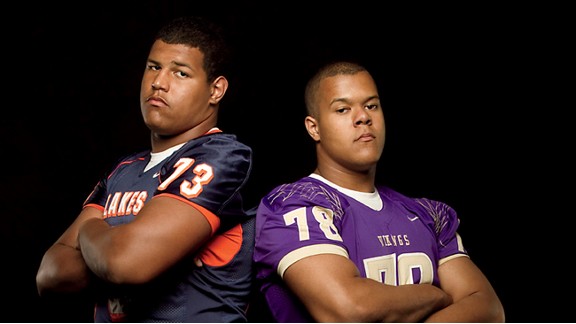 Photo By: Tom Hauck/ESPNHSZach Banner (left) and Joshua Garnett have close to 100 combined BCS offers.
It's been a while but we're back with The Cutting Room Floor, offering you some of the nuggets that didn't make the ESPNHS Washington
September cover story
on
Joshua Garnett
and
Zach Banner
. We previously gave you Zach's outtakes, so now it's Joshua's turn to dish about a wide range of topics, including his mom's appearance on Soul Train, dancing like Bernie and being Puyallup's "Priest."
On his desire to play in the Under Armour All-American Game —
I saw a video of No. 1 recruit Mario Edwards, and I said I want to play against him. He's one of the guys who's playing in that game. Going at him would be great as well as just playing in the game.
On his NFL comparison —
I'm kind of like Jake Long and Dwight Freeney if you put those guys together. I'm fast and have quickness like Dwight. Zach is more of a Walter Jones type of gut.
On his workouts —
I do about an hour of lifting and an hour of running. My lifting consists of a lot of power cleans and back squats. Sometimes I do some different stuff. Zach does a lot of stuff for hip flexibility, but I do more body work. I try to improve my flexibility as much as I can.
September, 27, 2011
9/27/11
4:30
PM ET
By
David Auguste
| ESPN.com
For the October issue of the ESPNHS Washington edition, we teamed up with our resident soccer expert Sheldon Shealer to identify the top 22 soccer players in the state. The mags hit schools this week, but if you haven't received your copy yet, here's a look at the Starting 11 and an additional 11 elite players starring on the pitch for the upcoming spring season. To get your fill of high school soccer info, check out the
ESPNHS soccer homepage.
The Starting 11

[F] Ike Crook, Todd Beamer, Senior, Sounders FC
Son of former Sounders player Billy Crook
[F] Jesse Klug, Overlake, Senior, Sounders FC

Earned Class 1A All-State honors last season
[F] Aaron Kovar, Garfield, Senior, Sounders FC
Could play for the American or Irish national team
September, 22, 2011
9/22/11
2:41
PM ET
By
David Auguste
| ESPN.com
It's time for the All-State Stock Watch, as we look at
All-State
football players who saw their potential value rise or fall over the past week. A player could have performed well in a game, gotten a big-time scholarship offer, broken his leg or just had an off game.
UP — Ma'ne Manaea + Zaheer Webb, Lakes, DB/DT

This senior duo will continue their football career on the same sideline after both players pledged to Colorado last week. Manaea, a rangy safety who is excellent in run support and already has three TDs on offense, and Webb, a 6-foot-2, 320-pound mauler, should be ready to contribute to the Buffaloes' defense almost immediately after arriving in Boulder. The two have helped the Lancers hold opponents to 21 points in three contests this season.
DOWN — Cory English, Auburn, DL

A knee injury sustained in a win over Mount Rainier forced English out of the lineup as the Trojans battled league rival Thomas Jefferson last weekend. Without their run-stuffing ace, Auburn was helpless trying to stop QB K.W. Williams, who gashed the Trojans for 166 yards on the ground and threw the game-winning score to lead TJ to its first win over Auburn since 1994. English is expected to return to action tomorrow against Tahoma.
UP — Jeff Lindquist, Mercer Island, QB

Behind Lindquist, the Islanders have rebounded quickly after a deflating loss in Week 1 to Seattle Prep. The senior guided the offense to 36 points in a win over Newport then led the Islanders to 33 unanswered points to drop Juanita, 47-24, last week. Lindquist connected on 12-of-25 passes for more than 200 yards and three scores. The UW commit continues to impress after earning
Elite 11 QB distinction
over the summer.
September, 15, 2011
9/15/11
8:30
PM ET
By
David Auguste
| ESPN.com
It's time for the All-State Stock Watch, as we look at
All-State
football players who saw their potential value rise or fall over the past week. A player could have performed well in a game, gotten a big-time scholarship offer, broken his leg or just had an off game.
UP — Jordan Downing, Chiawana, RB

Chiawana has come a long way since its 1-8 record in 2009, and Downing has been the driving force behind the team's emergence. The senior back was at it again last week, churning out 244 rushing yards and two touchdowns on 37 carries to lead the Riverhawks to a 22-14 win over Pasco. Downing has had to shoulder the load on offense this season due in large part to the team taking things slowly with sophomore QB Joey Zamora.
DOWN — Kieran McDonagh, Skyview, QB

Sometimes we have to nitpick about a performance for the stock report. McDonagh falls into that category this week. The senior QB has recorded back-to-back multiple-touchdown contests, but the Skyview has failed to produce an offensive output similar to last year's dynamic attack. McDonagh looks to get the winless Storm on track tomorrow night against a Heritage team that allowed 48 points to Issaquah in Week 1.
UP — Drew Sharkey, Ferris, DL/QB
We selected Sharkey for our All-State team due to his defensive prowess, but little did we know how valuable he would be on the other side of the ball. The senior has stepped in under center after last year's starter Ben Goodwin was injured over the summer. The offense hasn't missed a beat under Sharkey's direction as the Saxons have topped the 35-point mark in each of their first two games.
August, 31, 2011
8/31/11
11:05
AM ET
By
David Auguste
| ESPN.com
Mariner's
KeiVarae Russell
is widely considered to be the state's
top RB
and the senior is eager to get on the field to live up to that title this fall.
Unfortunately, his season debut will be delayed after he suffered a mild concussion yesterday while riding a moped.
"I was going fast around the corner and then I flew off," Russell told ESPNHS. "The doctors said I'm going to miss the game on Friday. (When I'm cleared) I'm going to come back even better."
Mariner plays at Arlington Friday.
The injury has done little to derail Russell's confidence heading into his final season. He made strides at safety during the summer after competing in Nike's "
The Opening
" in Oregon, where he received valuable advice from NFL Pro Bowler Champ Bailey and first-round pick Patrick Peterson. "They helped me on my man coverage and technique," says Russell. "Instead of looking at a receivers' hips (when he begins his route), I start at their knees then go to their hips."
Russell has set goals of 40 tackles and 40 total touchdowns for the 2011 season (trust me, that wasn't the concussion talking) and has narrowed his college choices down to
USC
,
UW
,
Boise State
,
Notre Dame
and
Cal
.
"I think I'll commit in November or whenever it feels right," he says. "I'm going to use the hats to do it. People think [commitments are] all fun and games, but I'm going to be the first one in my family to go to college. I have something special planned for my commitment."
Read more about Russell and his Mariner teammates in the October issue of ESPNHS Washington Edition.
Name: Korey Krotzer
School: Auburn Riverside
Sport: Cross Country
Krotzer is a big reason the Ravens have improved their team finishes from ninth in 2008 to sixth in 2009 to third last fall. As a junior last year, he placed fourth in the Class 4A individual race and recorded wins at the Westside Classic and districts. He also was sixth in the 3,200 last spring. Krotzer hopes to zero in on his first individual crown and help Auburn Riverside continue its upward trend in 2011.
August, 24, 2011
8/24/11
1:30
PM ET
By
David Auguste
| ESPN.com
Name: Trent Sewell
School: Bothell
Sport: Football
The Scoop: Sewell has added more than 20 pounds of muscle since the end of the 2010 football season. For those thinking the extra weight will slow the 6-foot-2 senior receiver down a bit, we direct you to the spring track season when he helped Bothell coast to a state crown in the 4x100. Sewell is heating up on the recruiting trail after hauling in 44 receptions for 11 touchdowns and more than 1,000 yards in 2010. He has offers from Washington State and UCLA.
August, 23, 2011
8/23/11
10:24
AM ET
By
David Auguste
| ESPN.com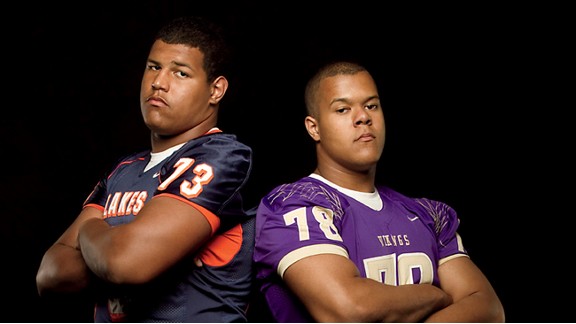 Photo By: Tom Hauck/ESPNHSZach Banner (left) and Joshua Garnett have close to 100 combined BCS offers.
There's no disputing that Joshua Garnett of Puyallup and Zach Banner from Lakes are the state's top two recruits.
But who is No. 1?
If you ask them, they'll tell you simply: Who cares.
Each player has upwards of 40 Division I football offers, but they appear content working with each other to maintain their elite status, rather than battling for the title of Washington's top recruit.
We couldn't decide who was No. 1 either, so we took the easy way out and put them both on our September cover. Check out
the story
on these football BFFs (written by yours truly) and see how they're hoping to make the 2011 season a memorable one in the Northwest.
August, 22, 2011
8/22/11
5:20
PM ET
As promised here is the ESPNHS All-State team which appears in the September issue that drops this week. We also added 50 more players you should keep an eye on this fall. Think we missed someone for the list, give us a shout on Twitter @ESPNHSAuguste or in the comments section below.
Note: The team is based on projected on-field performance and accomplishments, not necessarily recruiting potential. For a list of the top football recruits in the state,
click here
.
First Team Offense
[QB] Max Browne, Skyline, Junior


Named an ESPNHS Sophomore All-American in 2010
[QB] Jeff Lindquist, Mercer Island, Senior
Husky recruit made strong statement at Elite 11 finals in Malibu, Calif.
[RB] Levonte Littlejohn, Lakes, Senior
Scored 21 times and averaged more than 10 YPC last fall