High-SchoolWashington:

Baseball
March, 2, 2012
3/02/12
11:00
AM ET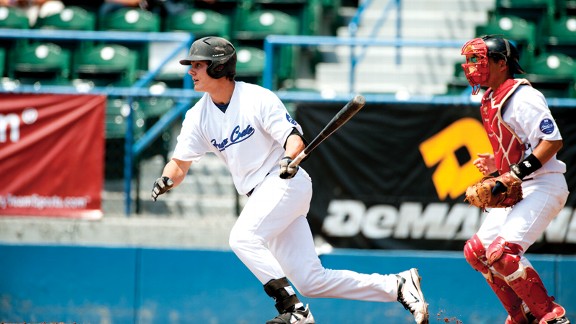 Dustin Snipes/ESPNHSUnion senior Clint Coulter is among the elite baseball prospects in the Northwest.
This story originally appeared in the March issue of ESPNHS Washington.

Clint Coulter
is not planning on making an appearance at this year's
Union
senior prom.
It's not that he's struggling to find a date or worried about what dance move to bust out if the DJ starts bumping Rihanna's "We Found Love." The Arizona State-bound catcher has a plan in place that often precludes him from attending such social events.
"Baseball is what defines me," says Coulter. "I didn't go to my junior prom, either. I'll probably be hitting balls in my garage during the prom."
That supreme focus has made Coulter a likely early-round pick in June's MLB draft. It was also the driving force behind Coulter putting a once-promising wrestling career on the back burner.
Three years ago, Coulter became Washington's first freshman to place in the 189-pound weight class at state. He followed up that effort by copping a title at the 2010 Class 4A meet. Unfortunately, his gold-medal run coincided with his rise in baseball status. Recruitment letters from college baseball powerhouses stuffed the family's mailbox and talk about a pro baseball career began to really heat up, putting Coulter in a tough spot.
"It was definitely a tough decision," he says. "I never wanted to pursue wrestling, though, because there isn't really pro wrestling unless you go the WWE path."
With his singlet tucked away in the back of his closet, Coulter moved full steam ahead with his budding baseball career. He produced at an elite level last spring, hitting a blistering .500 with five homers to land a spot on the Under Armour All-America team. His success reaffirms his decision to abandon other pursuits.
"I guess my life is not that interesting," jokes Coulter. "People say I'm missing out, but it's all good. That stuff doesn't really [compare] to being a professional athlete, and that's what I'm going to be."
November, 30, 2011
11/30/11
11:54
AM ET
There was a time when
Josh Dickerson
's future on the baseball diamond appeared to be in serious jeopardy.
Prior to the start of his sophomore year in 2009, Josh, an infielder on the O'Dea baseball team, was diagnosed with rhabdomyosarcoma — a soft-tissue cancer. But he wouldn't let it keep him away from the sport he loved.
Dickerson persevered through challenging chemo sessions in order to return to the field and continue his career. He did so last spring, taking the field on opening day to rejoin his teammates. His inspiring comeback is the embodiment of Jim Valvano's "Don't ever give up" motto.
The legendary college basketball coach had his life claimed by cancer in the early '90s but his message lives on through athletes like Josh. As part of the start of Jimmy V week here at ESPN, senior writer Jon Mahoney brings you Josh's story, which appeared in the Holiday Issue of ESPNHS.
Click here to read the complete Josh Dickerson story.
Click here to read more about Jimmy V Week.