High-SchoolWashington:

Elite 11
February, 2, 2012
2/02/12
10:08
AM ET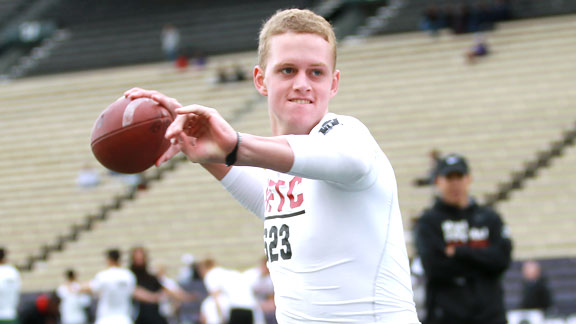 Tom Hauck for ESPN.comSkyline (Sammamish, Wash.) junior signal-caller Max Browne threw for 4,034 yards and 45 touchdowns last season while leading the Spartans to a Class 4A state crown.
Throughout this offseason, we'll spotlight Class of 2013 quarterbacks who have a shot at making the Elite 11 finals in July. This week we profile Skyline (Sammamish, Wash.) standout Max Browne.
Elite 11 Watch Archive
Skyline (Sammamish, Wash.) junior
Max Browne
prides himself on being a cerebral quarterback. As the conductor of the Spartans' no-huddle aerial attack, the junior's brain must act like a microprocessor, calling plays at the line, evaluating what scheme the defense is in and whether to audible — all at a feverish pace.
The
ESPNHS Underclass All-American
was masterful under center this past fall, completing better than 70 percent of his passes and tossing 43 TDs to lead the Spartans to the Class 4A crown. Browne's success and poise in that demanding role has led some scouts to compare him to Peyton Manning.
But Browne would be fine just reaching the level of his predecessor, Jake Heaps, an Elite 11 alum now at Kansas who captured multiple state crowns at Skyline.
"We're similar in our ability to command the offense," says Browne. "He started the championship streak at Skyline, and I'm kind of continuing it."
Browne took another step toward matching Heaps, wowing scouts with his downfield accuracy and ability to complete a variety of throws at last spring's Elite 11 Regional at Stanford. He is hopeful an invite to the finals will kick off his final season on the gridiron.
ESPNHS:
What was the environment like at last year's Elite 11 Regional at Stanford?
Browne:
At that event, you really see that there are a lot of good quarterbacks on the West Coast. Those guys had good accuracy and arm strength, so you have to bring your "A" game. And the coaches were top notch. There's a lot of good competition and everyone wants to be on the Elite 11 Finals show.
ESPNHS:
What did you learn at Regionals that helped you on the field last season?
Browne:
Just when I roll out to keep my shoulders level and to make sure I point my toes where the receiver is going to be. I got away with that stuff at times as a sophomore, but I won't be able to at the next level.
ESPNHS:
What would it mean to you to be selected to the Elite 11 Finals?
Browne:
It would be a huge honor to know I'm one of the best QBs in the nation. Ever since I was in middle school, I used to watch Elite 11 stuff, and there's so many NFL guys that have been there.
ESPNHS:
Washington all-state QB Jeff Lindquist competed in the finals last year. Did he offer you any advice on how to succeed there?
Browne:
He said to make sure you know your playbook. You should know it in and out. He also just told me to play my game. Make sure I do it my way.
ESPNHS:
What changes did you see in your game in 2011?
Browne:
I had better command of the offense and I didn't let my team get rattled. I was a better leader and my team rallied around me.
ESPNHS:
Skyline has a tradition of winning and a growing number of haters. Do opposing players talk trash to you?
Browne:
Oh, yeah. Kids know all about Skyline. We don't lose to a whole lot of teams, but if we do they let us know. This one kid posted on Facebook said, "Max, I'm coming for you." He got a couple licks on me in the game, but I still completed the throws.
ESPNHS:
It seems like every season either Skyline or Bellevue is ranked in the POWERADE FAB 50. Which team really runs Washington?
Browne:
Even though they beat us this year, Skyline runs football in Washington. They play in Class 3A and that's a lower division. We have a harder road to state each year. After we both won state titles this year, people joked we should've had a rematch. The way we played at the end of the year, we could've beaten anyone.
MAX BROWNE
School:
Skyline (Samammish, Wash.)
Position:
QB
Ht/Wt:
6-5/208
2011 Team Record:
11-3 (Won Class 4A state title)
2011 Stats
Passing yards:
4,034
Passing TDs:
45
INTs:
7
September, 22, 2011
9/22/11
2:41
PM ET
It's time for the All-State Stock Watch, as we look at
All-State
football players who saw their potential value rise or fall over the past week. A player could have performed well in a game, gotten a big-time scholarship offer, broken his leg or just had an off game.
UP — Ma'ne Manaea + Zaheer Webb, Lakes, DB/DT

This senior duo will continue their football career on the same sideline after both players pledged to Colorado last week. Manaea, a rangy safety who is excellent in run support and already has three TDs on offense, and Webb, a 6-foot-2, 320-pound mauler, should be ready to contribute to the Buffaloes' defense almost immediately after arriving in Boulder. The two have helped the Lancers hold opponents to 21 points in three contests this season.
DOWN — Cory English, Auburn, DL

A knee injury sustained in a win over Mount Rainier forced English out of the lineup as the Trojans battled league rival Thomas Jefferson last weekend. Without their run-stuffing ace, Auburn was helpless trying to stop QB K.W. Williams, who gashed the Trojans for 166 yards on the ground and threw the game-winning score to lead TJ to its first win over Auburn since 1994. English is expected to return to action tomorrow against Tahoma.
UP — Jeff Lindquist, Mercer Island, QB

Behind Lindquist, the Islanders have rebounded quickly after a deflating loss in Week 1 to Seattle Prep. The senior guided the offense to 36 points in a win over Newport then led the Islanders to 33 unanswered points to drop Juanita, 47-24, last week. Lindquist connected on 12-of-25 passes for more than 200 yards and three scores. The UW commit continues to impress after earning
Elite 11 QB distinction
over the summer.