High-SchoolWashington:

ESPNU 150
October, 6, 2011
10/06/11
2:30
PM ET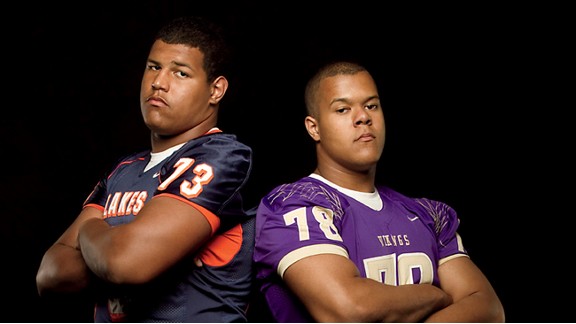 Photo By: Tom Hauck/ESPNHSZach Banner (left) and Joshua Garnett have close to 100 combined BCS offers.
It's been a while but we're back with The Cutting Room Floor, offering you some of the nuggets that didn't make the ESPNHS Washington
September cover story
on
Joshua Garnett
and
Zach Banner
. We previously gave you Zach's outtakes, so now it's Joshua's turn to dish about a wide range of topics, including his mom's appearance on Soul Train, dancing like Bernie and being Puyallup's "Priest."
On his desire to play in the Under Armour All-American Game —
I saw a video of No. 1 recruit Mario Edwards, and I said I want to play against him. He's one of the guys who's playing in that game. Going at him would be great as well as just playing in the game.
On his NFL comparison —
I'm kind of like Jake Long and Dwight Freeney if you put those guys together. I'm fast and have quickness like Dwight. Zach is more of a Walter Jones type of gut.
On his workouts —
I do about an hour of lifting and an hour of running. My lifting consists of a lot of power cleans and back squats. Sometimes I do some different stuff. Zach does a lot of stuff for hip flexibility, but I do more body work. I try to improve my flexibility as much as I can.
September, 22, 2011
9/22/11
2:41
PM ET
It's time for the All-State Stock Watch, as we look at
All-State
football players who saw their potential value rise or fall over the past week. A player could have performed well in a game, gotten a big-time scholarship offer, broken his leg or just had an off game.
UP — Ma'ne Manaea + Zaheer Webb, Lakes, DB/DT

This senior duo will continue their football career on the same sideline after both players pledged to Colorado last week. Manaea, a rangy safety who is excellent in run support and already has three TDs on offense, and Webb, a 6-foot-2, 320-pound mauler, should be ready to contribute to the Buffaloes' defense almost immediately after arriving in Boulder. The two have helped the Lancers hold opponents to 21 points in three contests this season.
DOWN — Cory English, Auburn, DL

A knee injury sustained in a win over Mount Rainier forced English out of the lineup as the Trojans battled league rival Thomas Jefferson last weekend. Without their run-stuffing ace, Auburn was helpless trying to stop QB K.W. Williams, who gashed the Trojans for 166 yards on the ground and threw the game-winning score to lead TJ to its first win over Auburn since 1994. English is expected to return to action tomorrow against Tahoma.
UP — Jeff Lindquist, Mercer Island, QB

Behind Lindquist, the Islanders have rebounded quickly after a deflating loss in Week 1 to Seattle Prep. The senior guided the offense to 36 points in a win over Newport then led the Islanders to 33 unanswered points to drop Juanita, 47-24, last week. Lindquist connected on 12-of-25 passes for more than 200 yards and three scores. The UW commit continues to impress after earning
Elite 11 QB distinction
over the summer.
September, 21, 2011
9/21/11
11:26
AM ET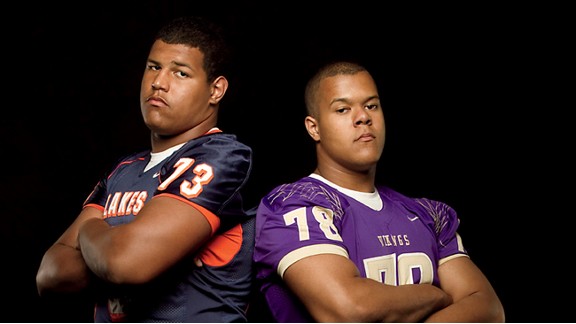 Photo By: Tom Hauck/ESPNHSZach Banner (left) and Joshua Garnett have close to 100 combined BCS offers.
We can't always fit everything we want in the pages of ESPNHS, so we bring you the Cutting Room Floor. Think of it as the deleted scenes portion of your favorite Blu-ray. In September we tracked down Lakes senior OL
Zach Banner
to share our cover with his close friend
Joshua Garnnett
, another elite lineman from Washington. If you haven't had a chance to check out the story, visit
here
. In addition to their close friendship, they also bond over hoops and dancing (still waiting to see the videos, guys). Here are some of the excerpts from our interview with Zach. Stick with us for Joshua's outakes later.
On his love of HS football
—
It's the moment. It' something that not everybody gets to go through. Not only do I play high school football, I play on one of the top teams in the country. I live for the moment and opportunity to play. It's a gift. I'm straight pumped when I get on the field. I'm going to put whoever tries to rush me on their back.
On his inspiration
—
All you have to do is type my name into Google and that's my inspiration. I have a lot of eyes on me. I have to deal with the haters and all the people that disrespect me online.
September, 16, 2011
9/16/11
2:59
PM ET
Game of the Week: Skyline (1-1) at Lake Oswego (2-0)
The Spartans are looking to knock off the perennial Oregon power this weekend after beating LO, 38-14, on the road last fall. The Lakers' offense has thrived with senior Steven Long (229 yards, five touchdowns) in the backfield and receivers Blake Dutton and Stevie Coury on the outside. Skyline LB Peyton Pelluer will have the daunting task of limiting Long's contributions in this one. Junior Max Browne, an ESPNHS All-American and the recipient of several Pac-12 offers marshals Skyline's potent offense. Browne has gotten off to a fast start this season with five touchdown passes but threw a pair of costly picks in last week's loss to Bellevue.
Dave's pick (0-1): Max Browne bounces back from his two-INT game against Bellevue to light up Lake Oswego. Skyline takes it 34-21.

Mead (1-1) at Lewis and Clark (2-0)
Senior QB Jeff Livingston passed for 240 yards and Ammar Johnson churned out 193 yards and reached pay dirt three times to keep LC undefeated with a 31-24 win over University last Friday. Mead squandered a 14-point lead to fall to Central Valley last week. Speedy back Evan Maack and Davian Barlow have been hard to stop in Mead's bruising rushing attack.

Ferndale (1-0) at Arlington (2-0)
The Golden Eagles look to bounce back from last week's loss to O'Dea behind imposing DL Caleb Rodriguez, while Arlington looks to score another early-season upset after drubbing Mariner in Week 1.

Camas (2-0) at Columbia River (2-0)
First place is on the line in this meeting of Greater St. Helens foes. Don't expect much scoring, as both teams have been dominant on defense this season, yielding a combined 24 points in their four wins.
September, 15, 2011
9/15/11
8:30
PM ET
It's time for the All-State Stock Watch, as we look at
All-State
football players who saw their potential value rise or fall over the past week. A player could have performed well in a game, gotten a big-time scholarship offer, broken his leg or just had an off game.
UP — Jordan Downing, Chiawana, RB

Chiawana has come a long way since its 1-8 record in 2009, and Downing has been the driving force behind the team's emergence. The senior back was at it again last week, churning out 244 rushing yards and two touchdowns on 37 carries to lead the Riverhawks to a 22-14 win over Pasco. Downing has had to shoulder the load on offense this season due in large part to the team taking things slowly with sophomore QB Joey Zamora.
DOWN — Kieran McDonagh, Skyview, QB

Sometimes we have to nitpick about a performance for the stock report. McDonagh falls into that category this week. The senior QB has recorded back-to-back multiple-touchdown contests, but the Skyview has failed to produce an offensive output similar to last year's dynamic attack. McDonagh looks to get the winless Storm on track tomorrow night against a Heritage team that allowed 48 points to Issaquah in Week 1.
UP — Drew Sharkey, Ferris, DL/QB
We selected Sharkey for our All-State team due to his defensive prowess, but little did we know how valuable he would be on the other side of the ball. The senior has stepped in under center after last year's starter Ben Goodwin was injured over the summer. The offense hasn't missed a beat under Sharkey's direction as the Saxons have topped the 35-point mark in each of their first two games.
September, 13, 2011
9/13/11
11:35
AM ET
After a tight first half,
Bellevue
's defense took control of the Wolverines' contest against
Skyline
Friday night.
The
Sean Constantine
-led unit held the Spartans scoreless in the second half as Bellevue claimed a 31-17 victory. The win catapulted Bellevue to No. 24 in the latest
POWERADE FAB 50
and keeps the squad on top of its local competition. We didn't penalize Skyline for the loss as they are still the top team in Class 4A.
Lakes continued to make it look easy through the first two weeks of the season, dropping
Evergreen,
49-6. The Lancers have outscored their foes, 112-14, during the stretch to remain at No. 3.
Bothell
took a dive after its loss, allowing
O'Dea
to creep into the top five.
Here's a look at how the top three teams fared last week:
1. Bellevue — defeated Skyline, 31-17 (last week No. 1)
2. Skyline — loss to Bellevue, 31-17 (last week No. 2)
3. Lakes — defeated Evergreen, 49-6 (last week No. 3)
For a look at the rest of the movers, check out the full
POWERADE Washington Football Rankings
.
September, 9, 2011
9/09/11
3:40
PM ET
Game of the Week: Bellevue (1-0) at Skyline (1-0)
Bellevue (No. 32 in
POWERADE FAB 50
) and Skyline have been the benchmark in Washington football over the last five seasons. The schools have combined for seven titles since 2006, and Bellevue is the three-time reigning 3A champs. The Spartans, however, are looking to take their second consecutive win in the head-to-head matchup and to supplant the Wolverines as the No. 1 team in the
ESPNHS State Rankings
. Skyline Junior QB
Max Browne
threw four TD passes to lead the Spartans over Liberty, 62-27, in the team's opener. On the other side,
Tyler Hasty
picked off a pass to seal a 31-21 victory for Bellevue over Oaks Christian (Calif.). Rich football pedigree, all-star lineups and great coaching should make this a close, entertaining contest. Skyline won last year's meeting,
28-21
.
David's Pick:
I'm rolling with Skyline in this one. I think Max Browne will have a huge game and Skyline takes it 28-24.
Some more to watch
Mercer Island (0-1) at Newport (1-0)
Mercer Island senior Jeff Lindquist accounted for five touchdowns last week but it wasn't enough against Seattle Prep. He looks to get his team on track against Newport and talented QB Isaac Dotson (three TDs in Week 1).
Ferris (1-0) at Shadle Park (1-0)

The Scoop: Defending 4A champ Ferris has overhauled its offense with a renewed focus on the running game. Shadle Park will have its hands full with an offense that racked up nearly 400 yards rushing last week.
O'Dea (1-0) at Ferndale (1-0)

Don't expect a lot of points in this one. O'Dea features one of the state's stingiest defenses with seniors
Jayshawn Jordan
and
Cody Fullerton
, while Ferndale hopes to unleash its own defensive stud in DL
Caleb Rodriguez
.
Federal Way (1-0) at Puyallup (1-0)
The state's top recruit

Joshua Garnett

will lead the Vikes against a loaded Federal Way squad led by RB

D.J. May

(3 TDs in week 1) and a strong defensive front anchored by

Uso Olive

and

Jordan Pulu

.
September, 7, 2011
9/07/11
5:24
PM ET
I want to welcome you all to the first installment of our weekly All-State Stock Watch. Each week we'll put three of our preseason All-State selections under the microscope to see who is living up to the hype and who may be falling behind.
I don't want to make this a one-man effort, so chime in with your picks for the state's biggest movers in the comment's section below. For a refresher on the players in the running, here is our preseason
All-State team
.
WASHINGTON ALL-STATE STOCK WATCH
Up — Max Browne, Skyline, QB
Brown's Week 1 performance shouldn't come as a surprise after last year's 50-TD campaign. The junior was almost perfect in the opener, going a ridiculous 16-of-18 (one incompletions came on a clock-stopping spike) for 190 yards and four touchdowns. His performance elevated him into the Mr. Football USA discussion, as he is one of three juniors in the mix.
Down — KeiVarae Russell, Mariner, RB


Russell was forced to sit out the Marauders' opener against Arlington after suffering a mild concussion during a moped mishap earlier in the week. Arlington's Colton Hordyk stole the show in his absence, reaching pay dirt four times in a 42-12 victory. Russell expects to be back this weekend against Mount Vernon, so we could be talking about his stock rising very soon.
Up — Zach Banner, Lakes, OL


Playing on the O-line won't garner the same recognition as the skill positions will. But any time an offense hangs 63 points on an opponent, you know there was some stellar play going on in the trenches. That was the case in Lakes' opener against Clover Park — a 63-8 rout. Banner anchored a line that kept first-year QB David Wood upright enough to pass for 237 yards and six TDs. Lakes also added 114 yards on the ground despite an injury to leading rusher Levonte Littlejohn.
August, 23, 2011
8/23/11
10:24
AM ET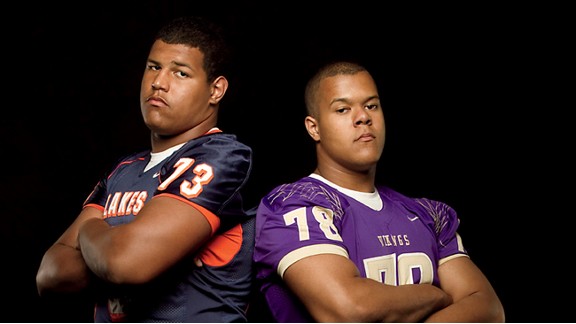 Photo By: Tom Hauck/ESPNHSZach Banner (left) and Joshua Garnett have close to 100 combined BCS offers.
There's no disputing that Joshua Garnett of Puyallup and Zach Banner from Lakes are the state's top two recruits.
But who is No. 1?
If you ask them, they'll tell you simply: Who cares.
Each player has upwards of 40 Division I football offers, but they appear content working with each other to maintain their elite status, rather than battling for the title of Washington's top recruit.
We couldn't decide who was No. 1 either, so we took the easy way out and put them both on our September cover. Check out
the story
on these football BFFs (written by yours truly) and see how they're hoping to make the 2011 season a memorable one in the Northwest.