High-SchoolWashington:

Nike THe Opening
September, 21, 2011
9/21/11
11:26
AM ET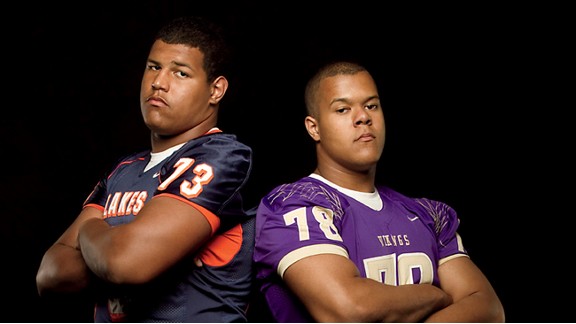 Photo By: Tom Hauck/ESPNHSZach Banner (left) and Joshua Garnett have close to 100 combined BCS offers.
We can't always fit everything we want in the pages of ESPNHS, so we bring you the Cutting Room Floor. Think of it as the deleted scenes portion of your favorite Blu-ray. In September we tracked down Lakes senior OL
Zach Banner
to share our cover with his close friend
Joshua Garnnett
, another elite lineman from Washington. If you haven't had a chance to check out the story, visit
here
. In addition to their close friendship, they also bond over hoops and dancing (still waiting to see the videos, guys). Here are some of the excerpts from our interview with Zach. Stick with us for Joshua's outakes later.
On his love of HS football
—
It's the moment. It' something that not everybody gets to go through. Not only do I play high school football, I play on one of the top teams in the country. I live for the moment and opportunity to play. It's a gift. I'm straight pumped when I get on the field. I'm going to put whoever tries to rush me on their back.
On his inspiration
—
All you have to do is type my name into Google and that's my inspiration. I have a lot of eyes on me. I have to deal with the haters and all the people that disrespect me online.
August, 31, 2011
8/31/11
11:05
AM ET
Mariner's
KeiVarae Russell
is widely considered to be the state's
top RB
and the senior is eager to get on the field to live up to that title this fall.
Unfortunately, his season debut will be delayed after he suffered a mild concussion yesterday while riding a moped.
"I was going fast around the corner and then I flew off," Russell told ESPNHS. "The doctors said I'm going to miss the game on Friday. (When I'm cleared) I'm going to come back even better."
Mariner plays at Arlington Friday.
The injury has done little to derail Russell's confidence heading into his final season. He made strides at safety during the summer after competing in Nike's "
The Opening
" in Oregon, where he received valuable advice from NFL Pro Bowler Champ Bailey and first-round pick Patrick Peterson. "They helped me on my man coverage and technique," says Russell. "Instead of looking at a receivers' hips (when he begins his route), I start at their knees then go to their hips."
Russell has set goals of 40 tackles and 40 total touchdowns for the 2011 season (trust me, that wasn't the concussion talking) and has narrowed his college choices down to
USC
,
UW
,
Boise State
,
Notre Dame
and
Cal
.
"I think I'll commit in November or whenever it feels right," he says. "I'm going to use the hats to do it. People think [commitments are] all fun and games, but I'm going to be the first one in my family to go to college. I have something special planned for my commitment."
Read more about Russell and his Mariner teammates in the October issue of ESPNHS Washington Edition.