Houston Texans:

2014 NFL Draft
May, 10, 2014
May 10
10:46
PM ET
»
NFC wrap-ups
:
East
|
West
|
North
|
South
»
AFC
:
East
|
West
|
North
|
South
HOUSTON -- A wrap-up of the
Houston Texans
' draft.
Click here
for a full list of Texans draftees.
[+] Enlarge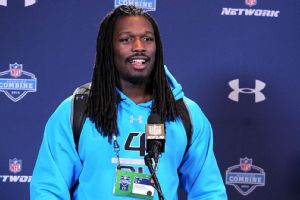 Brian Spurlock/USA TODAY SportsThe Texans selected who they consider the best athlete in this year's draft in Jadeveon Clowney.
Best move:
The Texans' selection of South Carolina defensive end
Jadeveon Clowney
was a no-brainer. Contrary to pre-draft rumblings, they didn't give Clowney advance warning they would be selecting him first overall. He even got nervous as the minutes ticked down while the Texans were on the clock. They waited until three minutes remained in their time to call him and tell him the news. Clowney's ability, both physically and mentally, made him the right pick for the Texans. They'll make him an outside linebacker, which will be a transition, but will use him in a lot of different ways. They needed outside pass-rush help, and, regardless of need, Clowney was the best player they could have taken.
Riskiest move:
The Texans didn't take many risks. They stuck to their board, almost stubbornly so, and stayed with players who fit the description of what they've sought. They didn't take any players with character risks. They did take two players whose injury histories might have impacted where they were drafted in
Alfred Blue
and
Jeoffrey Pagan
, so I suppose those constitute the biggest risks. Blue tore his anterior cruciate ligament in his knee in 2012 after starting the season as LSU's starting running back ahead of
Jeremy Hill
, who was drafted in the second round. Pagan had shoulder surgery, which prevented him from being able to work out at the combine. His combine experience was more about the medical evaluation, but he feels he could have raised his stock by showing what he could do athletically.
Most surprising move:
It was a bit of a surprise the Texans waited until the fourth round to take a quarterback. General manager Rick Smith acknowledged at the end of Friday's Rounds 1 and 2 that there was still another need they hadn't addressed. Three quarterbacks went in the first round --
Blake Bortles
third to Jacksonville,
Johnny Manziel
22nd to Cleveland and
Teddy Bridgewater
32nd to Minnesota. Two more,
Derek Carr
and
Jimmy Garoppolo
, went in the second round, and none went in the third round. The Texans had
Tom Savage
graded in the fourth round and took him there.
File it away:
The Texans got bigger on defense. At 6-foot-5, 266 pounds, Clowney is bigger than any outside linebacker currently on their roster.
Louis Nix III
, the Notre Dame nose tackle the Texans traded up to get, is 6-foot-2, 331 pounds, making him one of the heaviest players on defense. Pagan is 6-foot-3, 310 pounds. Safety
Lonnie Ballentine
, "Mr. Irrelevant," is the tallest safety the Texans have at 6-foot-3. The Texans staff will be molding some of these guys' bodies to what they're looking for, but they have a good starting point with most of them. Smith said after the draft the Texans got bigger and tougher. It was a goal of theirs, and it's something to monitor as the offseason melds into the season. How will that added size and toughness translate onto the field?
May, 10, 2014
May 10
10:05
PM ET
HOUSTON -- Bill O'Brien doesn't believe in ceilings.
He used to. Then a doctor got furious once when the Texans head coach, just a father of a young boy with a rare neurological disorder to this doctor, kept asking him about the ceiling for his son. Now he's learned: ceilings only exist when you let them.
It's something O'Brien carries into his coaching.
"In my opinion, nobody has a ceiling," O'Brien said. "There's no ceiling. You create your own ceiling by talking about ceilings. I don't think you ever talk about that here. Ever. We teach the guy. We want the guy to get better every day. We try to do what's best for the player with how we teach him, the situations that we put him in."
He shared that story in response to a question about
Tom Savage
's ceiling. The quarterback talked openly Saturday about the things he has to learn, having played a disjointed football career interrupted by transfers, with a brief construction gig tossed in. Savage was the Texans' fourth-round pick on the draft's final day, and one of 10 draft picks the Texans made this week.
The Texans entered the draft seeming to need a quarterback badly, then took four players before addressing the position. Taking
Jadeveon Clowney
with the first overall pick was a no-brainer. But guard
Xavier Su'a-Filo
and tight end
C.J. Fiedorowicz
both came in ranges where quarterbacks could have gone. Defensive tackle
Louis Nix
is a special case -- a guy the Texans had rated much higher, who fell to the 83rd overall pick.
"One thing that I felt about the quarterback position is there's three guys here right now that we enjoy working with that have played in the NFL with Ryan (Fitzpatrick), Case (Keenum) and T.J. (Yates)," O'Brien said. "We have a lot of respect for those guys. We have respect for how they've bought into what we're doing. We have respect for how they've learned and how they've gone out there those last few days of practice and tried to get better every day. ...We have three guys we can work with that are willing to learn, and if somebody happened to fall to a place we can draft him, then that's what we would do. That's what we did with Tom Savage."
The Texans had a fourth-round grade on Savage, which is not typically a round in which you find starters. It's not impossible, of course, but usually teams look to Rounds 1 through 3 to find starters. Their own lack of panic about the position (and panic can be harmful in a draft room) had them stick calmly to their board, trade up only if someone fell.
Were they right?
That's impossible to tell right now. But trusting your work and the months of work by scouts and assistant coaches is a critical part of this process. Being right is also important, but that judgment has to come later.
It has to come after coaches have had the opportunity to maximize what they get out of various players. Once they hit their ceilings, actually, let's call them their peaks, that's when judging this draft class will make sense.
April, 10, 2014
Apr 10
12:15
PM ET
With the first overall pick in this year's NFL draft, the Texans could take a quarterback. Whether they will, and which quarterback that would be if one is selected, is yet unknown.
ESPN's Todd McShay took a shot at projecting which player the Texans will take
with his latest mock draft

-- and the player he chose is a spark plug.
March, 27, 2014
Mar 27
4:51
PM ET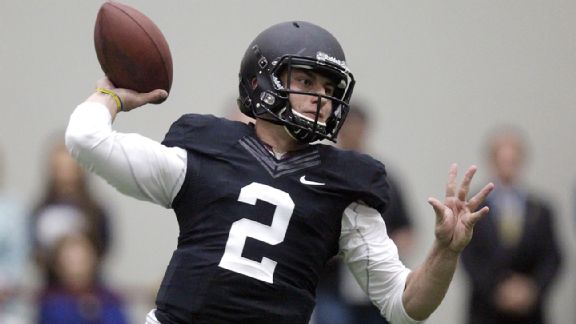 AP Photo/Patric SchneiderJohnny Manziel took the unconventional step of wearing a helmet and pads in his pro day workout.
COLLEGE STATION, Texas -- The metal door in the far corner of Texas A&M's practice bubble rolled up to allow two golf carts in at 11:07 a.m., still 15 minutes before the first incomplete pass
Johnny Manziel
threw. One carried former President George H.W. Bush, his wife, Barbara Bush, and a little dog, and as it rolled through a crowd of 75 NFL employees there to study one very polarizing quarterback, the spectacle traveled with it.
"They do things a little differently in Texas," Tampa Bay coach Lovie Smith said.
Even Manziel paused to notice.
"He turned back and said, 'Oh that's the president,'" said George Whitfield, Manziel's private quarterback coach.
Then it was right back to business amid the cacophony, part of which he invited as a way to inject energy into his workout. Afterward, Manziel didn't quite remember the moment.
"I'm not sure, I was kind of trying to go 65-for-65," said Manziel, who met the former president the night before.
It was a pro day unlike any other, a circus some said, and when you're headed to the NFL, it's important to know you can handle a circus.
"I don't think you can name another person who's gone through college and been through some of the things that I have," Manziel said. "I'm well-prepared for that."
He entered to a sound track -- Drake, a nod to his rapper friend -- then called the scouts, general managers, coaches and executives to huddle around him so he could thank them for coming.
He started his workout without the music before he asked for it back on, but quietly to energize him. (The music was uncensored until the Bushes arrived, at which point some edited versions of the songs started playing.) He wore shoulder pads and a helmet, the brain child of a conversation with Whitfield before the combine. He asked Whitfield what NFL teams respect. A challenge, Whitfield told him, so he put on shoulder pads and a matte black helmet.
It was the first chance for league officials to see up close what they'd seen on film and at games during the season. Manziel didn't throw at the NFL combine, and he didn't throw at Texas A&M's pro day earlier this month.
"If it wasn't important, I wouldn't be here," said Texans coach Bill O'Brien, evaluating for what could be the first overall pick. "Believe me, I got my youngest son reading at Mass today in his Catholic school in Houston, so I'm missing that to come here. If it wasn't important, I wouldn't be here."
Manziel excelled in every type of throw he tried. He played from under center to show the footwork he thought the 30 teams in attendance wanted to see. He completed all but three passes, though only one was a bad throw on his part. And he threw a deep touchdown pass to very talented former Texas A&M receiver
Mike Evans
that ended the workout.
"BOOM!" Manziel shouted, before running downfield to catch Evans and leap into a hip bump.
The team personnel in attendance were nearly unanimous in their praise. Nearly. Vikings coach Mike Zimmer, who will meet with Manziel individually, told the Fort Worth Star-Telegram the workout was "different" and called it a "sideshow."
Manziel's flair can be both positive and negative at once. Some see it as confidence, others see it as a distraction. On one hand, he brings with him a spectacle. On the other hand, the NFL is a big spectacle in itself and any player hoping to succeed within that spectacle has to be able to handle that. Manziel certainly can. Through all his off-field foibles, he remained a spectacularly exciting and effective college football player.
On one hand, he wants to show teams a side of him that isn't generally part of his narrative.
"I'm taking it extremely serious, I'm extremely dedicated, extremely committed to this process moving forward," Manziel said. "I want to go into this and show these teams that who I am as a person and who I am in the football facilities that not everybody gets to see."
But on the other hand, the energy and electricity that comes with his usual narrative was a major positive for Texas A&M.
In that sense, he showed exactly who he was during a pro day extravaganza unlike any other. He took what's normally a sterile and stripped-down event and turned it into, well, an event. It's what Johnny Football does.
March, 6, 2014
Mar 6
11:00
AM ET
Todd McShay's third NFL mock draft for 2014 is out on ESPN Insider today.
The whole key here for the Texans is just not missing. This organization can rebound quickly if they land the right player with the first overall pick, whether that is
Jadeveon Clowney
or their choice of the top three quarterbacks.
If it is Clowney, he needs to be a dominant player, which of course is very possible, and team with
J.J. Watt
, the league's best defensive player, to form a simply nasty defensive front. If it is one of the quarterbacks, that player doesn't necessarily need to develop into a future Hall of Famer, but he does at least need to be a franchise quarterback on the
Joe Flacco
/
Tony Romo
tier of NFL signal callers. Also, do not forget that after round one, the Texans own the subsequent selection … and there are going to be plenty of great prospects to consider in just a loaded draft class.
That 33rd overall pick could be a great bargaining chip.
Whom does McShay have the Texans drafting at No. 3?
Let's take a look

:
To continue reading this article you must be an Insider