Houston Texans:

Oakland Raiders
September, 11, 2014
Sep 11
12:27
PM ET
What
Derek Carr
remembers is Toro, the Texans' mascot, charging at him through the A-gap.
It was at halftime of a Texans football game in which Derek's older brother, David, was playing. Derek, then 12 years old,
took the field for a game against the mascots
. He pointed out the linebackers and everything, as if playing a real game.
"I'll never forget that," Derek Carr said. "I remember he hit me, and he started laughing. We used to hang out and play catch at practice all the time, obviously when he wasn't in costume. It was funny because he hit me, and he let me know he was there."
He was a confident kid -- even a little bit cocky. Every time
Andre Johnson
walked out of the postgame locker room, Derek would be sitting there with a couple friends. He'd tell Johnson that one day he was going to go to Miami and be the quarterback at The U.
Johnson always figured the kid would follow in his brother's footsteps and go to Fresno State instead. Carr quipped Miami didn't want him.
"He did that, had a great career [at Fresno State]," Johnson said. "The one thing that stood out about him is he had a lot of confidence."
As the second first pick in franchise history, Johnson developed a bond with the whole Carr family. He went golfing with the patriarch and with David. He attended a few of Derek's middle school football games, too, able to blend in despite being Andre Johnson.
"I don't think too many people knew me then," Johnson said with a laugh.
It meant a lot to Derek.
"He was just always so nice to me," Derek said. "I was always bugging him, telling him I was going to go to Miami, all of these things. ... I remember him always taking the time to see how my season was going or like I said, he went to some of games, which is pretty cool. Not a lot of kids have a Hall of Fame receiver come to their football games."
The David Carr era in Houston ended in 2006. Johnson lost touch with the family after that. In the meantime, Derek did follow in his brother's footsteps at Fresno State. He became one of the country's top college quarterbacks, got married young and became a father, and then muddled through pre-draft critiques -- a little too heavily based on his brother -- to get to a place where he earned a starting job. (Read this
excellent story from ESPN's Seth Wickersham
on the two brothers.)
Johnson can't wait to catch up with Derek on Sunday in Oakland.
"Just ask him about the experience," Johnson said. "How was it? Stuff like that. Just ask him about the family. Used to go out and play golf with his dad and stuff like that. Me, him and David. They're a really cool family and good people to be around."
March, 24, 2014
Mar 24
8:00
AM ET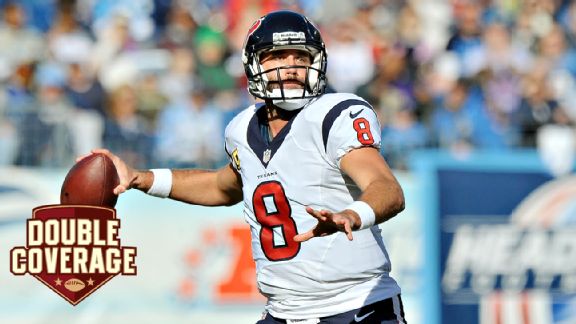 Jim Brown/USA TODAY SportsThe Oakland Raiders believe quarterback Matt Schaub can rebound this season.
The
Oakland Raiders
acquired two-time Pro Bowl quarterback
Matt Schaub
from the
Houston Texans
on Friday and Raiders coach Dennis Allen immediately anointed the 10-year veteran his starter, even as he already had
Trent Edwards
,
Matt McGloin
and
Terrelle Pryor
on his roster.
Schaub, though, is coming off a career-worst year in which he was often booed at home, threw a flurry of interceptions returned for touchdowns, lost his starting job and had a career-low total quarterback rating of 43.65. In fact, Raiders offensive coordinator Greg Olson saw his new quarterback's fall from grace as a blessing in disguise, saying, "Had he not had the season he had last year in Houston, he wouldn't be sitting here today."
ESPN.com Raiders reporter Paul Gutierrez and Texans reporter Tania Ganguli broke down Schaub and his leaving Houston for Oakland.
Paul Gutierrez:
It was obvious that Schaub bottomed out last year. The question is why -- was it more mental or physical?
Tania Ganguli:
There was certainly a physical aspect to it. His arm strength wasn't what it had been. But a bigger part of it was mental. You can't pin everything that went wrong with the Texans' offense on Schaub. But the pick-six is such a catastrophic play that the streak of four games with one thrown was mentally very taxing on both the team and the quarterback. I've heard a lot of people around him say that his pick-six to
Richard Sherman
(his third of last season) was the one that ultimately crushed his confidence.
Do you think Oakland is a place where he can regain his confidence?
Gutierrez:
So long as the offensive line holds up and gives him time. The Raiders have made a concerted effort to overhaul the offensive line since free agency began, picking up left tackle
Donald Penn
, right tackle
Austin Howard
and guard/center
Kevin Boothe
. The Raiders also got a veteran receiver in former Packers wideout
James Jones
, so general manager Reggie McKenzie has been building around the quarterback position, so to speak, to get a veteran signal-caller to serve as a bridge, of sorts. Schaub fits that description, no? Thing is, McKenzie and his scouts have failed thus far at identifying and settling on a franchise quarterback. They inherited
Carson Palmer
, but traded him away in favor of
Matt Flynn
, who bombed. Then they zeroed in on USC's
Matt Barkley
last spring in the draft before the
Philadelphia Eagles
swooped in and took him. They used a fourth-round draft pick on Arkansas'
Tyler Wilson
, who was cut a couple of times and ultimately picked off their practice squad by the
Tennessee Titans
. Finally, they seemed to botch the handling of Terrelle Pryor and undrafted rookie Matt McGloin. With the money owed Schaub, unless he restructures his contract, the Raiders believe he will regain his confidence.
And yet, after last season's debacle, is Schaub the kind of guy who would benefit from a mere change of scenery?
Ganguli:
ESPN Stats & Info passed along some stats that support your skepticism, but I think a change of scenery will be great for Schaub nonetheless. First their points: Schaub has declined over the past three seasons in stats like first down percentage, total QBR, yards per attempt and interception percentage. The dramatic drop in QBR (from 67 in 2011 to 64 in 2012 to 37 in 2013) and dramatic increase in interception percentage (2.1 to 2.2 to 3.9) indicate a statistical anomaly. Given what the Raiders are going to be spending on him, it's clear that's what they believe, too. What made 2013 so bizarre is Schaub had not been a turnover machine historically. If he's in a situation where things around him go well, he can recover. But things have to go well around him. The struggles the Texans had with their running game were a very underrated part of why their offense wasn't working. Schaub had done really well out of play-action in the past, but didn't last year. Is he going to a place where the running game will support his endeavors?
Gutierrez:
Which brings us to the $100,000 question (the amount of money guaranteed to running back
Darren McFadden
). It always comes back to the health of the perpetually injured McFadden. If McFadden is healthy -- he's never played more than 13 games in a season and has missed 19 of the Raiders' past 41 games, including six last season -- and used properly to his skill set, he's a quarterback's best friend. Look at how good and effective he made
Jason Campbell
look in 2011, before both were lost for the season with injuries. As noted above, the overhaul of the offensive line would suggest the Raiders are going to go all-in with a power running game and after McFadden, Oakland has the CFL's Grey Cup MVP in
Kory Sheets
, a virtual rookie in
Latavius Murray
, who missed all of last season with injury, and
Jeremy Stewart
. Obviously, there are more questions than answers when it comes to the Raiders' running game. No doubt, McKenzie & Co. are hoping Schaub brings some answers with him, without weighing him down with unrealistic expectations.
Schaub, you'll recall, is already in the Raiders' annals for his part in the "Divine Interception" play in 2011, when he was picked off in the end zone to seal an Oakland victory in Houston the day after Al Davis died and with the Raiders having only 10 players on the field. How cognizant is Schaub of NFL history in general, the Raiders and that play in particular, or is he simply a football player?
Ganguli:
Wow, I forgot all about that. And it figures, doesn't it? Run off on the heels of an uncharacteristically interception-laden season, Schaub gets traded to a team against which he threw an interception that led to an eerily perfect moment in the franchise's history.
He might be a student of the game's history, but will rarely let the public into any aspect of his being that isn't related to the game immediately in front of him. I challenge you, Paul, to extract the personality we all knew was beneath Schaub's stone exterior. By all accounts, he is interesting, funny and has a great personality. We just never saw it publicly. Schaub went to great lengths to make us believe he was dull, but he isn't.
It won't be long before Schaub faces his old team again. The Texans have a trip to Oakland on their schedule, which is less interesting than if the Raiders were to return to Houston with Schaub at the helm, but it'll be interesting nonetheless. What's your prediction?
Gutierrez:
I accept your challenge, Tania, and look forward to seeing what's underneath said "stone exterior." Many see it as more milquetoast and that was a reason so many fans clamored for the likes of
Michael Vick
because, really, ain't nothing boring about the artist formerly known as Ron Mexico. And actually, for what the Raiders are doing, Schaub is their man. He was their No. 1 target all along, followed by
Mark Sanchez
,
Josh Freeman
and then Vick. Fans may not agree with what McKenzie and Allen are doing but as far as the Raiders are concerned, it's exactly what
they
want to do. As far as a prediction, I'll wait until the roster is completely overhauled and the schedule is out and we see when, exactly, Schaub faces the Texans in Oakland. The cynic will predict a back-breaking and game-changing pick-six for Schaub against his former team. The optimist sees a 400-yard passing day and victory for Schaub and the Raiders against the Texans. Look forward to chatting again then.
November, 15, 2013
11/15/13
12:00
PM ET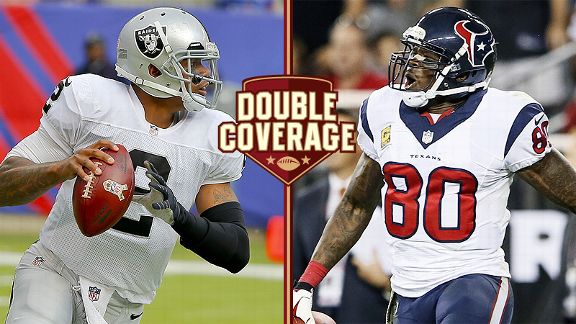 USA TODAY SportsHealth permitting, Terrelle Pryor will try to break the Raiders' eight-game road losing streak against Andre Johnson's Texans.
The 2-7
Houston Texans
will host the 3-6
Oakland Raiders
on Sunday.
The records might make this seem as if these teams are in similar positions, but in reality they aren't. Oakland wasn't expected to excel. The Raiders were ranked 29th in ESPN.com's preseason NFL Power Rankings. Some rankings had them as low as 32nd.
The Texans, on the other hand, started the season expected to be Super Bowl contenders and slowly fell apart. Houston is on a seven-game losing streak, the longest single-season streak in franchise history.
The Raiders are on a losing streak of their own. They have lost eight consecutive road games, dating to last season, but that isn't a franchise record.
Raiders reporter Paul Gutierrez and Texans reporter Tania Ganguli take a look at this matchup.
Ganguli:
So Paul, how is
Shane Lechler
's departure viewed in Oakland? It has been suggested by some, including Lechler, that his leaving affected
Sebastian Janikowski
's kicking. Do you think it has?
Gutierrez:
When Janikowski missed four of his first 11 field goal attempts through six games, after missing three all of last season, the whispers that the man known as SeaBass was swimming upstream by missing his longtime running mate grew to shouts. But while the new holder/punter,
Marquette King
, shouldered the blame, even special-teams coach Bobby April intimated it was a mental hurdle for Janikowski, who had Lechler as his holder for 13 years.
This much is true: Every miss this season has come from the left hashmark for the left-footed kicker. And his misses against Indianapolis and Washington have been especially costly momentum shifts. Janikowski, though, has converted four straight field goals, so the comfort level seems to be growing between Janikowski and King. In fact, the youthfully exuberant King brought celebratory foil balloons into the Raiders' locker room to congratulate Janikowski after his 50-yard field goal against San Diego on Oct. 6. But yes, I believe trust issues and familiarity were at the root earlier ... even if it was not a Ray Finkle Laces Out situation (gratuitous "Ace Ventura" reference).
Speaking of Lechler, how has he adapted to being back "home" in Texas, beyond his stats?
Ganguli:
Lechler has done great. He is the brightest spot on a special-teams unit that has struggled. He really has enjoyed being so close to home. He has visited his hometown. He definitely wishes his career hadn't ended with the Raiders, but I think this was a good second option. Of course, he probably also thought he was coming to a Super Bowl contender, as the Texans' other free agents did, and that hasn't worked out either.
Switching to offense, what has
Terrelle Pryor
had to learn about playing quarterback in the NFL before being able to contribute as he has been this year?
Gutierrez:
Honestly, and this is by his own admission, he had to learn how to throw a ball properly. Pryor admitted this summer that he never really learned how to throw a ball up to NFL standards while at Ohio State. He also talks glowingly about working the previous two years with former Raiders quarterback
Carson Palmer
in how to read defenses. You can't question Pryor's work ethic. And up until about a month ago, Pryor was on the fast track to Most Improved Player status. But he has, many say, regressed the past four games. In that stretch, he has thrown eight interceptions and only one touchdown while completing 61 of 120 passes (50.8 percent) for 714 yards. Plus, he has been sacked eight times for 110 yards in losses. The offensive line is still banged up, and no doubt his receivers can be inconsistent. And keep in mind, Pryor suffered what he termed a sprained MCL in his right knee, so his mobility is limited.
Keeping on the "regression" theme, what has happened to the Texans? They were a Super Bowl contender coming into the season, and now they're in a seven-game tailspin. They'll be without
Arian Foster
, who has averaged more than 100 yards rushing and has caught eight passes for 172 yards in two career games against the Raiders, and
Ed Reed
, the mistake signing the Texans acknowledged this week, via your story. But they should be getting coach Gary Kubiak back. So how will they respond this weekend?
Ganguli:
I don't know that the emotions will carry them. Not a lot changed without Kubiak there despite players wanting to win for him. His offensive philosophy is similar to that of offensive coordinator Rick Dennison, who ran the offense in Kubiak's absence. These players have pride, and the losing streak they're on was unthinkable at the beginning of the season. There was no reason to expect the struggles quarterback
Matt Schaub
had early this season. He didn't play consistently poorly, but he made some costly mistakes. The Texans were gaining a lot of yards on offense and weren't allowing many yards on defense. But their turnover margin was among the worst in the NFL, and their red zone offense and defense weren't good. After the poor start, things kind of started piling up. They lost inside linebacker
Brian Cushing
again, Foster dealt with injuries before being put on injured reserve, and while their right guard position has solidified finally after the loss of current Raiders guard
Mike Brisiel
, the Texans are still looking for improvement at right tackle.
They still have talent on the roster, starting with reigning defensive player of the year
J.J. Watt
. His numbers aren't what they were last year, but he is still playing well. He's disruptive. Last weekend, he forced and recovered two fumbles. Which Raider or Raiders will be responsible for minimizing his damage?
Gutierrez:
If Watt is on the quarterback's blind side, that responsibility will fall on the shoulders of veteran left tackle
Khalif Barnes
, who had a rough go of it against the
New York Giants
' front seven in general and
Jason Pierre-Paul
in particular. Barnes was flagged three times for holding and another time for a false start. If Watt wants to try his hand on the other side, he'll find rookie
Menelik Watson
awaiting him. Watson also had a tough game against the Giants'
Justin Tuck
and showed his relative lack of in-game experience. I would expect the Raiders' running back, either
Rashad Jennings
or
Darren McFadden
, if he's healthy, to pick up some chipping assignments. If Pryor plays -- he missed practice Wednesday resting his sprained right knee -- he might welcome an overaggressive Watt, though he should be warned to be careful what he wished for in Watt, yes? If Pryor cannot go, expect a baptism by fire for undrafted rookie Matt McGloin.
Since we're on the topic of guys who have to step up, who will try to fill Foster's nimble-yet-powerful shoes? And can he make a dent against the Raiders' on-again, off-again defense?
Ganguli:
The Texans have a very capable player to replace Foster --
Ben Tate
. The issue for Tate will be that he's still healing from a painful rib injury he suffered Oct. 20 in Kansas City. Tate broke four ribs but hasn't missed a game. He's tough. Tate has led the league in yards after contact per rush for nearly the whole season. Coaches have tried to protect Tate to keep him fresh, but he wants to go more. Behind Tate are two younger players -- undrafted rookie
Dennis Johnson
and young veteran
Deji Karim
.