Houston Texans:

2013 Week 14 HOU at JAC
December, 6, 2013
12/06/13
2:40
AM ET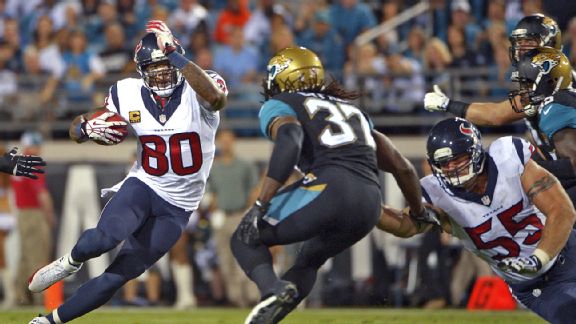 AP Photo/Phelan M. EbenhackAndre Johnson made history with his 13-catch, 154-yard night. But he couldn't get the Texans a win.
JACKSONVILLE, Fla. -- When he caught the pass, that wasn't the end of his work.
Andre Johnson
kept his eyes open for the right move to make next. He caught the ball from a young, struggling quarterback, scooted several yards to his right, found a hole to run through and gained 6 yards.
It was a play made harder than it should have been, but one Johnson made the best of anyway. In that way, it parallels his career.
On Thursday night, with a
27-20 loss
to the
Jacksonville Jaguars
, the Texans lost their 11th consecutive game, making it official they would miss the playoffs after winning the AFC South the past two years.
On Thursday night, Johnson became the first receiver in NFL history to have 20 or more games with at least 10 catches and 100 yards. He tied
Jerry Rice
with 10 games of at least 10 catches and 150 yards. Johnson's 13 catches and 154 yards led the game.
He spoke slowly, softly and deliberately when asked about it, his voice shrugging for him.
"I don't really think about stuff like that," Johnson said. "To accomplish something that in my book the greatest probably player to ever play the game, to do something he's done, it's very humbling. I'm just out here working, trying to do everything I can to help the team."
By halftime, Johnson had only two catches for 14 yards out of the five passes that quarterback
Case Keenum
threw to him. It was in the second half that things changed for Johnson, even before the spark provided by the return of quarterback
Matt Schaub
.
"I didn't do nothing different," Johnson said. "Just had more opportunities and just try to make plays when they came my way."
Keenum targeted Johnson five times in the third quarter before being benched for Schaub. Johnson caught three of those passes. According to ESPN Stats & Information, 40 percent of Keenum's passes for Johnson were off target.
Schaub, meanwhile, didn't throw any of his passes off target to Johnson. Johnson caught eight of the 11 passes thrown to him by Schaub and averaged 8.6 yards per attempt to Keenum's 5.6 yards per attempt on throws to Johnson.
Johnson was targeted a career-high 21 times Thursday -- the second-most targets for any player in a game this season, according to ESPN Stats & Info.
It makes sense.
"You don't even have to look at numbers to know that dude's a special guy," Keenum said. "He cares a lot about this team. He puts us on his shoulders and carries us quite a bit."
Well, he tries. The Texans, who are 2-11 overall, are 1-5 this season in games in which Johnson has had at least 100 yards receiving.
It has been that kind of career for Johnson.
Eight quarterbacks have started at least one game for the Texans since Johnson was drafted. The NFL record he set Thursday speaks to his longevity. That he has done it in the face of so much change at the position getting him the ball speaks to his versatility. He makes the jobs of his quarterbacks easier.
He also has provided a model for young receivers to follow. Those who do, like last year's third-round pick
DeVier Posey
, who asked for his locker to be put next to Johnson's, benefit from it.
Johnson thought the lean years were behind him, like that 2-14 season in 2005 that led to a No. 1 overall draft pick. But here they are again.
Through it, even amid whispers about his diminishing ability, Johnson has produced.
"He's been a man," Texans coach Gary Kubiak said. "Been a man all year long. Probably has a chance to have his biggest year, I don't know. But he's never changed."
Could be.
Last season, Johnson set a career mark for receiving yards in a season with 1,598. He needs 322 over the next three games to set a new personal best. Next week, he'll face the
Indianapolis Colts
, against whom he caught nine passes for 229 yards in the teams' first meeting this season.
Last week against the Patriots, Johnson became the second-fastest player in NFL history to catch 900 passes. Only
Marvin Harrison
did it faster.
None of it means as much to Johnson as a Super Bowl would have this season.
"Just frustration," he said, when asked of his emotions as the Jaguars intercepted a pass to essentially end Thursday's game. "We just want to win. I'm tired of losing."
It has all been much harder than things often are for a player of his caliber.
December, 5, 2013
12/05/13
11:47
PM ET
JACKSONVILLE, Fla. -- Thoughts from the
Houston Texans
' 27-20
loss
to the
Jacksonville Jaguars
at EverBank Field.
What it means:
The teeny-tiny chance that remained for the Texans to make the playoffs is gone. After back-to-back AFC South titles, the Texans are officially eliminated after being swept by the Jaguars. Who saw that coming in September?

Stock Watch:
Quarterback
Case Keenum
played his worst game of the season in the Texans' first meeting with the Jaguars. Thursday's wasn't as bad, but he was pulled late in the third quarter after completing 16 of 29 attempts for 159 yards. Keenum saw one underthrown ball intercepted and he threw a touchdown. He didn't quite look comfortable, and when
Matt Schaub
replaced him the contrast emphasized that. Schaub looked very comfortable leading the offense -- that is, until he threw an interception just before the two-minute warning.
Penalty party:
This was a completely winnable game for the Texans but for a waterfall of penalties. When the Texans lost to the
New England Patriots
on Sunday, the two teams committed just two penalties combined -- both by the Texans. At halftime of Thursday night's game, the Texans had 10 penalties for 115 yards. That marked a franchise record for penalty yards in a half; the previous high was 97, set in 2008. Penalties continued to hurt in the second half. The touchdown that put Jacksonville up 24-10 came on a drive that should have died inside the Jaguars' 20. The examples were endless and unnecessary.
What's next:
The Texans travel to Indianapolis to face the division-leading
Indianapolis Colts
on Dec. 15 with nothing but pride on the line.
December, 4, 2013
12/04/13
1:42
PM ET
There was a little bit of unfamiliarity between the Jaguars and Texans when they first played this season. The Jaguars' roster has turned over quite a bit since their meeting last year and the coaching staff is new.


That won't be a problem Thursday. Eleven days after their first meeting of the season, the Jaguars and Texans face each other again.
"There are not a whole lot of changes that are going to go on, especially in a short week like this," Jaguars quarterback
Chad Henne
said. "It's just mano-a-mano, and just go out there and play ball. Whoever wins the one-on-one matchups is going to win."
I addressed this topic
in my buzz video today
. There are advantages and disadvantages to being so familiar with your opponent.
"Positives, you obviously have a game of film that's very recent that you can watch," Texans defensive end
J.J. Watt
said. "Negatives, there's not a whole lot of other film in between the games. But it's a familiar opponent and they are seeing the same film that you're seeing, and it's a quick turnaround.
"But in a situation like this where you lost a couple of weeks ago, it's a chance to go out and get back on the right track and maybe get a win back. And that's the goal. That's when a short turnaround is nice is when you can go back out there and get that taste out of your mouth."
ESPN.com Titans reporter Paul Kuharsky touched on this
last week when Indianapolis played Tennessee for the second time in three weeks
. According to the Elias Sports Bureau, that kind of situation is scheduled four times this NFL season. The Panthers and Saints face each other in weeks 14 and 16 and the Chiefs and Broncos faced each other in weeks 11 and 13.
As a viewer, I'd think there are more negatives than positives. It's nice to see the way teams change over the course of a season. And when injuries are involved, a team can wind up playing the same divisional foe twice without a key player (which happened to the Titans).
More space between the games would make the second ones serve as a sort of measuring stick for that change, whether it's positive or negative.