Houston Texans:

2013 Week 7 HOU at KAN
October, 20, 2013
10/20/13
10:44
PM ET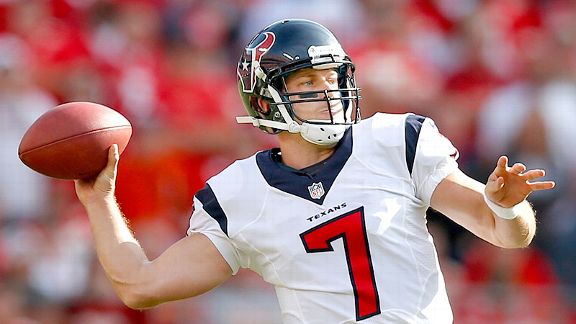 AP Photo/Ed Zurga"I learned a lot today," Houston Texans quarterback Case Keenum said of his first outing. "That was a big stage, obviously, and a really good football team."
KANSAS CITY -- The drive didn't end how any of the
Houston Texans
had hoped, but the young, inexperienced quarterback got into the huddle and urged his teammates with confidence.
"Let's take it 99,"
Case Keenum
said, as Texans center
Chris Myers
recalled.
It was the fourth quarter of a game the Texans' trailed by one point. Their net gain was negative-1 yard that quarter and that particular possession was their only fourth quarter possession with positive yardage. It ended in a punt after Keenum was sacked.
"I told him before the game, keep everyone upbeat," Myers said. "Everyone enjoys an upbeat huddle."
For a first outing, it showed promise. And it leaves the Texans with a tough decision for their next game.
"Energetic, excited, ready to go," running back
Ben Tate
said of Keenum. "Natural born leader."
Keenum was poised. It wasn't apparent this was the first time he'd played in a meaningful game since his sixth and final year at the University of Houston. (Keenum insisted last week that the preseason games in which he's seen action since then are meaningful, too.) He took chances and he recovered well when those chances didn't work.
This was the toughest defense he's ever faced and the toughest crowd he's ever seen, both of which showed late in the game.
"They were doing a good job, and I got confused," Keenum said.
He was sacked four times in the fourth quarter, fumbling the ball twice. The second time he did so, the Chiefs recovered the fumble and thus ended the Texans' comeback bid. From there Kansas City ran out the remaining 1:34 in the game.
Keenum opened up a deep passing game that the Texans moved away from lately. According to ESPN Stats and Info, he completed three of five pass attempts longer than 20 yards including one for a touchdown to
DeAndre Hopkins
. In the previous four weeks, the Texans had attempted only six such passes total.
He finished with a passer rating of 110.6, completing 15 of 25 passes for 271 yards and a touchdown. He was sacked five times -- all in the second half -- by perhaps the best defense in the NFL.
"I learned a lot today," Keenum said. "That was a big stage, obviously, and a really good football team. I learned that it's those small one or two plays here and there that make a difference."
His performance left Texans' owner Bob McNair thrilled.
"I thought he did a hell of a job," McNair said. "He was outstanding."
It left coach Gary Kubiak feeling like he'd made the right decision when he chose Keenum because the Texans needed a spark.
"Yeah, we definitely did [get a spark]," Kubiak said. "We found a little heartbeat today."
This week's decision was between Keenum and
T.J. Yates
, who entered the season as the Texans' backup quarterback. Yates won the backup job in the preseason, but was deposed after a two-interception performance against the
St. Louis Rams
last week.
Keenum was chosen with starter
Matt Schaub
out with an injury to his foot and ankle that he suffered against the Rams. Schaub said he suffered some ligament damage, but no broken bones.
But now the Texans have a bye week, which might give Schaub time to heal.
So if he's healthy what do the Texans do?
Before this week, my opinion was that Keenum was a desperation choice. Start him if you have nothing to lose.
After this game, there might be more there. It's hard to tell, still, what Keenum's future will be. But there are a lot more unknowns about his potential than there are about veteran quarterback Matt Schaub.
It's likely Keenum benefited a bit from the Chiefs defense's unfamiliarity with him. It's also likely that as he learns more about reading defenses, he'll get better at it.
The answer will lie in which direction pulls him more strongly.
October, 20, 2013
10/20/13
9:15
PM ET
KANSAS CITY, Mo. -- Observations from the
Houston Texans
' locker room after their
17-16 loss
to the
Kansas City Chiefs
.
Familiar sight for Cushing
: It's unfortunate that this was a familiar sight for
Brian Cushing
. The inside linebacker leaned on crutches as he made his way to his locker, a little over a year after suffering a season-ending injury to the same leg he injured Sunday. Offensive guard
Wade Smith
said he was "sick" about Cushing's injury, which is a torn LCL and broken leg that will require surgery.
Watt
Watt optimistic
: Defensive end
J.J. Watt
saw reasons for optimism after this loss, which didn't feel like the previous four. He said, "We fought very, very hard. In the second half especially, the defense started to feel like the old defense. Started to feel like the defense we know and love. If you're looking for positives, that's definitely a positive. End of the day an L's an L."
McNair liked Keenum
: "I thought he did a hell of a job," Texans owner Bob McNair said about quarterback
Case Keenum
. "He was outstanding. If we'd have given him better protection at the end, I think he'd have gotten us down the field again and we didn't do it. That was a disappointment."
October, 20, 2013
10/20/13
7:25
PM ET
KANSAS CITY, Mo. -- A few thoughts after the
Houston Texans
'
17-16 loss
to the
Kansas City Chiefs
.

What it means:
The Texans fall to 2-5, unthinkable when the season began. They were done in by a ferocious Chiefs defense, ultimately too much for new quarterback
Case Keenum
to overcome.
Stock watch:
It's an old cliché that the backup quarterback is the most popular player on the roster. In the Texans' case, it was the third-stringer, to whom the Texans turned in need of a spark. Keenum's stock probably remained about where it was this week. He looked poised. He showed off his ability on deep balls. He was patient in allowing plays to develop. He missed some reads, too. And he fumbled the ball twice, once with a chance to lead a game-winning drive.
Cushing down:
It was a play likely to have put a pit in the stomach of his teammates. Texans inside linebacker
Brian Cushing
took a
Jamaal Charles
helmet to his left knee, the same knee in which Cushing tore his anterior cruciate ligament last year. Cushing, who did not return to the game, is an integral part of the Texans' defense, and losing him last season hampered them.
Salute altered:
Texans defensive end
J.J. Watt
sacked Chiefs quarterback
Alex Smith
and then made a departure from his normal celebration. Instead of the salute he typically makes, Watt mimed tipping a cap, a move that could have been a nod to Bum Phillips, father of Texans defensive coordinator Wade Phillips and a legendary former Oilers coach who died Friday night.
What's next:
The Texans will have a lot to figure out during their bye week. After it, they host the
Indianapolis Colts
on Nov. 3.