Houston Texans:

A.J. Bouye
August, 23, 2014
Aug 23
12:00
PM ET
DENVER -- The
Houston Texans
(1-1) and
Denver Broncos
(2-0) face each other in their third preseason game Saturday night at Sports Authority Field at Mile High Stadium. Here's what to watch for:
1. Quarterback Ryan Fitzpatrick:
He recovered in a big way from his uninspiring debut this preseason. Two scoring drives showed a marked improvement last weekend compared to his performance in the Texans' preseason opener against the
Arizona Cardinals
. The Fitzpatrick who appeared against the Falcons is much closer to the quarterback I've seen in practices lately than the one who could barely stay on the field in Arizona. His improvement needs to be a trend, though. Fitzpatrick needs to be more consistent, especially outside of two-minute drills.
2. The slot receivers:
The position is a competitive these days.
Mike Thomas
was the early leader, and he has still looked excellent in practices, but don't count out
Keshawn Martin
. This week's game will be important for both. Thomas sat out last weekend against Atlanta after getting knocked in his helmet during the week of practices against the Falcons. Martin and undrafted rookie
Travis Labhart
really took advantage of his absence.
3. The secondary:
The Texans' depth at defensive back grew before our eyes from Week 1 to Week 2. I don't expect starting cornerback
Johnathan Joseph
to play tonight, which means another serious look at those guys against the best passing game in the NFL. We'll couch this by saying preseason games involve a pared down playbook and little game-planning. But the Texans will still learn a lot by watching cornerbacks such as A.J. Bouye,
Elbert Mack
and Andre Hal, who have all had promising moments this preseason. Mack, especially, had a strong week against the Broncos in practice. He could fight his way onto the roster in the next two weeks.
August, 13, 2014
Aug 13
6:15
PM ET
HOUSTON -- A daily review of the hot topics coming out of
Houston Texans
training camp.
Wednesday marked the first of two joint practices between the Texans' and Atlanta Falcons. The teams decided not to go live with tackling, but limited contact to "thuds." They did periods of work on separate fields, then joined for some team drills before a group of fans there for the open practice. Oh, and, "Hard Knocks" was there, too, though careful not to get too close to the Texans. Asked if he'd be open to his team being featured on Hark Knocks, Texans' coach Bill O'Brien replied: "I'm always open to anything that helps our team get better."
Young cornerback A.J. Bouye, an undrafted rookie last season, got a great test on Wednesday, facing Falcons receiver Roddy White quite a bit. During one drill, Bouye and White went against each other three times. Once White won. Once Bouye won. The third time, Bouye had his hand in White's face and White dropped the ball. Other reporters watching the play with me thought it was a straight drop by White. I thought Bouye made an impact on the play. But even if it was merely a draw with White, that's pretty good from Bouye. Later, during a seven-on-seven drill, Bouye knocked the ball away from White again.
Speaking of White, that Atlanta tandem of White and Julio Jones is one that Texans receiver DeAndre Hopkins really looked up to before coming into the NFL. We asked Hopkins if he had a chance to say hello. He said he did have the chance, but didn't do it. Why? He wanted to play it cool, instead of seeming like a fan.
Falcons quarterback Matt Ryan got a stiff challenge from the Texans' defense. During one set of team drills, he had his first pass batted away, he had J.J. Watt in his face on the next (completed it, but Watt wasn't allowed to tackle him), and on the third pass, he threw one incomplete while facing excellent pressure form the Texans' front.
Atlanta's offensive line was a problem last season. It's part of why they drafted tackle Jake Matthews out of Texas A&M. Matthews' roots go deep in Houston as the son of former Oilers Hall of Fame lineman Bruce Matthews (who attended Wednesday's practice). The younger Matthews got tested against Watt. The offensive and defensive line one-on-one drills happen on the end of the field that the media can't see, so I can't speak to what happened there. But I did see a play early in practice during a team drill when the two faced each other. Watt rushed Matthews and the rookie held up against him.
Offensive guard Xavier Su'a-Filo got some first-team reps today. O'Brien has liked the way he's progressed. He had a lot of catching up to do after missing the spring workouts due to an NFL rule.
July, 10, 2014
Jul 10
12:00
PM ET
So much attention is paid to the draft process that sometimes it's easy to forget not every important piece on a football team comes from the top three rounds of the draft. Talent can sometimes take a bit of development. Other times, evaluators are just wrong.
That's not to say you don't have to get lucky to hit on someone so many people missed -- but sometimes you do.
Training camp is when players really have a chance to prove they're worth a starting spot or sometimes merely a roster spot. Today we'll look at five players who I think will be positive developments for the
Houston Texans
. And I know I'll get yelled at for the first one.
Newton
1. Right tackle Derek Newton:
Newton was rightfully maligned often during last season. His pass protection wasn't good. He was decent in run blocking, but because Newton's bad plays were so bad that was easy to dismiss. The Texans weren't as ready to give up on him as many fans, though. They didn't take a tackle in the draft or seek one during free agency. I believe he'll be better as the Texans' starting right tackle in 2014 for these reasons: He acknowledges last season wasn't good and his coaches are focusing very heavily on his technique. He was a seventh-round pick in 2011, which isn't a place you usually get starters, but Texans' coach Bill O'Brien is confident he can be one.
2. Defensive end Jared Crick:
Perhaps this one won't be too much of a surprise to those who have paid close attention to the Texans' defensive line situation. Crick backed up
Antonio Smith
last season, playing in his place when Smith was suspended for the season opener. He's quick and strong. Of course, you learn more with pads on than when guys at these positions are practicing in shorts and t-shirts. Crick was a fourth-round draft pick by the Texans in 2012.
Bouye
3. Cornerback A.J. Bouye:
Undrafted rookies love to point to
Arian Foster
's chance with the Houston Texans as a reason for optimism. The truth is, any staff will keep you if you've proven you deserve it. Bouye did it last season, but wound up on injured reserve midway through. He's looked good in coverage drills during OTAs and minicamp, where he's gotten significant playing time because of
Johnathan Joseph
's absence as he recovers from his January surgery.
4. Receiver Alan Bonner:
Bonner was a sixth-round pick for the Texans last season, but spent all season on injured reserve. He's 5-10, 191, but plays bigger than that. He's been working in the slot, he said, and involved in the competition to return for the Texans. Here's good news for Bonner: At the start of minicamp, O'Brien included Bonner among a group of second-year players who he believed had shown improvement.
5. Outside linebacker Ricky Sapp:
Now on the third team of his career, Sapp feels like he might have finally found a football home with the Texans. The Jets waived Sapp last season and the Texans claimed him of waivers. They liked him enough to re-sign him after that and Sapp has certainly caught the attention of coaches. There was plenty of opportunity for outside linebackers during OTAs and minicamp with
Brooks Reed
practicing at inside linebacker most of the time and Sapp, who played five games for the Texans last season, has taken advantage of it.
September, 14, 2013
9/14/13
11:01
AM ET
September, 2, 2013
9/02/13
3:53
PM ET
HOUSTON -- Linebacker
Justin Tuggle
came in with the support of a father who spent 14 years in the NFL.
Running back
Cierre Wood
, with the desperation of someone who wasn't drafted and wanted to provide for his daughter.
[+] Enlarge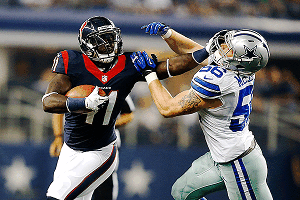 Tim Heitman/USA TODAY SportsCierre Wood was one of four undrafted rookies to make Houston's 53-man roster.
Outside linebacker
Willie Jefferson
wanted to shed the weight of having nearly derailed his football career because of off-the-field mistakes.
And cornerback
A.J. Bouye
arrived knowing only he and his father believed he could make it.
Last Thursday all four undrafted rookies played in the final preseason game of the season. Wood convinced himself it was just another game, then excelled in front of a Cowboys team he thought would draft him.
"Hey, that's what they get," Wood said.
Tuggle and Jefferson made their final impressions. Bouye caught an interception, then got screamed at for celebrating in the middle of Dallas' star at midfield.
On cut day, you get a phone call if you're cut. They all went back to their hotel hoping their phones didn't ring.
Bouye couldn't sleep. He stayed up all night watching ESPN, hoping to catch highlights of his UCF Knights, who had blown out Akron earlier that night.
On Friday, Wood and Jefferson stared at their phones together. Tuggle tried to go through his regular morning routine.
By midday they arrived at Reliant Stadium. Jefferson avoided coaches, theorizing if they couldn't find him, they couldn't cut him. By the time that day's team meeting began, they knew they were on the 53-man roster.
Tuggle texted his father before practice.
"He really just couldn't believe it," Tuggle said. "It was a big day for me and it was a big day for him, too."
Bouye called his father.
"He yelled," Bouye said. "He was just yelling. I think he wanted to cry. He was the only one I felt that really believed in me. He knew from day one that I could make it."
Jefferson called his father, too, then a list of family members.
"A lot of hard work and dedication paid off," Jefferson said. "A lot of old things from my past fell off my shoulders."
Wood called his daughter Braelyn, who turns 2 on September 29. She didn't say much. He spoke to his mother who started to pray.
"That's exactly what I did at that point," Wood said. "Got on my knees and I just broke down myself."
Reality sets in soon.
"I'm proud I accomplished that, but this is just the beginning," Tuggle said.
All of their tryouts continue from here.
August, 30, 2013
8/30/13
12:23
AM ET
ARLINGTON, Texas -- Gary Kubiak will have some decisions to make in the next several hours. Many of them were made much easier by Thursday night's final preseason game, in which his
Houston Texans
beat the
Dallas Cowboys
24-6
.

The game saw both backup quarterbacks play well, and made it very likely the Texans will keep three on their roster this season.
It showcased the two remaining running backs whom Kubiak needed to see more of in
Cierre Wood
and
Dennis Johnson
. Wood helped himself with 107 rushing yards and a 5.6-yards-per-carry average. Johnson hurt himself with three fumbles, one of which he lost, and difficulty fielding returns. Kubiak said he already knew enough about veteran running back
Deji Karim
, so he didn't play him much at all.
Cornerback
A.J. Bouye
showed skill with an interception. Then he got chewed out after he incurred a 15-yard penalty for standing in the middle of the Cowboys' star, his arms outstretched like Terrell Owens. The undrafted rookie said he probably won't even sleep Thursday night waiting to hear whether or not he made the team.
And tight end
Ryan Griffin
showed exactly why the Texans drafted him in a performance that included five catches for 87 yards.
The decisions will start tomorrow -- and could finish then, too. Stay tuned.
August, 29, 2013
8/29/13
4:25
PM ET
Eleven undrafted rookies remain with the
Houston Texans
after their first set of cuts, and it's a group that coach Gary Kubiak loves.

"Boy, if you look at our [college] free-agent class, this might be about as good as we've had as far as the numbers that could possibly be on this football team come final roster cuts next week," he said. "I've been very pleased with some of the free-agent acquisitions we've had coming out of college, that they have a chance to make us better."
I've already taken a look at five players who could be impacted by tonight's game against Dallas. In this edition of W2W4, we'll look at three undrafted rookies:
1. CB A.J. Bouye:
Last season the Texans realized just how important defensive-back depth is when they had a rash of injuries at the position late in the season. Bouye, undrafted out of the University of Central Florida, has a real chance to make the roster and contribute to that depth. He has five tackles during the preseason. In college, he had six interceptions, including three his senior season.
2. OLB Willie Jefferson:
Jefferson has played defense for only two full football seasons after starting his college career as a wide receiver. He's taken to it really well. Given how little time he's spent learning his new position, he has a lot of room to grow. In the preseason, he's had three quarterback hits, including one sack. He also has one batted pass. Jefferson is developing a keen sense of timing that helps his pass-rush ability. His run-stopping skills need a bit more work.
3. RB Cierre Wood:
Wood left Notre Dame early, driven to find a role on an NFL team. Though it seems young veteran
Deji Karim
is in the lead to be the Texans' third running back, Wood could fight his way onto the roster, or at least the practice squad, with a good performance tonight. He really started to garner notice once the games began and has seemed a bit ahead of fellow undrafted rookie
Dennis Johnson
. Both will get looks tonight.