Houston Texans:

Blaine Gabbert
November, 22, 2013
11/22/13
10:00
AM ET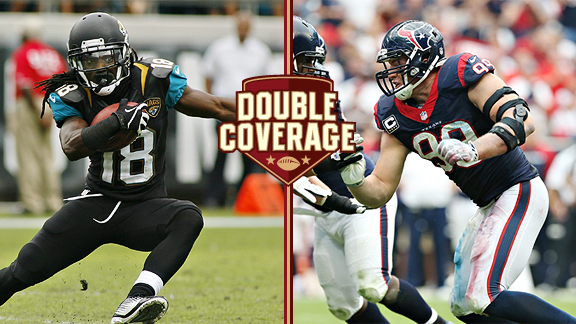 USA TODAY SportsAce Sanders and the Jaguars' receivers must pick up their play against J.J. Watt and the Texans.
HOUSTON -- Oddly enough, it's the team with the worse record that enters this game with the better vibes.
The
Jacksonville Jaguars
finally won a game two weeks ago, whereas the
Houston Texans
are trudging through what's now an eight-game losing streak, the longest in franchise history.
For Houston, it's been a matter of finishing. The Texans have led at halftime in each of their past three games. They regularly gain more yards than their opponents. They just can't finish with wins, having lost by one, three, three and five points in their past four games.
ESPN.com Jaguars reporter Michael DiRocco and Texans reporter Tania Ganguli discuss.
Ganguli:
So, Mike, do you think the Jaguars have shown signs of improvement lately?
DiRocco:
In certain areas, yes. They've been much better against the run since the bye week, holding the
Titans
to 83 yards and the
Cardinals
to just 14. Their special teams have improved, too, especially the kickoff-return unit. Since bobbling several kicks against the
San Francisco 49ers
,
Jordan Todman
is averaging 34.7 yards on his past seven returns. Outside of those two areas, though, improvement is hard to find. The running game is still struggling. Since rushing for 90 yards against San Francisco, the Jaguars have totaled 86 in the past two games. The passing game really misses
Justin Blackmon
, too, because teams are concentrating on stopping receiver
Cecil Shorts
, and the rest of the receivers just aren't good enough right now to carry the offense. The pass rush managed three sacks against Arizona but overall has been ineffective. Couple that with a secondary that includes three rookies and you can see why they're struggling against the pass, too.
Speaking of struggling, what has been the biggest reason for the Texans' surprising stumble this season? Is it quarterback play? Injuries?
Ganguli:
Special teams, turnover margin, quarterback play, injuries and red zone efficiency on both sides of the ball are all to blame. The Texans' kicker,
Randy Bullock
has really struggled. He made a 51-yarder on Sunday -- his first field goal from 50 yards or longer this season. Overall, he's made only 65.4 percent of his field goal attempts. The Texans currently have their starting tight end, running back, strong safety and middle linebacker on injured reserve. They might get tight end
Owen Daniels
back in a couple of weeks, but not having him has been bad. The Texans' offense and special teams have turned the ball over at a high rate -- and that's not just on former starting quarterback
Matt Schaub
, though Schaub has been a big factor. Pick-sixes aside, Schaub wasn't actually playing too poorly before he got benched for
Case Keenum
. He had one game that was top-to-bottom bad: the Texans' loss in San Francisco. But a pick-six is such a big play that his really hurt the Texans. That's not something anyone predicted heading into the season. Well, maybe someone did. Certainly not me.
Speaking of quarterbacks, what did it take for the Jaguars to finally give up on
Blaine Gabbert
?
DiRocco:
Gus Bradley says the team hasn't given up on Gabbert, but it's pretty obvious it has by the fact that
Chad Henne
is starting even though Gabbert has recovered from a hamstring injury and has been healthy for weeks. It was typical Gabbert when he did play earlier in the season: some really good throws, some terrible throws and a few "what the heck was he thinking?" throws. He just hasn't been consistent enough, and he's had three seasons. The other issue is that he can't seem to stay healthy. This season alone he had a sprained ankle early in training camp, fractured his thumb in the preseason, missed two games because of a cut on his hand and left the Week 5 game with a hamstring injury and hasn't played since. He also missed the final six games of the 2012 season with a forearm injury.
Tania, what is Schaub's future in Houston? If he's out, are Keenum or
T.J. Yates
viable long-term solutions or will the Texans go after a quarterback in the draft?
Ganguli:
Schaub's future in Houston is murky at best. He knows that. His teammates know that. As I said earlier, people did not see this coming. The Texans' handling of Yates indicates they don't think he's the future. I don't think it'd be smart to go into next season with only Keenum as a starting option given the unknowns that remain about him. So far, he hasn't been able to react well to defensive adjustments against him. It's entirely possible he gets better at that, but I just don't think you know for sure yet. I could absolutely see the Texans drafting a quarterback. It'll be a pretty deep class, though there doesn't seem to be a knockout like
Andrew Luck
.
Let's finish up with defense. The lack of a pass rush has been a problem in Jacksonville for so long. Why has it been ineffective?
DiRocco:
The bottom line is the players aren't anything but average. It dates back to 2008, when the team drafted
Derrick Harvey
in the first round and
Quentin Groves
in the second to improve the pass rush. They were both busts, and the Jaguars have been chasing those picks ever since. They signed
Aaron Kampman
to a free-agent contract in 2010, but he arrived coming off a torn ACL, and he went on to suffer another tear, among more injuries. The Jaguars claimed
Jason Babin
off waivers from Philadelphia in 2012, and he has 4.5 sacks in 15 games with them.
Andre Branch
, last season's second-round pick, has just three sacks in 23 career games. Upgrading the pass rush will be one of the team's biggest tasks in free agency and the draft this offseason.
This obviously isn't the kind of season the Texans expected. How has the locker room been? Do you get the sense of any problems, and is it a case which another few losses (especially one to the Jaguars) could make things get nasty?
Ganguli:
The locker room is frustrated, but right now, the Texans are closing ranks and taking an us-against-the-world mentality. We saw a bit of frustration within the team when Schaub yelled at
Andre Johnson
on the sideline for stopping his route near the end of the Texans' loss to the
Raiders
. Johnson yelled back and then walked off the field before the official end of the game. The team didn't need him anymore at that point because Oakland was simply kneeling to the finish, but it was a surprising move from a guy who doesn't normally show his frustration like that. Still, Johnson and Schaub both downplayed the argument, saying they were fine with each other. I thought Johnson's comments on Wednesday supported that. He talked about how "you hate to see" what Schaub has gone through this season, especially given their long history together. This is a pretty good locker room. I think if they were going to turn on each other, they would have had plenty of reasons to do so already.
August, 29, 2013
8/29/13
11:50
AM ET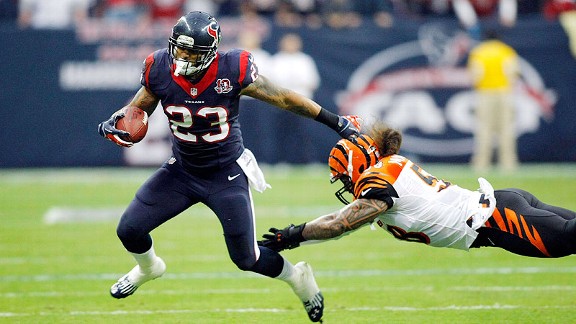 Brett Davis/USA TODAY SportsThe AFC South has three of the 15 running backs in the #NFLRank top 100, including Arian Foster.
The AFC South is the lone division in the NFL with three running backs rated in the top 100 players on offense in #NFLRank, ESPN.com's widespread player-ranking poll.
Fifteen running backs made the top 100, so the AFC South accounts for one-fifth of them, with Houston's
Arian Foster
14th, Jacksonville's
Maurice Jones-Drew
50th and Tennessee's
Chris Johnson
68th.
Indianapolis, the only team in the division whose quarterback is on the list --
Andrew Luck
is 41st -- is also the only team from the division without a running back on it.
But the Colts came close.
Vick Ballard
finished 110th.
Having a top running back doesn't automatically make a team run-centric, though Tennessee and Jacksonville certainly will be. Houston's passing game with quarterback
Matt Schaub
(No. 108) is equipped to make big plays, but is also most effective when it's built off play-action that is triggered by Foster's success. (See sidebar.)
While running effectively and playing good defense remain things good football teams typically need to do to win, it's rare for a team without a good passer to have a great deal of success. And that has changed the way running backs are regarded.
Foster, Jones-Drew and Johnson are all playing under lucrative second contracts in a league where a back is highly unlikely to get big dollars or years the third time his agent sits down for negotiations.
Increasingly, teams are wary of drafting a running back high, as the Titans did with the 24th pick overall in 2008. Instead, they seek to find a back in the middle or late rounds. Some even hit a home run in the undrafted rookie pool, as the Texans did with Foster in 2009.
"A lot of things we do start with the run," Texans coach Gary Kubiak said. "I think you've got to do what your team does best. You can't worry about what everybody else does or what everybody else thinks is the formula. Last year, our formula, we played great defense, we ran the ball well, we held onto the ball longer than anybody in football. It was an excellent formula for our football team. This year, I don't know. We've got to go see."
Foster gives the Texans a great combination of speed and power, running with a gliding, effortless style and catching the ball well. Those qualities have earned him 1,115 regular-season touches over the past three seasons.
"He's a real good running back," Johnson said. "He's a bigger guy. He can run the ball and catch the ball out of the backfield. Just seeing him run the ball is interesting, because he is a very smooth runner. They've got a great scheme with him, they like to run that stretch with him, he's got a great feel for his linemen and they've got a great thing going where they know when to cut the backside down. The offense he's in is a very good offense."
Jones-Drew was knocked out of action last season after just six games. He's back from a foot injury now, and while he's on a team with better receivers than they've had in some time, the Jaguars still have a giant question mark with
Blaine Gabbert
at quarterback as well as a susceptible defense.
The Jaguars will hand the ball to him against loaded boxes and when trailing. He could face those situations more than any of the league's top backs.
He came into the league as a second-round pick just seven years ago but has seen a dramatic change in perception about the position in that span.
"I think money-wise they tried to change it, but there are certain players and every team understands that you need a balanced attack," he said. "So
Aaron Rodgers
, they threw the ball so many times. I remember last year he was like, 'We need a running game, we need a running back.' And they went out and drafted two.
"Teams want to portray it as if running backs aren't valuable or are interchangeable. No, everybody has a piece. Your piece [as a quarterback] may be bigger than the other positions. But in order for the whole offense to work …"
Jones-Drew points to the 2010 Packers who won Super Bowl XLV. Come the playoffs, pass-happy Green Bay got quality play from
James Starks
, who ran well and created a new option. Last season's Super Bowl teams, San Francisco and Baltimore, had hot quarterbacks who were supplemented by good runners.
Balance and co-existing skill players -- it's an easy formula to want, and often a difficult one to execute.
Things won't work if they are too pass-centered, Jones-Drew said. And it's the same if his team is over-reliant on him.
"I've been screaming for balance ever since I've been here," he said. "People can't say I've been like, 'Oh, let's run the ball.' 'Cause I know what balance brings. It opens it up for everybody."