Houston Texans:

Brooks Reed
October, 29, 2014
Oct 29
5:05
PM ET
HOUSTON -- The
Houston Texans
' bye week following this week's game against the Eagles will come at a time when a lot of players need some rest.
Clowney
Seven players did not practice Wednesday, including
Jadeveon Clowney
, who coach Bill O'Brien said came out of Sunday's game a little bit sore. It was Clowney's first game back since having knee surgery Sept. 8. Running back
Arian Foster
, whose workload has significantly decreased in the past few weeks, also got the day off. I'm expecting him to get a lot of Wednesdays off as the season progresses.
Here's the rest of Wednesday's injury report for both the Texans and the Eagles.
Texans
DID NOT PARTICIPATE
OLB Jadeveon Clowney (knee), ILB
Brian Cushing
(knee), RB Arian Foster (knee), WR
Andre Johnson
(ankle), CB
Johnathan Joseph
(knee), OLB
Brooks Reed
(groin), ILB
Jeff Tarpinian
(knee)
LIMITED PARTICIPATION
RB
Alfred Blue
(ankle), CB
Darryl Morris
(ankle), OLB
John Simon
(ankle)
FULL PARTICIPATION
DE
Tim Jamison
(groin), OLB
Whitney Mercilus
(shoulder), CB
Jumal Rolle
(wrist)
Eagles
DID NOT PARTICIPATE
S
Nate Allen
(hamstring), CB
Brandon Boykin
(hamstring)
LIMITED PARTICIPATION
WR
Brad Smith
(groin)
FULL PARTICIPATION
G
Todd Herremans
(biceps), C
Jason Kelce
(hernia), LB
Mychal Kendricks
(calf), WR
Jeff Maehl
(foot), LB
DeMeco Ryans
(groin), RB
Darren Sproles
(knee), CB
Jaylen Watkins
(wrist)
October, 27, 2014
Oct 27
4:42
PM ET
HOUSTON -- In his first game back since tearing his meniscus,
Houston Texans
outside linebacker
Jadeveon Clowney
was kept on a pitch count.
Clowney
Clowney played 32 snaps, or 52 percent of the Texans' defensive snaps on Sunday against the
Tennessee Titans
.
What Texans coach Bill O'Brien saw in those 32 snaps was a player who gave a lot of effort, who had what O'Brien called a "decent" game and who is still working on improving his conditioning to get back into football shape.
"He got off on the ball well," O'Brien said. "He had good explosion off the ball. He had good assignments, he was good on his assignments. I think it's going to be a work in progress as far as him getting back into shape. There's a difference between running around the track on field one out there and having to play in a football game, so he'll continue to work on that after practice, in the mornings, trying to get his conditioning level back to where it needs to be."
O'Brien said Clowney's snaps should increase, but he's not yet at the point where he'll play 80 snaps in a game.
There was a lot of linebacker talk Monday because of Clowney's return and inside linebacker
Brian Cushing
missing Sunday's game in Tennessee. A few notes from Monday:
O'Brien was pleased with the play of his inside linebackers in Cushing's absence. In particular, his absence increased the playing time of Akeem Dent and Mike Mohamed. "I thought those guys stepped up and played well," O'Brien said. "I think Akeem Dent played a good football game. Mike Mohamed played a good football game. Tug (Justin Tuggle) played a good football game. Mohamed was the one who tracked down that one punt return and then Dent made a few plays on the kickoff."
Whitney Mercilus had more snaps than any other linebacker with 46. That accounted for 75 percent of the Texans' defensive snaps. As outside linebackers alone went, Clowney had 32 and Brooks Reed had only 20. Reed is dealing with a groin injury he suffered during the Texans' Thursday night game against the Indianapolis Colts.
O'Brien's thoughts on the OLB rotation: "I think you do it by package. We have four or five different defensive packages, a couple of base defense packages, a couple of nickel packages, a dime package, so that way you can kind of plug them in and understand how they're going to be used throughout the game. ... The thing that's been good about the linebacker play is when guys have been injured that the next guys have stepped up and played pretty decent. So hopefully that continues."
Cushing said he thought he could have played Sunday. Later in his interview he said the training staff thought it was best for him to rest. "I want to play and it hurts every time I don't," he said. "But you get a little bit older and you have to be a little bit more patient, you have to be a little bit smarter about how you approach the game and what level you're playing the level at. You want to be as close to 100 percent as you can." He added that the last time he's been 100 percent was probably before he started playing in the NFL.
October, 22, 2014
Oct 22
7:48
AM ET
Reading the coverage of the Houston Texans...
Marc Vandermeer, the voice of the Texans, provides
his post-mortem on Houston's fourth loss of the season
. "The Texans found themselves in what's become an all too familiar setting, needing to come back from a double-digit deficit. They eventually cut it to seven and nearly recovered an onside kick for a shot at a game-tying touchdown. Nearly."
Ryan Mallett
will get reps in practice but
Ryan Fitzpatrick
is
still the Texans' quarterback
, writes Brian T. Smith of the Houston Chronicle. Mallett getting reps in practice is what's been happening all season, but Smith says the way O'Brien addressed the two quarterbacks was different this time than it has been in the past.
Dave Zangaro of CSNHouston.com takes a look at Texans' snap counts from Monday night's game against the Steelers
. The offensive line and Fitzpatrick played all the Texans' offensive snaps and
Kendrick Lewis
and
Whitney Mercilus
played all the Texans' defensive snaps.
Brooks Reed
, who suffered a groin injury in the Texans' Thursday night game in Week 6, played in 54 percent of the team's defensive snaps.
Four teams connected to Texans' offensive tackle
David Quessenberry
will honor him this weekend, writes Kyle Ringo of Buffzone.com. Colorado, whose head coach coached Quessenberry at San Jose State, will play UCLA, where Quessenberry's younger brother Scott plays. San Jose State, his former school, plays Navy, where another younger brother, Paul Quessenberry, plays defensive end.
Colorado head coach Mike McIntyre coordinated the effort.
September, 14, 2014
Sep 14
10:00
PM ET
OAKLAND, Calif. -- No moments were more indicative of the renewed attitude of the
Houston Texans
' defense than what followed a deep pass from Oakland quarterback
Derek Carr
to receiver
James Jones
.
Jones initially picked up 26 yards with the catch, then safety
Kendrick Lewis
knocked the ball from his hands. Jones picked the ball back up off the ground and kept running, this time meeting cornerback
Johnathan Joseph
near the end zone. The ball was knocked out of Jones' grasp again.
D.J. Swearinger
picked it up that time and the Texans had the ball back at their own 3-yard line.
Swearinger
Joseph was initially defending Jones then got back up and chased him down to the goal line. Swearinger was ready to pounce on the opportunity.
"Everyone's excited to play," inside linebacker
Brian Cushing
said. "Not giving up on plays. Even when they get a big play, we're chasing after balls, getting it out."
Shortly after halftime, Swearinger returned the favor for Joseph, knocking the ball from tight end
Mychal Rivera
for Joseph to recover. Joseph returned that recovery 49 yards, hoping to get a score there, too.
Already this season, the Texans have forced six turnovers, more than half of what they had in all of the 2013 season. They notched two interceptions (by
Kareem Jackson
and
Brooks Reed
) and two forced fumbles to add to Week 1's two forced fumbles.
"Games in the NFL, they come down to third-down conversions, they come down to red-area percentage and then obviously, probably most importantly, they come down to turnovers," Texans coach Bill O'Brien said. "So if you're the team that doesn't turn it over and the other team does turn it over, then you've got a heck of a shot to win and our team is doing a pretty good job of that right now."
It's a dramatic difference from last season when turnovers were a massive issue for the Texans on both sides of the ball. Houston's minus-20 turnover margin in 2013 was the worst in the NFL. Their offensive struggles there were well documented, and happened in part due to the quarterback who was shipped to Oakland after the season. Their defensive turnover struggles meant only 11 forced turnovers in 16 games.
Their goal on Sunday against the Raiders was to give up no more than seven points. Swearinger lamented that they didn't, but the Raiders' extra touchdown was a meaningless garbage-time touchdown.
They met one goal, though, one that mattered even more.
"We can't be the defense we want to be if we don't force turnovers," Swearinger said. "So we have to."
September, 9, 2014
Sep 9
7:45
AM ET
Reading the coverage of the Houston Texans...
The Texans will replace one first-round draft pick with another
, writes John McClain of the Houston Chronicle. Outside linebacker Whitney Mercilus, the 26th overall pick in 2012, will replace Jadeveon Clowney, the first overall pick in May. "I feel good about Whitney stepping up," inside linebacker Brian Cushing said. "He's a good player, and he did a good job replacing (Clowney against Washington). He's played a lot of football for this defense."
Sean Pendergast of the Houston Press
found the Texans' ugly 17-6 win over Washington to be beautiful
. He presents his winners and losers here. His four winners are tackling in the secondary, Arian Foster, Brooks Reed and J.J. Watt. In his losers we learn that he is very, very unhappy Texans coach Bill O'Brien got rid of individual pregame player introductions.
Clowney's teammates understand his frustration at suffering a torn meniscus in the Texans' season opener
, writes Dave Zangaro of CSNHouston.com. Two players who might be especially helpful for him mentally during his recovery are cornerback Johnathan Joseph and safety D.J. Swearinger, both of whom played college football at South Carolina as Clowney did. "You gotta continue to keep your head up, block all the outside noise out," Joseph said. "You're not the first one to get injured and you won't be the last one. Obviously, you got a great support cast here with his team and coaches and we're just encouraging him to have a speedy recovery and just get back out there."
Washington coach Jay Gruden didn't mince words about his team's performance in their season opener in Houston.
Gruden said running back Roy Helu was "out to lunch"
on the punt that Texans running back Alfred Blue blocked.
June, 20, 2014
Jun 20
7:00
PM ET
While the
Houston Texans
will be technically off for the next month, the blog will keep chugging along. I've saved some nuggets from the past few weeks and will have some thoughts on players to watch during training camp. Without pads on, there are certain positions that are hard to gauge, but more on that a bit later.
Thanks for your questions for this week's mailbag. I thought this would be a good way to wrap up the offseason.
@taniaganguli Was the QB competition close? Or was Fitzpatrick head and shoulders above the other three?

— Tom Vaughan (@tomvaughan) June 19, 2014
It was really interesting to watch day by day. One thing we had to consider while evaluating what we saw was that they were still learning a new playbook. I think that's the area in which
Ryan Fitzpatrick
had the biggest advantage. He's learned new systems before and there are only so many variations for an NFL offense. This staff dumped a huge amount of information on players, partly to see how they learned and what they'd retain. My feeling was the starting job was Fitzpatrick's to lose and he didn't do anything to lose it during the voluntary portion of this offseason.
@taniaganguli Who all has been getting the reps at punt/kick returner? Who do the coaches like? #Texans

— Ross Pollack (@Ross_Pollack) June 19, 2014
We aren't permitted to talk about specific reps, but
Keshawn Martin
,
Mike Thomas
,
Alan Bonner
and
Kareem Jackson
have all been part of that group, though I wouldn't expect Jackson to become a primary returner. This is one of those positions that really gets sorted out during the preseason games. Remember two years ago
Trindon Holliday
forced himself onto the roster with three return touchdowns in four games.
@taniaganguli does coach Obrien personally work with QBs?

— Coach McGuirk (@TexasMonte) June 19, 2014
He does. During practices, Bill O'Brien makes an effort to go around to various position groups and pull players aside for individual instruction. O'Brien really likes that personal teaching. He didn't stop when he became a head coach at Penn State and he hasn't stopped at the NFL level. I asked him once if that was a difficult balance to keep, and he said it's not as long as you stay organized.
@taniaganguli baring injury, does Savage start any games this yr, if so how many?

— GILES LAMONT (@GilesGman) June 19, 2014
I could definitely see him starting games if there were an injury to Fitzpatrick. Barring injury, though, that will depend a lot on what Fitzpatrick can do for the Texans. He is a fairly known quantity given how long his career has been. But at 31 there's still room for growth. The biggest issue will be ball security, something that's been a problem for Fitzpatrick. Back to your original question, though, if he can protect the ball better and if things go better around him than they did for
Matt Schaub
, I can see Fitzpatrick staving off the rookie.
Tom Savage
is clearly raw, but also clearly very talented. His arm strength might be the best of any quarterback the Texans have or have had on the roster this season. He's also a willing student who acknowledged since the moment he got drafted that he has a lot to learn. You wonder where his development would be now if he was at one college for the past four seasons. I could see Savage putting himself in a position to earn starts by November. But if Fitzpatrick is doing well enough, the Texans won't need to rush him.
@taniaganguli how has Brooks Reed been looking at inside backer?

— Austin Lantz (@AustinLantz10) June 20, 2014
It's all
Brooks Reed
has been doing on the field, and something he did during games last season in specific packages. Reed's skills are better used outside on a regular basis, but he's done well working inside this summer. Getting reps inside for Reed is becoming a yearly tradition lately. I think there's still a good chance he stays outside this year.
May, 30, 2014
May 30
12:35
PM ET
One advantage of being a Super Bowl champion player turned coach is that you have a lot of examples of great players you played with to share with the ones you're now coaching.
It's part of
Houston Texans
' linebackers coach Mike Vrabel's style. He thinks about which of his former teammates players can relate to and offers them as examples of what works.
As his coaching career progresses, there will likely come a time when he starts using players he coached for those examples.
Vrabel and I sat down on Thursday to discuss his coaching philosophy, leaving Ohio State, rookie outside linebacker
Jadeveon Clowney
and more. I'll break it up into three posts, starting here, with his thoughts on Clowney,
Brian Cushing
and
Brooks Reed
.
How has Clowney done so far learning to play outside linebacker?
Mike Vrabel:
I think his attitude, much like all of our guys, their attitude has been great. They've come in, they've tried to be vocal in the meeting rooms, not always right, but at least they have the confidence to try to make the calls, make the adjustments and make the corrections while we're in there. He's somebody that we're excited about because he has the natural ability, but he also has the attitude to want to learn. He doesn't think he has it all figured out.
What did you learn about his mentality before the draft?
MV:
I got to meet with him. I didn't make the decision, obviously Rick [Smith] and OB (head coach Bill O'Brien) make the decision to draft, and Rick and Mr. McNair (Texans owner Bob McNair). But meeting with him before the draft, I enjoyed my conversations with him. He was conscientious, he wanted to learn, he wanted to study. He knows a little bit about the history of the game, the great players who played. So our conversations went very smoothly through the draft, at the combine. We brought him here on a visit, him and I got to go to dinner, so that was an easy conversation. It was a kid that you would want to coach.
Was the taking plays off thing overblown?
MV:
Everyone gets critiqued on their performance. Whether I get critiqued as a coach or players get critiqued as players, people are going to find the worst things. We need to change the things that we don't do well and we need continue and advance the things we are doing well. So as a coach, if I'm doing something well, I need to keep doing it. If I'm not doing it very well, I need to change it. Effort is something that we're not going to sit here and coach. We're not going to coach effort on our defense. I think anybody, the 11 guys that we put out on our defense, [defensive coordinator] Romeo Crennel and our head coach, we're going to make sure they're playing with great effort.
Inside linebacker has been a bit of a question. How has Brooks Reed done playing in there?
MV:
He's an unbelievably coachable kid. If J.J. Watt's in here the most hours and our quarterbacks, Brooks Reed's gotta be a close second. It means a lot to Brooks Reed. It means a lot to Brian Cushing. It means a lot to all of these guys. And they're in here putting time in. it's a completely different defense, completely different coaching style, completely different philosophy. He's putting the time in. he gets excited. I'm happy when it does well. He's frustrated when he doesn't. I look forward to working with him each day.
I've heard you and Brian Cushing are similar. Do you see that?
MV:
He's the only guy I think that's married with kids. We have guys that are married and we have a guy that's got a kid. So he's the only guy that's married with kids, so right there I know he's the only guy that's got a wife and kids. He has done well. He's been limited. We all understand that. He's been limited, he hasn't been able to practice with us, but he's at every meeting. He's there. He's conscientious, he's making the calls. I know he's studying. And it's important now that he's getting mental reps. He's staying in tune with the team. He's not a distraction. He's focused on learning the defense and being a leader.
April, 17, 2014
Apr 17
3:56
PM ET
Yesterday we caught ourselves up with the offensive side of the
Houston Texans
' roster following moves over the past few weeks. Today we take a look at how the defense is shaping up.
It's a lot more complete than the last time we did this.
Defensive end:
J.J. Watt
,
Tim Jamison
,
Jared Crick
Smith
Analysis:
This group included
Antonio Smith
last season, but the Texans were through with him, asking him to stay and be a third-down rusher. Thus, Smith left in free agency to sign with the
Oakland Raiders
for what he expects to be a starting role. I expect the Texans to add a draft pick here, who will compete with Crick for that starting spot opposite J.J. Watt.
Defensive tackle:
Jerrell Powe
,
Ricardo Mathews
Analysis:
Progress! Last time we checked in, the Texans had zero defensive tackles. Now they've signed two. Powe has spent most of his career as a backup with the Chiefs and Mathews as a backup with the Colts.
Linebacker:
Brian Cushing
,
Whitney Mercilus
,
Brooks Reed
,
Jeff Tarpinian
,
Mike Mohamed
,
Ricky Sapp
,
Trevardo Williams
,
Justin Tuggle
,
Paul Hazel
Cushing
Analysis:
The inside linebacker spot next to Cushing is in flux (again), but having Cushing in the lineup will make whomever is next to him look a lot better. If you missed it, Cushing announced yesterday on Twitter that he had been cleared by his doctor. Mercilus and Reed return as the starters at outside linebacker, though the addition of a draft pick ... perhaps a certain one from South Carolina ... could change things.
Cornerback:
Johnathan Joseph
,
Kareem Jackson
,
Brandon Harris
,
Elbert Mack
,
Josh Victorian
,
A.J. Bouye
Analysis:
With Joseph and Jackson in the lineup, the outsides are set. It will be interesting to see what the Texans do with the slot role. Harris was drafted to play there, but hasn't really panned out. It's another position they could address in the draft with one of those 11 picks.
Safety:
Chris Clemons
,
D.J. Swearinger
,
Shiloh Keo
,
Kendrick Lewis
,
Jawanza Starling
,
Eddie Pleasant
Analysis:
No splashy addition here like last year, which is a good thing for the Texans. Coach Bill O'Brien said during a town hall with season ticket holders last month that Swearinger will play strong safety, and Clemons and Lewis will compete at free safety. Based on their histories, I'd expect Clemons to win that battle.
March, 31, 2014
Mar 31
3:27
PM ET
J.J. Watt
's Wisconsin Badgers are headed to the Final Four for the first time since 2000 and they did it with a thrilling win over No. 1-seed Arizona, where outside linebacker
Brooks Reed
went to school.
And Reed's paying for it now.
Props to @Brooksreed58 paying up on a friendly bet. #OnWisconsin pic.twitter.com/K3oKQFQlID

— JJ Watt (@JJWatt) March 31, 2014
Watt hasn't shied away from ribbing those whose alma maters have fallen victim to their march to Jerry World.
When Wisconsin annihilated Baylor, Watt tweeted at noted Baylor fan John McClain of the Houston Chronicle:
Hey @McClain_on_NFL you've been awfully quiet tonight big guy. #OnWisconsin

— JJ Watt (@JJWatt) March 28, 2014
February, 8, 2014
Feb 8
3:45
PM ET
One more week closer to the draft, and the news of the week was that Texans coach Bill O'Brien announced his staff of 16 new assistants, plus the retention of special teams coordinator Bob Ligashesky.

That announcement led to more questions, and we'll start there.


January, 16, 2014
Jan 16
4:49
PM ET
In a recent
radio interview on "Mike and Mike in the Morning,"

new
Houston Texans
coach Bill O'Brien talked about the importance of needing to know his current roster and understand his own team before assessing what it needs.
As the houston staff goes through that process, we're going through a similar one here.
Last week we began taking a position by position look at the 2013 Houston Texans, starting with
safeties
and
running backs
, then moving on to
inside linebackers
and
receivers
.
Today we look at outside linebackers.
Mercilus
Key players:
Whitney Mercilus
,
Brooks Reed
,
Bryan Braman
, Sam Montgomery,
Willie Jefferson
What went wrong:
Before the 2012 season, the Texans offered
Connor Barwin
a contract as he went into the final year of his rookie deal. It was a good offer, but Barwin chose to wait and play out the season. His 2012 season wasn't as good as his 2011 season, and the Texans then let him go in free agency. There were some on the personnel side who were relieved Barwin didn't take the deal offered in the summer of 2012. Perhaps they shouldn't have been.
Without Barwin this season, the Texans turned to Mercilus and Reed. When I checked in with Matt Williamson, a former scout who joined ESPN.com in 2005, about the Texans' pass rush, he noted how rare it is for a 3-4 team's interior rush (with
J.J. Watt
and
Antonio Smith
) to be so much better than its edge rush, even though Mercilus had seven sacks and Reed three.
"More or less, I don't think Reed is explosive/athletic enough, and Mercilus doesn't have much of an expansive pass-rushing package yet," Williamson said. "Barwin was missed more than expected, and he played very well this year for the Eagles."
Reason for hope?:
In Mercilus's case, that could be a coaching issue. He's only entering his third year in the league, and he'll have a new position coach in Mike Vrabel this season. The edge rush is something the Texans could look to repair in the draft. They tried last year, and if Montgomery had succeeded, he would have been a steal as a third-round pick. But from start to finish he never seemed interested in meeting his potential.
December, 17, 2013
12/17/13
12:00
PM ET
The
Houston Texans
can't make the 2013 NFL playoffs and they can't save their head coach's job. And after last week's loss to the
Indianapolis Colts
, it's less likely they can help their defensive coordinator move from interim head coach to regular head coach, despite his winning record as a head coach.

I asked several players Sunday evening: What do you play for now?
WR Andre Johnson, 11th season
: "I'm just trying to win. Trying to end this streak. That's pretty much it. I only play the game for one reason and that's to win and hopefully one day win the Super Bowl. So other than that, I don't really set any personal goals or anything like that."
RB Ben Tate, 4th season:
"I'm playing to get a W. I play because I love the game, I love doing this."
TE Ryan Griffin, 1st season:
"Anytime you play, it's on film. So at this point we're playing for pride right now. You've got to put the right stuff on film. Everybody sees that, everybody in the NFL. It doesn't matter what your record is it is each play. So that's what we're playing for."
CB Johnathan Joseph, 8th season:
"My pride. That's what I play for each and every week. My pride overrides everything else because I just want to go out there and play good, winning football from the beginning of the whistle to the end of the whistle. So I think it's about pride. Going out there and putting winning football on tape."
LG Wade Smith, 11th season:
"I play for the fact that I love playing football. I want to win. I know if I play well, it's contributing to helping us get a win. If the offensive line plays well, then it's contributing to us getting a win. And we just go from there."
RT Derek Newton, 3rd season:
"For my team. Myself. We're trying to get Ws each week."
OLB Brooks Reed, 3rd season:
"Play for? Pride. Self respect."
ILB Darryl Sharpton, 4th season:
"I play for my teammates. I play for my coaches. I play for
Bryan Braman
,
Joe Mays
, all the guys in the linebacker room. Reggie Herring, all my coaches. I mean, that's what you play for. It's your job. It's an unbelievable opportunity that people would kill for no matter what situation. I don't take it for granted. I've been through a lot of ups and downs and having this opportunity to play professional football in a great city like Houston, I'm going to take full advantage of my opportunity and give it my all."
September, 6, 2013
9/06/13
12:01
PM ET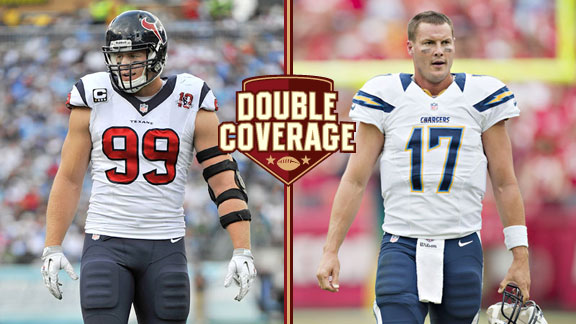 Getty ImagesJ.J. Watt and the Texans could make it hard on Philip Rivers if San Diego's offensive line does not hold up.
In the second half of the opening Monday night doubleheader, Houston is traveling to San Diego to put an end to NFL Week 1. The Chargers are in rebuild mode, while the Texans are looking to take the next step this season and become true Super Bowl contenders. While the Chargers' fan base should be revved up for this prime-time contest, getting
J.J. Watt
blocked could be a very futile effort for San Diego's offensive line. ESPN.com's Matt Williamson and Houston Texans reporter Tania Ganguli bring you their Double Coverage preview.
Tania Ganguli
: How has the atmosphere in the organization changed with GM Tom Telesco and coach Mike McCoy taking over?
Matt Williamson
: A change in San Diego was certainly needed. The environment had become stale and the once wide-open window under former coach Norv Turner and a roster stocked with great players has closed. A rebuild is needed, and a new general manager and head coach are what is needed to potentially get this team back where it once was -- or maybe beyond. Has the right side of the Texans' once-great offensive line been fixed?
Ganguli
: It's certainly on its way. The Texans are rightfully very high on right guard
Brandon Brooks
, and right tackle
Derek Newton
is healthy. They didn't mind rotation in those spots last year, but stability will definitely help.
Can McCoy turn
Philip Rivers
(back?) into an elite quarterback?
Williamson
: I feel as though we have seen the best of Rivers' impressive career, unfortunately. That being said, the scheme change, which stresses getting the ball out of Rivers' hands quicker, could be an advantageous move to boost Rivers. He does have a quick release and makes quick reads, making him a good fit for what McCoy is looking to accomplish.
What is the status of
Arian Foster
, and might
Ben Tate
have an expanded role for the season and to open the year?
Ganguli
: Tate will have an expanded role, especially early in the year. The Texans won't ride Arian Foster too much given he missed all of the preseason, training camp and most of organized team activities (OTAs). He was working, but they're intent on being smart with his return to make sure they have him at full strength late in the season.
What are the biggest problems with the Chargers' offensive line?
Williamson
: Once again, the scheme switch to a short passing game should help the protection of this line -- a line that is better-equipped to run block than protect. Still, the true problem with this line is they simply lack good players up front. They added a few free agents, but no one that is even a league-average starter, and they used their first-round pick on
D.J. Fluker
to play right tackle. However, I have my doubts that Fluker is quick or light enough on his feet for edge protection. Instead, I think Fluker could be a Pro Bowler at guard.
What impact does first-round pick
DeAndre Hopkins
have on the Texans' offense?
Ganguli
: It's difficult for rookie receivers to put up big numbers, but Hopkins will have a major impact on the Texans' offense. He'll take pressure off
Andre Johnson
, on whom the Texans were overdependent last season in their passing game. He is very skilled on contested catches and will help Houston's red zone efficiency.
What impact does
Dwight Freeney
have in San Diego?
Williamson
: Can he still be productive at 33? Of course it would be ideal to have
Melvin Ingram
in the fold as well as Freeney, who could be the perfect mentor, but Freeney has looked quite spry through the preseason and should have plenty left in the tank. The concern for me is that San Diego will be forced to play the 33-year-old too many snaps, which could lead to less effective play late in games and especially late in the season.
How big a boost to this team -- tacitly and emotionally -- is it to get
Brian Cushing
back on the field?
Ganguli
: Cushing makes a difference in both ways. He creates mismatches in the pass rush that free up the outside linebackers. His presence in the middle makes things easier on the Texans' defensive backs, too. Emotionally, Cushing provides an edge for the Texans' defense. His maniacal intensity is contagious and the Texans feed off it.
How will
Danny Woodhead
and
Ryan Mathews
impact each other?
Williamson
: While Mathews is a decent pass-catcher, Woodhead is an exceptional all-around contributor in the passing game. Their roles should be very distinctive, with Mathews -- who has looked excellent this preseason -- as the early-down workhorse (if he can hold up) and Woodhead being the specialty movement player that is equal parts running back and slot receiver.
Watt is a rare interior pass-rusher, but does Houston have enough pressure coming from their 3-4 outside linebackers?
Ganguli
: That remains to be seen. It's definitely been a focus for the Texans' outside linebacker group.
Whitney Mercilus
, now in his second year, has taken over as a starter opposite
Brooks Reed
after the departure of
Connor Barwin
. Mercilus set a franchise record for rookies with six sacks last season, but he missed most of training camp and the preseason. Reed is healthier than he was at the end of last season when he returned from a groin injury. He had an offseason surgery to repair it fully.