Houston Texans:

Donald Thomas
December, 12, 2013
12/12/13
12:00
PM ET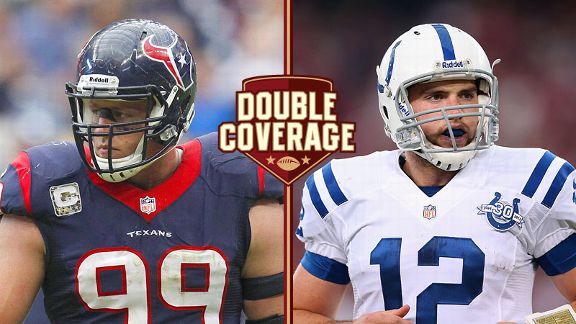 Getty ImagesJ.J. Watt's Texans aren't playoff-bound like Andrew Luck's Colts, but Sunday's hosts haven't had it easy.
INDIANAPOLIS -- This was supposed to be a game that had AFC South division title implications between a Super Bowl contender and a playoff team, one that could have even been flexed on the schedule.
At least that's the way it was envisioned when the season started.
Instead, it'll be a battle of two teams dealing with a number of issues when the
Indianapolis Colts
take on the
Houston Texans
at Lucas Oil Stadium.
The Colts haven't beaten a team with a winning record since Oct. 20 and haven't had consistency on offense, defense or special teams in weeks. The Texans ... well, they've been a disaster this season. They are on an 11-game losing streak, benched their starting quarterback and fired their head coach.
ESPN.com's Colts reporter Mike Wells and Texans reporter Tania Ganguli weigh in on the two struggling teams.
Wells:
Tania, obviously the big news -- really the only news -- to come out of Houston in the past week was the firing of coach Gary Kubiak. Wade Phillips takes over as the interim coach. Teams tend to rally around interim coaches or just shut them out. What do you think the Texans will do with Phillips?
Ganguli
: I don't think they'll shut him out, but wanting to succeed for the coach was never a problem in Houston. They wanted to win the last Colts game for their head coach, who left at halftime in an ambulance. They wanted to win the following week in Arizona for their coach, who watched from home as he recovered from his transient ischemic attack. It's not a matter of wanting the win -- the process has gotten lost. Two weeks ago, the Texans made so much progress in fixing their issues and then last week they went to Jacksonville and completely lost their discipline, committing a franchise-record 14 penalties for 177 yards.
The Colts are now back on top of the AFC South. What was the mood like for the team upon clinching the division and a playoff spot?
Wells:
It was a bittersweet feeling for them because they needed help from their good buddy
Peyton Manning
in Denver to win their first division title in three years. The Colts wanted to go into Cincinnati and win it by themselves so that they would be able to avoid getting it in the side or backdoor. That obviously didn't happen. But a division title is a division title no matter how you get it. That's how the Colts should look at it, especially since they were 2-14 just two years ago and many people thought the Texans wouldn't have a problem winning the division for the third straight season.
I'll be the first to say I picked the Texans to win the division this season. I'm sure there are probably a lot of reasons why they've been a major bust. But does one reason stand out more than others?
Ganguli:
If I had to choose one, I would say the quarterback situation has been the biggest reason. It was completely out of the blue. A lot of people disagree with me on this, but I don't think
Matt Schaub
played poorly most of the time, it's just that pick-6's are such dramatic momentum swingers. Really, though, it's been a combination of a lot of things. If you look at their stats, you'd expect the team to have a much better record. After Schaub, they went through
Case Keenum
's learning process, which is ongoing. Kicker
Randy Bullock
had a rough start, which impacted the team's record. He has improved lately, but by then the Texans developed other problems, like the loss of four important players to injury: inside linebacker
Brian Cushing
, safety
Danieal Manning
, running back
Arian Foster
and tight end
Owen Daniels
. Daniels has a chance of returning this week. And of course, I mentioned the meltdown of discipline that led to what happened last Thursday in Jacksonville. That was a problem early in the season, but unusual for the Texans lately. They had four penalties in the previous two games combined.
I expected the Colts to be better than they are, too. Do you think this team has taken a step forward or backward from last season?
Wells:
I thought the Colts had more talent this season but they wouldn't be able to duplicate their 11-5 record from last year. I was right about their record but wrong about their talent. Season-ending injuries forced the Colts to take a step back in the talent department. They're known for using the phrase "Next Man Up" when dealing with injuries. There really isn't a Next Man Up when it comes to replacing future Hall of Fame receiver
Reggie Wayne
, guard
Donald Thomas
and tight end
Dwayne Allen
. The Colts thought acquiring running back
Trent Richardson
would soften the blow of losing
Ahmad Bradshaw
and
Vick Ballard
. That hasn't been the case. Richardson's struggles since coming to Indianapolis have been well documented. So injuries and players not living up to expectations are the main reasons why the Colts have taken a step back
We talked about the benching of Schaub prior to the first meeting between the two teams in early November. Receiver
Andre Johnson
made Keenum look pretty good in the first half of that game. Has Keenum shown enough to prove he's worthy of being the team's quarterback for years to come?
Ganguli:
He's had good moments and bad ones. I think the bad moments are fixable, but whether he'll be able to fix them remains to be seen. The end of this season is an audition for him just as much as it is for Phillips. He has to show he's learning how to read defenses and make better decisions. There are times when Keenum hangs on to the ball too long because his internal clock isn't quite where it needs to be yet. He is learning that sometimes it's better to take the checkdown. He's learning that turning his back on the field when a rush comes at him reduces his options. If he stops growing where he is now, he'll have a career as a serviceable backup. If he continues to improve, he has the chance to be a starter.
To wrap up, let's talk about the quarterback up there, which I know we have before. How would you assess the season
Andrew Luck
has had?
Wells:
Two words: A struggle. But it's not Luck's fault. The offensive line has been inconsistent all season. The running game has been more poor than good. The biggest reason behind it, though, is because of the loss of Wayne. Wayne was Luck's security blanket and nobody has stepped up to help him out. Luck is good, but you can't forget that he's only in his second season and is still learning. Rookie
Da'Rick Rogers
had a breakout game against Cincinnati (107 yards) last weekend and believes he can be Luck's third-down go-to guy.
November, 1, 2013
11/01/13
12:00
PM ET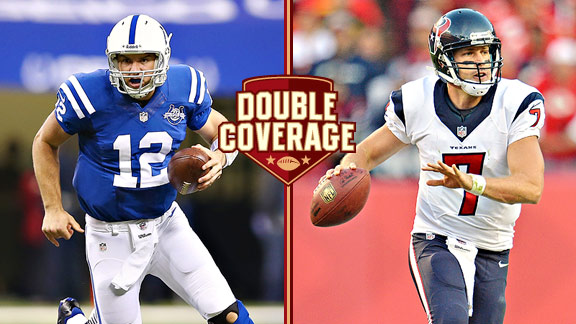 Getty ImagesAndrew Luck will be without Reggie Wayne and Case Keenum will be making his second NFL start.
During an unexpectedly poor showing in the first seven games of the season, the
Houston Texans
played only one AFC South opponent and beat that team.
That's the upside about the Texans' start. The downside for Houston is that during that malaise, the
Indianapolis Colts
returned to the top of the division and joined the league's elite. The Colts enter this game with a two-game lead over the
Tennessee Titans
, who are second.
Both teams come off a bye week that followed a game in which they lost an important veteran --
Brian Cushing
for the Texans and
Reggie Wayne
for the Colts. Both teams are now about to enter a stretch in which they play five divisional games. The landscape of the AFC South could change dramatically.
Colts reporter Mike Wells and I take a look at this week's matchup.
So Mike, how big of an impact will losing Wayne have on the Colts' offense?
Wells:
I think the Colts will be fine for now without Wayne. They'll still win the AFC South -- it helps having a two-game lead -- because there aren't any teams in the division that can close the gap and the Colts don't have a tough schedule the rest of the season. It's in the playoffs that the Colts will miss Wayne's leadership and playmaking ability. He's been quarterback
Andrew Luck
's security blanket the past two seasons. Wayne is irreplaceable in the locker room and on the field.
Speaking of impacts, what type of impact do you think quarterback
Case Keenum
will have on the Texans?
Ganguli:
Keenum opened up the Texans' passing game two weeks ago. They threw just one fewer deep pass in that game than they had in the four previous games combined. It's one area where Keenum is especially solid. He's also really impressed Texans teammates and coaches with his confidence, moxie (a word defensive coordinator Wade Phillips used) and poise. I would have excused him being rattled against a fierce Kansas City defense and crowd, but he wasn't. He was able to make plays off schedule. He completed 15 of 25 passes for 271 yards and one touchdown. It has seemed easy for him to step into a leadership role.
What kinds of challenges will the Colts' defense pose for Keenum specifically?
Wells:
You can expect linebacker
Robert Mathis
to be licking his chops with Keenum at quarterback. Mathis leads in the league in sacks with 11.5. He's one of the leaders for Defensive Player of the Year. Safeties
Antoine Bethea
and
LaRon Landry
, who are interchangeable, will try to confuse the young quarterback by disguising their coverage on him.
Vontae Davis
and
Greg Toler
are gambling cornerbacks, so expect them to try to make Keenum pay for every mistake he makes.
Is there one reason in particular that the Texans have struggled this season? Many people thought they would be Super Bowl contenders this season.
Ganguli:
There have been a few factors. Turnovers have been a big part of it. The Texans' turnover margin is among the worst in the NFL right now at minus-11. Two weeks ago against the Chiefs was the only game in which the Texans' turnover margin wasn't negative. They hadn't been creating many and had been giving up the ball to an excessive degree. One other key area to examine is the red zone. Offensively and defensively, it hasn't been especially productive for Houston this season.
Wrapping things up here, Luck is a familiar face around Houston, having played football at Stratford High School. He took a beating last time he came to Houston with
J.J. Watt
notching three sacks as the Texans clinched the division. How has his protection been this year and how has that impacted his performance?
Wells:
Improving the offensive line was at the top of the list for the Colts after Luck was sacked 41 times last season. They've been hit with some injuries along the line this season. Starting guard
Donald Thomas
was lost for the season in the opener with a torn quad and center
Samson Satele
has dealt with some injuries. Despite these issues, the Colts have done a better job of protecting Luck. He's been sacked only 15 times this season. But the Colts will have their hands full against a Texans defense that has "game-wreckers all over the place," according to coach Chuck Pagano. I can't let you get out of here without talking about running back
Arian Foster
. Why is he averaging only 77.4 yards a game this season?
Ganguli:
The Texans began the season limiting Foster's carries because he missed training camp while recovering from two injuries. The fact the Texans have found themselves in deep deficits has also hurt Foster's numbers. They just aren't running the ball as much as they did last season when they were playing with leads. He's had two 100-yard games this season and one 98-yard game. He rushed for 141 yards against the
St. Louis Rams
, which boosted his average. But the Texans' last game significantly depressed it. Foster gained only 11 yards after an early hamstring injury forced him from the game and limited him to just four carries.