Houston Texans:

Dwight Freeney
September, 12, 2013
9/12/13
11:53
AM ET
HOUSTON -- There is something to be said for a guy who recognizes he struggled in a game and wants to learn from it.
Brown
Houston Texans
left tackle
Duane Brown
faced the
San Diego Chargers
edition of
Dwight Freeney
, and the defensive end was every bit as good as Brown remembers. Perhaps even better.
"The thing about the left-tackle position is your technique is everything," Brown said. "You can be the most gifted athlete, you can be the strongest, you can be the fastest, but if your technique isn't good, a player like that can make you pay for it -- and that's what happened on a few plays Monday night. That will make me perfect my technique. Going against a guy like that, and there are other guys in the league where you have to be sound and disciplined in your technique. It's something I learned from going forward and will improve on."
In the official game book, Freeney was credited with half a sack and three quarterback hurries. Pro Football Focus gave
Brown its lowest rating of any tackle in Week 1

. PFF also said Brown rated third-lowest on pass-blocking. He got better as the game went on, but also faced a high volume of passing situations, which put Freeney at an advantage. Brown is one of the best in the league at his position. And so is Freeney.
"I don't know if it's that he's rejuvenated being on a new team, but that's the best that I've seen him in a couple years," said Brown, plenty familiar with Freeney from Freeney's time with AFC South rival Indianapolis. "Also being the first game, he's fresh. There's a lot that plays into it. But he definitely looked pretty good out there."
I asked Brown if the fact that it was the first game of the season might have affected his own technique.
"Monday night on the road, your adrenaline's going, your nerves get going," Brown said. "I think that played a little bit into it. I think I was thinking too much. And I paid for it on some plays. The main thing is that I was able to settle down and did what I had to do in order for us to execute on those last few drives."
September, 6, 2013
9/06/13
12:01
PM ET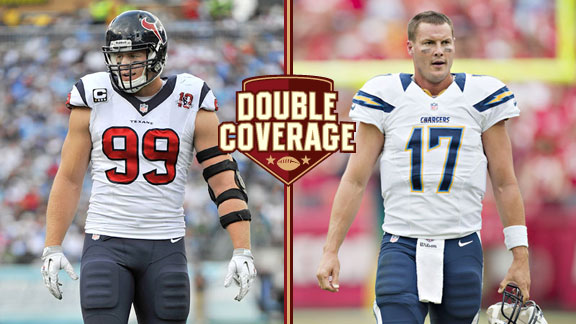 Getty ImagesJ.J. Watt and the Texans could make it hard on Philip Rivers if San Diego's offensive line does not hold up.
In the second half of the opening Monday night doubleheader, Houston is traveling to San Diego to put an end to NFL Week 1. The Chargers are in rebuild mode, while the Texans are looking to take the next step this season and become true Super Bowl contenders. While the Chargers' fan base should be revved up for this prime-time contest, getting
J.J. Watt
blocked could be a very futile effort for San Diego's offensive line. ESPN.com's Matt Williamson and Houston Texans reporter Tania Ganguli bring you their Double Coverage preview.
Tania Ganguli
: How has the atmosphere in the organization changed with GM Tom Telesco and coach Mike McCoy taking over?
Matt Williamson
: A change in San Diego was certainly needed. The environment had become stale and the once wide-open window under former coach Norv Turner and a roster stocked with great players has closed. A rebuild is needed, and a new general manager and head coach are what is needed to potentially get this team back where it once was -- or maybe beyond. Has the right side of the Texans' once-great offensive line been fixed?
Ganguli
: It's certainly on its way. The Texans are rightfully very high on right guard
Brandon Brooks
, and right tackle
Derek Newton
is healthy. They didn't mind rotation in those spots last year, but stability will definitely help.
Can McCoy turn
Philip Rivers
(back?) into an elite quarterback?
Williamson
: I feel as though we have seen the best of Rivers' impressive career, unfortunately. That being said, the scheme change, which stresses getting the ball out of Rivers' hands quicker, could be an advantageous move to boost Rivers. He does have a quick release and makes quick reads, making him a good fit for what McCoy is looking to accomplish.
What is the status of
Arian Foster
, and might
Ben Tate
have an expanded role for the season and to open the year?
Ganguli
: Tate will have an expanded role, especially early in the year. The Texans won't ride Arian Foster too much given he missed all of the preseason, training camp and most of organized team activities (OTAs). He was working, but they're intent on being smart with his return to make sure they have him at full strength late in the season.
What are the biggest problems with the Chargers' offensive line?
Williamson
: Once again, the scheme switch to a short passing game should help the protection of this line -- a line that is better-equipped to run block than protect. Still, the true problem with this line is they simply lack good players up front. They added a few free agents, but no one that is even a league-average starter, and they used their first-round pick on
D.J. Fluker
to play right tackle. However, I have my doubts that Fluker is quick or light enough on his feet for edge protection. Instead, I think Fluker could be a Pro Bowler at guard.
What impact does first-round pick
DeAndre Hopkins
have on the Texans' offense?
Ganguli
: It's difficult for rookie receivers to put up big numbers, but Hopkins will have a major impact on the Texans' offense. He'll take pressure off
Andre Johnson
, on whom the Texans were overdependent last season in their passing game. He is very skilled on contested catches and will help Houston's red zone efficiency.
What impact does
Dwight Freeney
have in San Diego?
Williamson
: Can he still be productive at 33? Of course it would be ideal to have
Melvin Ingram
in the fold as well as Freeney, who could be the perfect mentor, but Freeney has looked quite spry through the preseason and should have plenty left in the tank. The concern for me is that San Diego will be forced to play the 33-year-old too many snaps, which could lead to less effective play late in games and especially late in the season.
How big a boost to this team -- tacitly and emotionally -- is it to get
Brian Cushing
back on the field?
Ganguli
: Cushing makes a difference in both ways. He creates mismatches in the pass rush that free up the outside linebackers. His presence in the middle makes things easier on the Texans' defensive backs, too. Emotionally, Cushing provides an edge for the Texans' defense. His maniacal intensity is contagious and the Texans feed off it.
How will
Danny Woodhead
and
Ryan Mathews
impact each other?
Williamson
: While Mathews is a decent pass-catcher, Woodhead is an exceptional all-around contributor in the passing game. Their roles should be very distinctive, with Mathews -- who has looked excellent this preseason -- as the early-down workhorse (if he can hold up) and Woodhead being the specialty movement player that is equal parts running back and slot receiver.
Watt is a rare interior pass-rusher, but does Houston have enough pressure coming from their 3-4 outside linebackers?
Ganguli
: That remains to be seen. It's definitely been a focus for the Texans' outside linebacker group.
Whitney Mercilus
, now in his second year, has taken over as a starter opposite
Brooks Reed
after the departure of
Connor Barwin
. Mercilus set a franchise record for rookies with six sacks last season, but he missed most of training camp and the preseason. Reed is healthier than he was at the end of last season when he returned from a groin injury. He had an offseason surgery to repair it fully.
September, 3, 2013
9/03/13
1:58
PM ET
HOUSTON -- Texans left tackle
Duane Brown
thought he was rid of
Dwight Freeney
.
Brown
Freeney
"I won't say I was relieved, but that's a matchup on your calendar you circle," Brown said.
Freeney spent the first 11 years of his career with AFC South rival Indianapolis, so for all of Brown's five years in the NFL, he's had to face Freeney at least once a year, usually twice. It's been part of Brown's development and part of why he's so good. Getting beat by the best teaches a player a lot.
Brown said he's never had a season where he completely shut Freeney down. Last season he didn't. But he has had games where he has.
"You pass the ball against him enough, eventually he'll get it," Brown said.
Freeney left the Colts in free agency to join the
San Diego Chargers
, and the battle between he and Brown will be one of the best matchups to watch Monday night.
"He's a heck of a player," Brown said. "Still as dominant as he was in his younger years. I look forward to it."
The volume of the crowd inside the Colts' indoor stadium made a difference for Freeney and that will change in San Diego's outdoor stadium. But Brown doesn't expect anything different from Freeney.
One thing will feel weird, though.
"It's different seeing him in a different color jersey," Brown said. "Some guys you see their whole career and you can't imagine them playing with a different team. I think he's one of those guys."
August, 23, 2013
8/23/13
2:21
PM ET
For different players, training camp has different functions. For
Daniel Muir
, a nose tackle the
Houston Texans
signed just before camp, it's the next stop in a career throughout which he's watched and learned from future Hall of Fame players -- or players he thinks should be in the Hall of Fame.
It started with Brett Favre during Muir's first season.
"My rookie year I was a little ... you could say starstruck," said Muir, who played in Green Bay in 2007, making the roster after going undrafted out of Kent State. "My locker was four lockers down from Brett Favre, I was like, 'This is Brett Favre's locker.' But I mean, it was awesome to really get to know him. ... He kept the game fun."
As a rookie, Muir watched defensive end Kabeer Gbaja-Biamila break the Packers' team sacks record.
"Kabeer, he was a guy that was gonna work on his craft," Muir said. "He knew what he did well and he was going to work that.
Charles Woodson
, amazing guy to be around. One thing about him is he knows how to take care of his body."
[+] Enlarge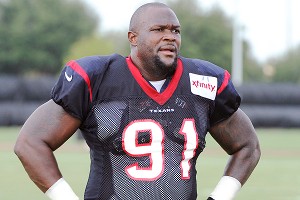 AP Photo/Pat SullivanNose tackle Daniel Muir has made the most of being around greats like Brett Favre and Reggie Wayne.
Waived after the 2007 season, Muir went from one successful organization to another, catching on in Indianapolis, where he stayed for three seasons.
There he saw
Peyton Manning
put in 13-hour days at work.
Dwight Freeney
, whom Muir pegs for Canton, joined fellow Colts defensive end
Robert Mathis
to take Muir under their wing.
"I was always a bigger guy, but they really saw my explosion and were like, 'We're going to teach you how to rush,'" Muir said.
He veered away from talking about Indianapolis before realizing he'd forgotten one important Colt: receiver
Reggie Wayne
.
"It's like that guy gets younger every year," Muir said. "You want to talk about somebody who just works. You see him out there running routes, you may think he's just jogging running routes, but he's counting his steps."
Muir became a bit of a journeyman after his time with the Colts, which ended in 2010. He spent periods with the Rams, Jets and Chiefs, in addition to second stints with the Colts and Packers, mostly during the offseason or training camp.
The average NFL career is shorter than Muir's has been. It hasn't been a glamorous one, but he's lasted, in part because of the lessons he's drawn from the great players he sees. Their common theme? Hard work on their craft. As he put it, he learned to "shut my mouth" and listen.
He's done a lot of that in Houston, where he's played in 17 snaps in each of the Texans' two preseason games. When safety
Ed Reed
was in town, Muir embraced the opportunity to learn from him, too.
"He was just remembering certain plays," Muir said of Reed. "'On this play you should fit here,' or 'You should be here on this play.' A lot of times guys will take that the wrong way, but I didn't take it like that. He's a field general back there. He sees everything going on in front of him. He knows how guys should fit, where guys should be. That's how he's had so much success. I take that and I listen to it. We've had a lot of conversations since I've been here and he's helped me out a lot."
It won't be easy for Muir to stick around with the Texans. Whether or not that happens, though, what he learns will never leave him.