Houston Texans:

EZ Nwachukwu
August, 6, 2014
8/06/14
11:00
AM ET
HOUSTON -- Gone are the days off for veterans just because they're veterans.
Gone are the nights when only rookies are forced to stay in the team hotel throughout training camp.
No Texans are spared from coach Bill O'Brien's sharp tongue. None are spared from running a lap for a mental error.
And you know what? The players like it.
"I love it; it's great," 12-year veteran
Andre Johnson
said when asked about O'Brien's demeanor. "The one thing that I like about him, and I think that's the thing when I first met him, he's straight up with you. He will let you know what needs to be heard. He's not just going to tell you what you want to hear. I love his demeanor; it's fun. I think just his whole attitude and everything he brings is a lot of fun."
Accountability has taken precedence during this first Texans training camp of the O'Brien era. What it means for the season is yet unknown, but after a 2-14 campaign in 2013, it was clear things had to change in Houston.
It's the basis from which the team that won consecutive division championships not too long ago will crawl out of the league's cellar.
[+] Enlarge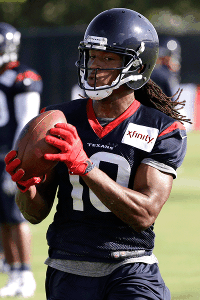 AP Photo/David J. PhillipTexans receiver DeAndre Hopkins has shown soft hands throughout training camp.
THREE REASONS FOR OPTIMISM
In his second season since being drafted in the first round, receiver DeAndre Hopkins' development seems to have taken a major step. The sure-handed leaping catches he made so often in college are becoming a staple of training camp. (Aside: It's crazy to think about those Clemson teams that had both Hopkins and Bills rookie Sammy Watkins. What an embarrassment of riches.) Hopkins' issues last season weren't based so much on ability as they were on precision. He seems on the right track this season. Johnson said it's clear Hopkins is playing with a lot of confidence, something that's critical for a receiver. What's even better is that his chemistry with quarterback Ryan Fitzpatrick is improving regularly.

Outside linebacker Jadeveon Clowney has been working through the rehab process from his sports hernia surgery in June, which has limited what he can do during practices. When the staff has let Clowney loose, though, he is a lot of fun to watch. He's quick, powerful and fast. He will absolutely be a player for whom offenses have to account. When an offense is thinking about one player, that's a big advantage for a defense. Not to mention, opposing offenses were already having to keep an eye on defensive end J.J. Watt, who hasn't missed a beat.

Two young players have made significant progress this offseason: right tackle Derek Newton and inside linebacker Justin Tuggle. Newton, the declared starter at the position, struggled last season, but based on what I've seen and heard during training camp this year, he'll be much better in pass protection this season. Tuggle was a quarterback four years ago (the successor to Cam Newton at Blinn College). The fact that he's played linebacker for such a short amount of time means even though he's improved tremendously in the past year, he still has a lot of room to grow. He's competing to be the Texans' starter next to Brian Cushing.
THREE REASONS FOR PESSIMISM
The fact that Brandon Brooks is still on the Texans' non-football injury list is concerning. Brooks began training camp on the list for what appears to be a back injury. Brooks really came into his own at right guard last season. He's a player who had very high expectations because of that growth, and one the Texans need. Without him, the guard position starts to thin a bit.

The Texans' quarterback situation is tenuous right now. I like the improvement I've seen from Fitzpatrick, but what we're watching right now does not quite simulate game conditions for quarterbacks since they can't be touched during practice. Fitzpatrick's issues in the past have had a lot to do with turnovers, and the decision-making process that leads to or prevents turnovers is hard to simulate in practice. Beyond Fitzpatrick, the depth at the position is concerning. Neither Case Keenum nor Tom Savage has shown during practice that they could be viable starters in case of an injury during the season. For Savage, it's part of the learning process. Nobody expects the raw but talented rookie to be ready just yet.

Beyond a wily group of veterans, the Texans have a lot of unproven players they'll depend on defensively. When looking past Watt on the defensive line, there are more questions than answers. Who will play nose tackle? How will defensive end Jared Crick do in a starting role? Questions remain on the back end, too. This could be a big year for a lot of young players. But it's hard to know how they'll fare without any proof yet.
[+] Enlarge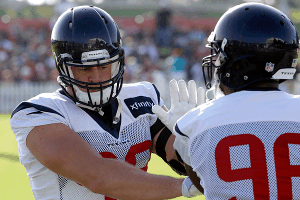 AP Photo/David J. PhillipJ.J. Watt has taken the time to help his teammates with technique during camp.
OBSERVATION DECK

Whether it's linebackers coach Mike Vrabel running with his group after practice or defensive backs coach John Butler facing his players during drills to compensate for an odd number of cornerbacks, this Texans staff is particularly hands-on. It starts at the top with O'Brien, a coach who makes sure to be involved with every position on his team.

Safety D.J. Swearinger's goal this season is to create at least one game-changing play in each game, whether that's an interception, a forced fumble or even a pass breakup that leads to a turnover. Swearinger is getting started in practice, regularly intercepting the ball. And each time he does it, he runs it back to the opposite end zone, finishing with an ad-libbed celebratory flair.

Player-to-player coaching happens a lot, and Watt is embracing his growing role as a team leader in that fashion. During a recent practice, he stopped Jeoffrey Pagan during a drill to offer tips on moves to use.

A pair of receivers from Texas A&M are doing their best to make it difficult for the coaching staff to cut them. EZ Nwachukwu and Travis Labhart make very few mistakes. Nwachukwu's speed is apparent. His work on route-running has shown during this year's camp.

Undrafted rookie Chris Boswell and third-year kicker Randy Bullock are competing to be the Texans' kicker. That battle will be decided during the preseason. They've so far alternated kicking days, and both have made their fair share.
July, 28, 2014
7/28/14
3:30
PM ET
HOUSTON -- The two of them walked off the field together, teammates who were separated for one season.
Now EZ Nwachukwu and
Travis Labhart
are after the same goal: making an NFL roster, or at least a practice squad, with the
Houston Texans
.
Labhart signed as an undrafted rookie out of Texas A&M this season, while Nwachukwu did the same last season. Nwachukwu was on the Texans practice squad for all of the 2013 season. Meanwhile, Labhart, once a walk-on in College Station, played in 12 games for the Aggies last season, starting in his final five. By that time Labhart had earned a scholarship, and in his senior season he caught 51 passes for eight touchdowns and 626 yards.
"This opportunity comes around once in a lifetime," Labhart said. "As being a rookie, you learn from veterans. You see
Andre (Johnson)
... catching Jugs after practice. You just have to wait your turn. For me, I want to make the most of this opportunity. If it means sticking around 30 extra minutes catching passes and trying to figure out what I need to work on. If it's not catching passes, maybe it is working on routes or timing with quarterbacks."
The receivers are generally the last players to leave the field. Labhart and Nwachukwu have been among the group that has stayed after each of the Texans' morning training camp practices to work with the Jugs machines.
They've been impressive during team drills as well, fighting for catches, avoiding drops and running crisp routes.
"I mean, you know, rookie year I think things are going 1,000 miles per hour," Nwachukwu said. "Having a year under your belt and being able to know what to look for and know how to study film, you can think less and play more."
Nwachukwu believes his route-running is the area that has improved the most since his rookie season. He's paid more attention to being aware of the field, rather than simply running a route without that awareness. In college, on his way to 19 career touchdowns, which tied him for third in Texas A&M history, Nwachukwu could often get away with that.
"Coming from A&M, on some plays you can just go out there and use your athletic ability," Nwachukwu said. "You can win routes. But out here, you know, you've got guys like J-Jo (
Johnathan Joseph
) and K-Jack (
Kareem Jackson
), and if you do that you're probably going to be in the sand somewhere. You definitely have to stay on your details and make sure your technique is right."
Making the team won't be easy for either player. The Texans have five receivers with game experience, all of whom have been focused and precise during training camp, ahead of Labhart and Nwachukwu. But one refrain around professional athletes is that they control only what they can. From that standpoint, Labhart and Nwachukwu have looked like they belong.
July, 10, 2014
7/10/14
12:00
PM ET
So much attention is paid to the draft process that sometimes it's easy to forget not every important piece on a football team comes from the top three rounds of the draft. Talent can sometimes take a bit of development. Other times, evaluators are just wrong.
That's not to say you don't have to get lucky to hit on someone so many people missed -- but sometimes you do.
Training camp is when players really have a chance to prove they're worth a starting spot or sometimes merely a roster spot. Today we'll look at five players who I think will be positive developments for the
Houston Texans
. And I know I'll get yelled at for the first one.
Newton
1. Right tackle Derek Newton:
Newton was rightfully maligned often during last season. His pass protection wasn't good. He was decent in run blocking, but because Newton's bad plays were so bad that was easy to dismiss. The Texans weren't as ready to give up on him as many fans, though. They didn't take a tackle in the draft or seek one during free agency. I believe he'll be better as the Texans' starting right tackle in 2014 for these reasons: He acknowledges last season wasn't good and his coaches are focusing very heavily on his technique. He was a seventh-round pick in 2011, which isn't a place you usually get starters, but Texans' coach Bill O'Brien is confident he can be one.
2. Defensive end Jared Crick:
Perhaps this one won't be too much of a surprise to those who have paid close attention to the Texans' defensive line situation. Crick backed up
Antonio Smith
last season, playing in his place when Smith was suspended for the season opener. He's quick and strong. Of course, you learn more with pads on than when guys at these positions are practicing in shorts and t-shirts. Crick was a fourth-round draft pick by the Texans in 2012.
Bouye
3. Cornerback A.J. Bouye:
Undrafted rookies love to point to
Arian Foster
's chance with the Houston Texans as a reason for optimism. The truth is, any staff will keep you if you've proven you deserve it. Bouye did it last season, but wound up on injured reserve midway through. He's looked good in coverage drills during OTAs and minicamp, where he's gotten significant playing time because of
Johnathan Joseph
's absence as he recovers from his January surgery.
4. Receiver Alan Bonner:
Bonner was a sixth-round pick for the Texans last season, but spent all season on injured reserve. He's 5-10, 191, but plays bigger than that. He's been working in the slot, he said, and involved in the competition to return for the Texans. Here's good news for Bonner: At the start of minicamp, O'Brien included Bonner among a group of second-year players who he believed had shown improvement.
5. Outside linebacker Ricky Sapp:
Now on the third team of his career, Sapp feels like he might have finally found a football home with the Texans. The Jets waived Sapp last season and the Texans claimed him of waivers. They liked him enough to re-sign him after that and Sapp has certainly caught the attention of coaches. There was plenty of opportunity for outside linebackers during OTAs and minicamp with
Brooks Reed
practicing at inside linebacker most of the time and Sapp, who played five games for the Texans last season, has taken advantage of it.
September, 2, 2013
9/02/13
11:42
AM ET
The Texans filled their practice squad with five rookies and three young veterans who cleared waivers Sunday. All of the players were in training camp with the Texans.
Defensive end Keith Browner and cornerback
Roc Carmichael
returned to the Texans. Carmichael spent last season on the Texans' 53-man roster, but was usually not active for games.
Rookie fullback Zach Boren, receiver Andy Cruse, running back Ray Graham, guard/center Alex Kupper and receiver EZ Nwachukwu returned to the Texans' practice squad after being released. The Texans also added inside linebacker
Mike Mohamed
, a second-year player out of California.
Three Texans who were cut were claimed off waivers on Sunday -- fullback
Tyler Clutts
(to Miami), nose tackle Chris Jones (to Tampa Bay), and running back
Dennis Johnson
(to Cleveland).
It's a nod to a team's talent when it loses more than it gains off the waiver system. By contrast, the
Jacksonville Jaguars
and
Kansas City Chiefs
(the first two teams in the waiver order) were awarded seven players each. The
Cleveland Browns
landed six.