Houston Texans:

Jake Matthews
August, 13, 2014
8/13/14
6:15
PM ET
HOUSTON -- A daily review of the hot topics coming out of
Houston Texans
training camp.
Wednesday marked the first of two joint practices between the Texans' and Atlanta Falcons. The teams decided not to go live with tackling, but limited contact to "thuds." They did periods of work on separate fields, then joined for some team drills before a group of fans there for the open practice. Oh, and, "Hard Knocks" was there, too, though careful not to get too close to the Texans. Asked if he'd be open to his team being featured on Hark Knocks, Texans' coach Bill O'Brien replied: "I'm always open to anything that helps our team get better."
Young cornerback A.J. Bouye, an undrafted rookie last season, got a great test on Wednesday, facing Falcons receiver Roddy White quite a bit. During one drill, Bouye and White went against each other three times. Once White won. Once Bouye won. The third time, Bouye had his hand in White's face and White dropped the ball. Other reporters watching the play with me thought it was a straight drop by White. I thought Bouye made an impact on the play. But even if it was merely a draw with White, that's pretty good from Bouye. Later, during a seven-on-seven drill, Bouye knocked the ball away from White again.
Speaking of White, that Atlanta tandem of White and Julio Jones is one that Texans receiver DeAndre Hopkins really looked up to before coming into the NFL. We asked Hopkins if he had a chance to say hello. He said he did have the chance, but didn't do it. Why? He wanted to play it cool, instead of seeming like a fan.
Falcons quarterback Matt Ryan got a stiff challenge from the Texans' defense. During one set of team drills, he had his first pass batted away, he had J.J. Watt in his face on the next (completed it, but Watt wasn't allowed to tackle him), and on the third pass, he threw one incomplete while facing excellent pressure form the Texans' front.
Atlanta's offensive line was a problem last season. It's part of why they drafted tackle Jake Matthews out of Texas A&M. Matthews' roots go deep in Houston as the son of former Oilers Hall of Fame lineman Bruce Matthews (who attended Wednesday's practice). The younger Matthews got tested against Watt. The offensive and defensive line one-on-one drills happen on the end of the field that the media can't see, so I can't speak to what happened there. But I did see a play early in practice during a team drill when the two faced each other. Watt rushed Matthews and the rookie held up against him.
Offensive guard Xavier Su'a-Filo got some first-team reps today. O'Brien has liked the way he's progressed. He had a lot of catching up to do after missing the spring workouts due to an NFL rule.
May, 21, 2014
5/21/14
3:45
PM ET
JACKSONVILLE, Fla. -- The
Houston Texans
did the sensible thing and took
Jadeveon Clowney
with the No. 1 overall pick, landing the best pass-rusher to come out of college in more than a decade and pairing him with
J.J. Watt
to have one of the best pass-rushing duos in the league.
But what if they hadn't?
What if they had taken quarterback
Blake Bortles
instead? Tony Pauline of TFYDraftInsiders.com wrote this week that the Texans' choice
came down to Clowney and Bortles
and the team had draft cards with both of their names written on it before finally settling on Clowney.
[+] Enlarge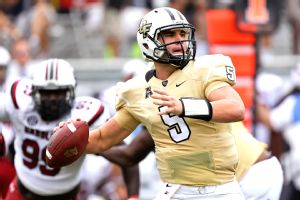 AP Photo/John RaouxIf the Houston Texans had used the No. 1 overall pick on Blake Bortles, it would have had a ripple effect throughout the draft.
That would have significantly impacted the AFC South.
It might not have altered the rest of the Texans' draft plans. They took guard
Xavier Su'a-Filo
with the first pick of the second round, and it's logical to assume they would have stayed with that pick to help protect their new franchise quarterback.
Same with the third-round selection of tight end
C.J. Fiedorowicz
. It only makes sense to add additional weapons for a young quarterback, and Fiedorowicz caught 75 passes in his final two seasons at Iowa. He's also a solid blocker who should help in the run game.
The Texans' other third-round pick was defensive tackle
Louis Nix III
, who will be a big piece of defensive coordinator Ray Horton's hybrid 3-4 scheme. General manager Rick Smith likely wouldn't have changed his strategy there.
But he certainly wouldn't have taken quarterback
Tom Savage
with the 35
th
pick in the fourth round. Who might he have drafted? Mammoth Stanford offensive tackle
Cameron Fleming
(6-foot-5, 323 pounds), Florida State outside linebacker
Telvin Smith
, LSU outside linebacker
Lamin Barrow
, and San Jose State cornerback
Bene Benwikere
are possibilities. All would have addressed a need.
Certainly the Texans wouldn't have ended up with a defensive player that could make the kind of impact that Clowney can had they taken Bortles, but they might have fixed perhaps the biggest reason for the team's disastrous 2013 season.
It's hard to argue with the Clowney pick, though, because he and Watt will be terrorizing quarterbacks for years.
If they had taken Bortles, though, that would have forced the
Jacksonville Jaguars
to drastically alter their draft plan.
It has been widely reported that the Jaguars and
Atlanta Falcons
had agreed to a trade in principal that would have allowed the Falcons to move up to No. 3. Jaguars GM David Caldwell called Falcons GM Thomas Dimitroff on the day before the first round to tell him that he was going to stay put and take the player he wanted, which only a few people knew was Bortles.
Had the Texans taken Bortles, Caldwell would have tried to rekindle the trade. The Falcons really wanted Clowney, and it's likely he would have still been available at No. 3 because the
St. Louis Rams
were intent on shoring up their offensive line for quarterback
Sam Bradford
. Offensive tackle was their No. 1 need, which is why they took
Greg Robinson
with the No. 2 overall pick, and it likely wouldn't have changed if Clowney were available.
The Jaguars and Falcons would have swapped picks, allowing Dimitroff to take Clowney. At No. 6, the Jaguars would not have gone quarterback. It would have been offensive tackle
Luke Matthews
,
whom the team really liked
, or receiver
Mike Evans
.
Derek Carr
was the No. 2 quarterback on the Jaguars' board, but they might have missed out on him, as well, because Oakland selected him with the fourth pick of the second round -- three spots ahead of the Jaguars. The Falcons' first pick in the second round was No. 5, so even if the Jaguars had gotten that pick as part of the trade they would have been unable to get Carr -- unless they worked another trade.
That probably would not have happened. The Jaguars tried to work out a trade to move up higher into the second round to get receiver
Marqise Lee
, but couldn't get anything done. Lee ended up falling to the Jaguars at No. 39 anyway, but would he have been the pick had they taken Evans in the first round?
The bulk of the Texans' draft might not have changed significantly had they chosen Bortles with the No. 1 pick, but it would have certainly altered the Jaguars' draft.
February, 20, 2014
2/20/14
3:06
PM ET
INDIANAPOLIS -- Texas A&M is quickly turning into O-Lineman U (or some other more clever version of that) with its latest offering: left tackle
Jake Matthews
.
But Matthews' media session today quickly turned to talking about his lightning-rod teammate: quarterback
Johnny Manziel
.
"I don't consider him a me-first guy at all," Matthews said, after being asked about Manziel's reputation as such. "My whole experience with him and having him as a quarterback was nothing but good things. When he was on the field he was just a tremendous competitor, great leader and someone that I loved playing for. I was glad to have him as a quarterback."
Manziel is a bit of a polarizing player. He was combustible in college on and off the field and some of those off-the-field antics are raising eyebrows in the pre-draft process. The Texans, who own the draft's No. 1 pick, have always talked about wanting guys who work hard and love football, and that won't change under the new regime. In Matthews' opinion, Manziel is that.
"Everything I've ever seen him do is all out," Matthews said. "He worked hard at everything he did. When it was time to practice, he would be out there competing just as hard as he would in a game. that's all I ever saw from him, nothing but good things."