Houston Texans:

Jerry Rice
December, 6, 2013
12/06/13
2:40
AM ET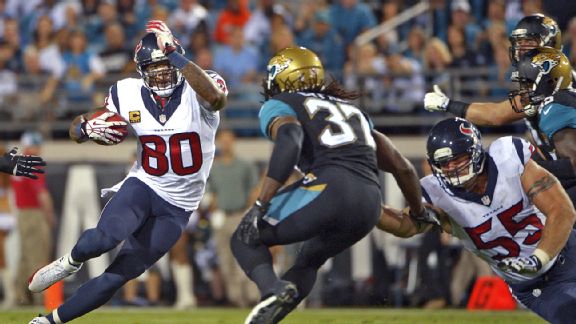 AP Photo/Phelan M. EbenhackAndre Johnson made history with his 13-catch, 154-yard night. But he couldn't get the Texans a win.
JACKSONVILLE, Fla. -- When he caught the pass, that wasn't the end of his work.
Andre Johnson
kept his eyes open for the right move to make next. He caught the ball from a young, struggling quarterback, scooted several yards to his right, found a hole to run through and gained 6 yards.
It was a play made harder than it should have been, but one Johnson made the best of anyway. In that way, it parallels his career.
On Thursday night, with a
27-20 loss
to the
Jacksonville Jaguars
, the Texans lost their 11th consecutive game, making it official they would miss the playoffs after winning the AFC South the past two years.
On Thursday night, Johnson became the first receiver in NFL history to have 20 or more games with at least 10 catches and 100 yards. He tied
Jerry Rice
with 10 games of at least 10 catches and 150 yards. Johnson's 13 catches and 154 yards led the game.
He spoke slowly, softly and deliberately when asked about it, his voice shrugging for him.
"I don't really think about stuff like that," Johnson said. "To accomplish something that in my book the greatest probably player to ever play the game, to do something he's done, it's very humbling. I'm just out here working, trying to do everything I can to help the team."
By halftime, Johnson had only two catches for 14 yards out of the five passes that quarterback
Case Keenum
threw to him. It was in the second half that things changed for Johnson, even before the spark provided by the return of quarterback
Matt Schaub
.
"I didn't do nothing different," Johnson said. "Just had more opportunities and just try to make plays when they came my way."
Keenum targeted Johnson five times in the third quarter before being benched for Schaub. Johnson caught three of those passes. According to ESPN Stats & Information, 40 percent of Keenum's passes for Johnson were off target.
Schaub, meanwhile, didn't throw any of his passes off target to Johnson. Johnson caught eight of the 11 passes thrown to him by Schaub and averaged 8.6 yards per attempt to Keenum's 5.6 yards per attempt on throws to Johnson.
Johnson was targeted a career-high 21 times Thursday -- the second-most targets for any player in a game this season, according to ESPN Stats & Info.
It makes sense.
"You don't even have to look at numbers to know that dude's a special guy," Keenum said. "He cares a lot about this team. He puts us on his shoulders and carries us quite a bit."
Well, he tries. The Texans, who are 2-11 overall, are 1-5 this season in games in which Johnson has had at least 100 yards receiving.
It has been that kind of career for Johnson.
Eight quarterbacks have started at least one game for the Texans since Johnson was drafted. The NFL record he set Thursday speaks to his longevity. That he has done it in the face of so much change at the position getting him the ball speaks to his versatility. He makes the jobs of his quarterbacks easier.
He also has provided a model for young receivers to follow. Those who do, like last year's third-round pick
DeVier Posey
, who asked for his locker to be put next to Johnson's, benefit from it.
Johnson thought the lean years were behind him, like that 2-14 season in 2005 that led to a No. 1 overall draft pick. But here they are again.
Through it, even amid whispers about his diminishing ability, Johnson has produced.
"He's been a man," Texans coach Gary Kubiak said. "Been a man all year long. Probably has a chance to have his biggest year, I don't know. But he's never changed."
Could be.
Last season, Johnson set a career mark for receiving yards in a season with 1,598. He needs 322 over the next three games to set a new personal best. Next week, he'll face the
Indianapolis Colts
, against whom he caught nine passes for 229 yards in the teams' first meeting this season.
Last week against the Patriots, Johnson became the second-fastest player in NFL history to catch 900 passes. Only
Marvin Harrison
did it faster.
None of it means as much to Johnson as a Super Bowl would have this season.
"Just frustration," he said, when asked of his emotions as the Jaguars intercepted a pass to essentially end Thursday's game. "We just want to win. I'm tired of losing."
It has all been much harder than things often are for a player of his caliber.
November, 29, 2013
11/29/13
8:36
PM ET
HOUSTON -- After playing each other last season, Texans wide receiver
Andre Johnson
and Patriots cornerback
Aqib Talib
offered mutual expressions of respect.
Talib
Johnson
"I think he's one of the top guys in the league in my opinion," Johnson said. "You like going against guys like that. You get to see where your game is and it's a challenge. You like to go against the best."
Johnson had eight catches for 95 yards in each of those meetings last season with no touchdowns.
This season, Johnson is averaging 91.1 yards per game, the second-highest average for players in their 11th year in NFL history. He is second to
Jerry Rice
, who averaged 115.5 yards per game at age 33 in 1995.
Though Johnson spoke highly of Talib, his play this year has been up and down. He's dealt with a hip injury. Pro Football Focus gave Talib positive grades in five games overall and in pass coverage.
Talib held Broncos receiver
Demaryius Thomas
to four passes for 41 yards on nine targets last Sunday. It was Thomas's lowest-receiving yard total in a game this season.
"I think he brings a little bit of both to the game," Johnson said of Talib. "He can play physical, he mixes it up pretty well. He's a big cornerback. I went against him twice last year. It was a good challenge. Lot of respect for each other."