Houston Texans:

Johnathan Joseph
March, 4, 2014
Mar 4
12:00
PM ET
In 2011, with a Swiss cheese secondary, the
Houston Texans
stepped out in free agency and brought in two big veteran additions.
Cornerback
Johnathan Joseph
and safety
Danieal Manning
both played significant roles in helping the Texans turn from perennial underachievers into a playoff contenders.

But after a giant initial season, Joseph's had trouble staying healthy and Manning has dropped off. He was lost to a right knee injury in October 2013.
Manning could be a salary cap casualty, as cutting him as he heads into the final year of his deal would save $4.5 million.
Even with a healthy Joseph playing opposite
Kareem Jackson
, the Texans need to upgrade cornerback depth.
That leads ESPN.com's KC Joyner to look at two outsiders as potential solutions in free agency as part of
our offseason blueprint

for the Texans: Carolina safety
Mike Mitchell
and Seattle corner
Walter Thurmond
.
I could see Mitchell as a member of the Texans. But I would think Thurmond is going to find work as an every down corner and Joyner suggests he'd be an upgrade over nickelback
Brice McCain
.
January, 22, 2014
Jan 22
6:23
PM ET
We approach the end of the defensive half of our position-by-position series examining what went wrong with the
Houston Texans
.
This wasn't a team that lacked talent, but one that often became enveloped by an impending sense of doom when things went bad, especially late in the season.
Defensively, the Texans faced a strange dichotomy for a while. They weren't allowing many yards, but were allowing too many points. Part of it was the fact that their offense turned the ball over so regularly and they themselves couldn't create many turnovers.
Having already discussed
safeties
,
running backs
,
inside linebackers
,
receivers
,
outside linebackers
,
tight ends
,
defensive linemen
and
offensive linemen
, let's wrap up defense with cornerbacks today.
Key Players:
Kareem Jackson
,
Johnathan Joseph
,
Brice McCain
,
Brandon Harris
What went wrong:
Week after week Jackson committed costly penalties he didn't understand. Each time came the same lament of defensive backs leaguewide: How do they expect us to play defense with these rules? Jackson vowed not to change his style. He finished the season having committed seven penalties for a league-high 174 yards during the regular season. Six of those penalties came in the first half of the season, and they hurt the Texans, who weren't always in agreement with the calls. In the Texans' final eight games, Jackson only committed one penalty, albeit a 35-yarder.
Per Pro Football Focus's player ratings, Joseph was the Texans' highest-rated cornerback. He ranked 24th among corners who played in at least 50 percent of their team's defensive snaps and allowed the fifth-lowest completion percentage. The lowest-rated corner among all players with the same participation filter was Texans cornerback Brice McCain. McCain, the Texans' nickel corner who often looked lost, was also the lowest-rated when you expanded the filter to include all players who played in at least 25 percent of the team's snaps.
Reason for hope?
The future of this position will be interesting to watch. Jackson will enter a contract year if the Texans don't opt to extend his deal this offseason. Joseph's cap number is astronomical in 2014: $11.25 million. That's huge, but the Texans need him so I'd be surprised if he were a cap casualty. They need to upgrade from McCain in the slot.
December, 25, 2013
12/25/13
12:38
PM ET
When he came to the podium on Tuesday afternoon,
Houston Texans
interim coach Wade Phillips said he wasn't sure if he was allowed to wish us all a Merry Christmas, but he planned to do it anyway.
He arrived after a short jog-through the Texans held on Tuesday so that the team could have Wednesday off. Being so close to a game, Phillips preferred to do that rather than push players' bodies.

For your reading pleasure as you do regular holiday things like argue with relatives and watch NBA games (just me?), I present 10 random things about the Texans.
1. The Texans signed running back Ray Graham, a rookie out of Pittsburgh who spent training camp in Houston, on Tuesday as well as fullback Toben Opurum, a rookie out of Kansas.
This to help solve their running back woes
.
2. Cornerback
Johnathan Joseph
and running back
Deji Karim
were placed on injured reserve, joining the pretty good team the Texans have stored on that list. Joseph becomes the team's fourth Pro Bowler on IR.
3.
Andre Johnson
's favorite Christmas present growing up was a
Miami Dolphins
/
Dan Marino
jersey/helmet/pants set he got when he was 6 or 7 years old.
J.J. Watt
's was a cocker spaniel puppy named Chewy.
4. Watt told Kristie Rieken of the Associated Press he
might have plastic surgery to fix his nose
, rather than continue to look like one of Dr. Frankenstein's creatures, which his mother hates.
5. With half a sack on Sunday, Watt would join
Mario Williams
as the second player in franchise history with back-to-back seasons with double-digit sacks.
6. Defensive end
Antonio Smith
gave the rest of his defensive linemen cowboy boots for Christmas. "I wanted to make sure they all knew how to cowboy up. I didn't want to be the only one." He was concerned that
Terrell McClain
wouldn't wear them because McClain has never worn boots.
7. Running back
Ben Tate
is famously doing acupuncture
to help heal his broken ribs
. Tate said he's actually been doing acupuncture for a long time to help with various kinds of pain.
8. Johnson wants to forget about this season as fast as possible -- after winning. He's not sure that's realistic, though, given that he still remembers his other 2-14 season.
9.
T.J. Yates
is not going to start this week. At this point, Phillips said, it wouldn't really work. Yates hasn't played in months, and chemistry was a problem even with throwing
Matt Schaub
back into the game.
10. Speaking of Schaub, he needs 8 passing yards to reach 23,000 with the Texans. He'll start again if
Case Keenum
can't go.
December, 17, 2013
12/17/13
12:00
PM ET
The
Houston Texans
can't make the 2013 NFL playoffs and they can't save their head coach's job. And after last week's loss to the
Indianapolis Colts
, it's less likely they can help their defensive coordinator move from interim head coach to regular head coach, despite his winning record as a head coach.

I asked several players Sunday evening: What do you play for now?
WR Andre Johnson, 11th season
: "I'm just trying to win. Trying to end this streak. That's pretty much it. I only play the game for one reason and that's to win and hopefully one day win the Super Bowl. So other than that, I don't really set any personal goals or anything like that."
RB Ben Tate, 4th season:
"I'm playing to get a W. I play because I love the game, I love doing this."
TE Ryan Griffin, 1st season:
"Anytime you play, it's on film. So at this point we're playing for pride right now. You've got to put the right stuff on film. Everybody sees that, everybody in the NFL. It doesn't matter what your record is it is each play. So that's what we're playing for."
CB Johnathan Joseph, 8th season:
"My pride. That's what I play for each and every week. My pride overrides everything else because I just want to go out there and play good, winning football from the beginning of the whistle to the end of the whistle. So I think it's about pride. Going out there and putting winning football on tape."
LG Wade Smith, 11th season:
"I play for the fact that I love playing football. I want to win. I know if I play well, it's contributing to helping us get a win. If the offensive line plays well, then it's contributing to us getting a win. And we just go from there."
RT Derek Newton, 3rd season:
"For my team. Myself. We're trying to get Ws each week."
OLB Brooks Reed, 3rd season:
"Play for? Pride. Self respect."
ILB Darryl Sharpton, 4th season:
"I play for my teammates. I play for my coaches. I play for
Bryan Braman
,
Joe Mays
, all the guys in the linebacker room. Reggie Herring, all my coaches. I mean, that's what you play for. It's your job. It's an unbelievable opportunity that people would kill for no matter what situation. I don't take it for granted. I've been through a lot of ups and downs and having this opportunity to play professional football in a great city like Houston, I'm going to take full advantage of my opportunity and give it my all."
October, 15, 2013
10/15/13
10:10
PM ET
Before players were introduced for Sunday's game,
Houston Texans
cornerback
Kareem Jackson
brought his mother out of the tunnel, gave her a hug and then turned back around into the tunnel to await his own introduction.

Joseph
Jackson
Jackson's mother, Rossalyn, is a two-time breast-cancer survivor. She wore a sash that said "Survivor" on it and stood in line with the Texans cheerleaders as players ran through onto the field during introductions. She became part of Houston's contribution to the league's Breast Cancer Awareness Month.
Cancer has been a fixture in the lives of both of the Texans' starting cornerbacks. Not only did Jackson's mother survive cancer, his sister had leukemia. And
Johnathan Joseph
, who starts opposite Jackson, has felt cancer's impact in his own family. Joseph's father suffers from lung cancer and emphysema.
On Monday, the two players held a fundraising event through their foundations to benefit the American Lung Association and Sister's Network Inc., which describes itself as "a national African American breast cancer survivorship organization."
As part of the fundraiser they held a birthday party on a stage for a local girl named Kyssi Andrews, who turned five on Monday. She was bald and wore a tutu and an
Arian Foster
jersey. For about an hour after cutting her birthday cake, Joseph sat on the edge of the stage with his arm around the little girl.
It brought back memories for Jackson's mother.
October, 2, 2013
10/02/13
9:09
PM ET
HOUSTON -- What Texans coach Gary Kubiak says about injuries is usually a bit different than what appears on the injury report when the Texans have a light practice. That's because according to league policy, if a team does a walk-through, or what Kubiak called a jog-through, it must estimate how much that player would have participated in a full practice.
On Wednesday afternoon, he said
Duane Brown
(toe) and
Brian Cushing
(concussion) participated in practice, while
Greg Jones
,
Johnathan Joseph
,
Owen Daniels
and
Andre Johnson
were rested.
Tim Dobbins
(hip) and
Brandon Brooks
(toe) did not practice due to injury.
The official injury report released this evening listed
J.J. Watt
and Cushing among those who did not practice -- Watt for that Frankenstein gash on his nose that required six stitches during the game, and also because of a groin injury.
Darryl Sharpton
(foot/hip) and
Wade Smith
(knee) were also held out.
Kubiak couched his injury announcements during his press conference by saying Wednesday's practice was not very rigorous.
"We might have had 10 or 11 guys who wouldn't have participated had we done something different, so we needed the reps," Kubiak said. "We slowed it down a little bit to make sure we got the teaching. We're back to work."
September, 26, 2013
9/26/13
5:29
PM ET
HOUSTON --
Houston Texans
receiver
Andre Johnson
was limited in practice on Thursday, coach Gary Kubiak said, but he's feeling good about his chances.

Johnson
"Right now, I feel like I'll play," Johnson said.
Johnson clarified that while he got kneed in the shin in Baltimore, he didn't have any bone damage. Rather, he suffered a deep bruise to the muscle around there. The injury occurred in the second quarter of the Texans' 30-9 loss. Johnson tried to return after halftime, but he was not effective enough to finish the game.
Limited participation is a step up from where Johnson was Wednesday, when he did not practice at all.
The Texans were also missing both starting cornerbacks in practice:
Johnathan Joseph
(foot) and
Kareem Jackson
(sick). Left tackle
Duane Brown
was limited and said after practice that he doesn't want to aggravate his turf-toe injury.
September, 26, 2013
9/26/13
8:48
AM ET
September, 18, 2013
9/18/13
5:41
PM ET
HOUSTON --
Houston Texans
cornerback
Kareem Jackson
nearly slipped out of the locker room while reporters were occupied with defensive end
J.J. Watt
.
Once caught, Jackson gave his honest view on the $42,000 fine he's planning to appeal. The fine resulted from a hard hit on Titans receiver
Kendall Wright
.
"We're supposed to be physical and try to knock the ball loose from the guy when they catch it in situations that you can," Jackson said. "So that's what we get paid to do. Now you tell me you're going to take my money for doing that? That's my style of play. That's how I play. I'm not trying to be a dirty player. That's just how I play the game."
It's a frustrating exercise for Jackson, who still says he won't change how he plays. His fellow starting corner
Johnathan Joseph
supported that thought later to me. Joseph said he doesn't think the fines will change how defensive backs hit because they still have to play the game.
Some of Jackson's key quotes:
"That's a huge number. That's a huge number. It's outrageous. I don't know. Can't do nothing but appeal it. It happened, so that's all I can do. I'll never understand a $42,000 fine for a hit. Never. Guy got up. He was okay. I'll never understand that regardless of the situation or the hit. That's how I feel about it."
Asked if it's hard to know what's legal now: "We don't want to blow guys' knees out and have them out for the rest of the season. If you go low on them you got guys saying it's dirty plays and we're trying to hurt people. I don't understand. Blow a guy's knee out or go high and he can get up and play the rest of the game, play the rest of the season. It's hard, but we're defensive players. We get paid to be physical out there. That's our job."
Last week Jackson, who went to Alabama, said he might give a Crimson Tide T-shirt to coach Gary Kubiak, whose alma mater Texas A&M lost to Alabama this weekend. "I was but I gotta save my money now, man. $42,000 fine, so I'm going to save all the money I can. I can't do any out of the ordinary things like buy everybody an Alabama T-shirt. I can't do it. I gotta keep that money in my pocket."
"When I'm out there playing, I'm not thinking about no fine. I'm not. That's my style of play. I pride myself on being physical. I want to let receivers know that I'm out there. I'm going to be out here on this corner. Every time you come out here, you're going to feel it. That's what I pride myself on. Games to come, this week, whatever. I'll continue to be physical from here on out. Hopefully everybody will have their aim a little lower. But I'm going to continue to play how I play."
September, 10, 2013
9/10/13
11:15
AM ET
A review of four hot issues from the Houston Texans' 31-28 win over the San Diego Chargers:
Mental toughness
: Just how sure were the Texans that they were going to win last night's game?
Midway through the third quarter, safety
Danieal Manning
and inside linebacker
Brian Cushing
started chatting about another improbable comeback from years ago. That one was during Manning's rookie year in 2006, when he played for the Bears. You'll remember that as the game that led to then-Arizona Cardinals coach Dennis Green ranting that the Bears "are who we thought they were."
[+] Enlarge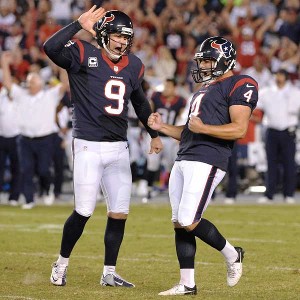 Robert Hanashiro/USA TODAY SportsHouston Texans kicker Randy Bullock and holder Shane Lechler celebrate Bullock's game-winning field goal as time ran out Monday night in San Diego.
Manning brought it up to Cushing as a reminder that these things happen. And because this game felt the same.
"Right in the middle of the third quarter, when it was about 28-14," Cushing said with a chuckle. "We just felt it. We felt that we could do it. Got it done."
With every player I spoke with after the game, I asked why this game was different than other times the Texans have faced big deficits. The answer most often was that this is a more mature team that has been through such adversity before. The Texans were accused of lacking mental toughness last season, and last night's game was a step toward proving that isn't true anymore.
While on the subject of accusations, the Texans turned another one on its head last night. I asked cornerback
Johnathan Joseph
if the Texans made a statement with the win: "Hopefully so, showing that we're a resilient team, we can come back and play from behind."
Vintage Dre:
Texans tight end
Owen Daniels
said he thinks
Andre Johnson
is actually getting better each year. Johnson had 146 yards on 12 catches, eight of which came in the second half as the Texans mounted their comeback.
It wasn't easy on his body
, but Johnson played like a kid again. He and quarterback
Matt Schaub
excelled when their team needed them the most.
About that first half:
The start of the game was about as bad as it could have gone for the Texans, and they can't ignore that. Last night's win wasn't just a case of coming from behind, it was the biggest comeback in franchise history. That requires a big deficit first.
"If we're mature enough to hang in there and win tonight, we have to be mature enough to know we didn't play very good, too," Texans coach Gary Kubiak said.
Every phase of Houston's game struggled. The Texans' offensive and defensive lines got outplayed, they only made it to the red zone once, they allowed 100 percent red-zone efficiency on three trips, and their average drive started 11 yards shy of where the Chargers did. And, of course, the first three plays of the game were a bobbled kickoff return, a Schaub interception, and a 14-yard touchdown pass from
Philip Rivers
to
Ryan Mathews
. Rivers finished the half with a 122.6 passer rating.
Third-down efficiency was big:
In the first half, the Chargers converted 63 percent of their third downs, often with big plays. In the first quarter, they converted a third-and-6 with a 17-yard pass to
Eddie Royal
, another third-and-6 with an 11-yard pass to
Danny Woodhead
and a third-and-7 with a 15-yard pass to
Antonio Gates
. In the second quarter, there was a 34-yard pass to Gates and a 10-yard touchdown pass -- both on third downs.
"Coming into halftime, that's what we were saying, we've got to get off the field on third downs," cornerback
Kareem Jackson
said. "It definitely swung the game in our favor tremendously."
Indeed, in the second half, the Chargers converted only two.
September, 5, 2013
9/05/13
9:00
AM ET
Reading the coverage of the Texans...

In the wake of inside linebacker Brian Cushing's signing, the Houston Chronicle created
a slideshow of the highest-paid Texans
sorted by guaranteed money. In order: receiver Andre Johnson, quarterback Matt Schaub, cornerback Johnathan Joseph, left tackle Duane Brown, Cushing, running back Arian Foster, center Chris Myers, defensive end Antonio Smith, defensive end J.J. Watt (on his fully guaranteed rookie deal), tight end Owen Daniels and safety Danieal Manning.
Dale Robertson of the Chronicle begins this
day-after story on Cushing's extension
with a fun anecdote about Cushing head-butting Justin Tuggle before the Texans' preseason game against the Miami Dolphins. It is quite possible the most Brian Cushing of all anecdotes. Robertson also uses some of Cushing's thoughts from his press conference yesterday.
During the press conference, Cushing and general manager Rick Smith talked about how closely they kept in touch during Cushing's rehab. Smith paid serious attention on his own, and Cushing made sure he knew every time Cushing hit a new milestone. He sent photos and videos regularly to show his general manager how well he was healing. Kristie Rieken of the Associated Press
starts there
.
A view from the other side: Tom Krasovic of the San Diego Union-Tribune
scouts the Texans
. He calls Watt, Foster, Cushing and Johnson players in the top five at their position (forgetting Brown, who I'd certainly say is in the top five at left tackle), but calls Schaub "more caretaker than playmaker."
September, 3, 2013
9/03/13
9:00
AM ET
Reading the coverage of the Houston Texans...
Quarterback Matt Schaub tells John McClain of the Houston Chronicle that Antonio Smith is right,
anything short of the Super Bowl would be a failure
for the Texans. It's been their refrain since last season.
On Monday
Ed Reed put on pads for the first time
since he joined the Texans, writes James Palmer of CSN Houston. Reed's teammate, cornerback Johnathan Joseph said having Reed at safety will buy the cornerbacks more time. Texans coach Gary Kubiak said Friday the Texans will likely make a decision about Reed's status for Monday night's game by early this week.
Texans outside linebacker Whitney Mercilus helped out a couple undrafted rookies with a hamstring injury early in camp that kept him out for the entire preseason. But
Mercilus said he'll be ready for the Texans' opener in San Diego
. He also expects double-digit sacks from himself, writes Drew Doughterty from the team's website. If he can, that will be big for the Texans. They didn't get much pressure from the outside last year, getting most of it instead from inside guys Antonio Smith and J.J. Watt.
The Texans have gone through several stages of their development and are now the "big boys" says Dale Robertson of the Houston Chronicle. Now that the build is over, Robertson takes a
look at the Texans' roster to explain just what they built
.
August, 27, 2013
8/27/13
8:00
AM ET
Two Texans made appearances in the top 50 for our NFL defensive player rankings, which resumed Monday: cornerback
Johnathan Joseph
at 43 and safety
Ed Reed
at 42.
Monday ESPN revealed
players ranked between 41 and 50
on both offense and defense. Expect more Texans ahead, but so far Joseph, Reed and center
Chris Myers
have appeared on the lists.
Joseph enters this season feeling healthier than he did last season, during which he played through two sports hernias.
Reed, of course, is on the list for his play as a Baltimore Raven. According to ESPN Stats & Info, Reed has 16 interceptions since 2008 on passes of at least 15 yards -- the most in the league during that span.
The lists are the result of votes from 63 experts from ESPN TV, ESPN.com, ESPN radio, insider, Stats and Info and the city cites. AFC South blogger emeritus Paul Kuharsky was among the voters.