Houston Texans:

Peyton Manning
August, 24, 2014
Aug 24
2:00
AM ET
DENVER -- The target of
Peyton Manning
's taunting penalty was perhaps the least surprising thing about Saturday night's game.
"I get a lot of people mad at me," Texans safety
D.J. Swearinger
said. "That's how I've been all my life. That's why I am the way I am."
Swearinger
Broncos receiver
Wes Welker
made a nine-yard catch at the Texans' 38-yard line, halted by a big hit from Swearinger. The safety's shoulder collided with Welker's head, doling another concussion to the receiver, who had two last season. It angered Welker's quarterback, who let Swearinger know immediately.
One play later Manning threw a touchdown pass, then ran over to Swearinger again to offer what Swearinger called "choice words." The quarterback considered the ensuing 15-yard penalty well worth it.
Forget the discussion about that hit in particular, because that is a much broader one to have.
Swearinger says he led with his shoulder and that's all he could do. The Broncos thought it was dirty
. That's generally how these things go.
But Manning's focus on Swearinger was about more than just one hit.
"The week had something to do with it," Swearinger said. "Practice during the week and the hit had something to do with it."
These teams spent three days facing each other. Swearinger, who as a kid sought to be as smart of a football player as Manning, made sure Manning felt his presence with his words and his play. He picked off Manning in a drill on Wednesday, and shortly thereafter a mild fracas ensued.
"He's been a competitor all week at practice," Broncos receiver
Emmanuel Sanders
said. "We've been competing against him, and sometimes he lets his attitude get the most of him."
That attitude is something Swearinger considers an asset. It certainly can be. He uses it to rattle opponents; he wants them to be thinking about him rather than about what they're supposed to be doing.
That's where the tricky part comes.
Swearinger's edge makes him a better football player -- safeties have to be a little nuts sometimes -- and often a really fun one to watch. But that edge and enthusiasm can get him in trouble with the way game are officiated. He's been flagged for penalties enough to know that and has said he's working on figuring out ways to keep his swagger, only hidden from officials.
Will it work? Is it even possible? That's a major challenge for his career.
August, 22, 2014
Aug 22
3:45
PM ET
DENVER -- Around the NFL, you hear a lot that quarterbacks root for each other.
Fitzpatrick
They like to see each other succeed. They like to help each other when they can. Broncos quarterback
Peyton Manning
, especially, has been known to do that.
On Thursday, we talked about
how special it was for Texans' rookie
Tom Savage
that Manning checked in on him this week.
Texans starter
Ryan Fitzpatrick
first met Manning as a college quarterback back when he was at Harvard. He attended Manning's Passing Academy (and didn't expect that Manning would remember that).
"I was a college counselor, but I didn't think at that point that the NFL was in my future," Fitzpatrick said. "Looking back on it, it was just a really neat experience for me to go against some of the other college guys and kind of size myself up and meet the Manning family."
Position groups in the NFL tend to bond, even crossing team lines. But it seems to be a much more active bond with quarterbacks. There are fewer of them, they can often feel isolated in the glare of the spotlight that comes with their roles, and more is expected of quarterbacks than just about anywhere else on the field.
"I think quarterbacks in the NFL, it's a brotherhood," Fitzpatrick said. "We've all got our bond and we all go through similar ups and downs and all the same things. Some of us more than others, obviously, but it's a nice thing that we share."
August, 21, 2014
Aug 21
4:54
PM ET
ENGLEWOOD, Colo. -- Ask
Houston Texans
quarterback
Tom Savage
which quarterback he looked up to growing up, and he'll tell you it's his brother, Bryan Savage.
This week though, Savage got to share a practice facility with another pretty good quarterback role model. He was working with some receivers when Broncos quarterback
Peyton Manning
walked up to him unsolicited.
[+] Enlarge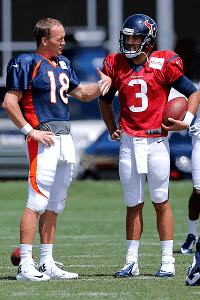 AP Photo/Jack DempseyHouston rookie Tom Savage got to meet -- and learn from -- Peyton Manning this week.
"I was like, 'Guys, you go. I'm going to talk to Peyton for a little bit,'" Savage said with a bit of a smile.
The reigning league MVP asked the rookie quarterback how he was mentally, how he was faring in his first NFL training camp.
"I'm not going to lie -- I got a little starstruck when I first saw him," Savage said. "It was pretty unique to go out there and watch one of the greatest play."
The positions in which the two came into the league are different. Manning was the first overall pick of the
Indianapolis Colts
, immediately expected to change a franchise. Savage was a fourth-round pick this May, a product of the Texans' patience at the position. He's not expected to start right away -- he's a project with size, arm strength, intelligence and a nomadic college football career that gave him little chance to develop. Savage is currently third on the Texans' depth chart after starter
Ryan Fitzpatrick
and
Case Keenum
.
Savage and Manning found common ground in how hard it is for a quarterback to come into the NFL.
"He kind of reassured me of the rookie grind and how it is for a rookie," Savage said. "It was good, it was good to hear. Just when you're not in, get as many mental reps as you can. Just keep grinding because he said it'll be a long year, but at the same time it's gonna be fun.
"... It's good to hear that he went through some moments, too, where he had to grind through it."
Manning threw a league-high 28 interceptions in his rookie season in 1998. The Colts went 3-13 that year, but enjoyed a dominant run with Manning for the next decade.
"It is a process," Savage said. "Knowing that, obviously as a quarterback you don't want to lose games and throw a bunch of picks. You don't want to say it's OK because Peyton did it. You want to do the best you can do. But just take kind of his work ethic and put it on the field."
Savage watched that work ethic and its fruits this week. He saw Manning's command of his team, and how much his receivers respect him. He knew that didn't come easily.
Said Savage: "Everyone knows he's probably one of the hardest working quarterbacks in the history of the game."
August, 20, 2014
Aug 20
7:00
PM ET
ENGLEWOOD, Colo. -- We continue a look at some highlights from today's practice between the
Houston Texans
and
Denver Broncos
. Wednesday was the second of three joint practices before the teams face each other on Saturday night.
We've written a bit about the offense already today, so this post will be focus more on the defense.
Offensive line versus defensive line one-on-one drills are always great fun to watch. Today didn't disappoint. Texans defensive end J.J. Watt faced Broncos tackle Chris Clark. Watt destroyed Clark, much to Clark's chagrin. The offensive tackle respond by swiping Watt's helmet in frustration, revealing a grin. Watt then chastised him, saying he shouldn't get mad just because he got beat. I was also impressed with the push nose tackle Jerrell Powe got against his opponent.
During a red zone drill, Broncos quarterback Peyton Manning threw two touchdown passes. Watt might have sacked him on one of them if the drill was live, but Manning got the ball out just as Watt got to him, so maybe not. After those two touchdowns, the Texans defense got their hands on a few balls. Defensive end Jared Crick knocked down one pass. Then, cornerback Brandon Harris had a pass breakup.
The award for the funniest moment of practice goes to the aftermath of a pick-six by cornerback Elbert Mack. As Mack sprinted toward the end zone, safety D.J. Swearinger, cornerback Josh Victorian and linebackers coach Mike Vrabel sprinted with him in celebration. Then Swearinger and Mack did that same hand-slapping celebration that drew a flag against the Falcons. "Yes, we did get flagged for that," Swearinger said. "I don't know why, but I guess we can't do it in the game no more. We've got to come up with something else."
Swearinger had his own interception, picking off Manning late. And he figures the tensions that boiled between the teams at the end of practice started with his play.
Texans center Chris Myers did not practice for the second consecutive day. He also missed last weekend's game against the Falcons. Myers did leave a practice against the Falcons early, last week, but O'Brien said today that Myers isn't hurt. "Here's a guy that's played a lot of football in this league and we're making sure that he's ready to go on September 7."
January, 16, 2014
Jan 16
10:00
AM ET
The search for the
Houston Texans
' next starting quarterback could take many forms. He could be a draft pick. He could be a veteran on the way from somewhere else. What's certain is that there isn't a more important decision for the franchise in the next few weeks.
It's why, when players around the league were asked to give their anonymous takes on which player they'd choose to build a franchise around, an overwhelming number selected quarterbacks.

Peyton Manning
earned the most votes from his peers when they were asked to select their most respected NFL player. No surprise, then, that when asked which player they'd want to start a team around, Manning also won that vote.
This one was closer.
While Manning took 19.3 percent with 62 votes, 56 players said they would choose the young
Andrew Luck
, Manning's successor in Indianapolis, for building a new franchise.
Patriots quarterback
Tom Brady
notched 41 votes, Packers quarterback
Aaron Rodgers
got 40 and Saints quarterback
Drew Brees
got 11. Among the top five vote-getters, two were not quarterbacks: Lions receiver
Calvin Johnson
, who was also named one of the most feared players in the league, and Vikings running back
Adrian Peterson
, who received votes from 20 contrarians.
One Texans player received votes: defensive end
J.J. Watt
.
And the smattering of people who think the Texans would do well to trade for Patriots backup quarterback
Ryan Mallett
aren't alone in having faith in him. Five players picked the 2011 third-round draft pick as the player around whom they'd want to build a franchise.
January, 16, 2014
Jan 16
10:00
AM ET
In the process of polling hundreds of NFL players from every team in the league, you're going to have some disagreement when it comes to whom players respect most. We polled 10 players from each team to find out what their thoughts were, and of course kept their names anonymous.

It speaks to his reach, then, that
Denver Broncos
quarterback
Peyton Manning
was such an overwhelming winner in this category with 26.8 percent of the vote.
His career and his command is easy to respect from up close, and the
Houston Texans
have seen a lot of it first hand. Manning has played in 20 games against the Texans and won 17 of them.
Three players who were on the Texans' opening day roster were among the 78 players to receive votes. Safety
Ed Reed
received five votes from his peers, defensive end
J.J. Watt
received two votes and guard
Wade Smith
received one vote.
The one player I'm surprised didn't get a vote is Texans receiver
Andre Johnson
. Johnson's sustained success through his 11-year career has earned him many fans among his colleagues, especially among receivers and defensive backs.
December, 22, 2013
12/22/13
7:46
PM ET
HOUSTON -- Coming into this game, it seemed a foregone conclusion that Broncos quarterback
Peyton Manning
would break the NFL's single-season record for passing touchdowns. The only question was, "When?"
Manning
For three quarters the Texans defense played in a way that could have won the game. They gave up a lot of yards in the first half, but only one touchdown. They did neither in the second half, holding Manning to three three-and-outs and another slightly longer drive that also resulted in a punt.
But in the fourth quarter Manning turned on the show he's broadcast all season.
"I would have to say Peyton Manning found a way there at the end," Texans defensive end
Antonio Smith
said.
Smith was asked if that was the best version of Manning he's ever faced and he said it was.
Manning broke the touchdown record with the game soundly in hand. The Broncos led the Texans 30-13, and then Manning made it clear that winning wasn't his only goal today.
It burned at Smith, but he took it in the well-reasoned way.
"That has to raise some fight in you," Smith said. "But as a true football player, that's what football is. That's what his job is to do. He wants to be great. It's his job to try to be great, no matter how it makes anybody else feel. This is football. We're grown men. It's our job to stop them. It's his job to break records."
There wasn't one player who said publicly that Manning going for the record with the game in hand was out of line. Texans interim head coach Wade Phillips said it surprised him that they were still so aggressive.
"I was surprised, but they threw it deep late in the game," Phillips said. "But that's part of football."
Brooks Reed
said he didn't see it that way, "Our job is to stop him. His job is to compete. He wants to be the greatest. He's going to go for a record. It's our job to stop him."
Shiloh Keo
said simply: "They don't run the ball. Peyton Manning likes to throw it."
December, 19, 2013
12/19/13
10:00
AM ET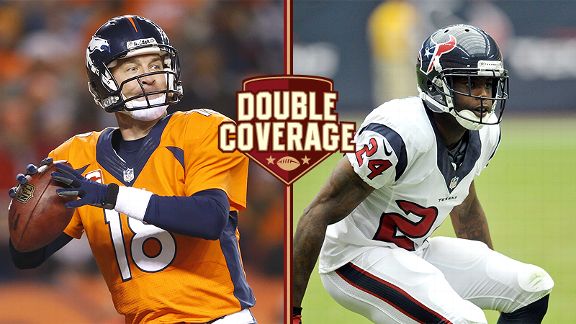 USA Today Sports, Icon SMIComing off an unexpected loss, will Peyton Manning's Broncos overlook Johnathan Joseph's Texans?
Quarterbacks tend to pull for each other. They know what it's like to shoulder so much of a team's fate, they understand the pressure better than outsiders could.
"I do think it's a unique fraternity,"
Denver Broncos
quarterback
Peyton Manning
said. "Matt's an excellent quarterback. I think he'll be fine."
This weekend Manning and his Broncos will visit the
Houston Texans
for a rematch of a game played last year under very different circumstances.
Fittingly, after a season of quarterback turmoil, the Texans are returning to the man they started with at the position. Because of an injury to
Case Keenum
,
Matt Schaub
will start Sunday at Reliant Stadium. The last time Schaub started, he entered the game to boos so hearty that the Texans had to go to a silent count on some of their plays.
On the opposite sideline will be one of the best to ever play the position. Manning has played against the Texans 19 times and lost only three times. ESPN.com Broncos reporter Jeff Legwold and Texans reporter Tania Ganguli discuss.
Ganguli:
Manning is very familiar with the Texans. Has his (soon-to-be) record-setting season been as impressive to watch up close as the stats suggest?
Legwold:
No question the numbers have been staggering, even by Manning's standards. But the intersection of Manning as a 37-year-old quarterback who was willing to sort of remake himself with a team ready to offer him the place to do that has lifted his play even more. The Broncos have constructed a playbook that is a mix of what they had on hand and what Manning has always done. They've added a warp-speed no-huddle portion and given him targets all over the formation, and Manning has played with the discipline of a veteran quarterback who understands what needs to be done. His coaches have said he forced just one pass in the team's first eight games and his accuracy has been elite for much of the season. He isn't a power thrower now, and a windy day in the postseason could derail some of what the Broncos like to do, but he is an accomplished pitcher who knows his opponents and can hit all the spots.
Gary Kubiak is still well-liked around the Broncos' complex, with many people who worked with him still in the building. What has been the reaction of players to his dismissal?
Ganguli:
Kubiak was well-liked in the Texans' building, too, especially with, but not limited to, the players. After his dismissal, you heard a lot about how well he treated people, regardless of their role on the team. He's always been known as a players' coach, and that's part of what has made Houston an attractive destination for free agents. Several players exchanged text messages with him after it happened. Some took public responsibility for it. They didn't like seeing him lose his job, but the firing wasn't a tremendous surprise given how the season had gone. The players' reaction to Kubiak's health scare after suffering a "mini-stroke" on Nov. 3 said a lot about what he meant to them.
You covered another head coach's health scare this season. How did the Broncos weather John Fox's absence?
Legwold:
There have been seasons over the past decade or so when neither the locker room nor the coaching staff would have been as equipped as this year's group was to deal with something like Fox's four-week absence following open-heart surgery. Defensive coordinator Jack Del Rio stepped in as interim coach, and players often spoke of his composure and leadership during that time. Manning,
Wesley Woodyard
,
Champ Bailey
and others helped keep everyone in the locker room pointed in the right direction, while Adam Gase and rest of the offensive staff kept things humming on that side of the ball. The team went 3-1 in that stretch, with two wins over Kansas City and one against San Diego. The loss was an overtime defeat at New England, when the Broncos let a 24-point halftime lead get away. Through it all, the Broncos showed themselves to be a stable organization, able to overcome the most serious of issues.
An awful lot of folks believed when the season began that the Texans would be in the hunt for the Super Bowl title. What are some of the major issues that have prevented that from happening?
Ganguli:
How much time do you have? It starts with the quarterback. The Texans don't have the luxury the Broncos have of one of the greatest quarterbacks ever. Their situation at the position has been tenuous all season. Schaub's costly turnovers early on put the Texans in a precarious position. He didn't play as poorly as some indicate until Week 5 against San Francisco. He just looked uncomfortable and out of sorts from start to finish, throwing three interceptions, including a pick-six on the first pass of the game. Schaub's foot and ankle injuries the following week opened the door for Kubiak to make a switch to Keenum, who spent last season on the Texans' practice squad. Keenum did well before opponents deciphered him, and since then he has struggled. I'm not ready to say he'll never be a passable quarterback in the NFL, but his play over the past eight games has been a big factor in the losses. To be clear, quarterback is not the only factor in the Texans' 12-game losing streak, but it's been a big one. Further, the handling of the quarterback situation played a part in Kubiak's firing. He benched Keenum for Schaub against Oakland and Jacksonville. That kind of uncertainty didn't help matters.
That's one question I get asked a lot. Another is this: Who will the Texans' next head coach be? I covered Del Rio for his final season and a half as the Jaguars' coach. From what you've seen in Denver, do you think he gets another shot at being a head coach?
Legwold:
I spoke with executives from around the league in recent weeks, and it seems Del Rio helped his cause with the way he conducted himself and led the Broncos during Fox's absence. If the Broncos can snap out of their current defensive funk and go deep in the playoffs, it would help his cause even more. (He interviewed with USC during the bye week, the day before Fox suffered the dizziness and light-headedness on a golf course that led to his open-heart surgery.) Del Rio would need an owner/team president to look past the offense-first mentality everyone seems to be looking for these days, and he would have to present a clear, concise picture of what he would do on offense. But if the Broncos make the Super Bowl, or even win it, and the defense makes some plays along the way, Del Rio should be on some short lists.
How has Wade Phillips handled the interim job? He's seen Manning plenty over the years, how do you think he'll have the Texans go at the Broncos' offense?
Ganguli:
It wasn't a particularly good situation to come into, as tends to happen with interim jobs. The results have been similar to Kubiak's tenure, though Phillips has been more proactive in trying to curb the Texans' penalties. He's had Big 12 officials at practice several times, and puts players in timeouts if they commit a penalty. Not a lot has changed for the better, and the injury situation has gotten worse. The Texans now have their first- and second-string running backs on injured reserve, as well as their starting tight end, starting middle linebacker and starting strong safety. Phillips' defenses have always been very aggressive -- they blitz a lot. The play calling is being done by defensive-backs coach
Vance Joseph
now, but that doesn't change a lot. Manning's statistics against the Texans are better against a four-man rush than against blitzes.
December, 18, 2013
12/18/13
10:08
AM ET
This weekend two very familiar foes will face each other --
Peyton Manning
and the
Houston Texans
defense.
Manning isn't used to losing to the Texans. He's only done so thrice of 19 games. One of his losses came last season when the Texans traveled to Denver and beat the Broncos on a four-touchdown performance by
Matt Schaub
. All 16 wins came when Manning played for the
Indianapolis Colts
.
Manning's completion percentage against the Texans is his fifth best against any team in the league. He completes 68.9 percent of his passes against the Texans.
In those 19 games, Manning has thrown 44 touchdowns to just eight interceptions. His passer rating against the Texans is 108.5. Manning has thrown passes for 5,452 yards against the Texans. He averages 286.9 passing yards per game, which is about middle of the pack for Manning's opponents, he averages more yards per game against 12 other teams.
The Texans like to blitz and against Houston's blitzes, Manning has completed 59.4 percent of his passes, thrown eight touchdowns and one interception. His passer rating is 99.5 and his total QBR is 63.4.
His completion percentage fares better when the Texans rush four or fewer players. In those situations, Manning has completed 70.8 percent of his passes, thrown 17 touchdowns and two interceptions. His total QBR is 90.6 and his passer rating is 108.2.
December, 13, 2013
12/13/13
4:25
PM ET
You'll get a chuckle out of Texans players when they hear that some of their own fans want them to keep losing in order to secure the No. 1 overall draft pick.
They aren't interested in worrying about that. Losing doesn't feel good, even for a greater purpose, and they've had about enough of it.
"It's football; we try to win," defensive end
J.J. Watt
said. "I'm a football player. I'm never going to step on the field and not try to win. That's the only way I know how to play."
Right now the Texans are firmly in the lead for draft order as the only team in the NFL with just two wins. Three teams -- Washington (whose pick would go to St. Louis), Atlanta and Minnesota -- have just three wins, though the Vikings tied one game and so have a worse draft position than the other three-win teams.
Below that are five teams with four wins each, including the
Jacksonville Jaguars
. Two of their wins came against the Texans.
Before this season's Texans went on an 11-game losing streak, the last team to have such a slump was the 2011
Indianapolis Colts
, which featured an injured
Peyton Manning
. They earned the top pick with a season-finale loss to the Jaguars and drafted
Andrew Luck
. That helped the Colts make the playoffs as a wild-card team last season.
Not every season offers such a quick fix as that one did. Even with the top pick, the Texans might not be so lucky. This year's quarterback class probably doesn't have a single player worth the No. 1 overall pick.
Still, having that pick means being sure you'll get the guy you want. That's a great luxury to have when you're a team that feels so close.
December, 12, 2013
12/12/13
12:00
PM ET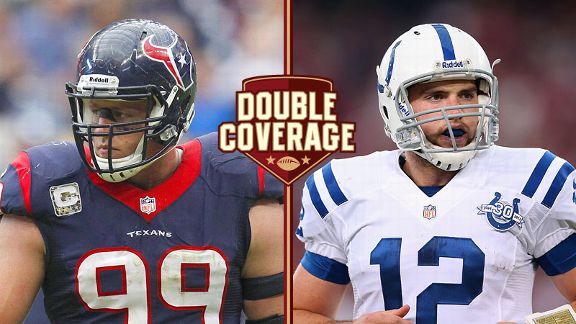 Getty ImagesJ.J. Watt's Texans aren't playoff-bound like Andrew Luck's Colts, but Sunday's hosts haven't had it easy.
INDIANAPOLIS -- This was supposed to be a game that had AFC South division title implications between a Super Bowl contender and a playoff team, one that could have even been flexed on the schedule.
At least that's the way it was envisioned when the season started.
Instead, it'll be a battle of two teams dealing with a number of issues when the
Indianapolis Colts
take on the
Houston Texans
at Lucas Oil Stadium.
The Colts haven't beaten a team with a winning record since Oct. 20 and haven't had consistency on offense, defense or special teams in weeks. The Texans ... well, they've been a disaster this season. They are on an 11-game losing streak, benched their starting quarterback and fired their head coach.
ESPN.com's Colts reporter Mike Wells and Texans reporter Tania Ganguli weigh in on the two struggling teams.
Wells:
Tania, obviously the big news -- really the only news -- to come out of Houston in the past week was the firing of coach Gary Kubiak. Wade Phillips takes over as the interim coach. Teams tend to rally around interim coaches or just shut them out. What do you think the Texans will do with Phillips?
Ganguli
: I don't think they'll shut him out, but wanting to succeed for the coach was never a problem in Houston. They wanted to win the last Colts game for their head coach, who left at halftime in an ambulance. They wanted to win the following week in Arizona for their coach, who watched from home as he recovered from his transient ischemic attack. It's not a matter of wanting the win -- the process has gotten lost. Two weeks ago, the Texans made so much progress in fixing their issues and then last week they went to Jacksonville and completely lost their discipline, committing a franchise-record 14 penalties for 177 yards.
The Colts are now back on top of the AFC South. What was the mood like for the team upon clinching the division and a playoff spot?
Wells:
It was a bittersweet feeling for them because they needed help from their good buddy
Peyton Manning
in Denver to win their first division title in three years. The Colts wanted to go into Cincinnati and win it by themselves so that they would be able to avoid getting it in the side or backdoor. That obviously didn't happen. But a division title is a division title no matter how you get it. That's how the Colts should look at it, especially since they were 2-14 just two years ago and many people thought the Texans wouldn't have a problem winning the division for the third straight season.
I'll be the first to say I picked the Texans to win the division this season. I'm sure there are probably a lot of reasons why they've been a major bust. But does one reason stand out more than others?
Ganguli:
If I had to choose one, I would say the quarterback situation has been the biggest reason. It was completely out of the blue. A lot of people disagree with me on this, but I don't think
Matt Schaub
played poorly most of the time, it's just that pick-6's are such dramatic momentum swingers. Really, though, it's been a combination of a lot of things. If you look at their stats, you'd expect the team to have a much better record. After Schaub, they went through
Case Keenum
's learning process, which is ongoing. Kicker
Randy Bullock
had a rough start, which impacted the team's record. He has improved lately, but by then the Texans developed other problems, like the loss of four important players to injury: inside linebacker
Brian Cushing
, safety
Danieal Manning
, running back
Arian Foster
and tight end
Owen Daniels
. Daniels has a chance of returning this week. And of course, I mentioned the meltdown of discipline that led to what happened last Thursday in Jacksonville. That was a problem early in the season, but unusual for the Texans lately. They had four penalties in the previous two games combined.
I expected the Colts to be better than they are, too. Do you think this team has taken a step forward or backward from last season?
Wells:
I thought the Colts had more talent this season but they wouldn't be able to duplicate their 11-5 record from last year. I was right about their record but wrong about their talent. Season-ending injuries forced the Colts to take a step back in the talent department. They're known for using the phrase "Next Man Up" when dealing with injuries. There really isn't a Next Man Up when it comes to replacing future Hall of Fame receiver
Reggie Wayne
, guard
Donald Thomas
and tight end
Dwayne Allen
. The Colts thought acquiring running back
Trent Richardson
would soften the blow of losing
Ahmad Bradshaw
and
Vick Ballard
. That hasn't been the case. Richardson's struggles since coming to Indianapolis have been well documented. So injuries and players not living up to expectations are the main reasons why the Colts have taken a step back
We talked about the benching of Schaub prior to the first meeting between the two teams in early November. Receiver
Andre Johnson
made Keenum look pretty good in the first half of that game. Has Keenum shown enough to prove he's worthy of being the team's quarterback for years to come?
Ganguli:
He's had good moments and bad ones. I think the bad moments are fixable, but whether he'll be able to fix them remains to be seen. The end of this season is an audition for him just as much as it is for Phillips. He has to show he's learning how to read defenses and make better decisions. There are times when Keenum hangs on to the ball too long because his internal clock isn't quite where it needs to be yet. He is learning that sometimes it's better to take the checkdown. He's learning that turning his back on the field when a rush comes at him reduces his options. If he stops growing where he is now, he'll have a career as a serviceable backup. If he continues to improve, he has the chance to be a starter.
To wrap up, let's talk about the quarterback up there, which I know we have before. How would you assess the season
Andrew Luck
has had?
Wells:
Two words: A struggle. But it's not Luck's fault. The offensive line has been inconsistent all season. The running game has been more poor than good. The biggest reason behind it, though, is because of the loss of Wayne. Wayne was Luck's security blanket and nobody has stepped up to help him out. Luck is good, but you can't forget that he's only in his second season and is still learning. Rookie
Da'Rick Rogers
had a breakout game against Cincinnati (107 yards) last weekend and believes he can be Luck's third-down go-to guy.