Houston Texans:

Ryan Griffin
December, 3, 2014
Dec 3
5:11
PM ET
HOUSTON --
Houston Texans
tight end
Garrett Graham
did not practice on Wednesday with an ankle injury. His coach said Graham's chances of playing Sunday against the
Jacksonville Jaguars
don't look good.
Graham's status sheds a little light on the Texans' activation of rookie tight end Anthony Denham from the practice squad. Denham was brought up today and could be one of only two healthy tight ends at the Texans' disposal Sunday along with second-year tight end Ryan Griffin.
Griffin scored his first touchdown of the season on Sunday against the
Tennessee Titans
. It was only the second touchdown caught by a Texans' tight end this year.
Denham took a spot vacated by inside linebacker
Max Bullough
, who was placed on injured reserve. Bullough, who also began the season on the practice squad, had been struggling with hamstring injuries, O'Brien said. Active for the first time all year last weekend, Bullough tried to play through the injury but it wasn't improving.
"Any time you have a chance to bring a guy up from the practice squad that's really deserved it, whether it's Max Bullough or Anthony Denham, those are good phone calls," O'Brien said.
Arian Foster (groin),
Andre Johnson
(rest),
Johnathan Joseph
(ankle) and
Jadeveon Clowney
(knee) also missed Wednesday's practice. Clowney is visiting with renowned orthopedic surgeon Dr. James Andrews for further testing on his surgically repaired knee.
May, 29, 2014
May 29
12:15
PM ET
In the weeks and months after an 11-year-old
Anthony Denham
was taken from his family and placed into foster care, he often felt alone.
His three siblings were all in different places. His mother battled drug problems away from them all. He didn't feel like he fit in as a black kid placed in a Hispanic household in a mostly Hispanic neighborhood.
But Denham was always a kid who wanted to see the bright side of things. He wanted to trust people; he wanted to believe things could work out better for him than they did for so many of his family members and friends. So he did.
[+] Enlarge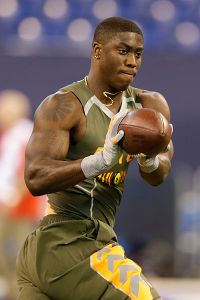 AP Photo/Michael ConroyCompeting at a crowded position in Houston is just another challenge in a life full of them for Utah tight end Anthony Denham.
"I didn't want to be poor," Denham said. "I kind of lived that life. I didn't want to struggle. I know if I kept going on that path, I would be either dead or in jail. I'm more someone who, if I set my sight on something, I'll go and get it to the best of my ability."
His sight right now is on trying to make the Texans' roster. Signed as an undrafted free-agent tight end this month, Denham is part of a group that is one of the Texans' strongest positions. It includes veteran
Garrett Graham
, second-year player
Ryan Griffin
, this year's third-round draft pick
C.J. Fiedorowicz
and free-agent acquisition
Zach Potter
. That will also make winning a roster spot tough. Denham has plenty of experience with tough.
"What's harder is what's best," Denham said. "What's easy is not the way. It don't take nothing to drop out. It don't take nothing to choose the wrong path. You don't have to think to do certain things. When you're thinking, you're on the right path. When you're thinking, your mind is good. Just stay focused and maintain your goals. Set them. Set goals."
That mentality took a while for Denham to develop. He grew up in Pasadena, California, a suburb of Los Angeles. In addition to his mother's drug problems, he had no contact with his father. His mother was in and out of jail during his childhood.
In elementary school, because he wanted to be like his older brothers and cousins, there were days when he didn't get up to go to school. He guesses he missed school more than he attended in fifth and sixth grade.
One day, Denham's great-grandmother had enough of his mother's inability to take care of her children. She called child protective services and had them removed.
One brother went to live with his father's family. His younger sister bounced around between foster homes. Denham was placed in a home with a single mother to her own biological children as well as several foster children in El Sereno, a neighborhood in east Los Angeles.
"When I moved into the foster home, just being around everybody that wasn't like me, not being from that culture, I was just like, 'What's the point?'" Denham said. "'Everybody's different. I don't fit in this area because it's predominantly Hispanic.' I was like, 'I could at any moment just leave.' But I didn't do that. I stayed positive and just focused. I had a goal. My goal was to do my best and make it to the NFL."
Denham started to see football as a way to reach his goals when he started excelling at the sport in high school. He says he used football as a "father figure." There he had structure and learned morals. Back then, he was a lanky wide receiver who drew comparisons to Randy Moss. But it took more than his athletic ability to accomplish that -- that was another lesson Denham learned.
He passed the classes he took in high school, but was missing a core class he needed to qualify to play at a Division I college. So Denham went to East Los Angeles College instead and worked his way up to a Division I program.
"Very shy, very reserved kid that didn't talk much," said Nick Garrett, then an assistant at East L.A. College who recruited Denham. "Just kind of kept to himself a lot. He had a hard time trusting people and dealing with people. ... My impressions of Anthony, he's a quiet kid, very respectful kid. Once you earn his trust, he would run through a brick wall for you."
Denham became a two-time junior college All-American, the top receiver in junior college and earned scholarship offers from a handful of schools. He chose Utah, where he could stay close to his home but also leave the state.
This past winter, his size (6-foot-4, 235 pounds) and pass-catching ability got him invited to the NFL scouting combine, but he was described as raw by NFL.com analyst Nolan Nawrocki.
It's another challenge in a life that has been full of them.
Late in high school, Denham reconnected with his siblings. He's now reconnected with his mother, too, who he didn't see for several years.
"It's better now, because I'm more mature," Denham said. "I see her situation, and I know sometimes you can't beat drugs. It's really up to her. It's all in her head. She's been in and out of jail a majority of my life, but every time she sees me she can't do nothing but cry. That's all she can do, because she's just, I'll say, motivated by what I've become from where I came from.
" ... I look at it all the time like, man, I've been through hell and back. Honestly, I've really been there. I've always managed to find positive and upside to every negative situation. You know what they say in math, a negative and a negative is a positive. So everything that happened negative turned into the situation I have today."
January, 24, 2014
Jan 24
1:30
PM ET
Hopkins
In September, a reporter relayed to
Houston Texans
rookie receiver
DeAndre Hopkins
that Mel Kiper Jr. said the first-round pick was the best rookie in the league. Hopkins replied that Kiper Jr. also said he was going to be a bust.
Nearly one month removed from the end of the regular season, Kiper Jr. revisited his thoughts about each team's drafts, and something might have gotten lost in translation.
Kiper Jr. gave the Texans a B just after last year's draft and he kept that grade:
Summary: In April I wrote: "I thought the Texans would go with DeAndre Hopkins at No. 27, and they did. Andre Johnson will be 32 in Week 1 of this season, and soaked up an absurd 58 percent of their wide receiver targets in 2012. Hopkins gives them a legit No. 2." I think that stands up pretty well, the only problem being what happened with the guys throwing Johnson and Hopkins the ball. But Hopkins still finished with 802 yards receiving, second among all rookies. [D.J.] Swearinger was also a starter and, by the end of the season, a pretty good one at strong safety. Elsewhere, [tight end Ryan] Griffin caught some passes late, and undrafted Dennis Johnson got some run. Assuming Hopkins and Swearinger are long-term starters and potentially good players, this draft is pretty decent.
You can read the whole post,
here

.
I'd agree with Kiper Jr. that this was a solid draft for the same reasons. He mentioned Hopkins and Swearinger having the potential to be long-term starters and good players. I'd add Griffin to that mix. And there is a decent chance offensive lineman
David Quessenberry
is also a solid player once he gets on the field.
January, 17, 2014
Jan 17
3:03
PM ET
A 2-14 season leaves a lot of time for reflection, and I'm here to help you through it.
The
Houston Texans
had a lot of issues during the 2013 season and we're taking a position-by-position look at what went wrong.
So far we've looked at
safeties
,
running backs
,
inside linebackers
,
receivers
and
outside linebackers
.
Today, tight ends.
Daniels
Key players:
Owen Daniels
,
Garrett Graham
,
Ryan Griffin
What went wrong:
Injuries. Sound familiar?
Before Daniels suffered a non-displaced fibula fracture in San Francisco, the Texans led the league in two-tight end sets. Makes sense given the quality of their personnel at the position. Daniels and Graham are both very strong starting caliber tight ends and both finished the season on injured reserve. Griffin was just a notch below them but mostly due to the rookie's lack of experience. The sixth-round pick in last year's draft proved to be one of the better selections the Texans made, especially given where they took him. Daniels is entering a contract year and Graham, of whom the Texans are fond, will become a free agent at the end of the league year in March.
Reason for hope?:
There is plenty here as this is a talented group. I'd expect two of the Texans' top three tight ends to return to their 2014 roster. Re-signing Graham might mean saving a bit of cap space by releasing Daniels. But cutting Daniels would only save about 3.5 or the $6.25 million cap hit he's scheduled to cost in 2014.
I wrote more about the issue a few weeks ago
, with some thoughts from Daniels. I think Daniels' experience, leadership and the fact he's still playing well make him worth keeping around.
December, 12, 2013
12/12/13
2:47
PM ET
HOUSTON -- Texans tight end
Owen Daniels
thought he might be able to return to the Texans for last week's game against the
Jacksonville Jaguars
.
Daniels
He was wrong, and it's going to be at least another week.
Texans interim head coach Wade Phillips said Thursday that Daniels did not practice again and wouldn't be available for this weekend's game in Indianapolis. Daniels suffered a non-displaced fibula fracture in the Texans' Week 5 game in San Francisco. The team put him on injured reserve designated to return, probably expecting to need him for a playoff run. That meant he couldn't play again for eight weeks.
The Texans now find themselves in a bit of a predicament with only two tight ends available at the moment.
Garrett Graham
, Daniels' backup, hasn't practiced yet this week with a hamstring injury.
Without Graham, the Texans will rely heavily on rookie tight end
Ryan Griffin
, a sixth-round draft pick who never seems to leave the field.
"He's done a really good job," Phillips said. "He's a really good pick for us, especially where he was picked. Going to be able to utilize him a lot of different ways. Special teams as well as tight ends."
October, 7, 2013
10/07/13
11:01
PM ET
An injury that was not mentioned Sunday surfaced during
Houston Texans
coach Gary Kubiak's Monday news conference. Texans tight end
Owen Daniels
has a fibula injury that went through MRIs on Monday.
Monday evening Mark Berman of Fox 26 and John McClain of the Houston Chronicle simultaneously tweeted the Texans are concerned about Daniels' health enough to think he could need to go on injured reserve with a designation to return. They said more would be known about Daniels' status on Tuesday.
The offense has not been its best lately, but when it has succeeded it's often been due to the tight ends.
Six of their eight touchdowns have come on passes to tight ends -- three by Daniels and three by
Garrett Graham
, who's shown his talent as his role has grown.
Daniels is the Texans' second-leading receiver with 24 catches and third in receiving yards with 252.
For what they like to do, they need two capable tight ends. Houston leads the NFL in two tight-end sets. They've used the formation on 208 snaps this season, more than twice the league average of 96 snaps.
Seven of Houston's touchdowns have come on the formation. However, their yards per attempt are among the lowest in the league. The Texans have used the formation slightly less during the past three games than they did in the first two of the season, which were both wins.
What we could see if Daniels is out for any amount of time is the emergence of
Ryan Griffin
, the sixth-round draft pick out of Connecticut. He's one of the more successful draft picks out of this year's class, most of which is on IR. Griffin plays with an edge, he has good size and given the opportunity he might continue the Texans' tradition of hitting on tight ends.
August, 30, 2013
8/30/13
12:23
AM ET
ARLINGTON, Texas -- Gary Kubiak will have some decisions to make in the next several hours. Many of them were made much easier by Thursday night's final preseason game, in which his
Houston Texans
beat the
Dallas Cowboys
24-6
.

The game saw both backup quarterbacks play well, and made it very likely the Texans will keep three on their roster this season.
It showcased the two remaining running backs whom Kubiak needed to see more of in
Cierre Wood
and
Dennis Johnson
. Wood helped himself with 107 rushing yards and a 5.6-yards-per-carry average. Johnson hurt himself with three fumbles, one of which he lost, and difficulty fielding returns. Kubiak said he already knew enough about veteran running back
Deji Karim
, so he didn't play him much at all.
Cornerback
A.J. Bouye
showed skill with an interception. Then he got chewed out after he incurred a 15-yard penalty for standing in the middle of the Cowboys' star, his arms outstretched like Terrell Owens. The undrafted rookie said he probably won't even sleep Thursday night waiting to hear whether or not he made the team.
And tight end
Ryan Griffin
showed exactly why the Texans drafted him in a performance that included five catches for 87 yards.
The decisions will start tomorrow -- and could finish then, too. Stay tuned.