Houston Texans:

Shane Lechler
November, 14, 2013
Nov 14
2:05
PM ET
HOUSTON -- This is a big one for
Shane Lechler
, playing against the team with which he spent the first 13 years of his career.
Wednesday, Lechler told Texans coach Gary Kubiak he would be playing Sunday, despite being hospitalized with the flu.
"He will stay tonight and he's expected to be released tomorrow," Kubiak said. "You may not see him here all week. He sent word to me today, 'Hey, I'll definitely be there to do my job.' I think he'll be OK."
What will he do if Lechler can't play?
"Go for it, I guess," Kubiak said, with a bit of a smirk. He then added that kicker Randy Bullock could punt.
Bigger concerns might have to do with inside linebacker
Joe Mays
and cornerback
Kareem Jackson
. Both players missed practice again, Jackson with a chest injury and Mays with a knee and oblique injury.
Losing Jackson would mean the Texans would start
Brice McCain
, who struggled in coverage last week. Without Mays, the Texans could start
Jeff Tarpinian
, who signed on Oct. 27.
Here we go again with the linebackers, right? Last season the Texans' inside linebacker position was devastated by injuries to
Brian Cushing
,
Tim Dobbins
and
Darryl Sharpton
forcing them to rely heavily on in-season signee
Barrett Ruud
.
November, 11, 2013
Nov 11
8:00
AM ET
GLENDALE, Ariz. -- A look at four hot issues from the
Houston Texans
' 27-24
loss
to the
Arizona Cardinals
.
[+] Enlarge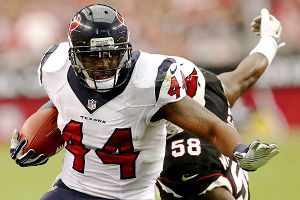 Photo by Stephen Dunn/Getty ImagesBen Tate 15 carries for 56 yards in the loss to the Houston Texans.
Andre Johnson wasn't giving up those touchdowns
: Texans receiver Andre Johnson was a big part of what kept Houston in the game. He caught a first-quarter touchdown and a fourth-quarter touchdown, barely getting his feet in. He admitted after the game that Arizona cornerback
Patrick Peterson
had good coverage on him, but added that wasn't going to get in the way of his own determination to come down with the ball.
Should the Texans have stayed on the ground more?
Ben Tate
, now the Texans' starting running back with
Arian Foster
headed to injured reserve, thought the Texans should have run the ball more in the second half. "I felt like it was working," he said. "I don't understand why we went away from it. Besides that, I really don't know. We just can't play one half of football every week. If we were playing one half of football, we'd be doing great right now, but there's two halves." The Texans ran the ball 14 times in the first half and seven times in the second half. Tate said that while he wasn't 100 percent (still recovering from broken ribs) he felt he was effective and could have carried more.
The feat of the foot:
A few weeks ago when I approached punter
Shane Lechler
to tell him how close he was to 50,000 career punting yards, long snapper
Jon Weeks
jokingly indicated fatigue at hearing about how good Lechler is. The punter lightly indicated it had more to do with being old. He doesn't care much about punting yards as a statistic, but on Sunday he went over the 50,000-yard mark. Only five other punters have reached that landmark, according to ESPN Stats and Information. More than anything it indicates longevity. Lechler, who is in his 14th season, said he wants to punt for 20 years.
Critical Arizona score:
The Cardinals took a three-point lead into the fourth quarter, but it turned into 10 when Cardinals quarterback
Carson Palmer
found
Andre Roberts
5 yards beyond his defensive back,
Brice McCain
. "All out blitz," McCain said. "My eyes were bad. Double move. He beat me." Wade Phillips said it was probably his fault for blitzing then, "but it was a little more desperation at that time, although we came back and still had a chance."
October, 24, 2013
Oct 24
3:00
PM ET
HOUSTON -- Raiders kicker a
Sebastian Janikowksi's
field goal percentage has dipped to 63.6. That will be a career low if it holds up.
Lechler
The biggest change for him on the field this year? He doesn't have
Shane Lechler
holding for him anymore.
"I'm not saying I knew it was going to affect him a little bit, but me and him are really close together on and off the field," said Lechler, now the Texans' punter. "It was one of those things where there was a big comfort level between me and him on and off the field. I knew what he was thinking, I knew when to have the ball snapped. If there was a breeze I knew when to hold the ball and not snap it and hold the deep snapper for a second or two. There's just a bunch of small things that we learned together over the 13 years."
Lechler is adjusting, too, in his new environment. He hasn't held for a right-footed kicker since college. And although his punts have been awe-inspiring, he believes he and the rest of the field goal trinity are still working out the kinks in their chemistry.
Texans kicker
Randy Bullock
(who was in grade school when Lechler was in college) has made seven of his 12 field goal attempts, 70.6 percent this season. Four of those misses came in the Texans' first two games.
"I don't know how many thousands of snaps I've taken for John (Weeks, long snapper) trying to get this thing ironed out," Lechler said. "We're getting good, we aren't great at it yet. He's snapped all his life, but I haven't held for a right footer in a long time. It's one of those things, I'm the middle man and I've got to make sure that's sharp every week."
October, 4, 2013
Oct 4
7:43
AM ET
Reading the coverage of the Houston Texans...
This isn't a directly a Texans story, but there's
an interesting look at Raiders kicker Sebastian Janikowski's struggles
by Jim Trotter for The MMQB. Texans punter Shane Lechler was Janikowski's holder for 13 seasons, and breaking in a new holder hasn't been easy. Trotter quotes an anonymous kicker as saying: "Holding is not as easy as it looks. It's even harder for a left-footed kicker. Most guys who have experience holding, it's for a right-footed kicker. It's very different switching to the other side. Even if the holder gets the ball in position — but they're deliberate and slow — it makes it harder to kick because you don't get to see the ball before kicking it. Janikowski is probably the fastest to the ball in the NFL, so that gives even less margin for error for the holder."
This week the Texans will face one of the teams that found success with the read-option last season. They faced another last week. Drawing off both, two outlets wrote about the read-option. CSNHouston.com's Dave Zangaro
breaks down how the Texans defended it last week
. And the Houston Chronicle's Brian Smith writes that teams are
toning down their use of the scheme
. Smith adds
a notebook
in which DeAndre Hopkins says he cares more about wins than awards. That much should be obvious from Hopkins' demeanor so far.
Brian Cushing is working through the concussion protocol
, writes Deepi Sidhu of HoustonTexans.com. Also in this link is a video of Cushing miked up, which is always worth a listen.
September, 23, 2013
Sep 23
12:30
PM ET
An examination of four hot issues from the Texans' 30-9 loss to the
Baltimore Ravens
.
[+] Enlarge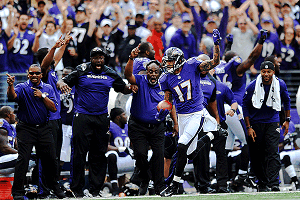 AP Photo/Gail BurtonTandon Doss dealt the Texans a critical blow with an 82-yard punt return for a TD just before halftime on Sunday.
That pivotal punt return:
Though Ravens linebacker
Daryl Smith
's 37-yard interception return for a touchdown gave the Ravens their first lead of the game,
Tandon Doss
' punt return for a touchdown with 45 seconds left in the first half might have been more deflating for the Texans. Doss returned the punt 82 yards, after catching the punt long before any Texans player was near him. Three Texans --
Shiloh Keo
,
Bryan Braman
and
D.J. Swearinger
-- had positioning to tackle him, but Doss sliced through all of them. "We had three guys free around him," Texans special teams coach Joe Marciano told Mark Berman of Fox 26. "He made them all miss. To me it's inexcusable." There was some good from the Texans' special teams in Baltimore.
Shane Lechler
's start was just as strong as his previous games have been, pinning the Ravens at their own 7-yard line and their own 1-yard line early. Kicker
Randy Bullock
also made all three of his field goal attempts. But the bad seemed to be a continuation of last season. From ESPN Stats & Information: "Entering Sunday [and before Doss' touchdown], the Texans' special teams unit has cost Houston 52.4 expected points since the start of 2012, more than 10 expected points worse than any other team."
Divergent snap counts:
The Texans kept
Ed Reed
on a snap count, but he still played most of the game. Reed played in 73 percent of the Texans' defensive snaps. Seven players played in every single snap on their side of the ball: the five offensive linemen, rookie receiver
DeAndre Hopkins
and safety
Danieal Manning
.
Flipping roles:
The Ravens' five longest plays were all longer than any one of Houston's. Four of them came in the third quarter during the Texans' only defensive dip of the game. All of the Ravens' 10 longest offensive plays came after the first quarter and seven of them after halftime, which you'd expect. Meanwhile, only four of the Texans' 10 longest offensive plays came after halftime.
Penalties a killer:
They came at damaging times, but the sheer number of penalties the Texans had Sunday in Baltimore was staggering: 14 penalties for 113 yards. Coach Gary Kubiak said the lack of discipline disappointed him more than anything else. Defensive end
Antonio Smith
said those penalties came from pressing too much, wanting too badly to make a play. That was a theme Reed touched on, as well. Reed said it was important for the Texans to remember to just do their jobs, rather than thinking about making a play. Whatever the reason, Ravens penalties helped the Texans early and their own crushed them late. The six defensive penalties in the second half helped move the Ravens down the field. It was the biggest issue on a Texans defense that otherwise had a strong day, allowing just 236 yards.
September, 17, 2013
Sep 17
12:07
PM ET
Not yet.
In an effort to give punters some respect, our Mark Simon from ESPN Stats and Info, along with his Punter Picking Committee, awards a punter of each week. Punting artist (or punting poet as J.J. Watt would tell it)
Shane Lechler
hasn't earned the title yet, but he's been honorably mentioned each week.
This week's winner was Thomas Morestead of the Saints. Morestead punted four times and each time the Buccaneers began their drives inside the 20. They started at the six, seven, 17 and 14. Two of the punts were downed and the other two combined for no return yardage.
Lechler received the second-most votes from the honorable PPC. The Texans' punter pinned the Titans at their own seven-yard line twice and stuck them at the one-yard line once. Two of his last three punts were longer than 50 yards and the third was the one that was downed at the one.
September, 16, 2013
Sep 16
2:15
PM ET
This is essentially Texans' kicker
Randy Bullock
's rookie year as he spent his true rookie year on injured reserve. And it hasn't started well.
Bullock has missed four of his five field goal attempts in the first two games. They've all been longer than 40 yards and he's gone 0-for-3 on attempts longer than 50 yards. Those aren't easy field goals to make, but when you draft a kicker, you expect him to make difficult field goals. Bullock was a fifth-round pick, the highest drafted kicker in a top-heavy kicker draft class last season.
Two of the other kickers in Bullock's draft class had excellent starts.
Greg Zuerlein
started 13-for-13 including a 60-yarder, a 56-yarder and a 53-yarder for the
Minnesota Vikings
last year. He was a sixth-round pick last year and dropped off a bit after that, finishing the season making 74.2 percent of his tries. Minnesota had consistent success with kicker
Blair Walsh
, who was also a a sixth-round pick last year. Walsh didn't miss until week four, making 55, 51 and 52-yarders before that. He finished the season having made 92 percent of his field goal attempts.
John Potter
, a seventh-round pick by Buffalo last year, spent six games with the Bills and was used as a kickoff specialist.
Kicking is mental and there are times when early struggles never reverse. There are other times when they do. Raiders kicker
Sebastian Janikowski
only made one of his four 50-plus yard attempts his rookie year. Overall in his 14-year career Janikowski has made 56 percent of his field goals longer than 50 yards. In fact, Janikowski started his NFL career missing three of his first four field goal attempts.
That mental shift is what punter
Shane Lechler
, who has favorably compared Bullock's accuracy to Janikowski's, is trying to instill in Bullock.
"A very, very tough thing to do, is to turn the page," Lechler said. "I mean I know. I deal with it. I don't know of a professional athlete that's not hard on himself, that doesn't deal with it. It's kind of like a book, man. Turn the page. Can't read the same one. Don't let that one mess up your next kick. And I have all the confidence in the world with him. I hold with him. He kicks all the time in practice. He's money all the time. And he just had a rough go. And that's part of this game. That's part of the situation. That's part of being a little bit young, and that's part of it."
Bullock has the leg strength and he has been accurate in the past. The question will be how long the Texans can wait for that mental turnaround. They need reliability at the position. They might not have needed overtime yesterday if they had it.
September, 10, 2013
Sep 10
3:40
AM ET
Observed in the locker room after the Texans beat the Chargers 31-28:
Lechler
New feeling for a vet
: Off in an auxiliary locker room for visitors that included specialists and some undrafted rookies, punter
Shane Lechler
mused about what a cool feeling this was for him. "I was thinking after we won, how long it's been since I've been 1-0," the former Raider said. "It's been a while. That was fun. Just to see the fight and the grit and grind of this team and witness it firsthand. To witness it firsthand was quite an experience."
Succinct description by Tate:
"We played like crap," backup running back
Ben Tate
said. "It's the NFL. You can't play like crap." Tate refused to offer an explanation for their play. "That's all excuses, we just played bad." What changed? "We played good the second half. That's what good teams do."
What to do with the game ball
: Texans coach Gary Kubiak said he gave the game ball to kicker
Randy Bullock
, who made the game-winning field goal. Bullock said he wasn't quite sure how to pack it, or if it would fit in his bag.
Patient rookie
: Rookie receiver
DeAndre Hopkins
waited for a crowd of reporters who blocked his locker. Hopkins used his phone to take a picture of
Andre Johnson
, beside him, who was the focus of the media crowd.
August, 25, 2013
Aug 25
9:20
PM ET
HOUSTON -- Sunday afternoon was the first view most people had of the
Houston Texans
' shiny new punter
Shane Lechler
.
Until Sunday, Lechler was sidelined as he recovered from a hamstring injury in his plant leg. He knew there would be a lot of eyes on him, wondering how he'd fare in his first game in Houston, the first of his career not as an Oakland Raider. And so, something happened to the 14-year veteran that hasn't happened to him in a while:

He got nervous for a preseason game.
"I got out there and went through the basics mentally," Lechler said. "You're like, make sure you catch the snap. There's a lot of people looking at you (to) see how you handle your first ball. That ball actually carried a little farther than I wanted it to. Luckily it checked up perfectly. I was nervous and anxious and excited at the same time."
Lechler punted twice, netting 52 yards per punt. One of those was downed at the 2-yard line, giving the Texans field position that led to their first touchdown. The
New Orleans Saints
never got past their own 6-yard line and went three-and-out on their next drive.
What started to become very clear in the Texans' third preseason game was that their specialists have really improved.
Second-year kicker
Randy Bullock
, who spent last season on injured reserve, notched touchbacks on all three of his first-half kickoffs. He also made field goals of 21 and 55 yards. It impressed Lechler, who spent most of his career with one of the best kickers of all time in
Sebastian Janikowski
.
"I think when you talk about Janikowski, that's probably one of the best that's ever done it, in my opinion," Lechler said. "I think at Randy's stage of his career he's probably a little bit more accurate than Janikowski was as a rookie."
Other observations from the Texans' third preseason game: