November, 25, 2014
Nov 25
2:45
PM ET
HOUSTON -- For the past six months, since being drafted in the fourth round by the
Houston Texans
,
Tom Savage
has understood this: It's not his time yet.
[+] Enlarge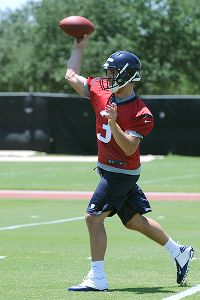 AP Photo/Pat SullivanTom Savage's only NFL experience so far is in practice, but is it time to give him a shot in a game?
"I think that's my main goal right now is just to keep improving and kind of put myself in a good situation so that whenever that time comes, whether it's next year or this year, just be ready to go," Savage said the day before
Ryan Mallett
was named the Texans' starter, supplanting
Ryan Fitzpatrick
.
The Texans' quarterback situation has changed significantly since then, which begs one question: Is it his time now?
Making Mallett the starter during the Texans' bye week was equal parts Mallett being ready to take the helm, a belief that Fitzpatrick had done all he could and a desire for better evaluation. Mallett had developed for three seasons as a backup quarterback in New England and improved steadily as Fitzpatrick's backup in Houston.
Now that Mallett is out of the picture for this season with a torn pectoral muscle, the Texans have broader evaluation needs.
Therein lies the argument to start Savage.
Nearly everything we know about him comes from his limited time playing in college. Here's Matt Williamson, ESPN's resident scout:
"He is a big strong kid with a great arm. He is tough in the pocket, but very limited mobility. He wasn't at Pitt his entire college career and had a lot of learning still to do when he entered the draft. How much has he progressed since then on the mental aspects of the position? I really don't know. But much like [Zach] Mettenberger in TEN, he has starting QB traits and if mentally prepared, should get a shot before the end of the season."
That arm drew attention during training camp. Strength was something he'd been asked to improve once he got to the NFL. The two quarterbacks ahead of him have helped his mental progression.
"Mallett has a good grasp of the offense just from being around it for so many years," Savage said. "Fitz is a vet and he's been around the league and he's kind of got that mental toughness that young rookies need to kind of learn. He's one of the toughest guys I've been around, so it's good to get both of their features and kind of instill it in myself."
A franchise quarterback is a tough thing to find, but when you find him, that sets up a team for years. Finding that player, and developing him if necessary, is the most important factor in any NFL team's success. Devoting resources and time to that process is often necessary but can require patience. If Savage struggles at first -- a bigger risk with Savage than Mallett given Savage's limited time in both college and pro practices -- that doesn't necessarily mean he'll never grow into a solid quarterback. But it does mean the Texans' immediate future could be rough.
That's a tough ask of a team that is not yet out of the playoff race.
The Texans' loss Sunday to the Bengals combined with Indianapolis' win made that harder, especially since there are now nine teams in the AFC with at least two more wins than Houston, but the Texans aren't out of it yet.
With a postseason berth still at stake, it'd be difficult to hand over the reins to a rookie who's had almost exclusively scout-team repetitions so far. You can bet that will matter to the Texans' thought process.
And if we've learned something from Mallett, it's that waiting can sometimes be the best thing for a young quarterback's career.